Introduction
Defined as one of the top dogs in the performance car world, for generations the BMW M3 has been setting the benchmark for its sporting prowess while bringing spacious and practical daily usability. 
And the news of a new M3 is always a big talking point, not least this new model – named as the G80 generation – which arrives with the boldest styling yet. But behind that grille this BMW is brimmed with the latest technology and performance enhancements. 
For starters, there's a new engine (which we'll explore shortly), as well as a wider and more aggressive look than before, and soon there will also be the option of an all-wheel-drive M3 for the first time. So there are some big changes, but can they elevate BMW's core M model further? Let's find out.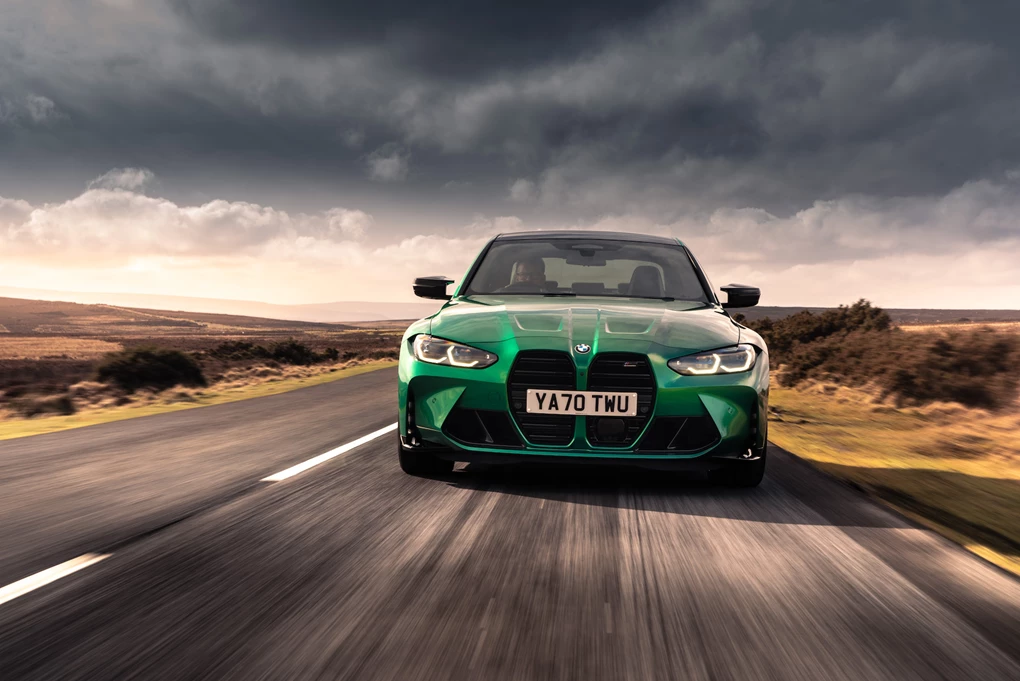 Performance
The heart of a performance car is its engine, and the M3's is unlikely to disappoint. So under the bonnet you'll find a twin-turbo, six-cylinder 3.0-litre petrol unit. While other markets will get a detuned option, in the UK it's only available in a top-spec 'Competition' guise. That means it kicks out 503bhp and 650Nm of torque – a noticeable step up from the 444bhp and 550Nm found in the previous M3 Competition. 
Those monstrous stats means that the M3 can crack 0-60mph in just 3.7 seconds, and it will head on to a top speed of 150mph, or 180mph with the optional M Drivers package. Currently, all that power is just sent to the rear wheels via an eight-speed automatic gearbox, though as we mentioned an xDrive all-wheel-drive version will join the range later in 2021. Purists, though, might be disappointed that the M3 is no longer offered with a manual gearbox, though.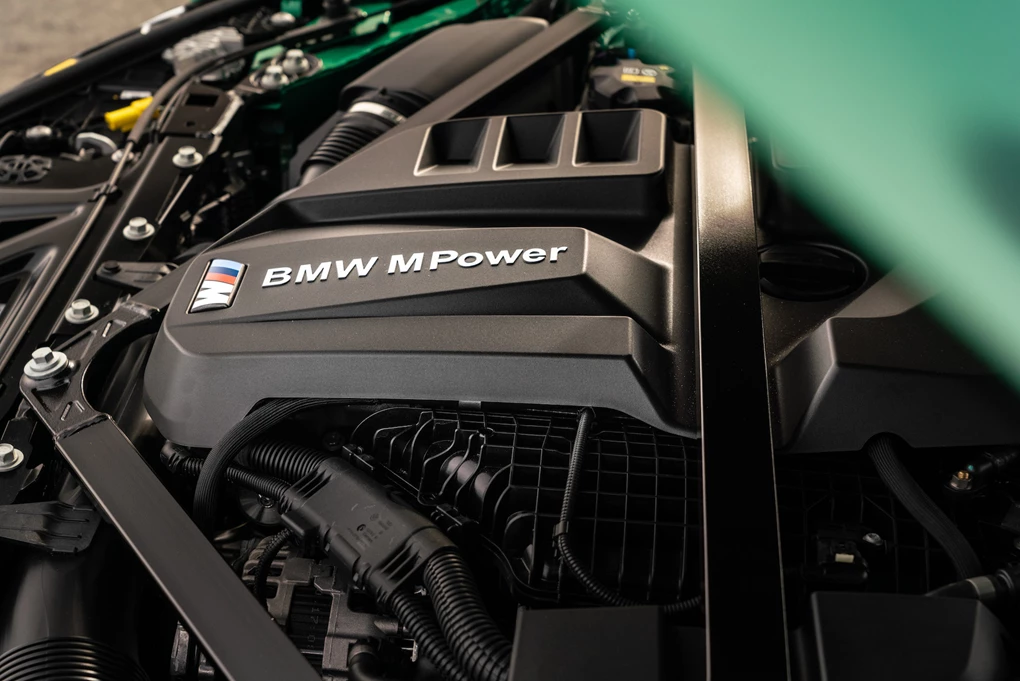 Ride and handling
The last generation M3 was known for being a bit of a handful, not least in wet weather where it could easily catch you off guard. But it seems like BMW has ironed out those issues, and this new car is impressively easy to drive at a quicker pace, with properly weighted steering that inspires you to push that bit harder. 
The engine is also superb, and offers all the performance you could ever ask for, while the gearbox, which you can also change with stunning carbon-fibre paddles, is nothing short of a joy to use. In short, it's now a perfect all-round package – still being raw and aggressive, but now easier to control, and even novice drivers will be able to make the most of the M3's abilities, too.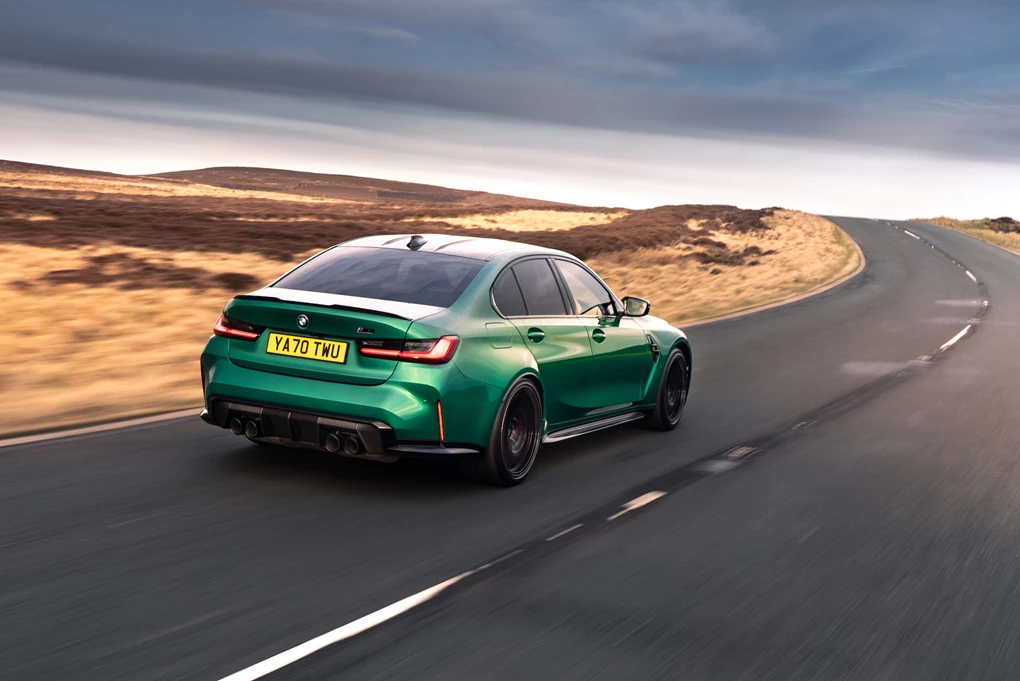 Interior and equipment
In true BMW fashion the M3's cabin is every bit as upmarket as you'd expect, with superb fit-and-finish throughout. Our test car also hugely benefited by the £6,750 Carbon Pack option, which – among other things – brings stunning carbon-packed bucket seats, which are comfortable yet also ultra-supportive. 
BMW also hasn't forgotten about the need to make the M3 practical, too, as it's worth noting that many of these will end up being used as daily drivers. There's a decent amount of rear space, even with those bucket seats, while the boot matches the practicality of the standard 3 Series – serving up 480 litres of room. It's worth remembering that this M3 saloon will be joined by a Touring estate model next year for the first time, which will only make this M model even more practical. 
The level of standard equipment is also unlikely to disappoint, with highlights including a carbon-fibre roof, 19- and 20-inch alloy wheels, a 12.3-inch digital dial system, a head-up display and adaptive M suspension. 
There's only one real trim level to choose from, but BMW offers a host of option packs – such as the Comfort Package, bringing keyless entry, a heated steering wheel and electric boot. If you want maximum performance, it's also worth choosing the M Pro package, which brings carbon ceramic brakes, optional BMW driver training and the raised top speed.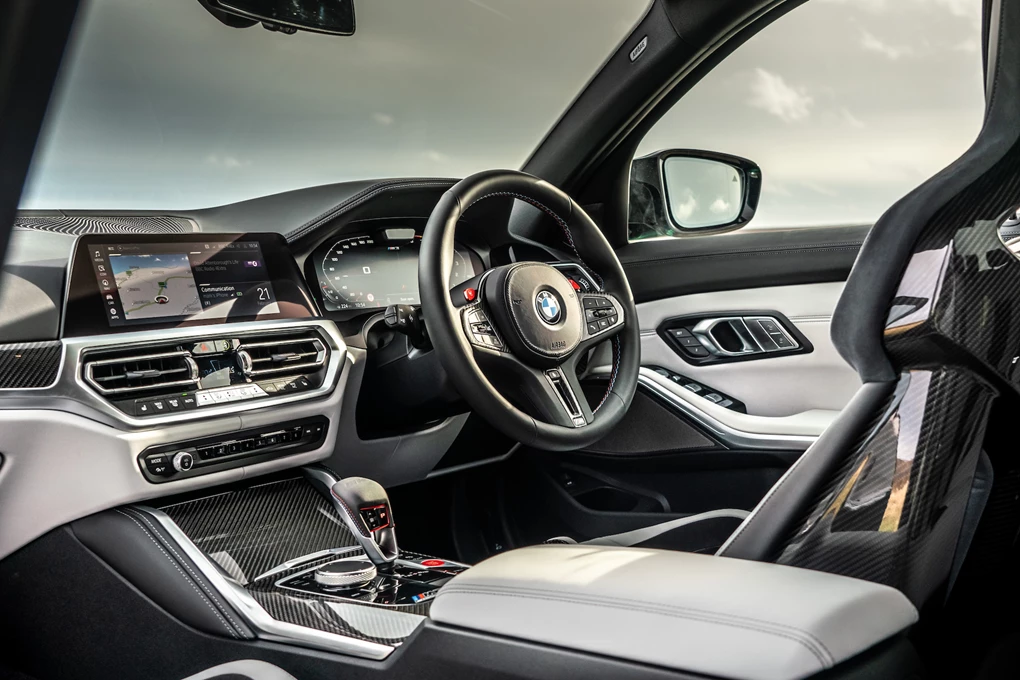 Cost
Perhaps unsurprisingly given the uplift in performance, the M3 doesn't come cheap, with the range now starting from £74,755. 
It's worth noting that ticking a few options easily racks up the price, not least with the £7,995 ceramic brake package.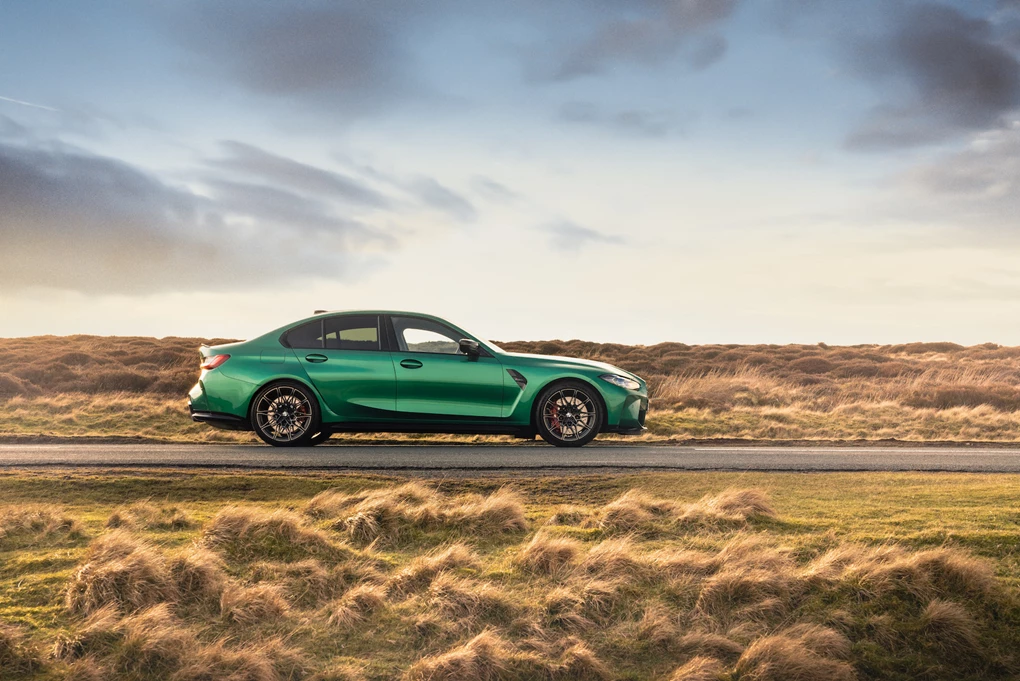 Verdict
BMW has managed to ensure the M3 remains just as exciting and focused as ever, yet while also taming it down in the process and making it a lot more manageable – an important change given the M3 is designed to be used and enjoyed on a daily basis. 
In fact we'd argue this switch has actually made even more enjoyable to drive. Though its styling will likely continue to divide opinion, one thing that can't be disputed is that the new M3 is one of the best performance cars on the market today.
Enquire on a new BMW M3