Introduction
BMW has one of the broadest ranges of plug-in hybrids available of any manufacturer, with its expertise clearly now working to the firm's advantage.
That's true of this new plug-in hybrid version of the large X5 SUV. It's not the first time BMW has offered an electrified version of this model, though this new one looks to be far more impressive than the first.
For starters, the powertrain has completely changed. The petrol engine utilised has gone from 2.0- to 3.0 litres, while the battery size has increased from 9.2kWh to 24kWh. That latter figure gives this new X5 xDrive45e (we'll call it the X5 PHEV from now on) one of the most impressive electric ranges of any plug-in model – up to 54 miles.
As with the latest X5, which debuted in 2018, this model is bigger, more spacious and advanced than its predecessor.
Performance
It's the plug-in hybrid powertrain that's the star of the show.
Combining a six-cylinder petrol unit together with an electric motor and battery, this X5 produces 389bhp and 600Nm of torque once combined. It also comes with all-wheel-drive as standard, with an eight-speed automatic gearbox utilised.
Despite being quite powerful, the additional heft of the batteries means it's not quite as quick as you might anticipate, though it's still capable of a 0-60mph time of 5.4 seconds and can reach a claimed top speed of 146mph.
But it's the electrification that really impresses here, with BMW stating it will return more than 200mpg on the combined cycle, with CO2 emissions of just 31g/km – that latter figure is ultra-low for a model of this size.
Enquire on a new X5 PHEV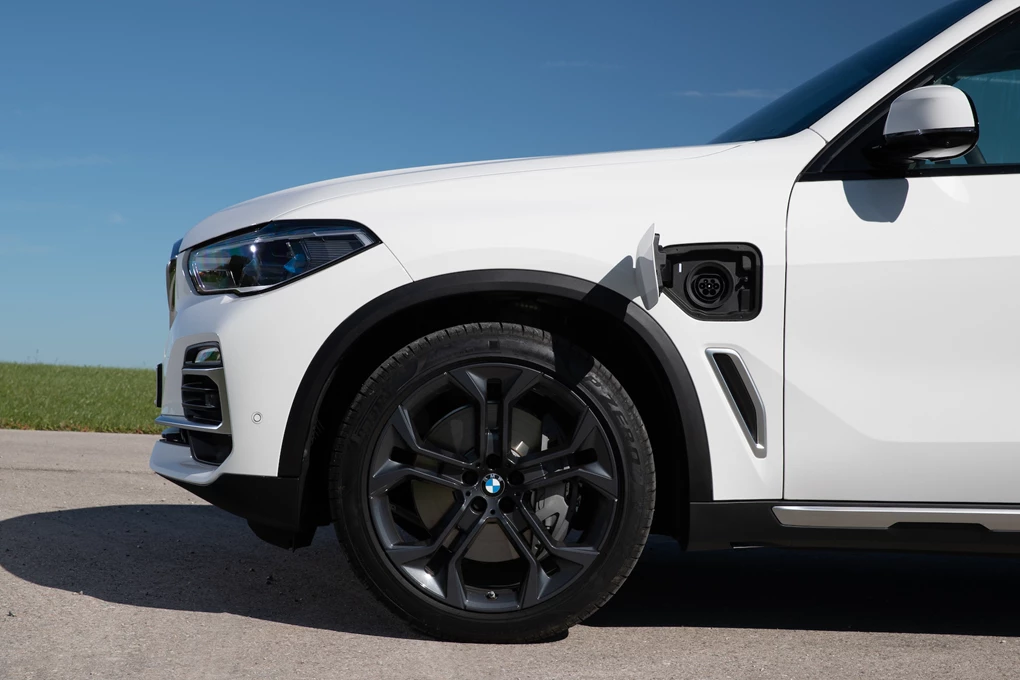 Ride and handling
That electric range really could be a gamechanger for many. While you're unlikely to be able to manage that claimed 54-mile zero-emissions range, in real-world conditions 40 miles should still be possible. That's twice the range of most of its rivals – the Volvo XC90 T8 and Porsche Cayenne E-Hybrid, for example. It's perhaps unsurprising given the size of the battery is larger than that in some pure-electric cars.
The powertrain is also very smooth, and quite potent providing you keep those batteries topped up. Depending on the length of your commute, it also means you might rarely need to trouble the petrol engine, either. Various driving modes are on offer, which dictates whether you utilise either electric or petrol power, or both – the settings are Sport, Electric, Hybrid and Adaptive. Most are likely to choose Adaptive, which works best if used alongside the sat nav system, whereby the car can decide for itself when to use the electricity to maximise range.
Despite weighing 2.5 tonnes, it also handles well, though the ride can feel a bit unsettled – not helped by the 22-inch wheels on our test car.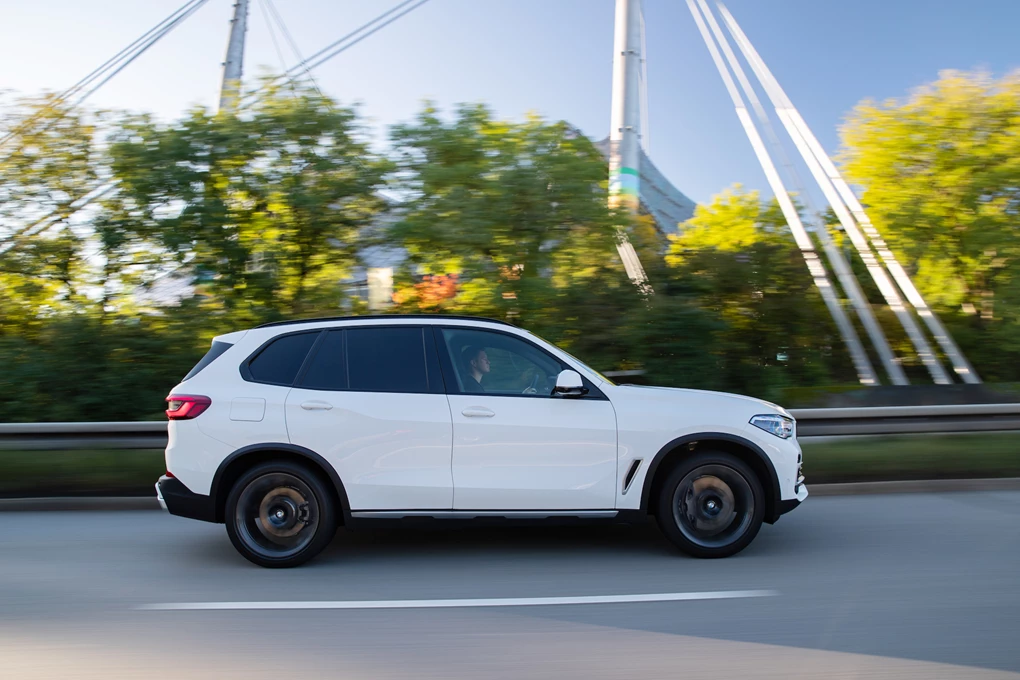 Interior and equipment
BMWs have some of the best interiors around, and the X5's is certainly no exception. The quality is rock-solid throughout, with a brilliant layout and all the technology you could wish for. All X5s feature twin 12.3-inch touchscreens – one for the media display and another for the dials – and BMW's iDrive infotainment system is one of the best around.
One of the few disadvantages on this X5 PHEV, though, are its practicality shortcomings. While this remains a useful large SUV, compared to a regular petrol or diesel version of this model, it's not quite as practical. The boot space is reduced by 150 litres, though it remains a useful space that few will be disappointed by. However, the electrical underpinnings remove the option to have seven seats in the X5. It means that if you require a third row, you should go for the regular model instead.
Two trim levels are available on this model – xLine and M Sport. Standard kit includes 19-inch alloy wheels, adaptive air suspension, a full suite of LED lights, leather upholstery and electric and heated front seats to name but a few features.
M Sport adds the much-desired sportier looks thanks to 20-inch alloy wheels, along with a gloss black styling pack and M Sport steering wheel.
Enquire on a new X5 PHEV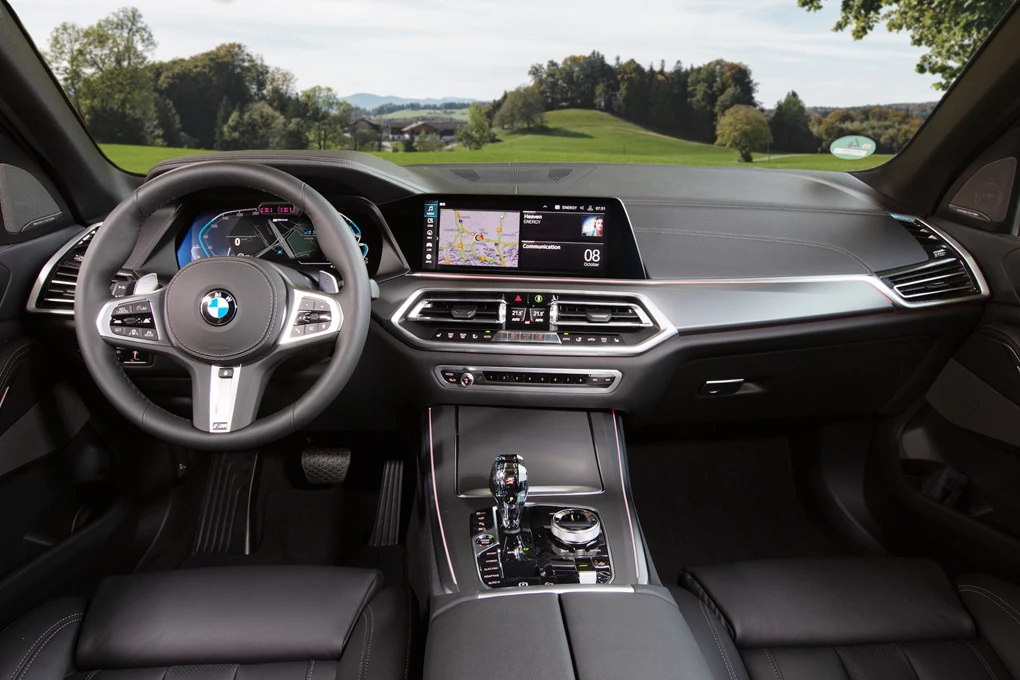 Cost
Prices for this X5 PHEV start from £64,475 on the xLine and £68,245 for the M Sport. It's therefore by no means cheap, but it's quite competitively priced – especially compared to the regular petrol and diesel versions, which are £3,000 and £4,000 cheaper respectively. It's worth remembering that this plug-in hybrid model has more power than both, though.
The key appeal of this X5, though, lies for company car drivers. With its exceptional electric range and low emissions, it puts it in the lowest banding possible for BIK for any plug-in hybrid – just six per cent in the current financial year. It means this model could cost you as little as £86 per month in company car tax. Compare that to the regular diesel and you'd be looking at £359 each month. Look at the figures over a period of years and it's clear to see why this PHEV makes so much sense.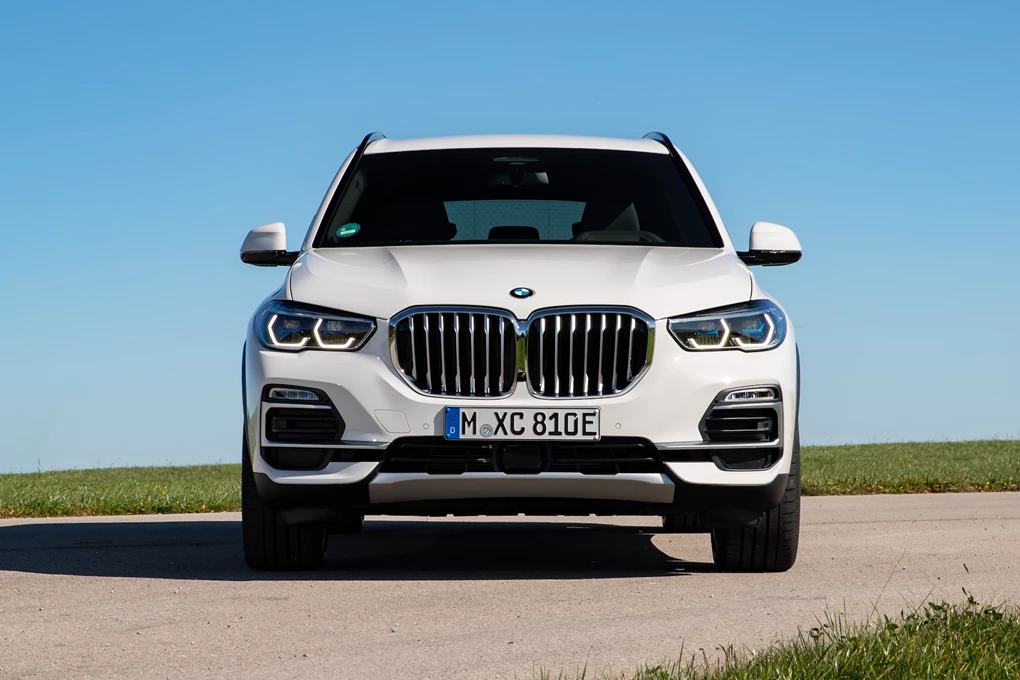 Verdict
Unlike other plug-in hybrids, this X5 xDrive45e is a seriously well-rounded package. From its 54-mile electric range that means you might rarely have to utilise the petrol engine at all, to its exceedingly low company car tax bills, it's a very appealing model.
Unless you need seven seats or find yourself doing regular motorway journeys, it's easily the pick of the X5 line-up.
Enquire on a new X5 PHEV