Introduction
Citroen is known for standing out from the crowd, and that's exactly what the firm's third-generation C3 supermini has done since its introduction in 2016.
Combining funky styling inside and outside but with a focus on comfort, it's a different option next to 'sporty' models in this class like the Seat Ibiza. 
And it's proven quite the hit, with more than 750,000 sold of the current generation, but with fresh competition, it's time for an update for 2021. 
Citroen has worked to improve personalisation options – increasing the number of colour combinations from 36 to 97. Elsewhere, the front gets tweaks inspired by the firm's C-Xperience concept car, while new features include LED headlights and 'Advanced Comfort' seats, which we'll talk more about later.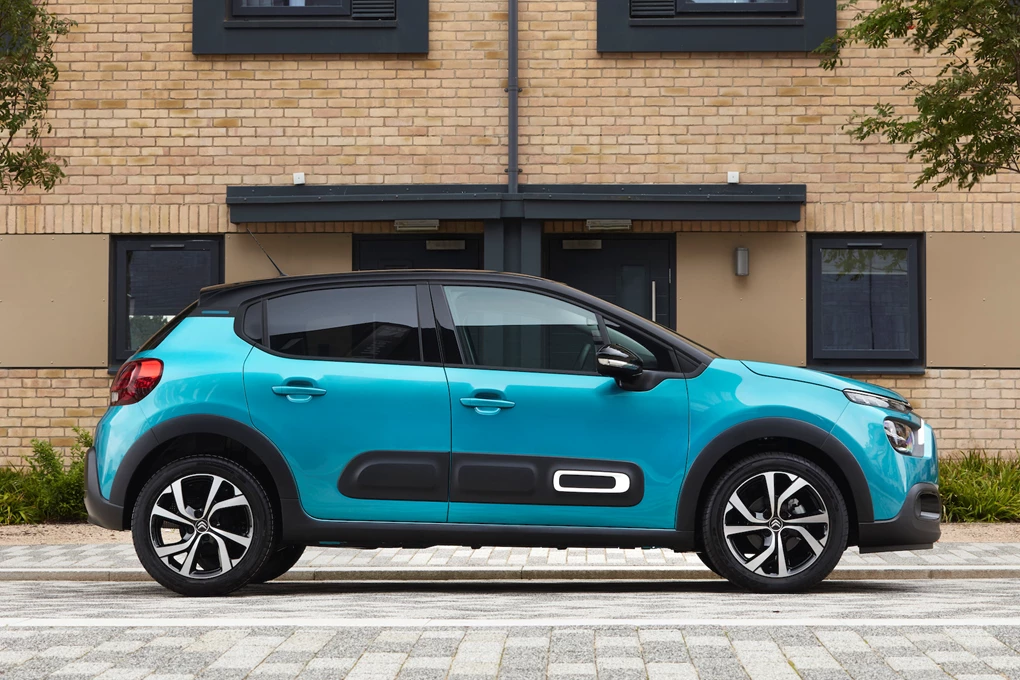 Performance
A choice of both petrol and diesel engines are available on the updated C3, and thanks to light tweaks they're also slightly more efficient than before.
A naturally-aspirated 82bhp 1.2-litre petrol engine kicks off the range, though this is best reserved for city use due to limited performance. 
The best bet is the other petrol option – a turbocharged 1.2-litre unit producing 109bhp and available with a six-speed manual gearbox or a six-speed automatic. Acceleration here actually feels brisker than the 0-60mph time suggests with its 0-60mph spring taking 10.3 seconds and a top speed of 123mph possible if you have the space and means to do so. Meanwhile it still returns a claimed 50mpg, with CO2 emissions of 129g/km. 
The most efficient option, though, is a 99bhp 1.5-litre diesel, which Citroen claims will return an impressive 67mpg, with CO2 emissions of just 117g/km.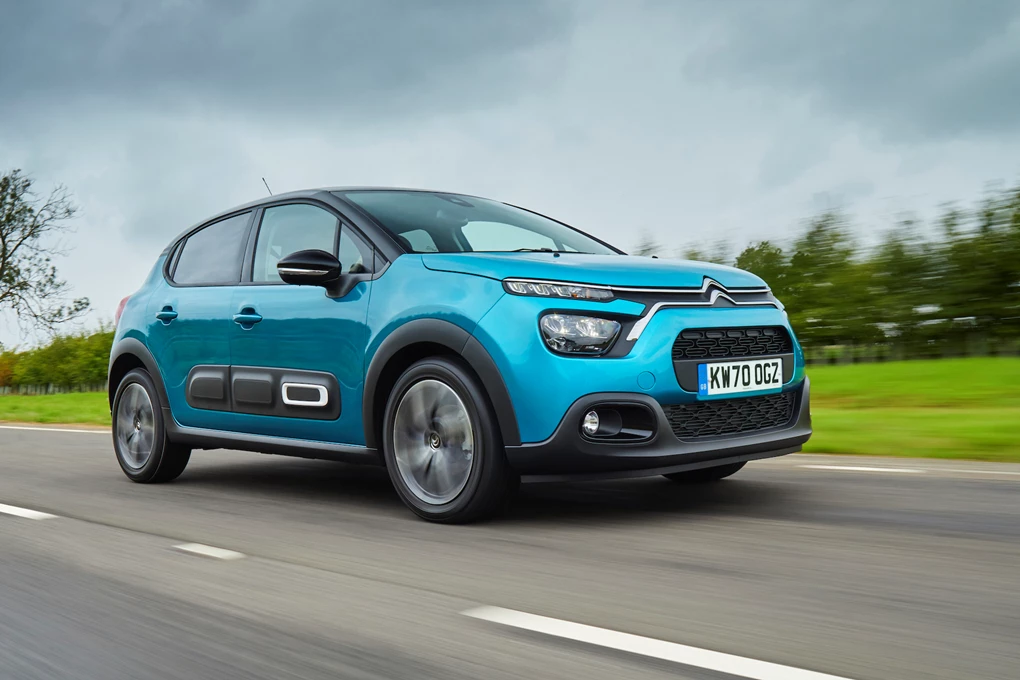 Ride and handling
While many manufacturers choose to make their cars as sporty-feeling as possible (and often falling wide of the mark in the process), Citroen instead prioritises comfort across its range. 
Evidently with the C3, it's something it's very good at, as the soft suspension setup means the ride is impressively supple and comfortable whether you're on the motorway or just pootling around town. Even on our test car's larger 17-inch alloy wheels, the ride quality cannot be criticised. 
But if you're comparing it to rivals such as the Ford Fiesta, you might feel a bit underwhelmed behind the wheel. That focus on comfort means that the C3 doesn't handle as sharply, while there will be more roll through the corners. You may argue, though, that that's a price worth paying for great ride quality.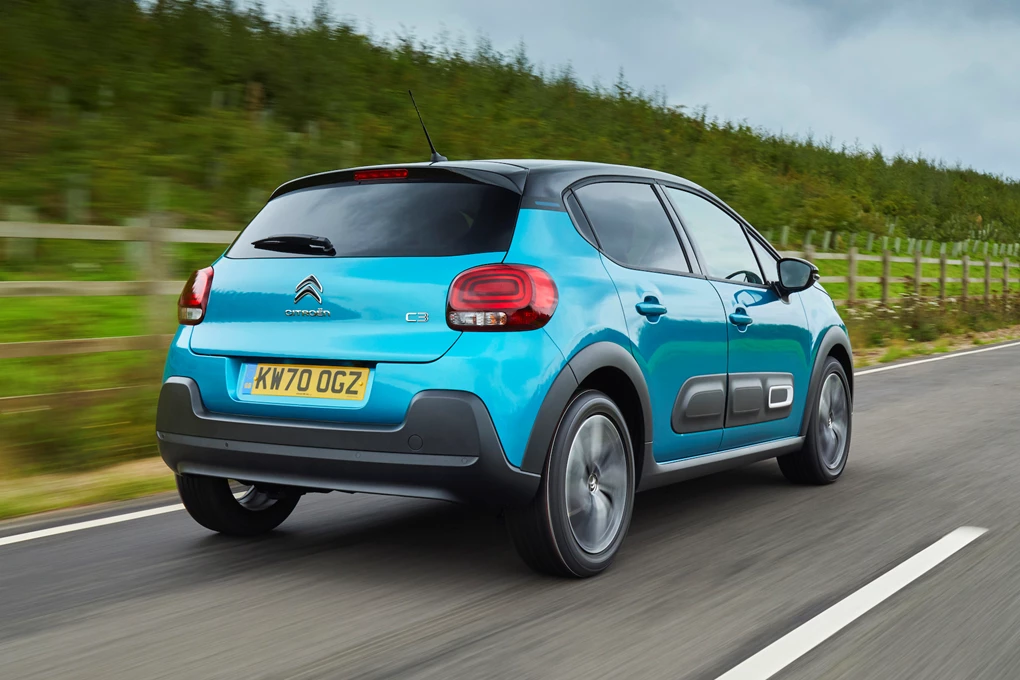 Interior and equipment
That funkiness from the exterior of the C3 carries through to the cabin, with a range of textures being utilised throughout, while neat touches such as the door pull straps and wooden interior ambiance are rather different to other models in this class. 
The latest C3 is also available with Citroen's excellent 'Advanced Comfort' seats, which have been used in some of its latest models. Offering an 'armchair-like feel' thanks to their extra support and thick foam, they offer brilliant levels of comfort. All models also feature an easy-to-use seven-inch touchscreen, which include Apple CarPlay and Android Auto as standard, though one of our few gripes with this Citroen's cabin is that the quality isn't quite on par with models such as the Renault Clio. 
When it comes to trim levels, there are three main ones on offer – Sense, Shine and Shine Plus.
All come with plenty of equipment, with entry-level options still featuring LED headlight, front fog lights, automatic air conditioning and cruise control to name but a few features. Shine brings 16-inch alloy wheels, a black roof, automatic lights and wipers and rear parking sensors. 
Meanwhile the range-topping Shine Plus comes with 17-inch alloy wheels, the aforementioned Advanced Comfort seats, additional safety kit and satellite navigation.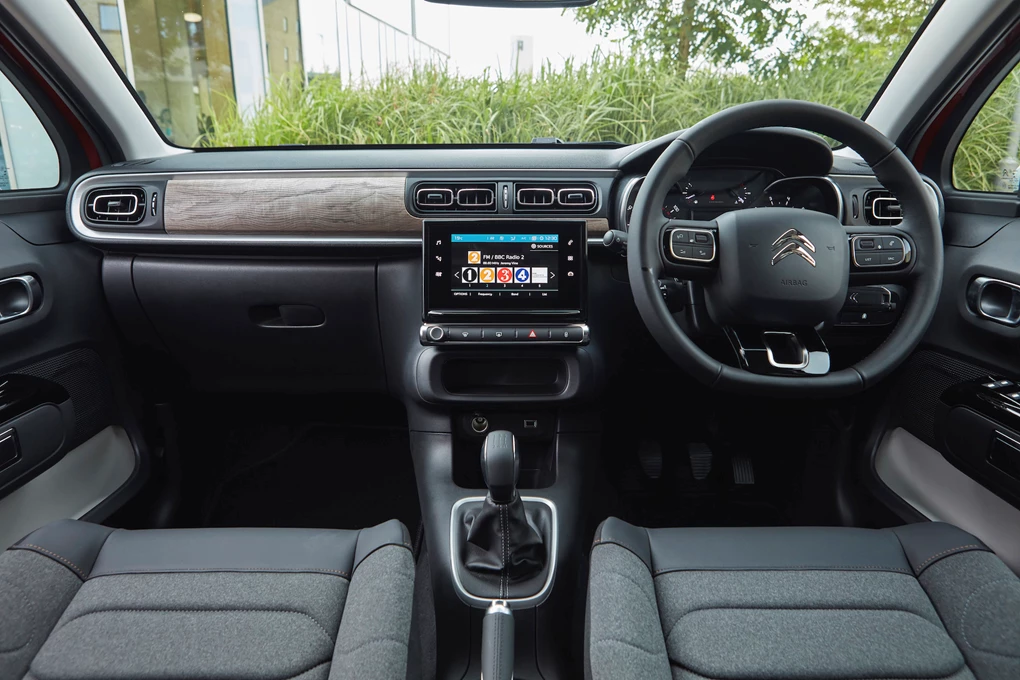 Cost
Another big plus of this update is that Citroen has also slashed its prices – something it's done across the majority of its range. 
It means prices now start from as little as £13,980, though we'd recommend splashing out a bit more for a powerful engine and higher spec – a Shine version is available from a competitive £17,435, for example.
Verdict
If you want your supermini to be sporty, the Citroen C3 isn't the car for you, however when it comes to ease of use and comfort, it's pretty hard to beat for a small car – especially when you can perch on the brilliant Advanced Comfort seats. 
Combine that with value for money, plenty of standard kit and a funky design and the Citroen C3 is a credible alternative in this class and should be praised for doing the brave thing of standing out from the crowd. 
Enquire on a new Citroen C3