Introduction
Up until last year, Cupra existed solely as Seat's performance trim. That meant you had hot models of existing Seats, which remained badged that way – the Seat Leon Cupra, for example.
But no longer is Cupra a trim level, but rather its own firm. And this is Cupra's first model – the Ateca. If that name rings a bell, it's because of the Seat Ateca. Yes, while Cupra is a standalone brand, it still has firm ties with Seat, which is essentially why its first model is a rebadged version of the mainstream Spanish manufacturer's car. Future models promise to be very different, though.
While it's easy to discard this Cupra as a jazzed-up version of the regular Ateca, there's more to it than that. It receives performance enhancements and the same engine that's fitted to the Volkswagen Golf R.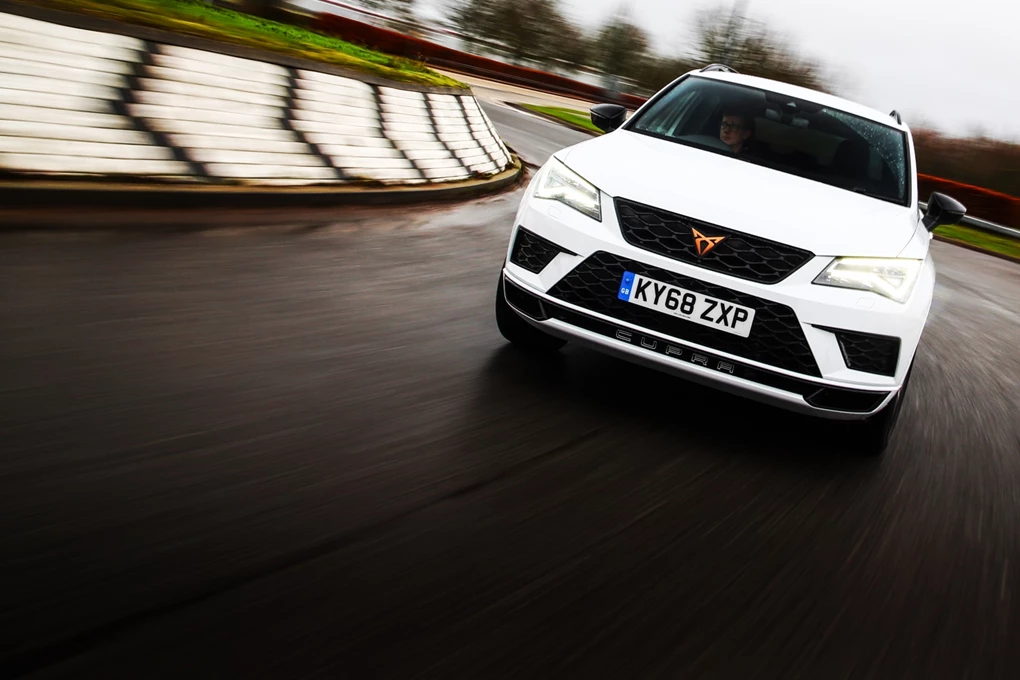 Performance
Underneath the Cupra Ateca lies a 2.0-litre turbocharged petrol engine, which is used widely across the Volkswagen Group's performance models. It produces 296bhp and 400Nm of torque, and that feels plenty in a mid-size SUV like this.
No manual gearbox is offered, with power being delivered via a seven-speed DSG automatic transmission to all four wheels. Impressive performance figures are a big draw, with the Ateca capable of a 0-60mph time of five seconds and a top speed of 153mph.
It certainly feels as if it has the performance to beat plenty of hot hatches.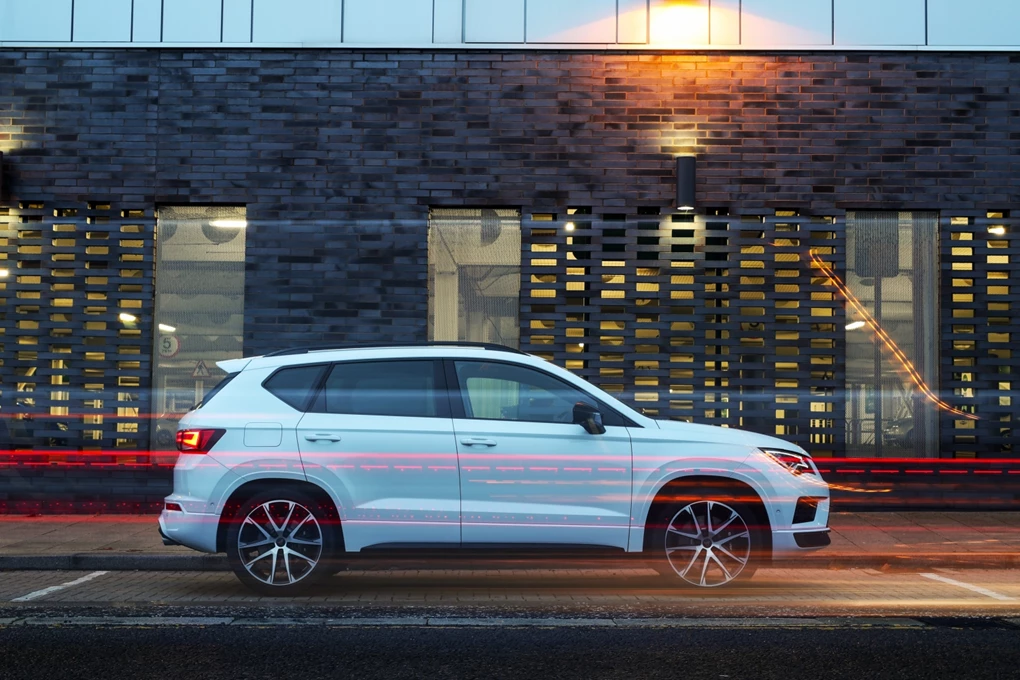 Ride and handling
When jumping behind the wheel of a performance SUV or crossover, there might be an expectation for it not to perform as well as a similarly-powerful hot hatch. But that never feels the case with the Ateca.
It helps that the Seat is one of the best-driving cars in its class in the first place, and it really doesn't feel too much different to that car at slower speeds. But once the opportunity comes for you to put your foot down, the Cupra side of things begin to shine. It's ferociously fast in a straight line, which is joined by the thrilling exhaust note.
It's also an easy car to place through the bends, but a stand-out feature for us is the brakes. Optional Brembos are fitted all round, which give you superb stopping ability. Our few gripes with it are that the DSG automatic gearbox can feel slow on downshifts and the ride can feel a touch firm.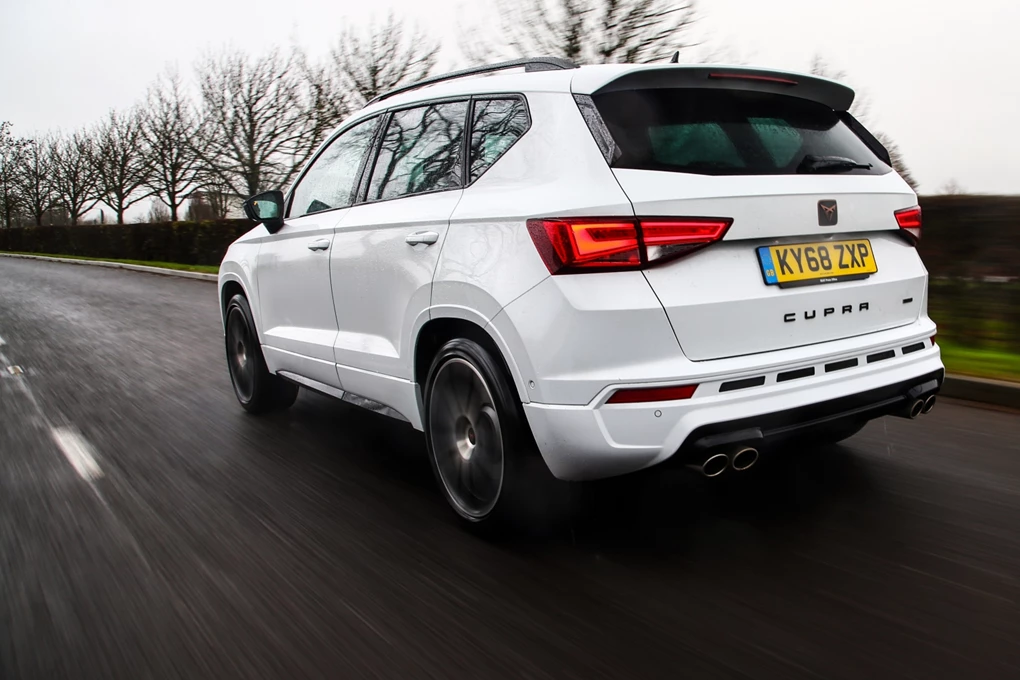 Interior and equipment
Despite Cupra's best attempts, this is very much a Seat in terms of looks inside. But that's not a bad thing by any means.
The Ateca benefits from the VW Group's typical high-quality cabin, just with some carbon-effect trim, sports seats and Cupra logos to help remind you that you're driving a hot model.
Aside from the four-wheel-drive marginally eating into boot space, the Cupra Ateca remains a practical model with plenty of space for weekend bags and shopping. Adults will also have no problem sitting in the rear seats.
Standard equipment is excellent, with 19-inch alloy wheels, full LED lights, a digital cockpit and front and rear parking sensors being included to name but a few options.
Buyers can then choose the 'Design' and 'Comfort and Sound' packs if needed. Design adds copper 19-inch alloy wheels, a black styling pack and the Brembo brakes.  As for Comfort and Sound, this features high beam assist, adaptive cruise control, a Beats sound system, heated front seats and an electric tailgate.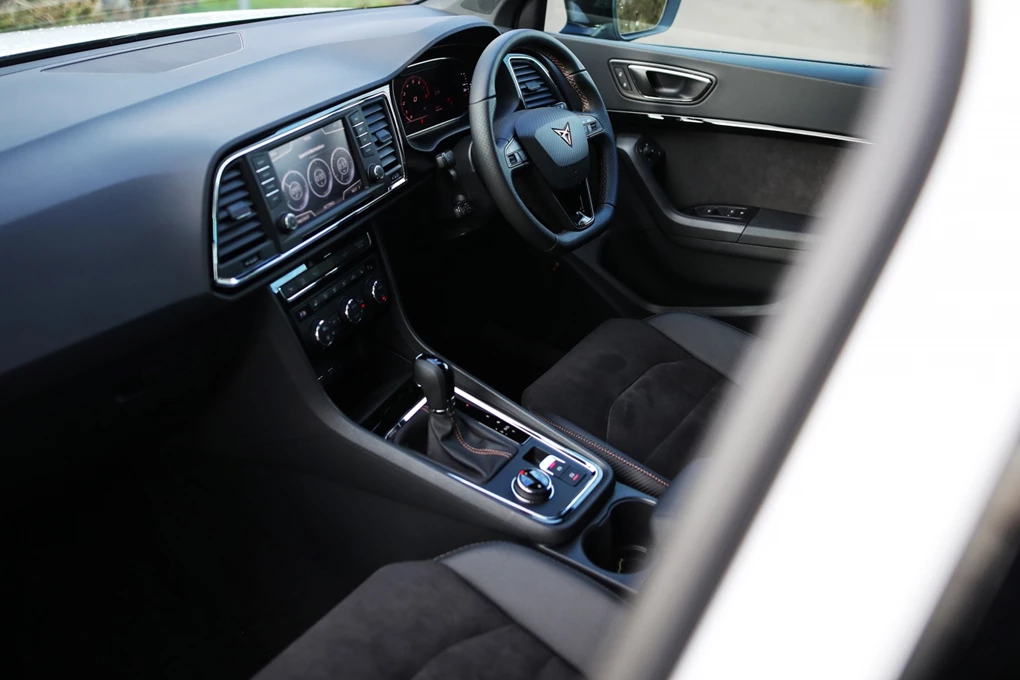 Cost
Prices start from £35,915 for the base model and rise to £41,190 for a car specified with the Comfort and Sound pack.
Entry-level prices are attractive when you consider the hot hatch-rivalling performance on offer, but with extra practicality. However, the range-topping model just seems a bit too steep in price.
As for running costs, Cupra claims the Ateca can return 38.2mpg on the combined WLTP cycle while emitting 168g/km in CO2 emissions.
- Entry Level Cupra Ateca - starting from £35,915.00
- Range-topping Ateca - starting from £41,190.00
Prices correct at time of publishing from the manufacturer website.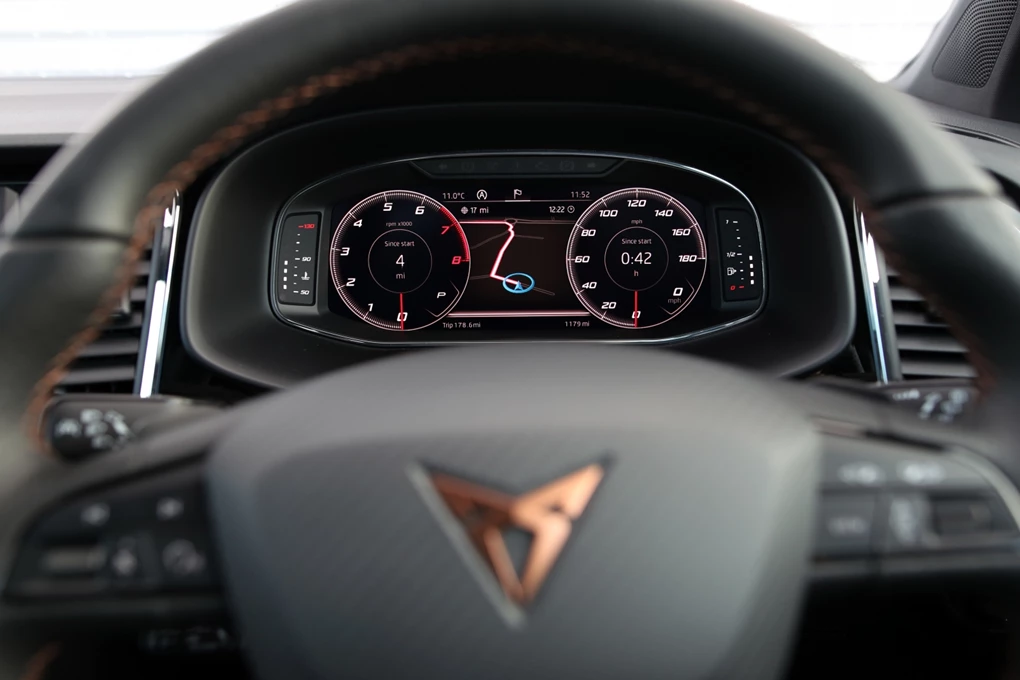 Verdict
The Cupra Ateca is a hugely attractive proposition. It ticks plenty of boxes and is both great to drive and also impressively useful and practical.
Sure, some might find it too closely aligned to Seat still, but the Ateca is a hugely promising start for Cupra.