Introduction 
Dacia has carved out a real name for itself when it comes to good-value motoring. Having found success with cars like the Duster and Sandero, Dacia is looking to capitalise by expanding into other segments with this - the seven-seater Jogger. Arriving as one of the cheapest seven-seaters in the UK, the Jogger takes the regular Sandero platform and adds even more practicality for only a little extra outlay. 
So it takes all of the aspects people love about Dacia products - the value-focused approach, robust build quality and decent equipment levels to name just three - and adds the extra practicality that comes with seven seats, as well as more storage options. There are even clever roof rails that can easily be converted into fully-fledged roof bars with the turn of an Allen key. So what else do you need to know about this new Dacia? Let's take a look. 
Performance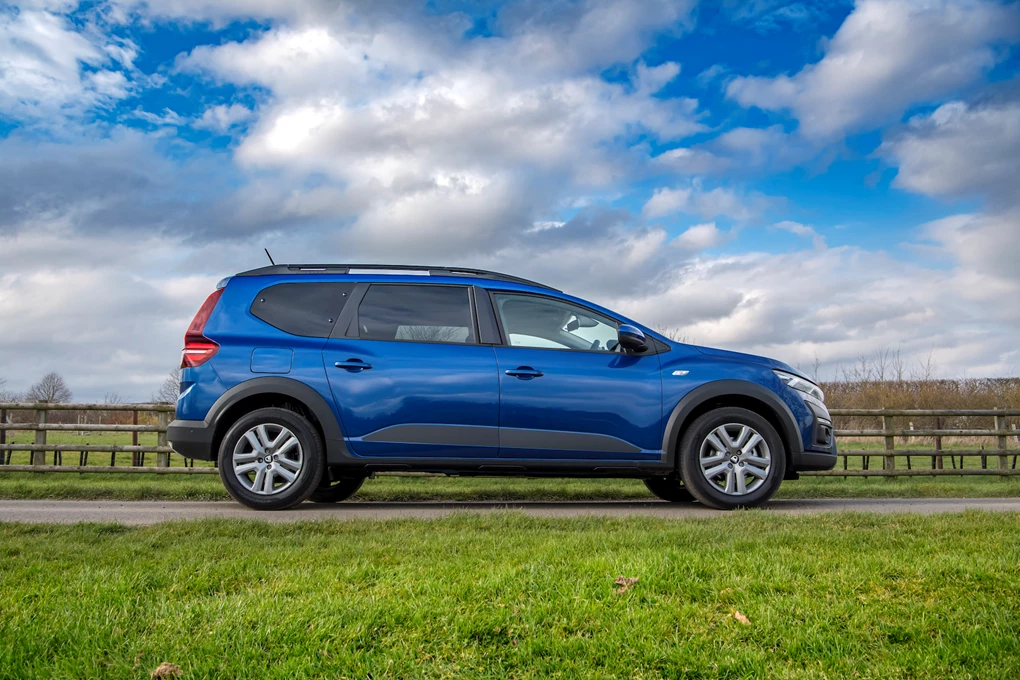 Things are kept simple for the time being with the Jogger's engine choices. There's just one - a 1.0-litre three-cylinder turbocharged petrol unit with 109bhp and 200Nm. Dacia quotes a 0-60mph time of 11 seconds which isn't awfully quick, but the decent torque levels mean that the Jogger feels a little punchier in real life than it does on paper. Power is sent to the front wheels via a six-speed gearbox, too. 
When it comes to fuel economy, Dacia claims that you should see up to 49.6mpg on the combined cycle, with CO2 emissions standing at between 130-131g/km depending on wheel size and trim. Dacia is also due to add a hybrid Jogger version to its range in 2023, meaning that those who want even lower running costs will be given an option further down the line. 
Ride and handling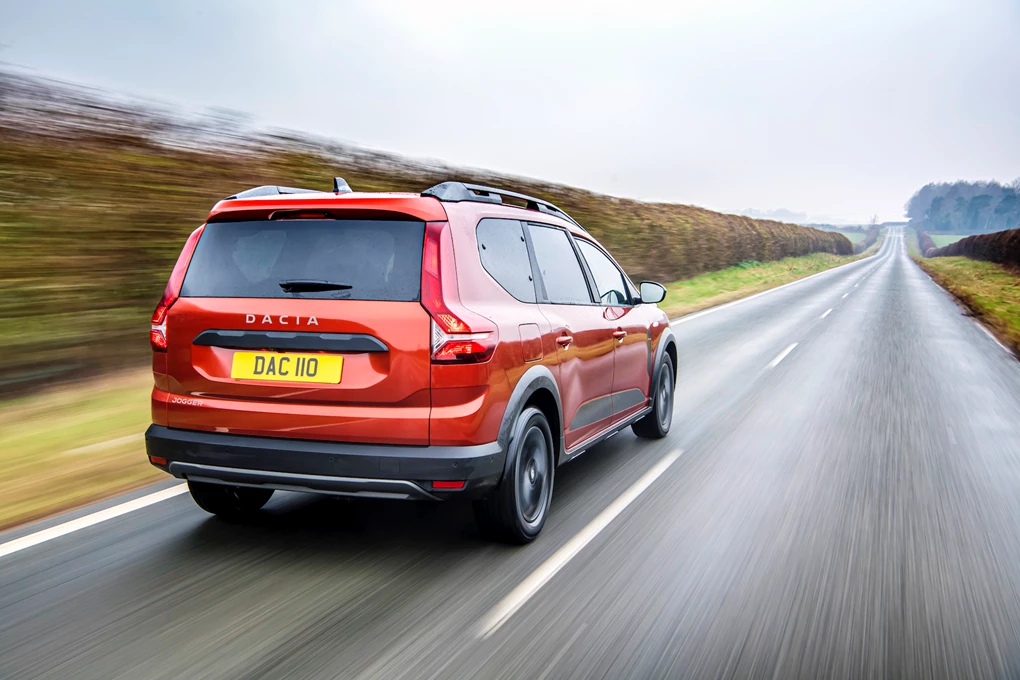 Dacia was very keen to point out that the Jogger is very light considering its size - it weighs in at just 1,200kg, in fact. That translates into a very lightweight driving style which makes the Jogger feel remarkably nimble and easy to pilot. The engine can be a little raucous when you're accelerating hard, but at a cruise it quietens down well enough. The ride is also well-judged for the UK's roads and deals with large potholes well. There's only a small amount of wind noise generated at speed, but the cabin is otherwise quiet and well isolated from the outside world. 
The slightly elevated driving position means that you get a good view of the road ahead while large wing mirrors and a decent amount of rearward visibility means you've got a good line of sight to most areas of the car. One area that takes a little getting used to is the Jogger's length, which feels considerably more than the regular Sandero. You soon get acclimatised to it, mind you. 
Interior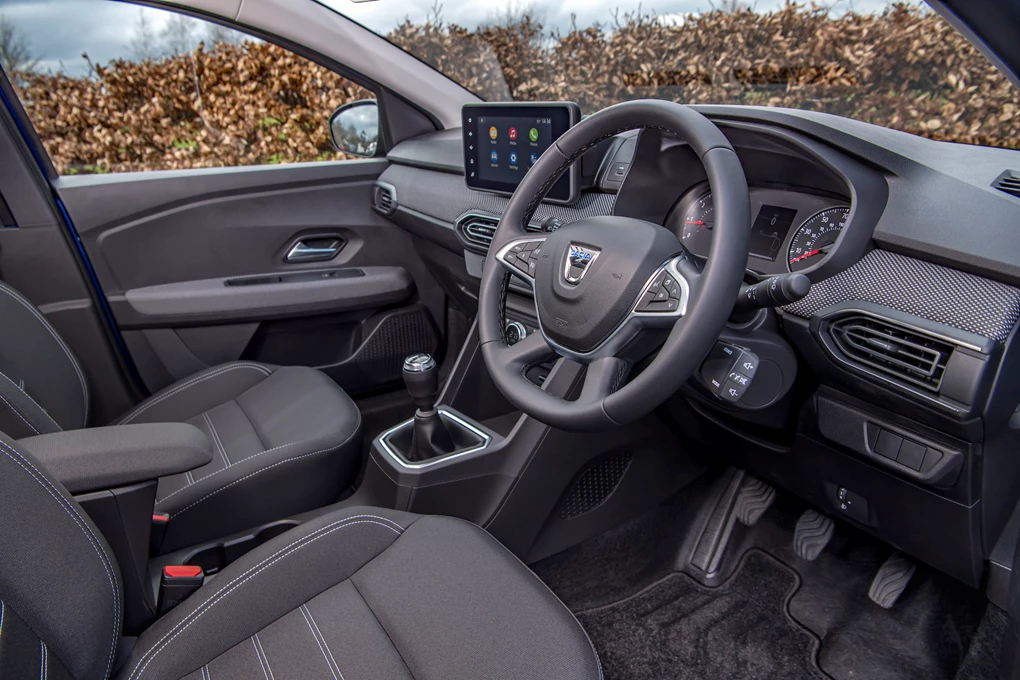 It's inside where the Jogger really starts to make sense. It's a really practical and flexible layout, with hard-wearing materials used throughout to ensure that the Jogger can cut it when it comes to daily duties. Both the second and third rows of seats are easy to fold, while the rearmost seats can be removed entirely to free up more boot space. They're also really light, so taking them in and out shouldn't prove an issue for most people. 
There's also a huge amount of headroom, particularly for those sitting in the middle row. Now of course the rearmost seats can't physically be the most spacious, but they're more than roomy enough for occasional use by adults or full use by kids. When it comes to boot space, there's still a usable 212 litres available with all rows of seats in place, rising to 2,085 litres with that back row removed and the middle seats folded flat. 
Equipment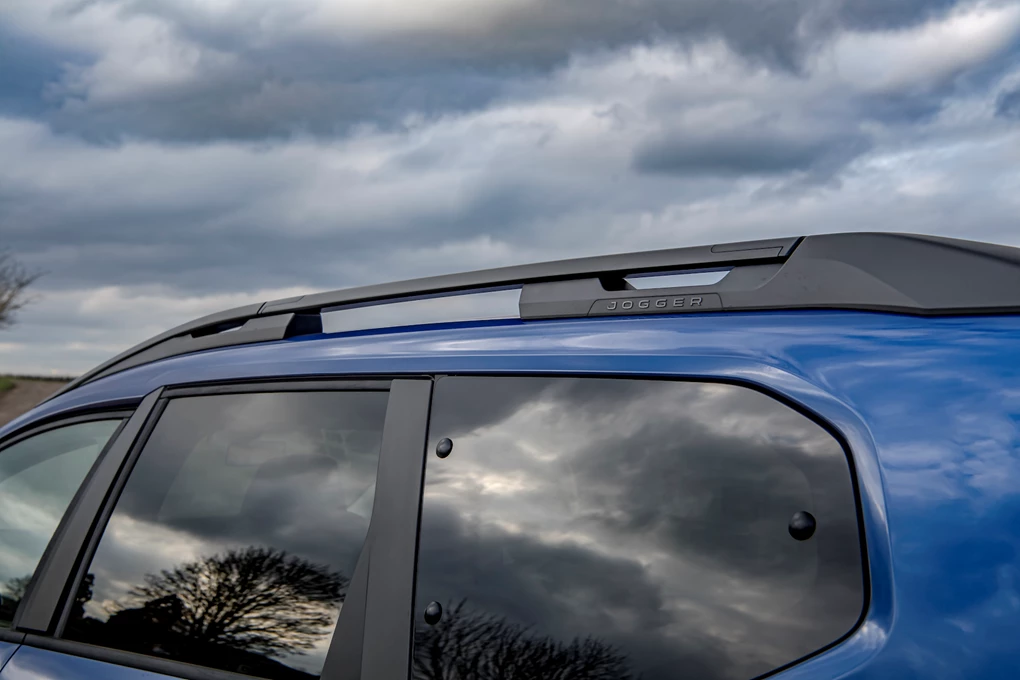 Dacia has priced the Jogger at an impressively low £14,995, but what do you actually get for that amount? Actually quite a lot, as it happens. Entry-level 'Essential' models still get air conditioning and parking sensors alongside Dacia's Media Control infotainment system which uses the driver's smartphone as the basis for the technology. 
Move up to 'Comfort' and you'll get added features such as a reversing camera and heated door mirrors, as well as the aforementioned module roof rails which pivot out from the main 'rails' to form bars. From there, you're able to mount bike carriers or a roof box, though Dacia says it's also able to carry bulkier items such as roof tents. 
At the top of the tree lies the Extreme SE. Here, you're getting high-end touches like 16-inch alloy wheels and a chunkier exterior design but, in truth, this grade bumps the Jogger's price up a little too much to make sense. 
Cost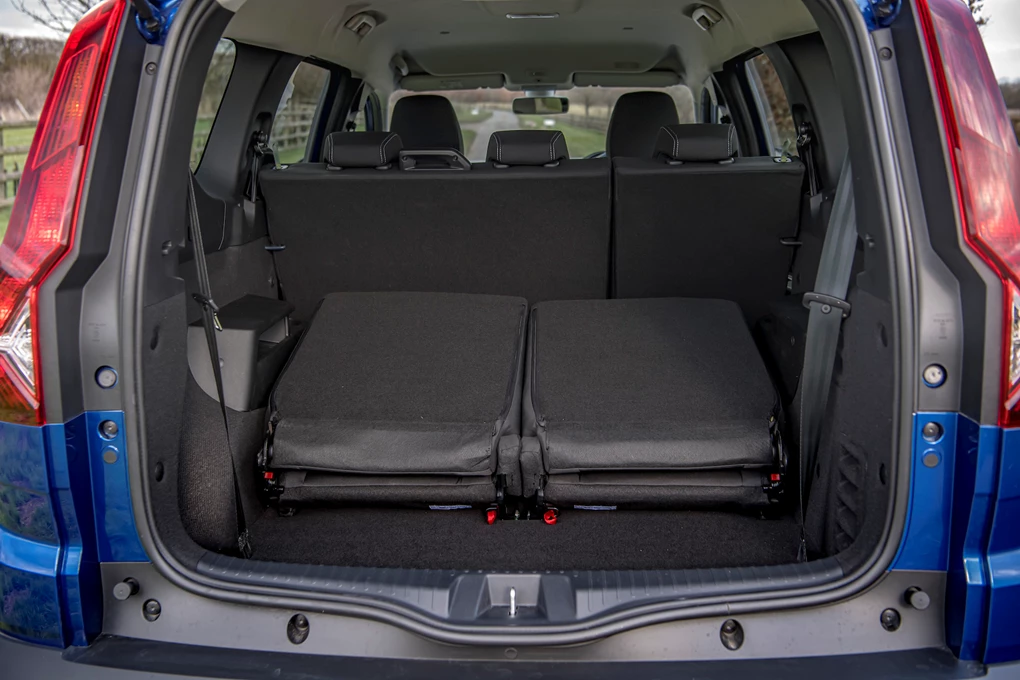 With prices starting from £14,995, the Jogger definitely has the value aspect covered. Given that it represents a £2,500 saving over the cheapest Ford Fiesta, which is considerably smaller and less practical than the Dacia, it makes for a compelling proposition. 
Even at £16,595 the mid-spec 'Comfort' makes for a really good choice and given the additional equipment it brings should mean that this is the go-to model within the Jogger range. Dacia has told us that though many people arrive at a dealership with the entry-level model in their sights, most are tempted to go up by one grade due to the added equipment. 
It's only the top-spec Extreme SE that makes a little less sense, given its £17,395 price. At this level, you're into the region of other rivals that could make for a more tempting choice. 
Verdict 
It feels as though Dacia is well and truly into its rhythm. Cars like the Jogger show that you needn't pay over the odds for practicality and for families who want a reliable but well-made car, this Dacia will no doubt hit the nail on the head. 
There are some drawbacks such as lower-quality materials and a slightly thrummy engine, but when you put this alongside the Jogger's impressively low starting price, it's very hard to argue with. 
Enquire on a new Dacia