It has been 50 years since Fiat's Spider roadster came into existence and the Italian brand feels that now is a perfect time to reignite the old flame.
Fans of the original 1966 Spider needn't worry though, Fiat is sticking very much to its roadster roots with the new 124 Spider, drawing on the originals' style and fun-factor. But what of its relationship with the Mazda MX-5 I hear you ask?
Well, the new Fiat 124 Spider and the Mazda MX-5 do share parts and are built alongside each other at Mazda's Hiroshima plant in Japan – and Fiat is not trying to dodge the fact that the two models do have a lot in common. However, Fiat claims that its new Spider is designed to feel different and unique, which is evident even from the outside as every panel is new.
At 4,054mm long, the Spider is 139mm longer than the MX-5, the reason for that being the addition of turbocharger which slurps air in and out of a 1.4-litre petrol engine. This is the same petrol engine Fiat has already made good use of in its Giulietta and Mito models – it is also used in the Abarth 500.
But can the Fiat 124 Spider offer something distinctively different to its Japanese counterpart?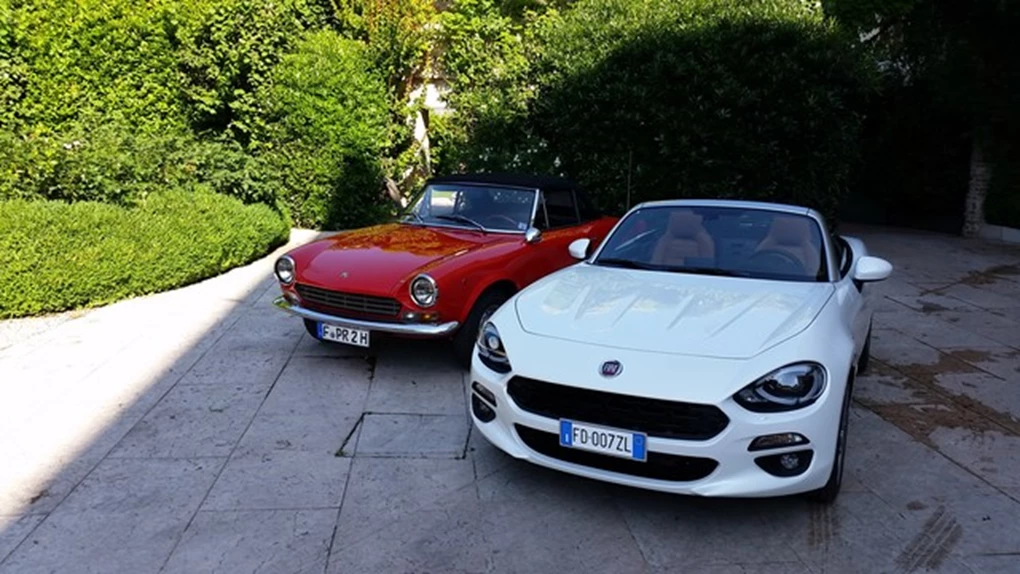 Performance
There is just one engine to choose from in the Spider, a 138bhp 1.4-litre Turbo Multiair turbocharged petrol mated to a six-speed manual gearbox. The big deal here is the turbo.
With the turbo in place the 1.4-litre unit can deliver 240Nm of torque at just 2,250rpm, so it doesn't need revving out as much as a naturally-aspirated engine. Some may argue that that takes some of the fun away, especially when it comes to a roadster, but the Spider still offers plenty of thrills and, if you so wish, it will happily rev out to the red line. The turbo also gives you the opportunity to drop a gear and be propelled forward by instant thrust. There's no avoiding dreaded turbo lag before you hit that all important rpm figure though.
It's an interesting alternative to something like the naturally-aspirated MX-5, which achieves the grunt of its torque much higher up the rev range - at 4,800rpm in the 1.5-litre. The 1.5-litre MX-5 also offers considerably less torque at 150Nm and is almost a second slower than the Spider, of which hits the 62mph mark in just 7.5 seconds.
The gearbox is snappy and eager to riffle through to sixth, although it's not as sharp and mechanical as the MX-5's – almost like Fiat has tried to create a more 'normal' feeling gearbox to appeal to a wider customer base.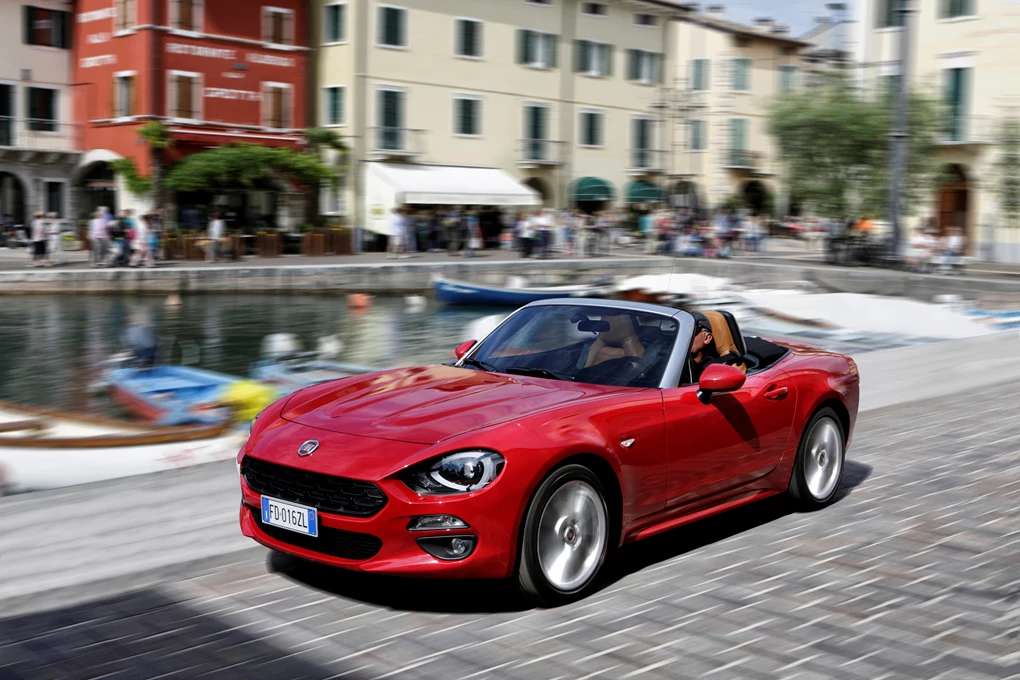 Ride and Handling
If you are after sharp steering, a competent suspension and brilliant balance then the 124 Spider is spot on.
Fiat has made a fair few changes to its 124 Spider. Although parts are shared with the MX-5, Fiat engineers have fitted unique roll bars and springs and have also retuned the steering and stability control. Plus, the gear ratios of the six-speed manual transmission are different. If you are after sharp steering, a competent suspension and brilliant balance then the 124 Spider is spot on. From tight, busy streets to winding mountainous roads, the Spider certainly delivers on the fun-factor and composure front. Although it is incredibly well-planted through bends, its rear-wheel drive set-up still gives you the ability to flick the back-end out (safely of course) and make the most of its roadster DNA. In a similar way to the six-speed manual gearbox however, the steering in the Spider feels ever so slightly angled towards everyday comfort more than full-on engagement, although it is set-up to be slightly weightier (although we didn't really notice) and the steering-wheel is chunkier. This may be just what the doctor ordered for some, but for us it takes away from its roadster charm slightly.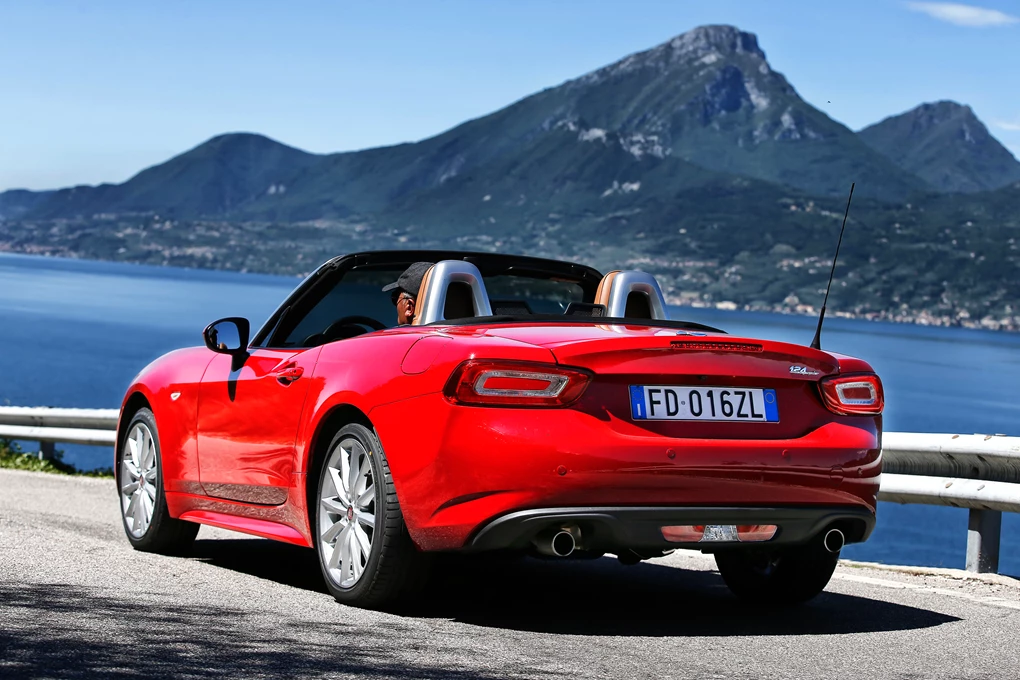 Interior and Equipment
The Fiat's 1.4-litre Turbo Multiair engine actually has more torque than both the MX-5's 1.5-litre and 2.0-litre petrol units.
The interior screams MX-5, naturally. However, Fiat has made a conscious decision to give Spider a slightly plusher interior – and the effort shows, with a greater number of soft-touch materials which, with the cream leather, looks particularly lavish. The easy-to-use roof mechanism remains though, thankfully. There are three trim levels to choose from, Classica, Lusso and Lusso Plus. Standard kit on every model includes air-con, Bluetooth, cruise control, 16-inch alloys and a leather-trimmed steering wheel with mounted controls. The Lusso model that we tested added bigger 17-inch alloys, a seven-inch infotainment screen with sat-nav and a rear-parking camera, automatic climate control and heated leather seats. Go for the flagship Lusso Plus model and you will get a nine-speaker BOSE sound system, LED daytime running lights, adaptive LED headlamps and automatic lights and wipers. Some will potentially have the same issue as they do in the MX-5 with the Spider as the steering wheel does not adjust for rake and the driver seat adjustment is limited. The actual driving position, once you do get comfy, is spot on. The necessary added length to accommodate the turbo actually makes for 10 litres more boot space for the Spider when compared to the MX-5, standing at 140 litres. The boot opening is still a little awkward and letterbox-like, but it easily accommodates rucksacks.
Cost
It's slightly pricier to buy and to run than the MX-5.
There's not a lot of difference on the pricing front with the Spider and MX-5, but there's definitely enough to influence your buying decision. At £19,545 the Spider is about £1,000 more than the MX-5, but you do get a plusher interior for that price. Running cost wise, the Spider's turbo claims an average return of 44mpg and CO2 emissions stand at 148g/km. So, it's slightly pricier to buy and to run than the MX-5.
Our Verdict
Fiat has certainly created something that deserves its own time in the limelight, out of the MX-5's shadow. Although sharing a lot of character traits, both models definitely have their own distinct personalities. It does feel like a grown-up, well-engineered roadster, although we can't help but feel it lacks a smidge of finesse when compared to the MX-5. But coming within a whisker of the MX-5 is a real achievement that Fiat should be proud of. The key divider between the two may very well come down to which camp you belong to – the turbo or the naturally-aspirated.