Fiat earned its mojo back when it reinvented the 500, going from strength to strength in the small car arena with the acclaimed Panda; even the 500L seems to be working for the Italian maker.
However, the 500 remains key for the brand. It is a car that appeals to young and old, the young because it's cool and chic, the old thanks to its well-defined heritage. And, unsurprisingly to many, it has an 85 per cent female split when it comes to sales.
Its compact city-going manner means it is up against models like the Volkswagen Up, Hyundai i10 and, when it comes to personalisation and style, the Vauxhall ADAM. In fact, Fiat have actually said that in 2014 its 500 model outsold all of its Volkswagen Group competition, combined. That includes the VW Up, SEAT Mii and Skoda Citigo.
For 2015 Fiat has revamped its 500 model, claiming that it incorporates 1,900 new components, the most noticeable aesthetic changes being a new 3D-effect grille at the front and chrome strip on the rear bumper. Both of these changes actually make it look sportier and a bit more masculine. There have also been a few kit level upgrades and improvements to engine efficiency.
The Italian brand has been up-front about the small additions to the model, saying that "It hasn't tried to mess around with it too much." So let's see if the latest 500 deserves the same kudos as its ancestor models.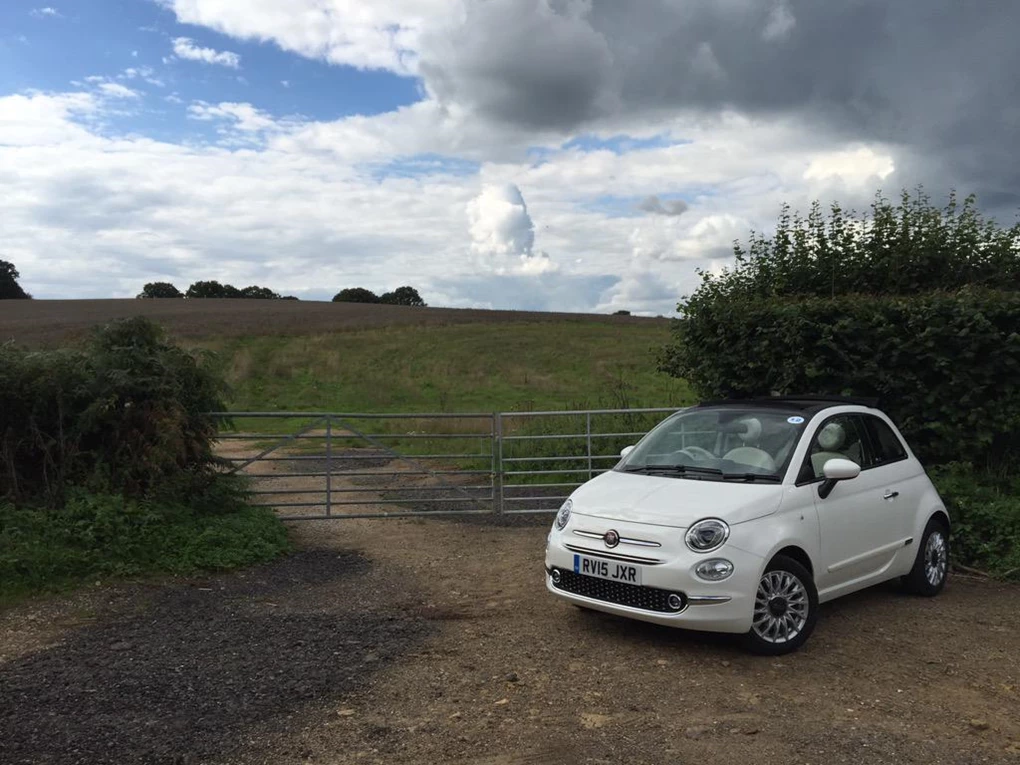 Performance
There is a familiar engine line-up in the 500, with a 69bhp 1.2-litre petrol and a 0.9 TwinAir turbo petrol, offered with either 84bhp or 104bhp. The previously offered 1.3-litre diesel will be added to the range toward the end of the year.
Like many city car engines, they will happily get you from A to B, but you will need to adapt your driving style to get the most out of them. The 1.2-litre for example, which is expected to be the best-seller, is a little difficult to judge in-between third and fourth – and you may find yourself constantly swapping back and forth between them looking for a pocket of power. This is also the case with the 0.9-litre TwinAir with fifth and sixth gear. The manual gearbox, however, is fairly slick.
Thanks to the presence of a turbo, the TwinAir is by far the peppiest in the range, especially if you go for the 104bhp variant. A zero to 62mph sprint of just 10 seconds is pretty impressive for a city car.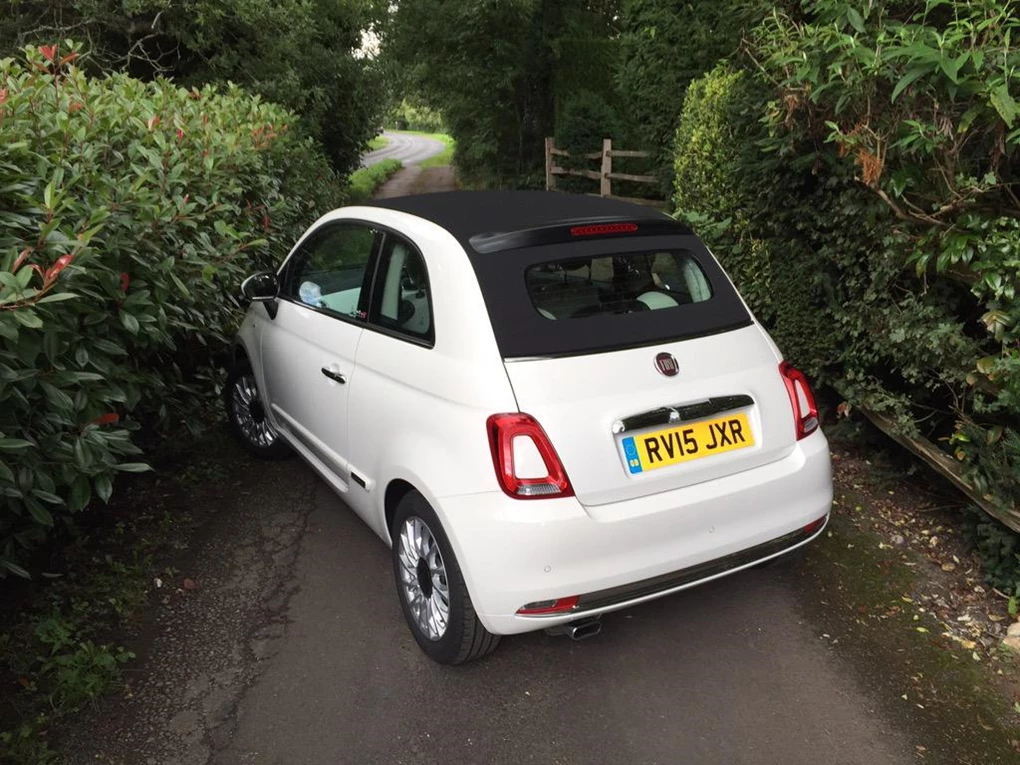 Ride and Handling
Taking it out of its natural habitat of the urban jungle and onto a motorway does feel a tad alien.
The light steering of the 500 means it is incredibly easy to drive around busy city streets. Combine this with its spongy suspension that can handle speed bumps and pot holes with ease, and you have a rather competent little city car. However, taking it out of its natural habitat of the urban jungle and onto a motorway does feel a tad alien. It can also be rather unnerving at speed on a country lane as the supple suspension means it is susceptible to leaning in the corners slightly and becoming rather unsettled and bouncy over small hilly roads. The lack of lumbar support in the seats doesn't help either.  Depending on what derivative you go for, there is a selectable 'city' or 'sport' mode, the former making the steering even lighter and the latter making it weightier. The sport mode does have an elastic, artificial feel though, however it does make it a tad more adept in the corners. The important thing however is that it is composed in the city where it will no doubt spend most of its life.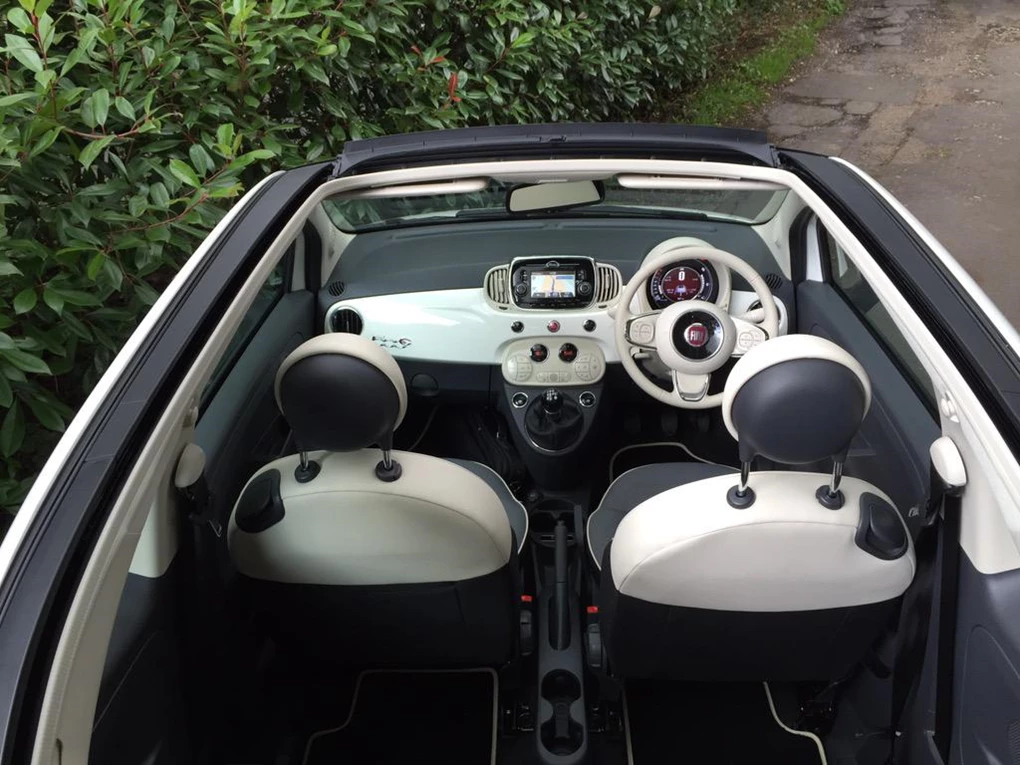 Interior and Equipment
The Fiat 500 range has expanded massively over the years and now includes the 500, 500C, 500L, 500L Trekking and 500L MPW.
The cabin retains its quirky styling, with a colourful inlay on the dash that can be combined with its exterior paint job. There are three core trim levels: Pop, Pop Star and Lounge. Lounge is expected to be the most popular model. Entry-level Pop models get steering-wheel mounted controls (incorporated into a slightly reworked steering-wheel design), electric front windows, LED daytime running lights, USB connectivity and fuel-saving start/stop technology. Highlights of Pop Star models include air-con, 15-inch alloys and 50/50 split folding rear seats.  Lounge models gain the likes of rear parking sensors, a height-adjustable driver's seat and a five-inch touchscreen radio display with Bluetooth. There are over 100 different accessories to choose from – one of which is an all-important £600 integrated sat-nav system. Fiat has added two new exterior paint jobs and alloy wheel designs to the already vast line-up. There is also a new 'second skin' option for customers to ponder, which basically involves a series of body decals similar to that of its rivalling Vauxhall ADAM model. As you would expect, the Fiat 500 is not great when it comes to practicality, due to its compact dimensions. Rear passengers will struggle for head and leg room. There is 185 litres in the boot which isn't much, but is actually bigger than the Toyota Aygo. Maximum storage space stands at 550 litres, big enough for a suitcase or several shopping bags.
Cost
The TwinAir claims to return as much as 74mpg on average.
There have been some improvements in the CO2 department, with the 1.2-litre shaving 3g off its total, meaning it stands as low as 105g/km. The 0.9-litre TwinAir has shed 2g as well, standing as low as 88g/km. The TwinAir also claims to return as much as 74mpg on average. Starting from £10,890, the Fiat 500 costs a few thousand more than the mainstream city car competition – and if you go for what is expected to be one of the best-selling Lounge models, it will cost you upwards of £12,640. Its impressive kit levels are worth examining however before you rule it out as too expensive.
Our Verdict
Fiat has stuck to its guns when it comes to the 500's retro design – and fair enough, it seems to have worked so far. For those who are after a unique-looking city car that offers plenty of style, the Fiat 500 is on the money. It isn't what you would call exciting to drive, but city dwellers shouldn't be too concerned about that. If you want decent practicality then you may want to look elsewhere – but there is no denying that the 500 is here to stay with more variations in the pipeline.