The 500L shares little with the Fiat 500 hatchback other than its name and a few styling details. Built on different underpinnings, it's considerably larger than the supermini, and was in fact created as a rival to the similarly bulky MINI Countryman. The L in the name even stands for "Large".
In standard form it's very roomy, and the long-wheelbase MPW (Multi Purpose Wagon) is even more so, to the extent that some versions have seven seats instead of five. Another derivative is the Trekking, which despite being front-wheel drive like all the others nevertheless has more off-road potential thanks to its extra body protection, Mud and Snow tyres, greater ground clearance and Traction+ system.
For some, styling is everything and they won't like the enlarged 500. For others, however, another way to view is that they get the 500 badge in a more practical package. When taking rivals into account, you'll have to consider the likes of the Ford B-MAX, the Vauxhall Meriva and the MINI Countryman.
Speaking of MINI, the Fiat 500 has ultimately followed a similar path to one of its arch-rivals. Both the 500 and the MINI started out as very successful small cars and have since attempted to expand their appeal with larger derivatives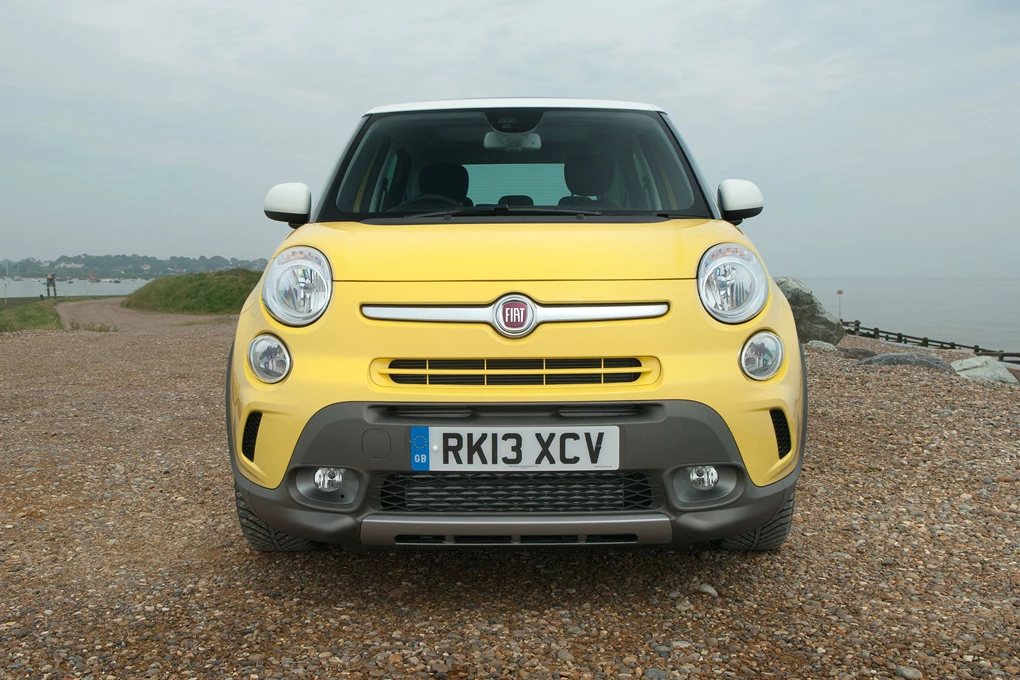 Performance
Car Keys has tested the 1.6-litre diesel 118bhp Trekking Beats Edition, which can reach 0-62mph in 11.5 seconds and hit a top speed of 114mph. It's no rocket ship, but generally feels quick enough for a vehicle of its type. However, the engine can be quite noisy if you ask a lot from it.
This diesel unit is connected as standard to a six-speed manual gearbox and features stop-start technology as standard. The rivalling MINI Countryman is also available with a 1.6-litre diesel that offers outputs of 88bhp or 110bhp. With the former output, the Countryman's performance is similar to the 500L we tested. With the latter output, however, the MINI can do the benchmark sprint in about ten seconds.
The only petrol option is a 1.4-litre with 94bhp, which feels less well-suited to the 500L because of its lack of pulling power. A 1.3-litre diesel is also offered with 94bhp and the option of a manual or Dualogic automatic gearbox.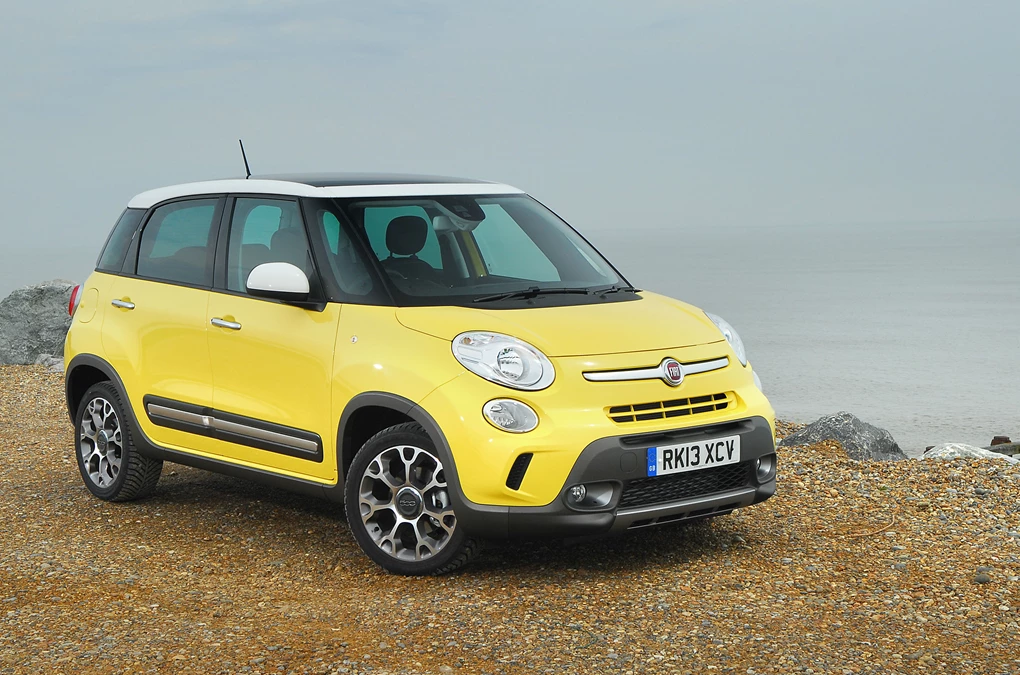 Ride and Handling
B-roads are not where this car excels, but it does perform well in town and on dual-lane roads. The ride is compliant but our advice is to stick with the 15-inch alloys to keep those comfort levels high.
The Fiat 500L is not as good to drive as its sibling 500. The L, to be fair, has a higher profile making it a bit more awkward. It's not as composed as a Ford B-MAX, which has this class sewn up thanks to top-notch driving dynamics. So, B-roads are not where this car excels, but it does perform well in town and on dual-lane roads. The ride is compliant but our advice is to stick with the 15-inch alloys to keep those comfort levels high. The steering is fairly light and straightforward but also artificial, offering little in the way of feel in return. The Trekking version has extra ground clearance, and while it's only front-wheel drive, a system called Traction+ helps prevent one wheel from losing grip and spinning away power. It can be helpful in snow, mud and driving on grass, but has its limits. The Trekking is also fitted with mud and snow tyres, which offer extra grip but also increase tyre noise at motorway speeds.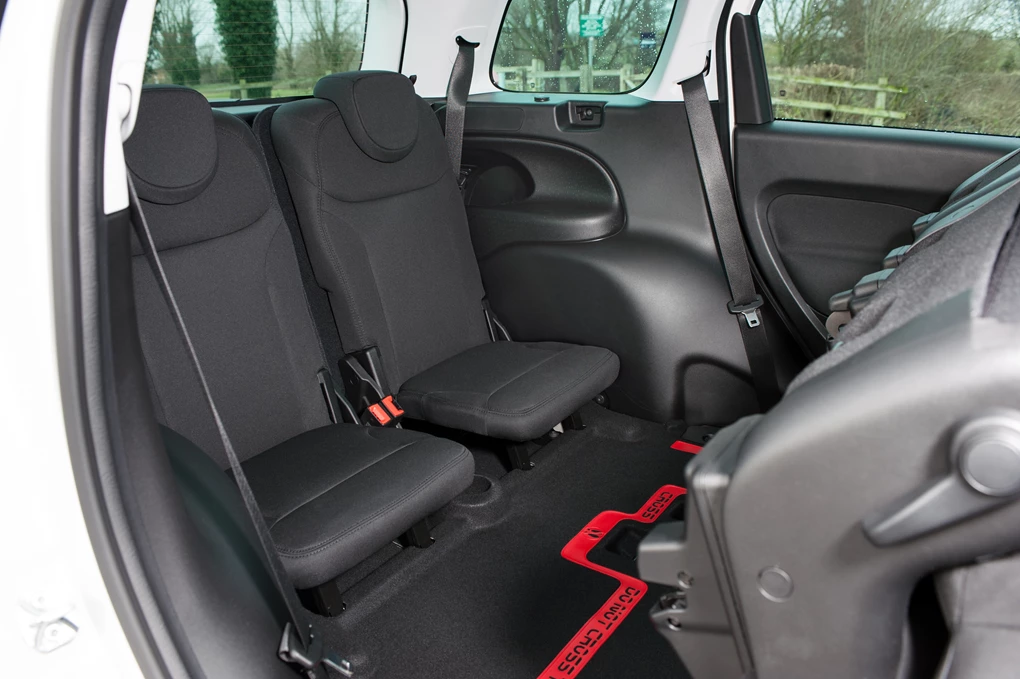 Interior and Equipment
The Fiat 500L was the first ever car to be launched with the optional feature of an onboard coffee machine.
Jump inside the 500L and the first thing you notice is the airiness of the cabin. The materials used are about average in quality, however, some of the plastics used on the doors do feel very cheap. There are plenty of interesting features like the 'Kiddie mirror', which is a second interior mirror which pops down so you can keep an eye on the wee ones in the rear – useful for parents. Our 500L came in Lounge trim and had a panoramic sunroof, these are brilliant at allowing light in and always make cabins more pleasant than they would otherwise be. The five-inch touch screen houses Fiat's Uconnect multimedia system, which includes access to radio, Bluetooth, and if you have one connected, an MP3 player. This screen does get swallowed a little in the vast dashboard of the 500L, which may put off those who are tech-conscious. Stretching the 500 into a 500L has worked a treat on the practicality front. Even though the styling may be an acquired taste, the car is certainly spacious. It has more boot space than a Volkswagen Golf - 20 litres to be precise. Push the rear bench forward on its runners and this expands the boot space to 400 litres. Need more space? Fold the rear seat bench flat and the load room boasts a carrying capacity of 1,310 litres. These last two figures surpass the MINI Countryman, which offers 350 litres of boot space with the rear seats up and 1,170 litres when they are folded down. If you go for the 500L MPW model then storage space tops out at 1,708 litres, thanks to the slightly longer body. There is also the addition of two passenger seats, which easily fold up from the floor of the boot. To reach these seats the first row of passenger seats roll forward – similar to that of the Skoda Yeti – allowing easy access. These seats are perfect for small children, but if you plan on staying on good terms with your older friends and family, then sitting them back there is not recommended. In terms of seating position, the 500L rides quite high, almost giving a van-like feel as you can tower over most traffic. This is great when it comes to busy city streets as you can look over traffic jams to the road ahead.
Cost
While pricing across the 500L range is similar to the MINI Countryman, the Ford B-MAX is noticeably cheaper.
The Fiat 500L scores well here, with decent economy from all its diesel engines.  CO2 emissions can be as low as 105g/km if you pick the 1.3-litre diesel engine, so annual Vehicle Excise Duty payments start at just just £20. Petrol models are much more expensive to tax, with the 1.4-litre producing 143g/km of CO2, costing £145 each year. Official combined fuel economy can be as high as 72.4mpg in the 1.3-litre diesel Dualogic, although we'd expect this figure to be difficult to achieve in the real world. The Fiat 500L range begins at just over £13,000, which is less than some people pay for superminis, and only a few models cost more than £20,000 without extras. While pricing across the 500L range is similar to the MINI Countryman, the Ford B-MAX is noticeably cheaper, with all specifications priced under £19,000.
Our Verdict
There is no getting away from the fact that, regardless of the clever advertising surrounding the 500L, this is a car that splits opinion. For us, there is more to dislike than love. On the positive side, it is practical and the diesel engines are impressive in terms of efficiency. However, that design is a step too far, losing some of the 500 charm on which it is based. Costs for the 500L range are competitve next to the MINI Countryman, but the 500L is significantly pricier compared to other current MPVs. Search hard enough and you'll find there are alternative rivals that offer similar strengths and more, all for a cheaper price.