Ford has a long and illustrious history of creating performance models, with the RS (which stands for "Rallye Sport") badge using sparingly on only its most hardcore specials. Hero cars like the Escort RS Turbo, RS200, Sierra RS Cosworth and Escort RS Cosworth, not to mention the original Focus RS and second-generation model.
And, to show how serious it is, Ford has implemented a huge number of changes to transform its humble family hatchback into the third Focus RS. For the first time, the Focus now gets four-wheel drive instead of front-wheel drive, along with so many other design and engineering differences, the RS is practically a stand-alone model.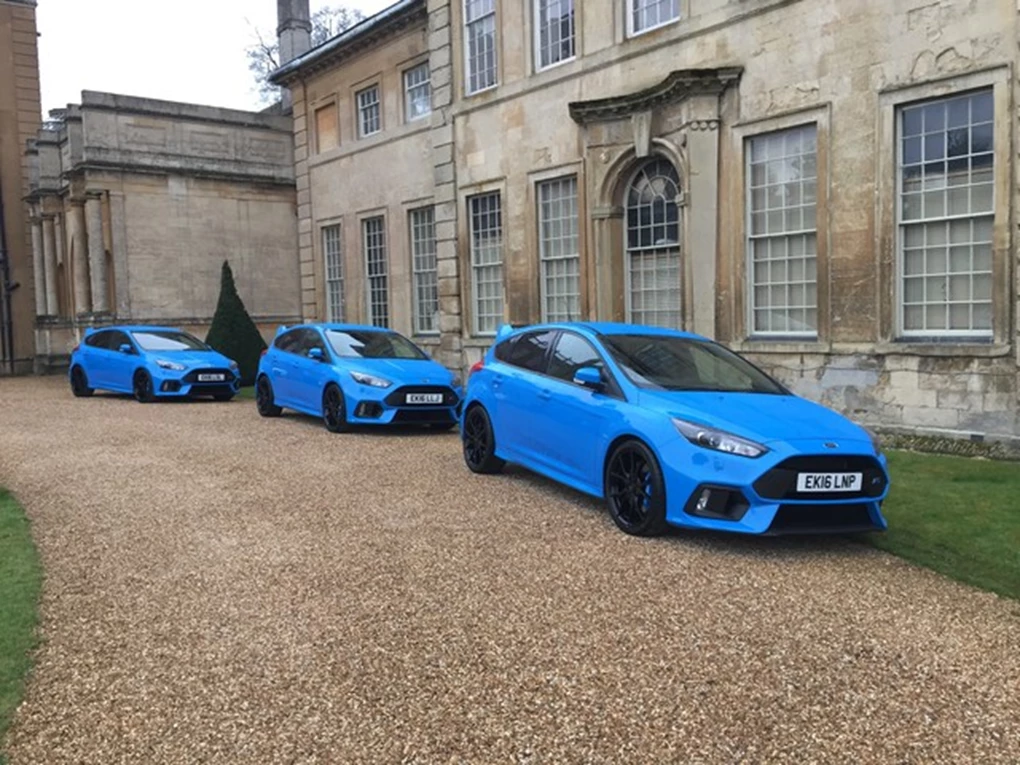 Performance
Unlike the five-cylinder second-gen Focus RS, this model is back to a petrol four-cylinder, measuring 2.3-litres and with a turbocharger. Power is up to 345bhp from 301bhp and this time it's fed to all-four wheels. Now, that last bit is most important, because the number one enemy of the Focus RS has always been torque steer. It's a fact of physics that if you send serious power to the same front wheels which steer the car, you will get some wayward wheel spin and tugs at the steering wheel, and while clever suspension made the Mk2 far easier to drive, it could still put hairs on your chest.
Not now. Floor the RS from a standstill (it even has launch control) and you can feel its four-wheel drive system metering out power to each wheel as the steering wheel remains unflustered. You are kept busy though, because with a six-speed manual you'll need to be on top of your gear changes, which is a pleasure thanks to the slick gearbox.
Acceleration from 0-62mph takes just 4.7 seconds, 1.2 seconds less than the old car and faster than many past supercars. Importantly it also means this fast Ford is quicker than a Volkswagen Golf R, its highly-praised rival.
You can change its character too, with the 'Normal' driving mode keeping the engine smooth, but relatively restrained, while 'Sport' is best suited to enthusiastic road driving. The throttle response is sharper and more urgent, and the exhaust treats you to pops and bangs when you lift off the throttle.
Ride and Handling
Essentially, it makes almost any driver look and feel like a bit of a hero
While many four-wheel drive performance cars use running gear adapted from SUVs, Ford has taken a different approach with the RS, fitting a system which can send power not only to the front or rear of the car, but also from side to side. This delivers a "torque vectoring" effect, which can use power to improve agility and even make the RS handle a certain way. So, in 'Normal' mode, torque usually goes to the front wheels for economy, but switch to the unique 'Drift' mode and it's juggled between the rear wheels to help the RS behave like a rear-wheel drive sports car. It's an incredible feeling, and while we were worried such distinct 'modes' might make driving the RS feel strange, or artificial, in reality it simply feels like you're driving a hatchback with hardly any understeer, which can even hang its tail out on track if you're committed enough. Essentially, it makes almost any driver look and feel like a bit of a hero and 'Track' mode will see even a ham-fisted rookie set blistering lap times. Of course, the suspension has to be up to the task too, and it's superbly well-judged. It has just two settings, one for road use and one for track, with the former being pliant enough to be relatively comfortable without ever feeling soft or mushy. It's not as relaxing as a Golf R, but it's not far off and might even offer a smoother ride than a Focus ST. Use the column-stalk button to firm up the dampers and they stiffen by a huge 40 per cent, which sees the car bobbing up and down on the road. Ford's gurus told us they wouldn't even use the firmer setting on the famed Nurburgring Nordschleife, because it's only suited to smooth racing tracks, where it serves up tremendous grip.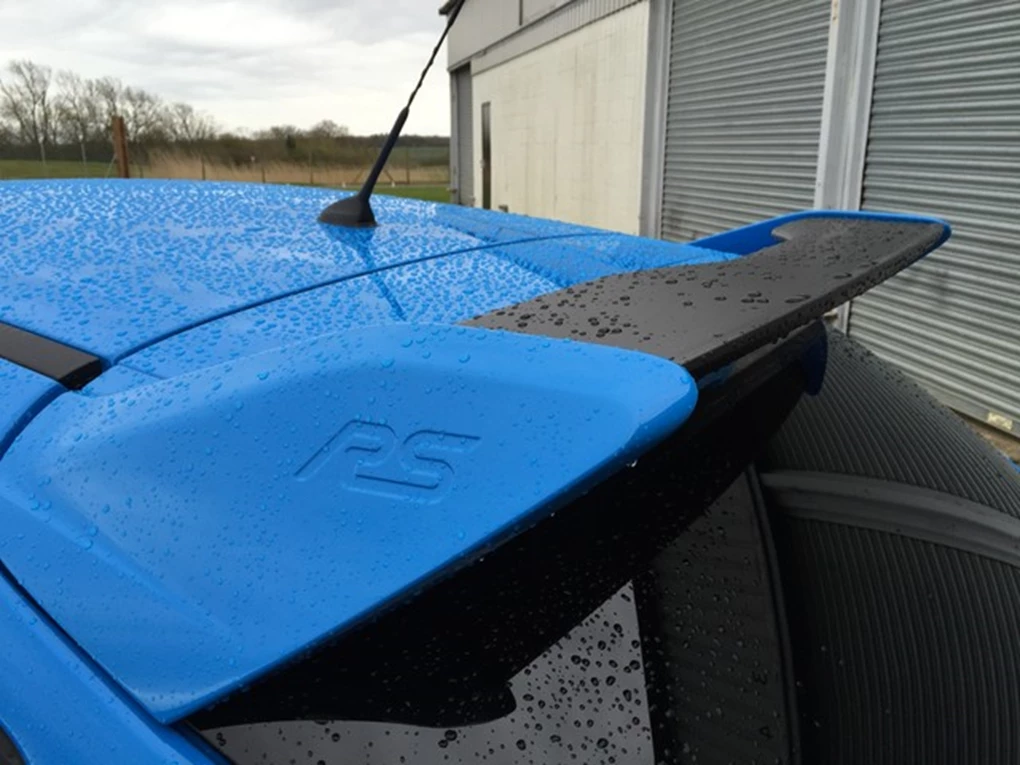 Interior and Equipment
The Ford Focus RS is half-a-second faster accelerating from 0-62mph than a Ferrari Testarossa.
While it's nowhere near as pared back as Subaru Imprezas of old, the RS feels a little similar, in that most of your money is going towards the engine and chassis, not the interior. So, if you've been in a Focus ST, or even a standard Focus, there aren't too many changes here. The materials are so so, but the addition of a large eight-inch SYNC2 infotainment system at least makes the cabin look a lot more modern, while offering many connectivity options. Probably the biggest difference in the front are the Recaro sports seats with leather side bolsters, which can be upgraded to racing-style Recaro shell seats for £1,145. Other tasty options are the Luxury Pack, with keyless entry, cruise control, folding door mirrors, rear parking sensors and tinted windows for £1,000, sat-nav (including rear camera and premium Sony audio upgrade) for £465 and lightweight 19-inch forged alloy wheels costing £595. Being a Focus, practicality is of course very good, with plenty of space in the cabin for four adults and three sculpted rear seats. The main disappointment is the boot, because the four-wheel drive system has meant the floor is raised, reducing space to 260 litres, a fair bit less than the Golf R's 343 litres.
Cost
While it's much quicker than the Mk2 RS, it's cleaner too
Trust us, while £29,995 might seem like a lot of money for a Focus, it's a bargain. It seems owners agree, choosing almost every option to lift the price well above £30k. Why? In pure performance terms the Focus RS is one of quickest cars on the road, and not only is it blisteringly fast, it's immensely satisfying to drive too. While it's much quicker than the Mk2 RS, it's cleaner too. Economy is now rated at 36.7mpg (up from 30mpg) and emissions have been slashed from 225g/km of CO2 to 175g/km.
Our Verdict
The Ford Performance team has really gone to town on the Focus RS, taking any complaints about the old model and addressing them with dogged conviction. It's rare to drive a car which feels truly special, but the RS really is one of them. Its different driving modes might sound like a gimmick, but in reality they allow you to exploit the fantastic four-wheel drive system, which is amongst the most advanced fitted in any road car, at any price.