Introduction
Despite being around for several years, Vignale is still something many are not aware of. Essentially, it's Ford's posh sub-brand, but rather than being a separate firm in the way that Lexus is to Toyota and DS is to Citroen, Vignale is really just a special trim level.
Originally just offered on large Fords – such as the Galaxy and Mondeo – it's crept down to smaller models – first the Fiesta and now the Focus.
So this is essentially a posh Focus, but one that offers a level of luxury not typically found in this segment. It's first and foremost distinguished by its Vignale badging – it doesn't say 'Focus' anywhere – but also lots of chrome. Highlights include machined 18-inch alloy wheels, a sparkling grille and some bespoke body colours, as well as a full leather interior and a lengthy standard equipment list.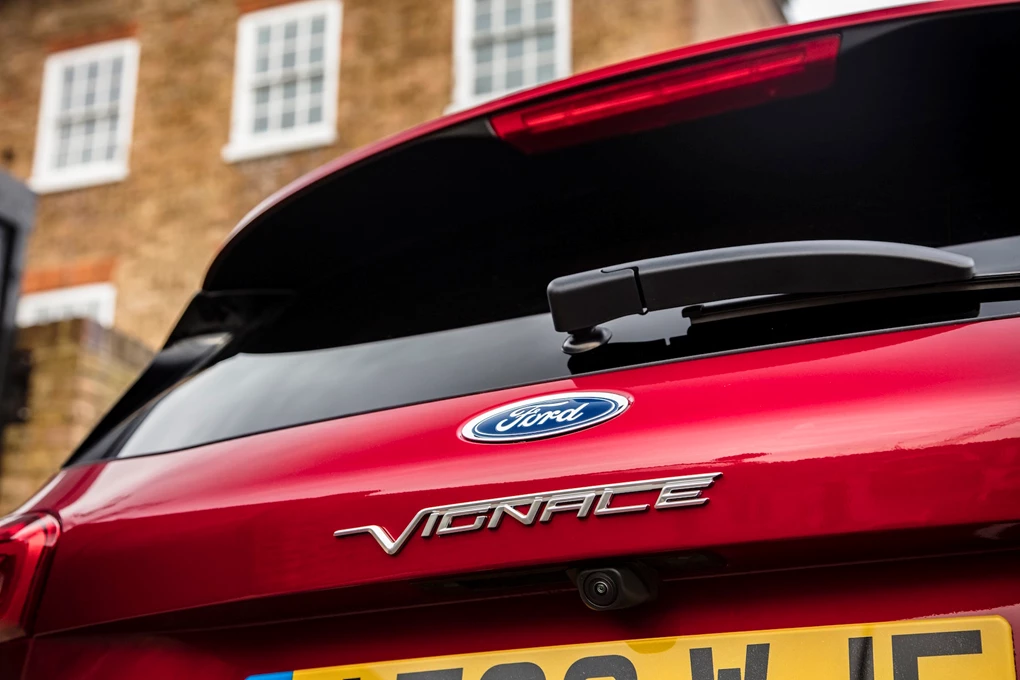 Performance
Despite the Vignale being the range-topping Focus, the engine choice is extensive and still includes less powerful units.
With the petrol options, you can have a 123bhp 1.0-litre unit or a 180bhp 1.5-litre EcoBoost engine, while the diesel variation is between a 118bhp 1.5-litre or a 148bhp 2.0-litre engine. All come with a six-speed manual gearbox as standard,  but an eight-speed automatic transmission is also available.
We got behind the wheel of the 2.0-litre diesel paired to the auto 'box. It's perfectly matched to motorway cruising, but the petrol options will likely be a better bet for most drivers as they're smoother and more refined – therefore more fitting in with the Vignale's luxurious ambiance.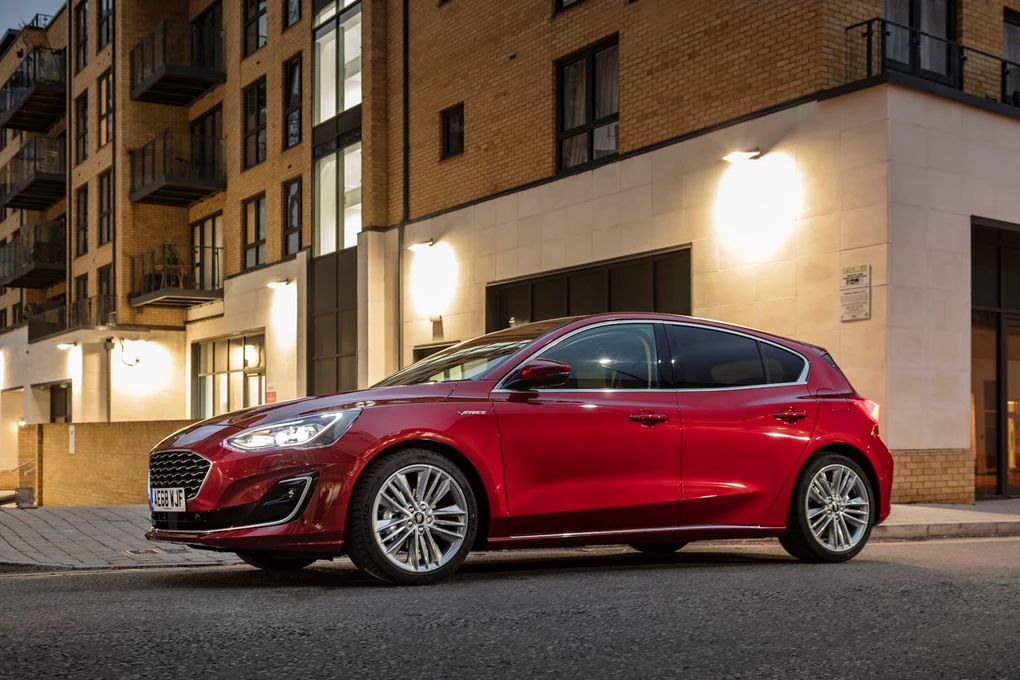 Ride and handling
The Focus has always been a trendsetter when it comes to driving enjoyment, and this is true regardless of trim level.
The Vignale's softer suspension setup means it doesn't feel quite as dynamic as sportier ST-Line models, but the ride quality is superb and it's comfortable both on the motorway and around town.
Next to rivals, the handling feels a notch above, and it's equally happy being pushed to its limits in the corners as it is being driven smoothly on motorways.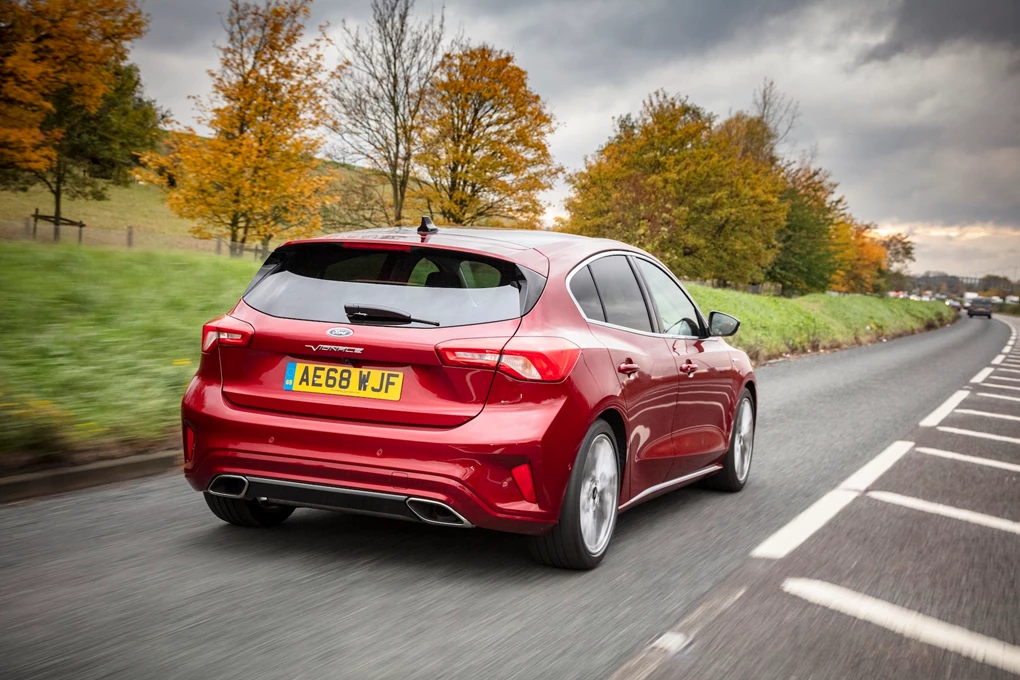 Interior and equipment
For many, it will be the interior differences where buyers feel their money has been spent, and the key improvement is full quilted leather upholstery that certainly makes the Focus feel more premium. It also features a faux leather dashboard although this doesn't feel like any great improvement over the standard car's soft-touch dash.
The superb layout from the standard car is also carried over here, with the Focus having a near-perfect driving position, clear dials and an easy-to-use touchscreen. It also has a spacious cabin, while the Focus Vignale is available as a practical estate, alongside the five-door hatchback tested here, if you need that extra space.
The Focus Vignale might come at a price, but standard equipment is excellent, with goodies such as LED headlights, a reversing camera, park assist and LED interior lighting being included, alongside features such as a B&O sound system, a heated steering wheel and a head-up display.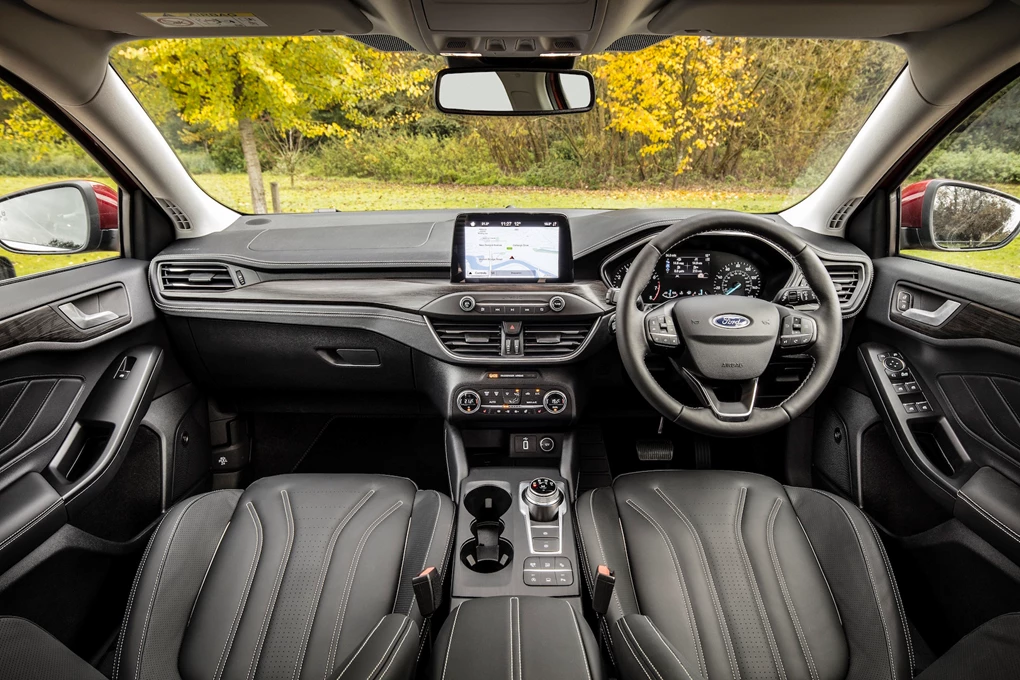 Cost
Prices for the Focus Vignale start from £25,805, which is what you would pay for a mid-spec premium supermini from the German brands, such as an Audi A3 and Mercedes A-Class. At this price it isn't too expensive considering the standard equipment offered, but with our test car only offering a few notes of change from £30,000, that's when it starts to look a bit expensive.
On the plus side, this 2.0-litre diesel engine is very efficient, returning a claimed 61.4mpg and low CO2 emissions of 121g/km.
Enquire now on a Ford Focus
Verdict
Vignale has always been something you like or don't see the point of, and you could argue that the same is true with the latest Focus Vignale – particularly next to rivals such as the Mercedes A-Class.
But get behind the wheel and experience the model's mix of comfort and a great driving experience, along with kit that is usually only reserved for executive cars, and the Focus Vignale begins to make sense.
Sure, many buyers might be better off opting for a cheaper trim level of the Focus, but if you crave luxury and want something a bit more unique from the regular Focus, the Vignale could make a great choice.