The Ford Kuga has gained a reputation for being one of the more driveable and likable family SUVs around. But with the second-generation model getting on a bit and the emergence of some fresher and very respectable rivals, it felt like a reinvigorated Kuga was in order.
Well that's exactly what we've got now in Britain, as the Ford SUV introduces new trims, new engines, updated tech and new angrier-looking yet still smartly-styled looks.
We experienced the sportier ST-Line version of the new Kuga during its international launch, but how well does a more affordable version hold up on British turf?
The Titanium-trim is the option to go for Kuga buyers who want something above the standard Zetec model, but cheaper than the ST-Line models, Titanium X or posh Vignale version.
Thanks to the design updates to the likes of the headlights and grille, we think the new Kuga is one of the best-looking SUVs around – no small feat when you consider some of the competition. But how much substance is there to go with the style?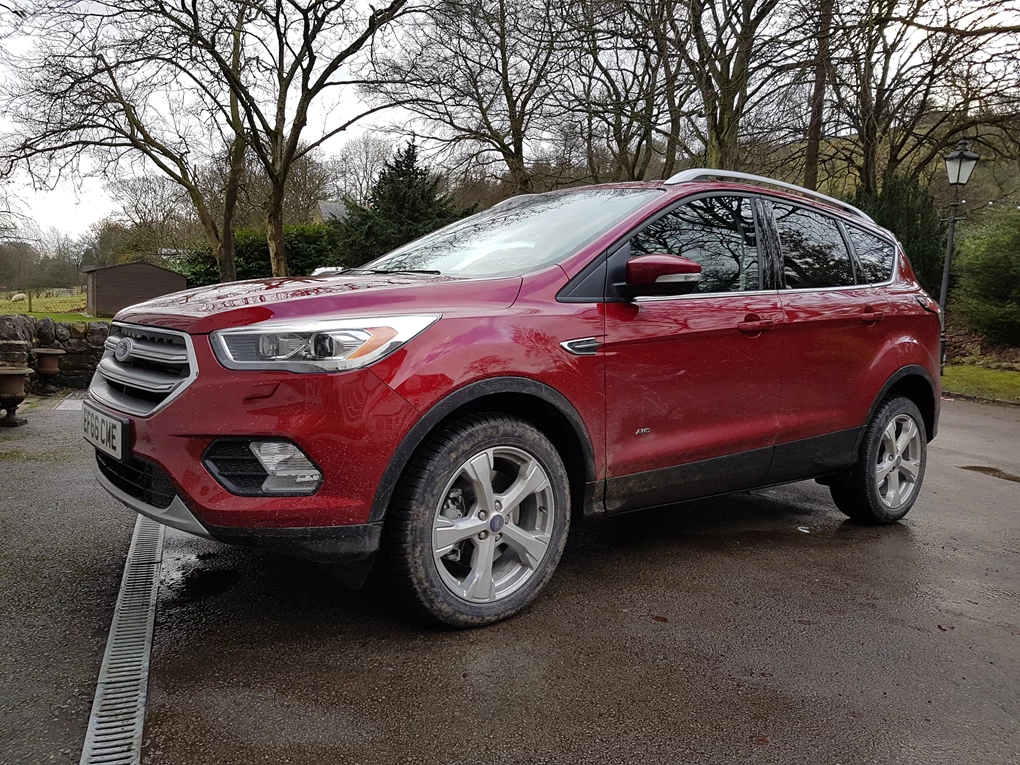 Performance
There are quite a few powertrain options in the Kuga range. For the Titanium trim, customers can pick a 1.5-litre EcoBoost petrol engine with 148bhp or 179bhp, as well as a 1.5-litre TDCi diesel with 118bhp.
But we tested the 2.0-litre TDCi diesel with 178bhp to boot. A 148bhp version of the same engine with front-wheel drive is also available, but go for the more potent 178bhp option and you get all-wheel drive as standard. The six-speed manual gearbox we used is standard, but a PowerShift automatic 'box is also available.
The 2.0-litre diesel packs a good punch, coming with 400Nm of torque and decent pulling power in the process. The 0-62mph sprint takes 9.2 seconds and it feels as though getting up to speed takes little effort. The manual gearstick has a bit of a long throw but changes feel very smooth nevertheless.
This diesel engine is well refined too and there's not much noticeable noise from the unit as you're moving along.
The PowerShift gearbox can make the driving experience less laborious, but it at times lacks in urgency when you want to push the car harder and can sometimes cling on to gears longer than you'd prefer. We'd therefore recommend sticking with the manual 'box.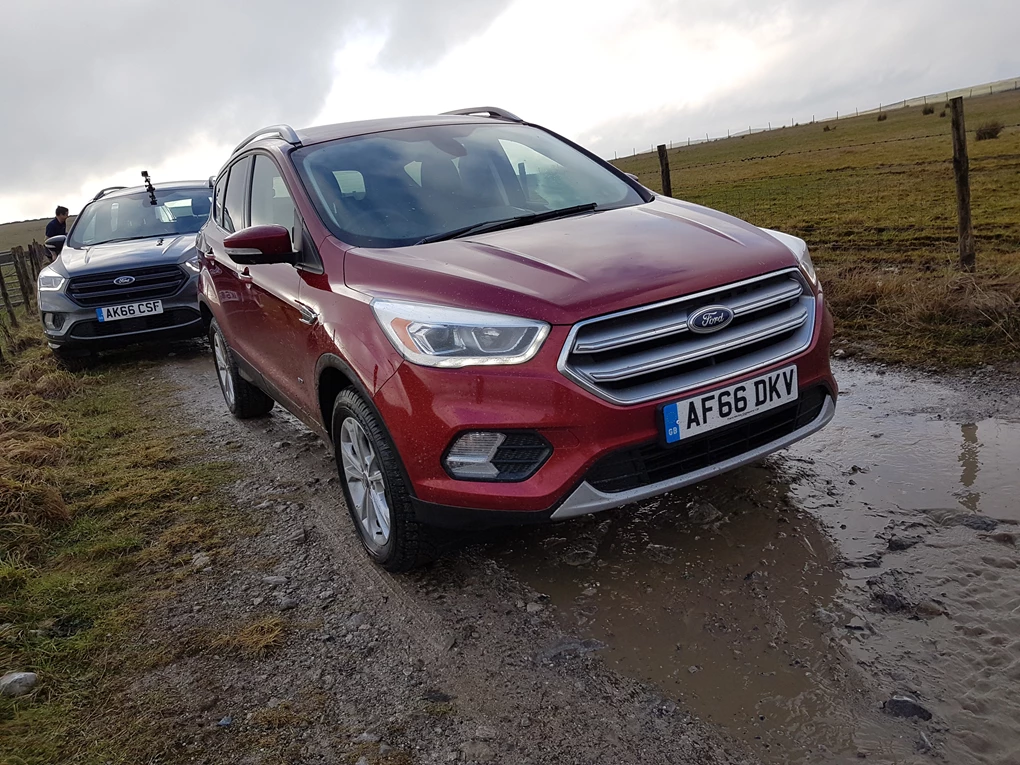 Ride and Handling
True some rivals feel softer, but the Kuga still does a decent job of absorbing bumps and is nicely refined too.
Ford highlights that its ST-Line models have a lower ride height and sportier suspension set-up than other versions of the latest Kuga. But the Titanium version feels largely the same in regards to how stiff the suspension feels and the firmness of the ride. That isn't to say the ride feels rough though. True some rivals feel softer, but the Kuga still does a decent job of absorbing bumps and is nicely refined too. The steering is also well weighted and through the corners it demonstrates good handling and composure for an SUV of its size. The all-wheel drive system can handle mild off-roading with minimal fuss, although SUV buyers are likely to explore more rugged options to take on trickier terrain. On the road though, the latest Kuga does feel good behind the wheel, with driving dynamics up there with other strong entries like the Kia Sportage, Hyundai Tucson and SEAT Ateca.
Interior and Equipment
The first-generation Kuga, launched in 2008, was the first Ford passenger car to come available with a tailgate-mounted parking camera.
The cabin of the latest Kuga is about the same size as before, but that's no issue as you get plenty of head and legroom for both front and rear passengers. Even the middle rear seat can realistically fit a six-foot adult. All-round visibility is decent, onboard material quality has improved from earlier Kuga modes and there's more up-to-date tech onboard to replace the dated-feeling features which have been found in earlier Kugas and other recent Fords. From Titanium trim upwards, you get Ford's latest SYNC 3 infotainment system, which comes with DAB radio, integrated sat-nav, Apple Car Play and Android Auto. It's not the slickest system around, but it's a huge step forward in terms of size and usability compared to other recent Fords. Other kit that comes with Titanium Kugas includes a heated windscreen, partial leather trim, keyless entry and start, space-saver spare wheel and rear parking sensors. A couple of criticisms we do have of the interior are that it is a bit dull to look at because virtually everything is presented in a dark grey, understated manner. Certain plastic panels around the centre console and door do feel rather cheap too, but for the most part it does feel well made inside. The boot meanwhile is big and has a low, flat loading lip. Boot capacity is 406 litres as standard – more than enough for a weekly shopping load, but it is less than you get from most rivals. Fold the rear seats down and the load capacity goes up to 1,603 litres.
Cost
To get a Kuga Titanium with the 178bhp diesel, you'll be spending at least just over £28,500.
The Kuga starts from £21,395 for the Zetec model, while the Titanium trim begins at just under £25,000. To get a Kuga Titanium with the 178bhp diesel, you'll be spending at least just over £28,500. Compared to rival SUVs in mid-level trims and with similarly-powered diesels, the pricing is hardly dissimilar. In terms of running costs, the Kuga with its 178bhp diesel averages 54.3mpg (with PowerShift it's 58mpg) and emits 134g/km of CO2. If you'd prefer better figures then it's worth considering ditching all-wheel drive and going for the 148bhp version of the 2.0-litre diesel. Sure, there is the 118bhp diesel available too, but going for this costs you a lot of oomph in the process. With options, some of the choices you may be interested in include the hands-free foot operated tailgated which costs £450 to add to the Kuga Titanium. An electric panoramic roof costs £900 to add, while the rear-view camera is £250. Most of the exterior colour options can cost anywhere between £250 and £825 to have.
Our Verdict
The Ford Kuga remains a decent option for those after a family SUV and the updates to the onboard equipment helps to freshen it up next to the competition. Because there are so many good options in the Kuga's segment though, it's a tough job trying to make a real stand-out entry. While the Kuga does drive well and has a practical interior, there's more than a few similarly-priced alternatives which have similar strengths, and it's hard to put your finger on anything about the Kuga that shouts class-leading. On the other hand, there's no major weaknesses to be alarmed about either. This Ford is a good all-rounder, so at the end of the day it may be something as simple as styling which sways you towards one SUV above all the others. With that in mind, we'd say the Kuga has a good chance of luring in many looking at family SUVs.