Introduction
Around 20 years ago, the Mondeo was one of Ford's most popular models, being a big hit with company car drivers. But over the years, it has fallen out of favour with buyers – many switching into SUVs or more premium saloons and estates.
To help add appeal to the Mondeo, Ford introduced an efficient hybrid option to the range in 2015, which is a more traditional hybrid rather than a plug-in hybrid version. Despite being a compelling proposition, few buyers chose it over the more affordable diesel version.
To help change that, Ford has updated the Mondeo for 2019, with the main difference being the introduction of a new estate variant of the hybrid, as previously it was only offered as a saloon.
The model has also been revised with a sharper new grille, along with new fog lights and redesigned bumpers, while range-topping Vignale versions benefit from new 19-inch alloy wheels. A number of new advanced driver features have also been added – including adaptive cruise control and a speed limiter that can adjust automatically when the speed limit changes.
Thanks to these changes, Ford is expecting the Hybrid to account for up to 50 per cent of sales, so can it deliver?
Performance
The Mondeo Hybrid utilises a 2.0-litre petrol engine that's paired to an electric motor and a small 1.4kWh lithium-ion battery that produces 184bhp and 173Nm of torque. An automatic transmission, which is similar to a CVT transmission, delivers its power to the front wheels.
The initial torque of the electric motor makes the Mondeo feel nippy off the line – helping to allow for a 0-60mph time of nine seconds, with a claimed top speed of 116mph. However, once the electricity runs out, it begins to feel a touch slow.
As for efficiency, the Mondeo Hybrid will end up being more efficient than the diesel offering – particular around town – with Ford claiming an average of 46.3mpg, with CO2 emissions of 113g/km. However, during our largely urban test route, we found it was easy to manage 50mpg.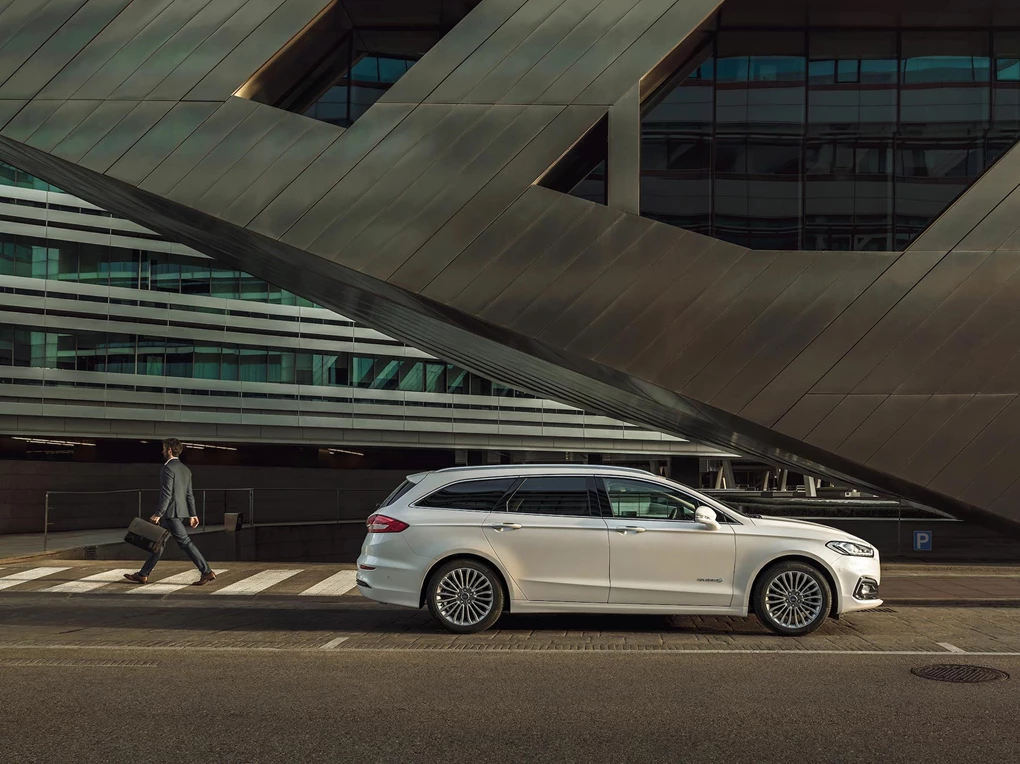 Ride and handling
As we've mentioned, the Mondeo Hybrid is at its best around town, where the powertrain and gearbox combination is smooth, punchy and refined. Though it's worth considering that the Mondeo is a large car, and even all-round parking sensors and a reversing camera can't help to disguise how big the Mondeo is when it comes to parking. 
The only real issue with the formula is getting up to speed, with the automatic transmission numbing performance and also feeling quite unrefined under hard acceleration, though driving smoothly does alleviate this issue.However, once you're up to speed and have the adaptive cruise control set, the Mondeo begins to shine once again with its impressive comfort and refinement.
See Available Mondeo hybrid deals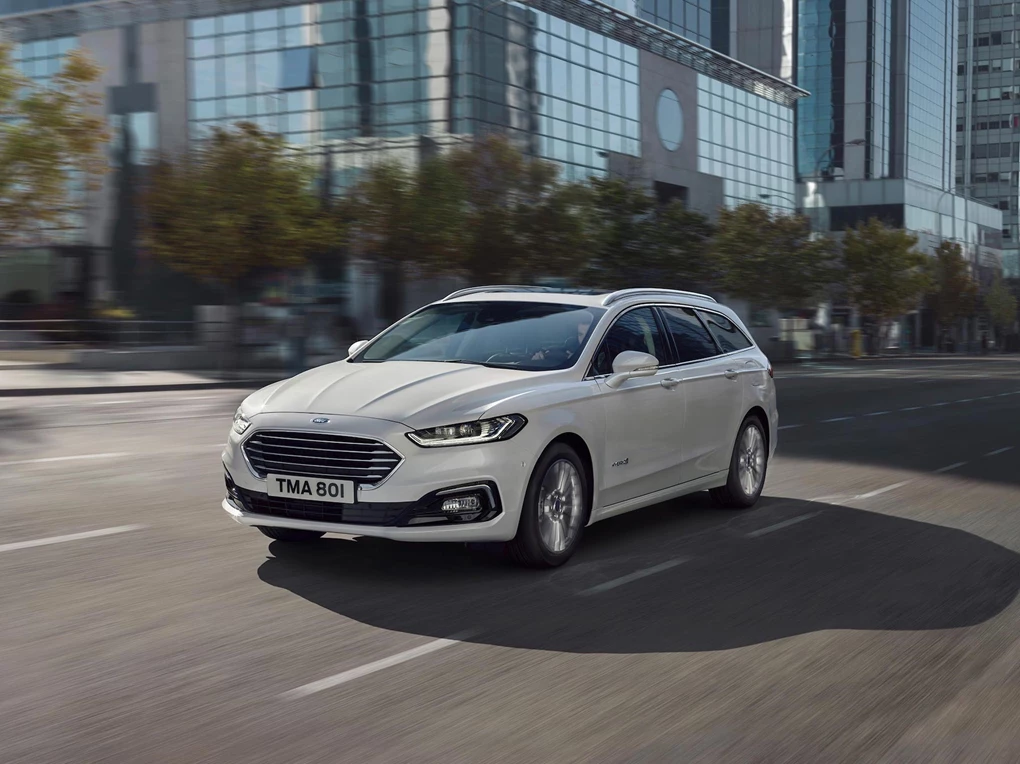 Interior and equipment
Aside from a few hybrid dials, the interior of the Mondeo Hybrid remains identical to the regular model, which means it's traditional Ford fare, which is most certainly a good thing. The main 'Sync' infotainment system is easy to use, and quick to react, though the large plastic housing looks a bit cheap.
The main passenger space is huge, with the electrification not interfering in these areas. This means there's generous rear space, with enough roof for three adults with good headroom and legroom – the latter isn't even affected by a panoramic sunroof. Though annoyingly, the Mondeo Hybrid is let down by a significantly smaller boot than the regular car – down from 525 litres to 403. You're also left with a big step into the boot, and no flat floor, with the batteries eating into the lower part of the boot. While it remains largely spacious, it's by no means as practical as the regular car.
The Mondeo Hybrid is available in two trim levels – Titanium and Vignale.
Each comes well-equipped, with the Titanium featuring 18-inch alloy wheels, leather upholstery, keyless entry and start, heated front seats and lane-keep assist.
The Vignale adds revised styling, adaptive LED headlights, a reversing camera, an electric boot and a Sony sound system.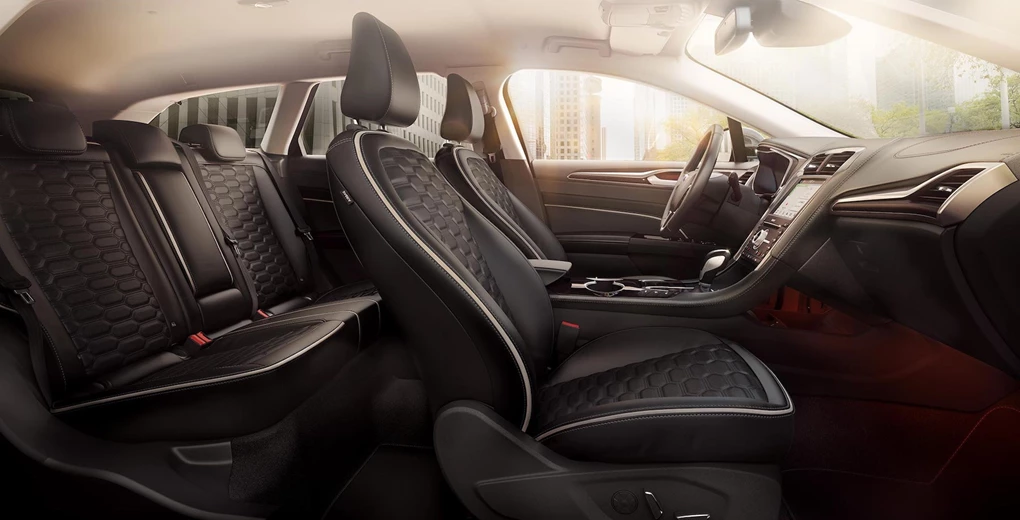 Cost
Prices for the Mondeo Hybrid start from £28,010, or £29,430 for the Estate tested here. That's around £4,000 more expensive than the less powerful diesel engine, which is quite a lot of money to justify. Prices keep rising to £32,850 for the flagship Vignale, though it's worth considering just how well-equipped this model feels.
But the main interest for buyers will be the Mondeo Hybrid's low company car tax bandings, which are based on CO2 emissions. The most efficient Hybrid version produces just 98g/km of CO2 – a noticeable saving on the 123g/km you would find with the diesel.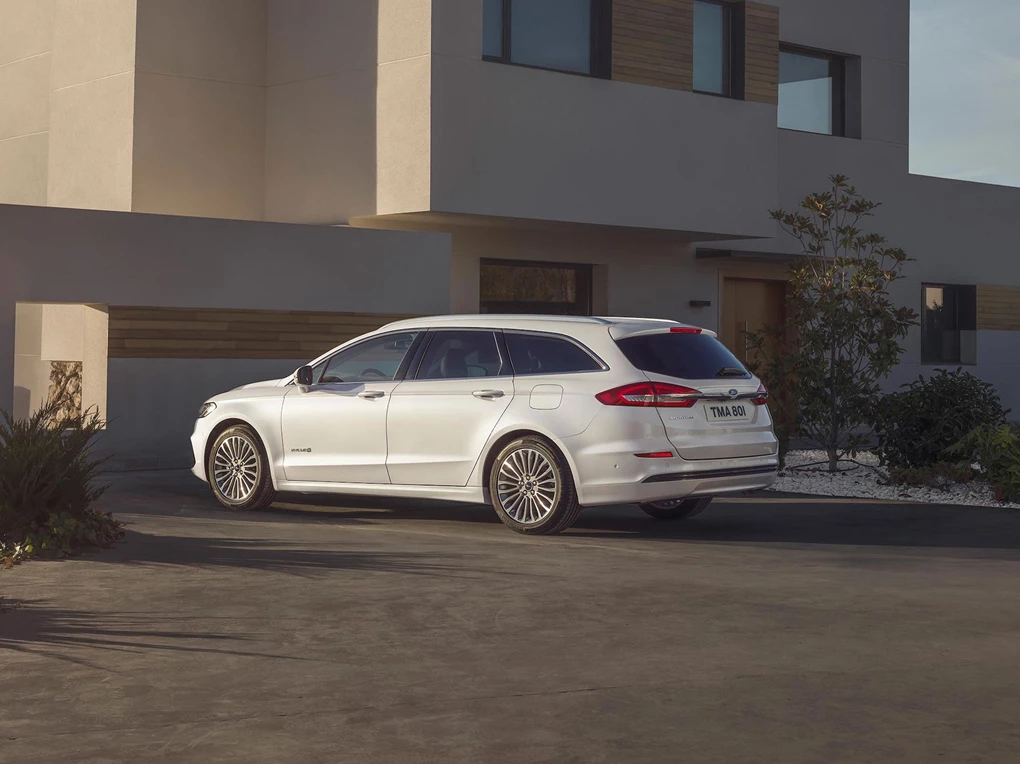 Verdict
By now offering the Mondeo Hybrid in Estate form, it's opened the model up to far more consumers who might be thinking of moving out of a diesel model and into an electrified car instead.
While it's not without fault – the much smaller boot and automatic gearbox being our biggest issues – it's a good addition to the Mondeo range, and it will be one that should prove to be popular with company car drivers.