Introduction
Given Ford's success in the UK – it's the biggest car firm here – it's unsurprising that there's high expectation placed on its first bespoke EV. That car is the Mustang Mach-E, which has finally reached UK roads after being unveiled almost 18 months ago.
Spearheading the brand's switch to electrified models (Ford recently said it wants to be EV-only in Europe by 2030), the Mach-E is a new electric SUV that uses the famous 'Mustang' name. It's certainly controversial to use a moniker usually reserved for V8 muscle cars, right?
But boasting a choice of powertrains that deliver up to an impressive 379 miles of range, a Tesla-inspired minimalist cabin and the all-important SUV body style, this is certainly a way to make a statement. Just about everything you can see – and pretty much everything you can't – is new, and will influence future electric Fords. But is it putting this model on the right foot? Let's take a look.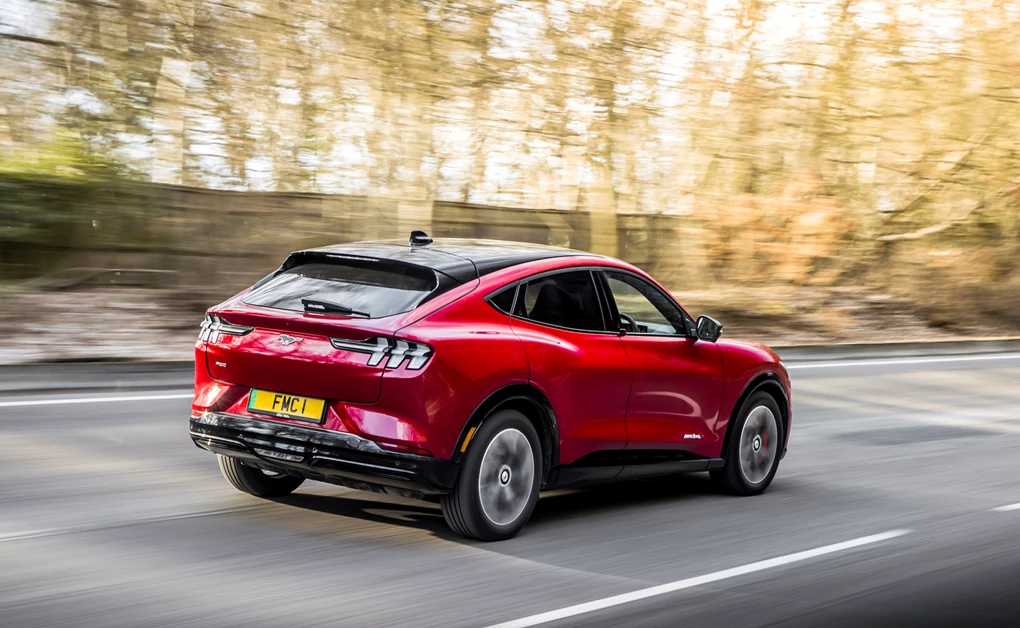 Performance
Like with petrol cars, there's no 'one size fits all' in the EV world, so Ford offers a range of power and battery options on the Mustang Mach-E, with more also on the way. 
There's a choice of a 'Standard Range' and an 'Extended Range', as well as rear- and all-wheel-drive. Power outputs range from 265bhp on the Standard Range rear-wheel-drive model, through to 346bhp for the all-wheel-drive Extended Range option, with performance being brisk across the range – even the slowest option able to each 60mph in 6.7 seconds. 
As for range, all-wheel-drive Standard Range models get a usable 68kWh battery that allows for a range of up to 273 miles, but it's the Extended Range version you want for maximum range, with its 88kWh battery offering a claimed range of up to 379 miles – the most of any car outside of Tesla. It can also be charged at up to 150kW, meaning a 10-80 per cent charge could take just 45 minutes.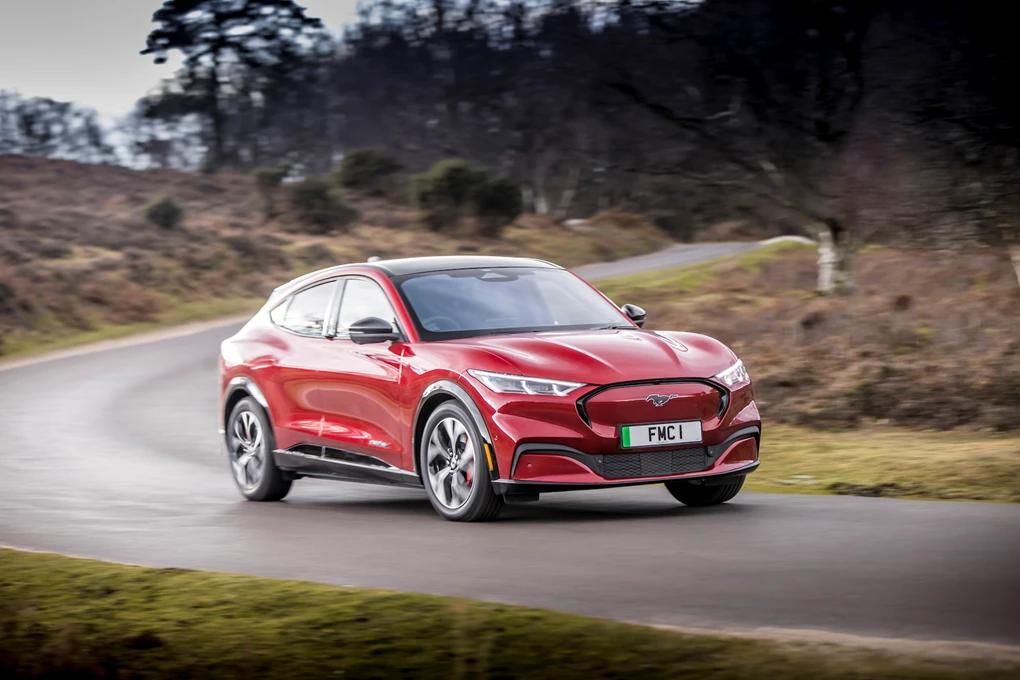 Ride and handling
It was always a bold decision to use the 'Mustang' name on this EV, but it largely lives up to its sporty name. Even our extended range rear-wheel-drive model felt brisk, with an 'untamed' driving mode helping to unlock its potential further. 
It's also great to drive in other areas, with the steering having plenty of weight to it, with the silent and smooth electric motors meaning the Mach-E is a relaxing way to get about. 
One downside, though, is that it's not the most refined and comfortable electric SUV around, as even on our test car's smaller 18-inch alloy wheels, the ride is noticeably firm.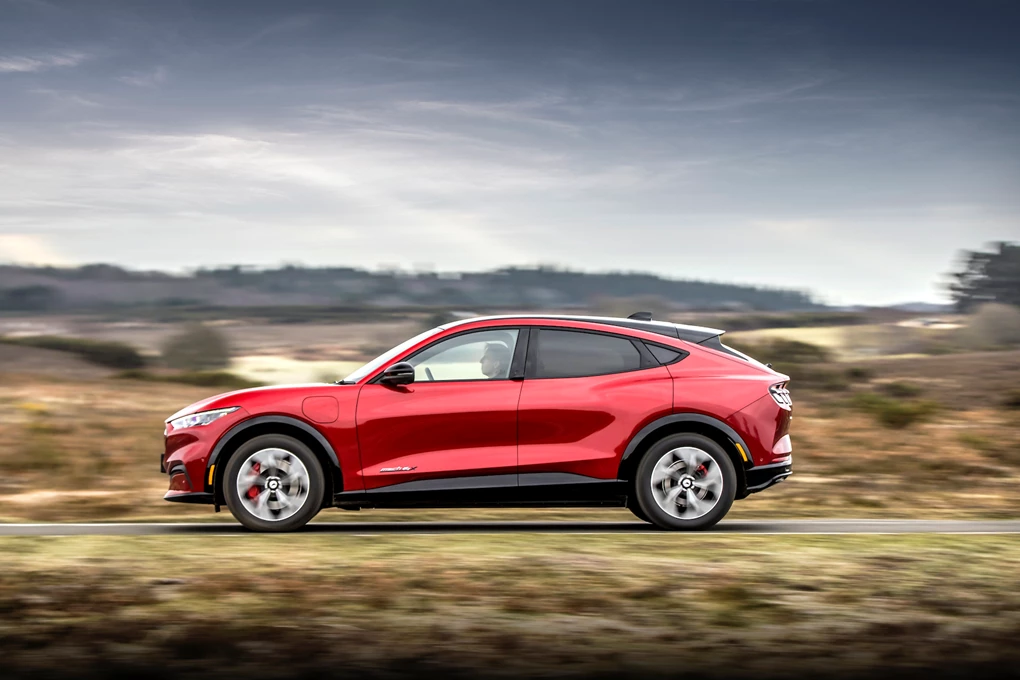 Interior and equipment
The Mustang Mach E's cabin is virtually indistinguishable from the rest of the Ford range, though a huge 15.5-inch infotainment screen that sits portrait in the dash does distinguish it from the rest of the line-up. It seems a bit intimidating at first, but is actually really good to use, and subtly adjusts at night so that you don't find it too bright to use. 
The quality also impresses, while the minimalist design gives it a really upmarket and relaxing feel – aided by the Mach E's spacious and roomy interior that will offer plenty of appeal to families. 
When it comes to equipment, you're unlikely to be disappointed, either. All versions benefit from the impressive touchscreen, full LED lighting, a digital instrument cluster, adaptive cruise control and keyless entry to name but a few features. 
'Extended Range' models bring electric front seats, a glass roof and a 360-degree parking camera to name but a few features. If you want an all-wheel-drive version, these are signalled out by painted plastic cladding, larger 19-inch alloy wheels and red brake callipers.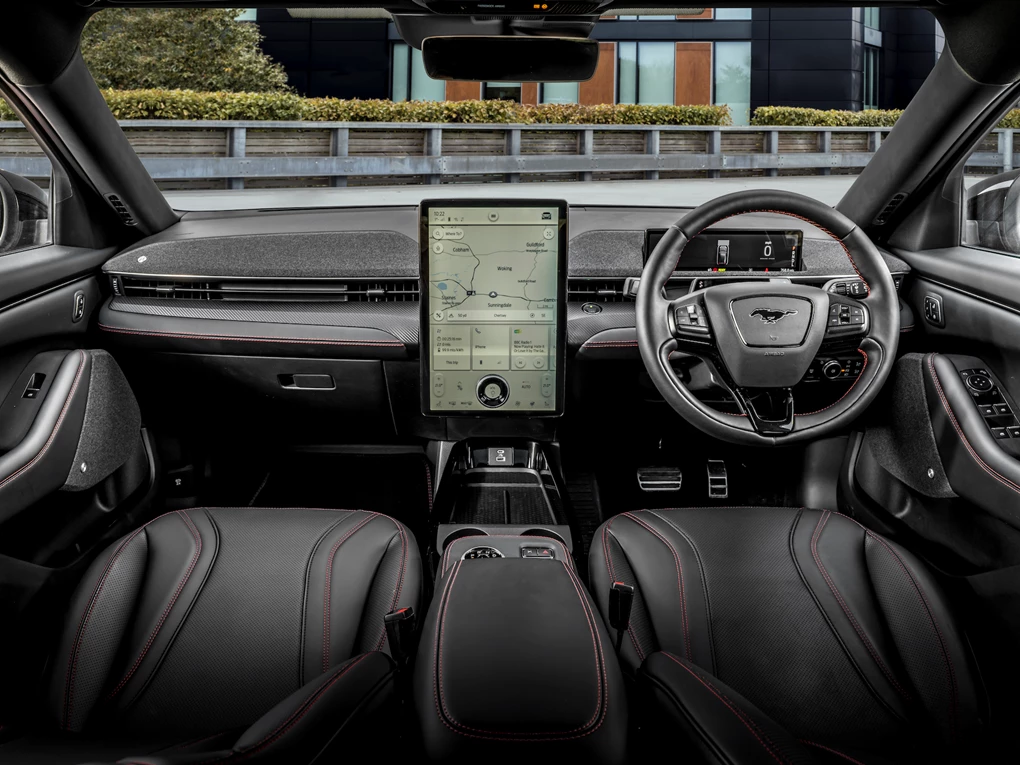 Cost
Prices for the Mustang Mach-E kickoff from £37,350 for the standard rear-wheel-drive model with the regular range, rising to a chunkier £46,980 if you want the Extended Range. It's definitely worth weighing up how often you'll be doing long journeys to see if it's worth doing the additional expense. That said, for the range offered, both offer great value for money. 
Ford also isn't really offering any optional extras (except paint colours), so you won't see the price skyrocket by ticking option boxes like you would do normally.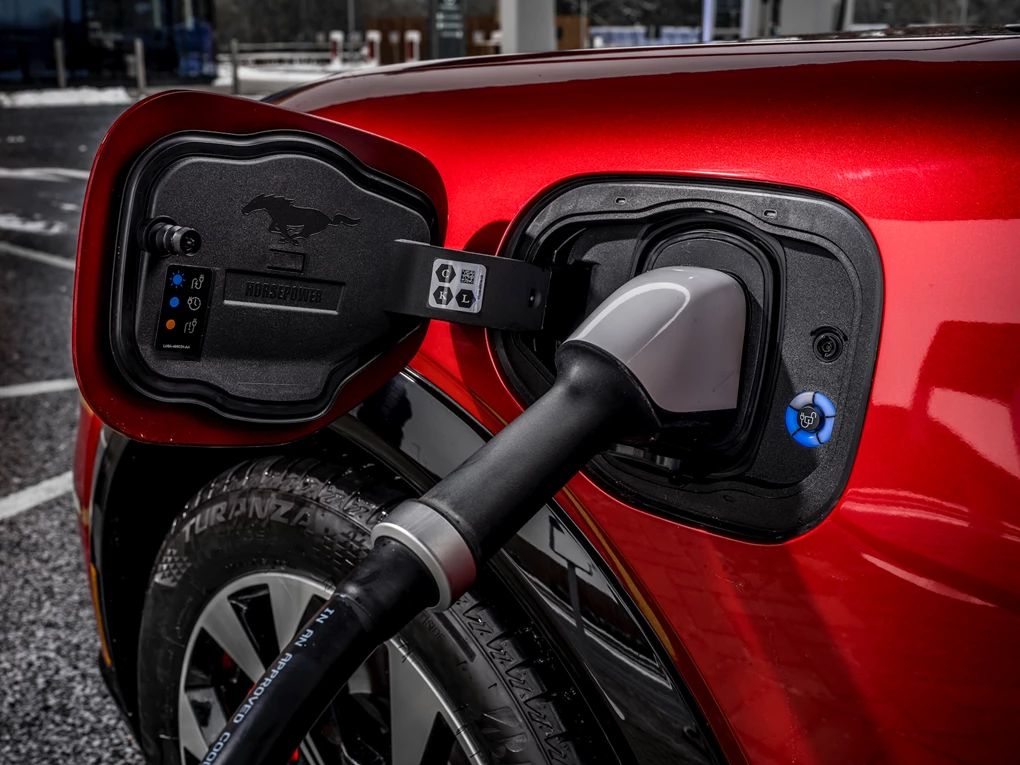 Verdict
There was a lot of expectation placed on the Mustang Mach-E, and largely this electric SUV lives up to that. It's good to drive, looks superb and has a genuinely cool, modern and high-quality interior that feels genuinely special. Models lower down the range are also attractively priced, too. 
For the time being, the rear-wheel-drive model looks like the best choice, though we'd just be cautious about speccing any larger wheels than the standard 18s, as the ride is on the firm side of things. That said, this is a brilliant electric SUV that points to positive things in Ford's electrified future. 
Enquire on a new Ford Mustang Mach-E