Introduction
Ford Ranger Raptor. It just sounds good, doesn't it? This is the firm's beefier, more powerful and stickered-up pick-up truck — aimed at packing insane levels of capability and straight-up fun to the machine. It's quite possible you've heard of a Ford Raptor before — the US manufacturer offers the trim on its F-150 in its homeland.
What makes a Raptor, a Raptor, then? Well under the skin is a punchy new diesel engine and bags of chassis tech to help it challenge the roughest terrains. Oh, and just look at it. Stickers, big wheels, stickers, beefier bumper and did we mention stickers?
Is it any good though? Well, we find out…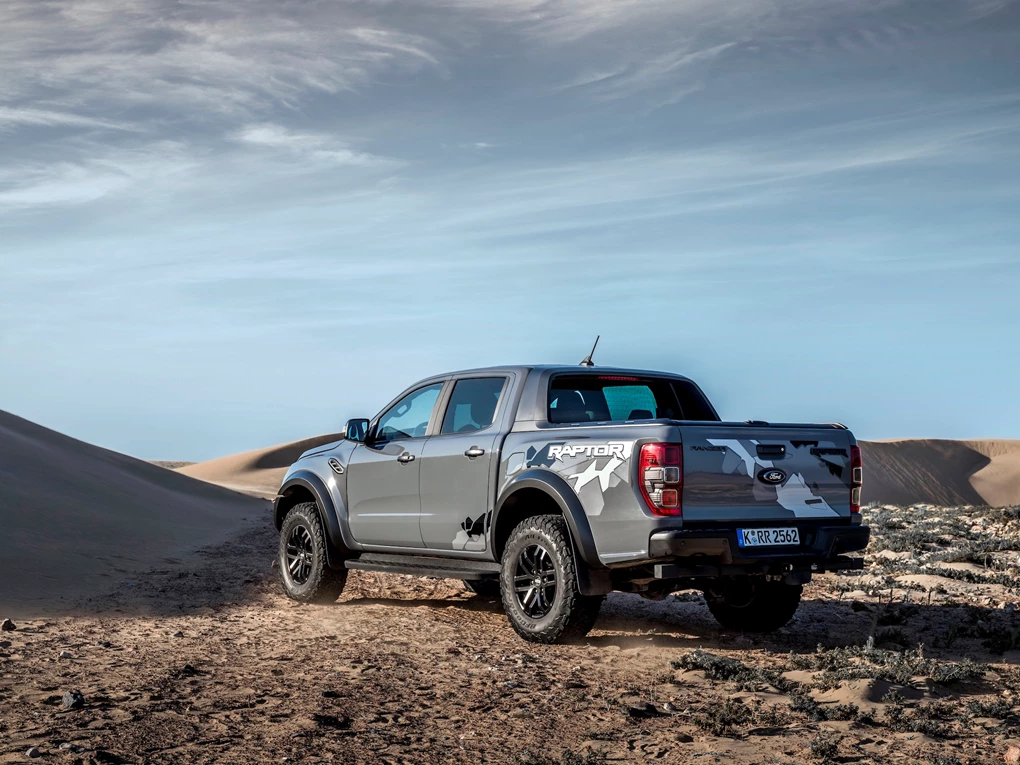 Performance
Here sits the most powerful engine a Ford Ranger has ever seen. The 2.0-litre diesel unit churns out 210bhp and 500Nm, delivered to all four wheels via a 10-speed automatic gearbox, sending the truck from 0-60mph in 10.3 seconds and up to a 106mph top speed.
On paper, that doesn't sound overly impressive — after all, a regular Fiesta could have it off the line. But when you consider it can deliver that performance on any terrain, it suddenly becomes a much more exciting prospect. We'd like more power from the engine if we're being picky, and the 10-speed 'box does seem a bit much, but the Raptor rarely feels short-changed in this department.
Ride & Handling
Normally here we'd think of a car's comfort, usability around the town or how involving it can be on an empty back road. The Ranger Raptor however is a different beast and should primarily be judged by its ability to tackle the rough stuff. We're happy to report that here, it's very good.
At lower speeds, it can be a little bit jarring — but once its speed is picked up it really begins to come alive. The Raptor will take on anything — rocks, sand dunes, supermarket trollies — at full pelt without squirming. Our only real complaint is that it's hard to think of somewhere in the UK the Raptor will be truly tested.
See Available Ford deals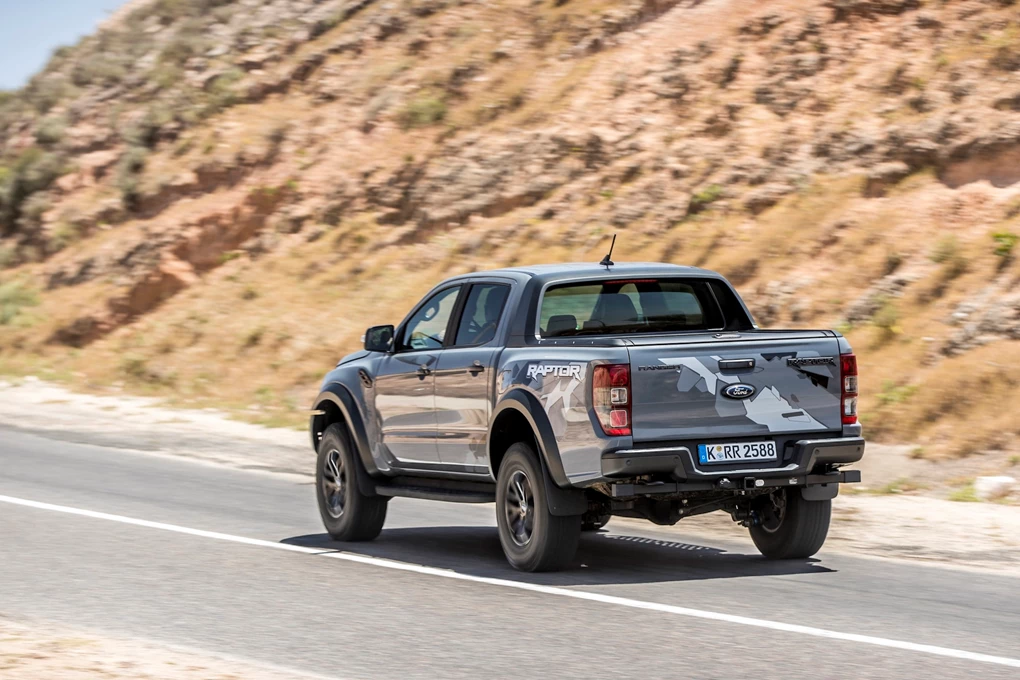 Interior & Equipment
Though things get a little wild on the outside, the Raptor's interior is pretty tame. Though it features sports seats, they're not overly-bolstered, and the only other real hinting point at the car's performance pedigree is the red central strip on the steering wheel. Harsh plastics are present throughout, though there is a sense it could take years of abuse.
As the new Ranger, err, range topper, the Raptor boasts a comprehensive equipment list. Along with all the off-road mechanical bits, it boasts 17-inch alloy wheels, bi-xenon headlights and LED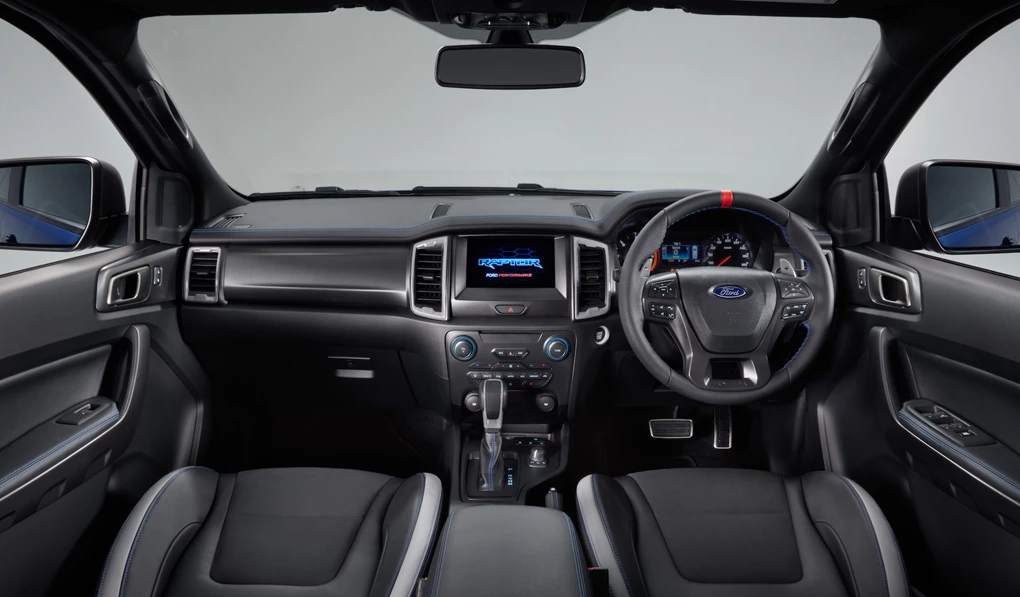 Cost
So far, so good? Well, now we're at the Ranger Raptor's downfall — it's price. At £48,784, it's an expensive prospect, especially when you consider its best asset of fun is one that will rarely be exploited. As for running costs, Ford claims 31.7mpg and 233g/km on the combined cycle — so it's not going to be cheap to run or tax either.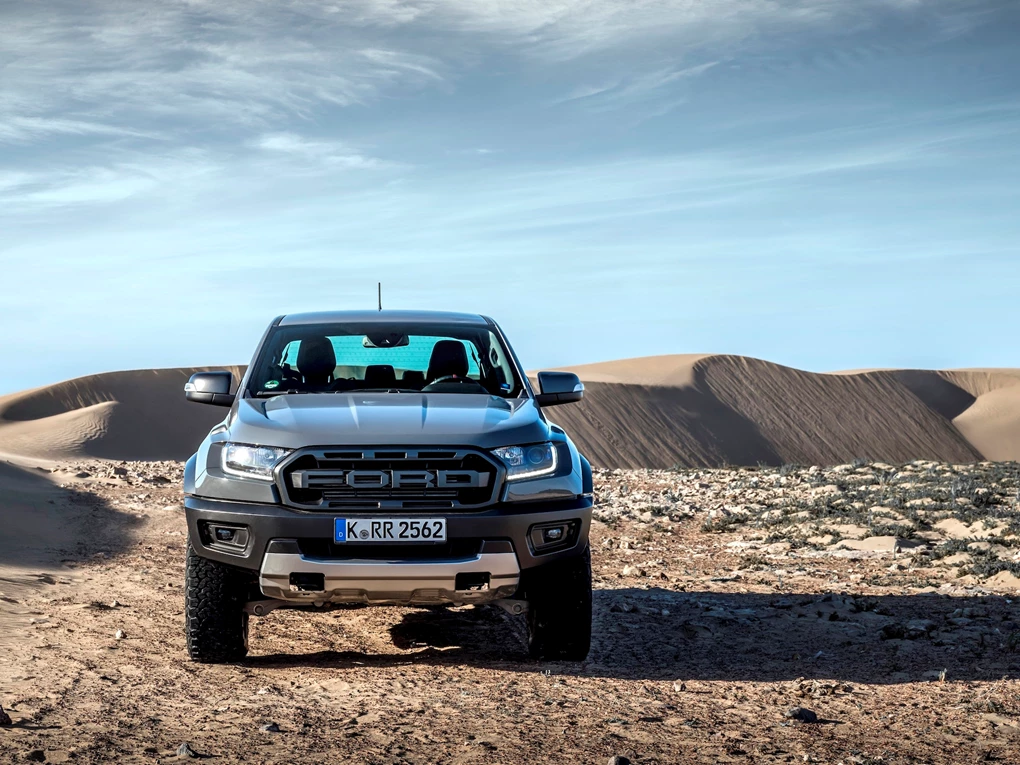 Verdict
The Ford Ranger Raptor is without a doubt one of the most accomplished pick-up trucks we've had the pleasure of driving when it comes to go-anywhere ability. It's simply mind-boggling.
Herein lies the problem though — as mentioned, it's hard to think of where in the UK this can be exploited to the maximum. Though we have plenty of off-road tracks around, they're mostly slow, and a Suzuki Jimny could tackle them just as well. Unless you're planning to head to an Arabian desert to tackle dunes, it's unlikely you'll truly make the most of the Ranger Raptor. That said, it's immensely cool, and we'd urge you to give one a go.