Introduction 
You only need to take a quick look at the roads today to see just how dominant SUVs have become. These high-riding models are quite literally everywhere, and as they've risen in popularity, it means other body styles have been pushed into the background. Nowhere better has this been seen than with MPVs and people carriers – big, practicality-focused models that were the absolute go-to choice for families not long ago. 
Today, this market is fractional, with previous key players like Renault, Kia and Vauxhall no longer selling MPVs in the UK. One exception to this rule is Ford, which is ploughing on with its seven-seat Galaxy and S-Max people carriers and has just given them a new hybrid powertrain that aims to future-proof them for a few more years yet.
It's part of a big investment into its Barcelona production facility, and one that's part of Ford looking to electrify its range. But will customers really choose an MPV like the S-Max in this day and age? Let's take a look…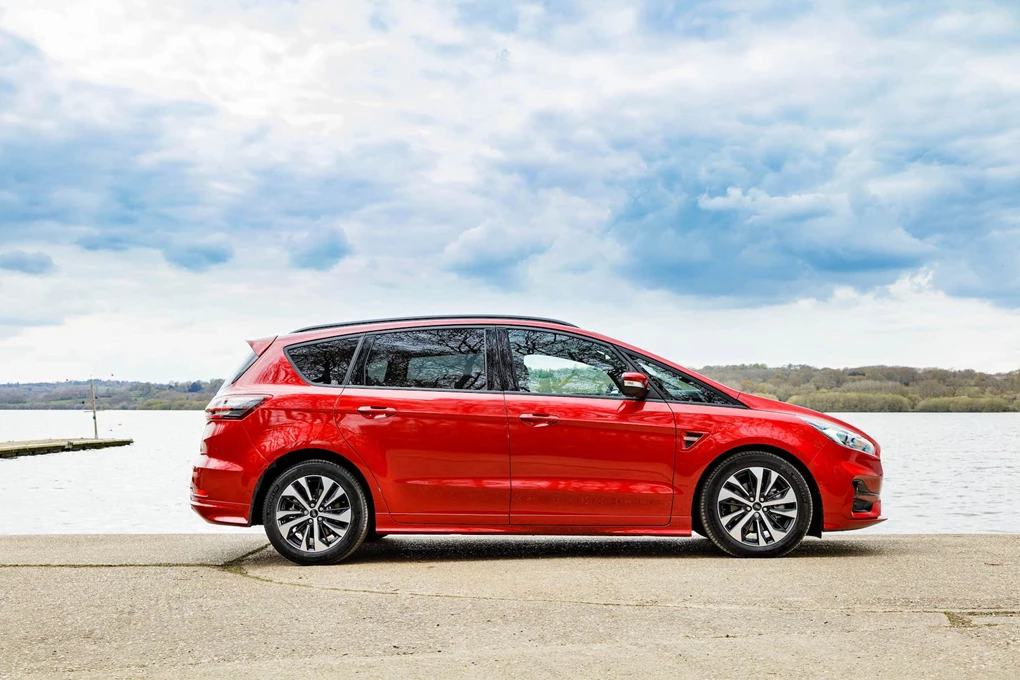 Performance
Though Ford will continue to offer the S-Max with diesel power, this new hybrid powertrain is a brand-new setup for the firm, and is being introduced to both the larger Galaxy MPV and Kuga SUV at the same time. 
It combines a 2.5-litre Atkinson cycle petrol engine with a 1.1kWh battery and an electric motor, which in total kicks out 187bhp. That puts it on par with the most powerful diesel, and allows for a respectable 0-60mph time of 9.6 seconds and a top speed of 115mph. A CVT automatic transmission is also used, with power being sent to the front wheels – if you want an all-wheel-drive S-Max you'll have to stick to a diesel, however. 
Efficiency is really the S-Max's greatest strength, though. Ford officially claims 44.1mpg, while its 147g/km CO2 emissions are 10 per cent lower than those of the diesels. However, we reckon Ford is actually selling itself short with its fuel economy figure, as – on our extended test route across various settings – we comfortably averaged 50mpg. With that equating to a 600-plus mile range, it certainly makes this S-Max a very useful long-distance companion.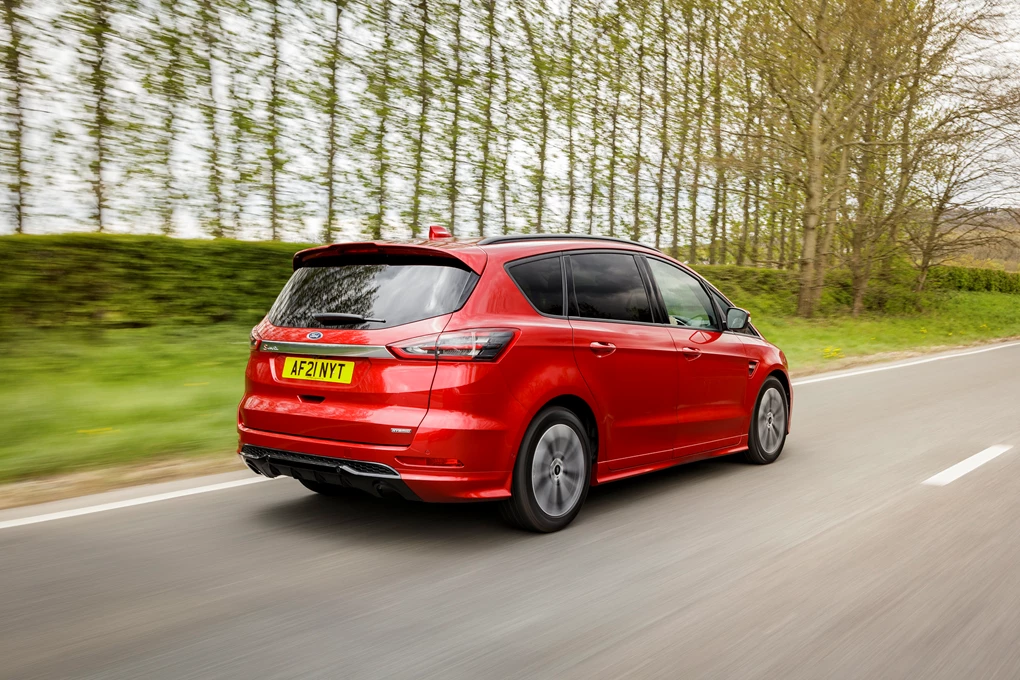 Ride and handling
You might expect the S-Max Hybrid to be rather underwhelming behind the wheel, but that's actually far from the case as, despite its size, it's actually rather good to drive. It corners well with minimal body roll, while the hybrid system provides more than enough shove in most settings. Even in our test car's ST-Line trim, which gets a sportier suspension setup, the ride is comfortable and compliant. 
The only slight gripe with the way it drives is its CVT automatic gearbox, which – as with all transmissions of this kind – has a tendency to sap the car's performance somewhat when you're trying to get up to speed quickly, though is more than up to the task in everyday driving.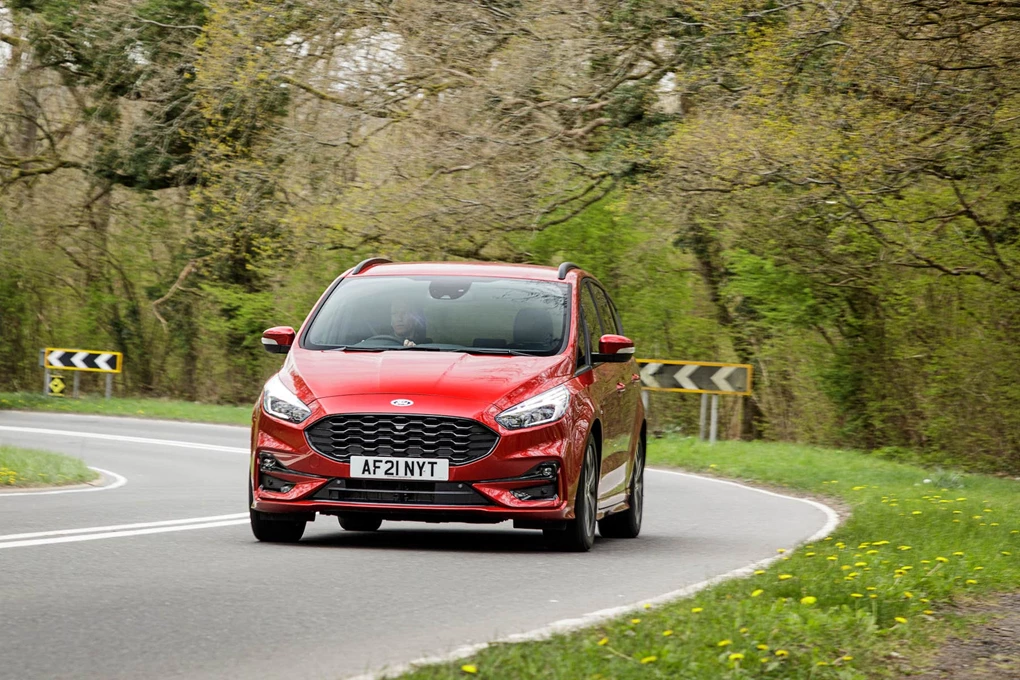 Interior and equipment
One area where there will be very few grumbles is when it comes to interior space. Though the rearmost seats are really more suited to children, if you're clever with your seating arrangement there's nothing stopping you fitting in seven adults in relative comfort. Plenty of large windows also make the cabin light and airy, and it's generally a model that will fit perfectly into family life. If you do require more space, though, Ford's slightly larger Galaxy could be a better option. 
The rest of the cabin doesn't quite hit the nail directly on the head, though, as while everything is relatively intuitive and easy to use, it's lacking the in-car technology you find in other SUVs. There's also very few 'hybrid' gauges, and in that respect it feels just a touch half-hearted. 
In terms of equipment, there are three trim levels to choose from – Titanium, ST-Line and Vignale. 
Titanium comes with 17-inch alloy wheels, keyless entry, front and rear parking sensors and an eight-inch touchscreen with satellite navigation and Apple CarPlay and Android Auto, with mid-spec ST-Line models gaining a sportier body kit, larger 18-inch alloy wheels, along with electric and heated front seats. 
If you want all the luxuries, you'll be best to opt for the top-spec Vignale trim level. This brings adaptive LED headlights, an electric boot, cooled and massaging front seats and a great Sony sound system to name just a few features.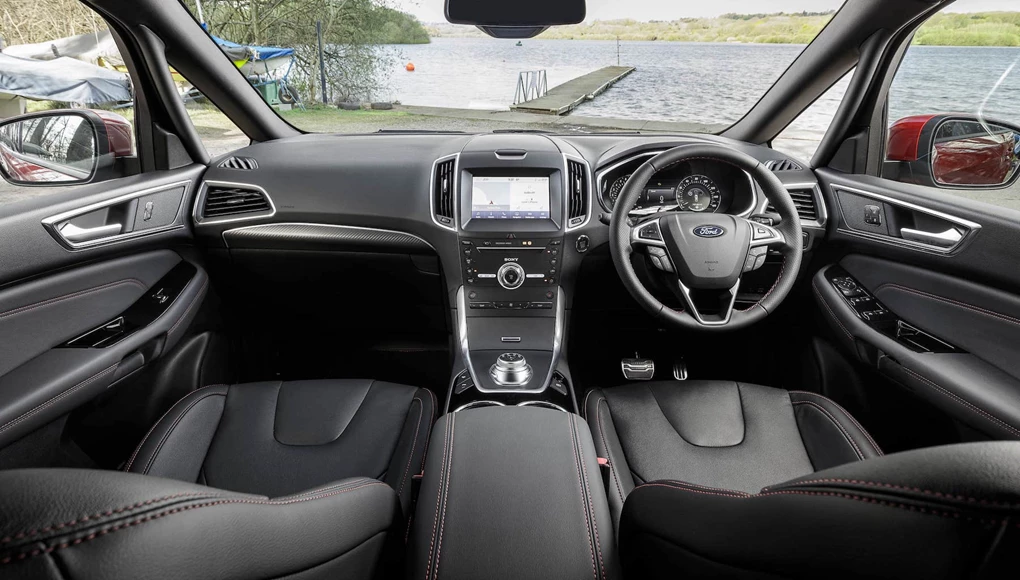 Cost
The S-Max is no longer the bargain it once was, with Hybrid models starting from £36,530 for a Titanium car, £38,640 in ST-Line trim and £41,790 for the Vignale. It works out as about £600 more expensive than a diesel with matching power, which isn't a lot when you're talking this kind of money. 
While you do get a lot of money, the S-Max certainly isn't a cut-price alternative to a seven-seat SUV.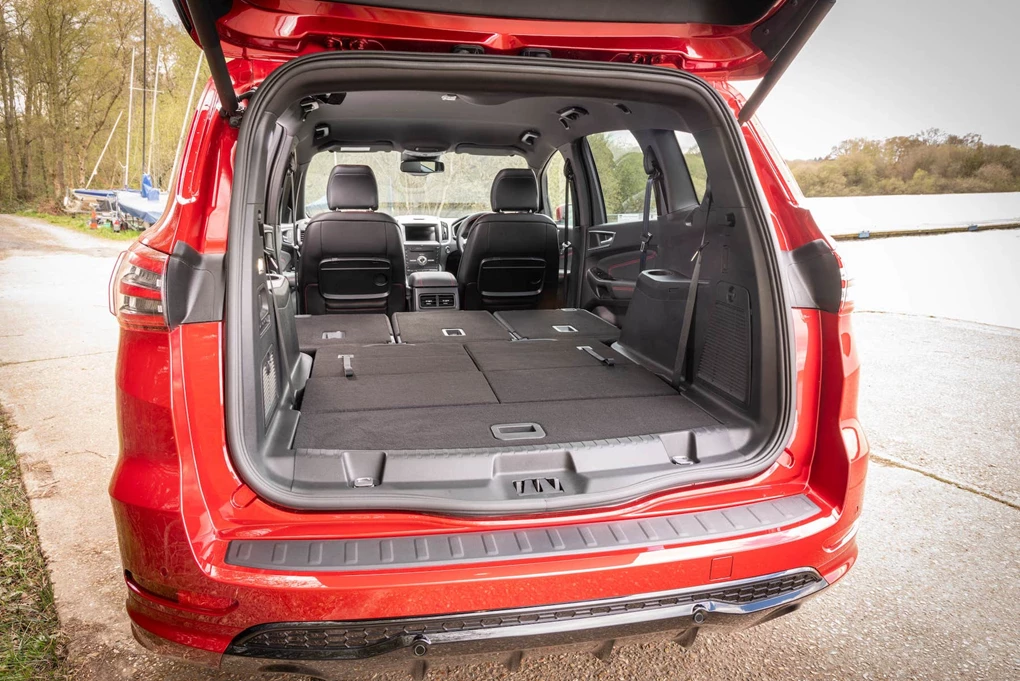 Verdict
The addition of a hybrid powertrain to the Ford S-Max is certainly a great addition. It's one that successfully breathes extra life into this MPV, while its efficiency is particularly impressive. 
Elsewhere, the S-Max is good to drive and looks good (especially in this ST-Line trim level), while is just brilliantly suited to family duties. Though not cheap, it's certainly a more practical alternative to an SUV, and one that's well worth considering.
Enquire on a new Ford S-Max Hybrid