Introduction
Few names mean as much in the van world as the 'Ford Transit'. It's been the vehicle of choice for businesses for decades and has earned itself a brilliant reputation over years – Ford even says 'it's as much a tool as it is a mode of transport'. 
The range has expanded tremendously over the years, with the full Transit line-up including the Courier, Connect and Custom, and this – the 'big' Transit. 
The latest Transit generation debuted in 2013, and there's been a lot of change in that time – Mercedes launching a new Sprinter, Volkswagen a new Crafter and the list could go on. 
So this new heavily revised Transit aims to bring this legendary Ford back up to scratch. Its styling is hardly altered, so it's mainly beneath the surface where the changes lie. 
For starters, Ford has managed to shave 80kg from the weight of the model through a host of small tweaks (a lighter fuel tank, for example), which sees the payload increase. 
There's also a new mild-hybrid diesel engine and various new driver assistance tech – including the likes of adaptive cruise control and self-parking functionality.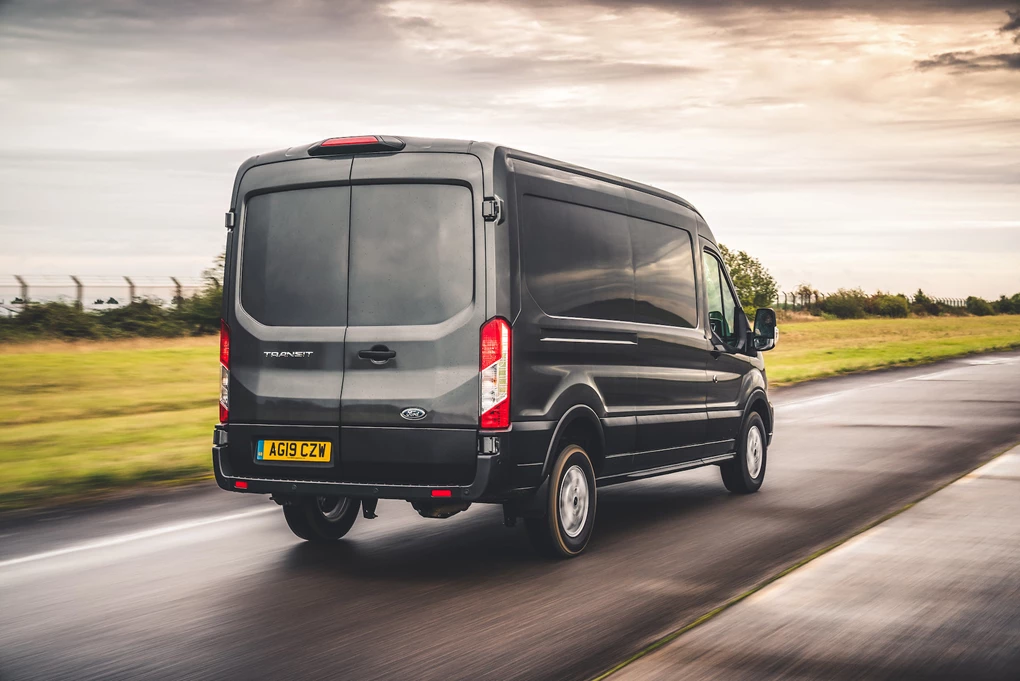 Performance
Choice is absolutely key on the Transit, and the engine choice and derivatives on offer are impressive. 
While all versions come with 2.0-litre EcoBlue diesel engines, the power outputs on offer include 103bhp, 128bhp, 168bhp and 182bhp. Both six-speed manual and six-speed automatics are available, too, along with both front- and all-wheel-drive. 
Go for the 128bhp version and you can also choose it with mild-hybrid technology – something that helps to improve both responsiveness and increase efficiency.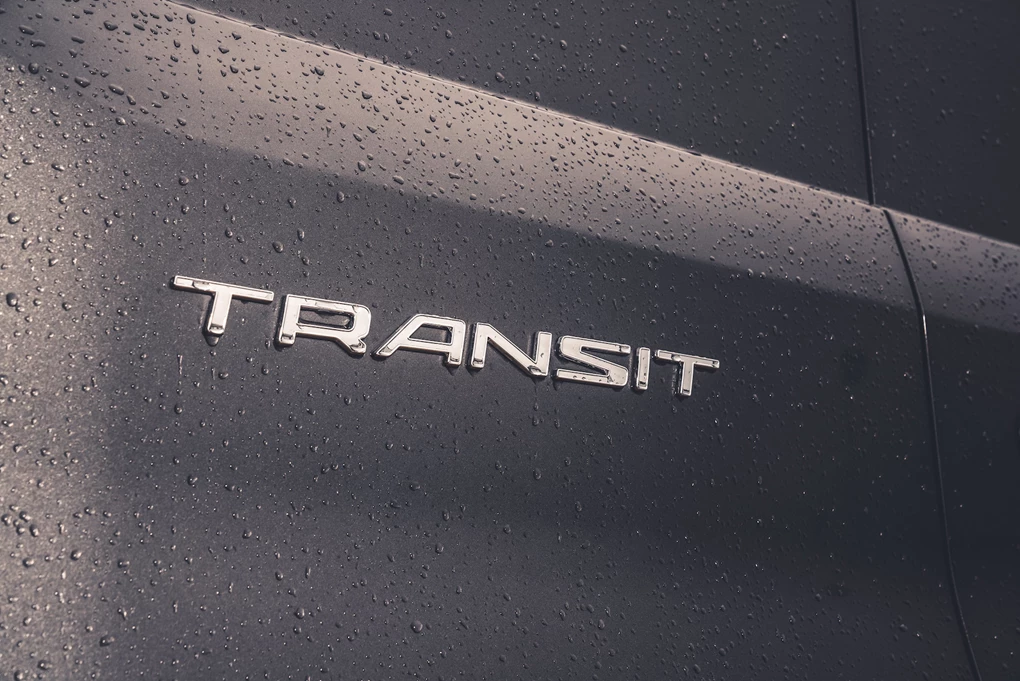 Ride and handling
Ford is renowned for producing some of the best vehicles to drive in their classes, both in the car and van world, and this large Transit continues with that. 
It's much more pleasant behind the wheel than you would expect a van of this size to be, and the light steering is ideal for manoeuvring around town, as well as making the Transit easier to park than you might expect. 
The 128bhp engine is the one to go, as it delivers the next mix of fuel economy, performance and value, though the six-speed manual automatic on our test van wasn't the smoothest, and unless you do a lot of driving in stop start traffic, the manual is a better option.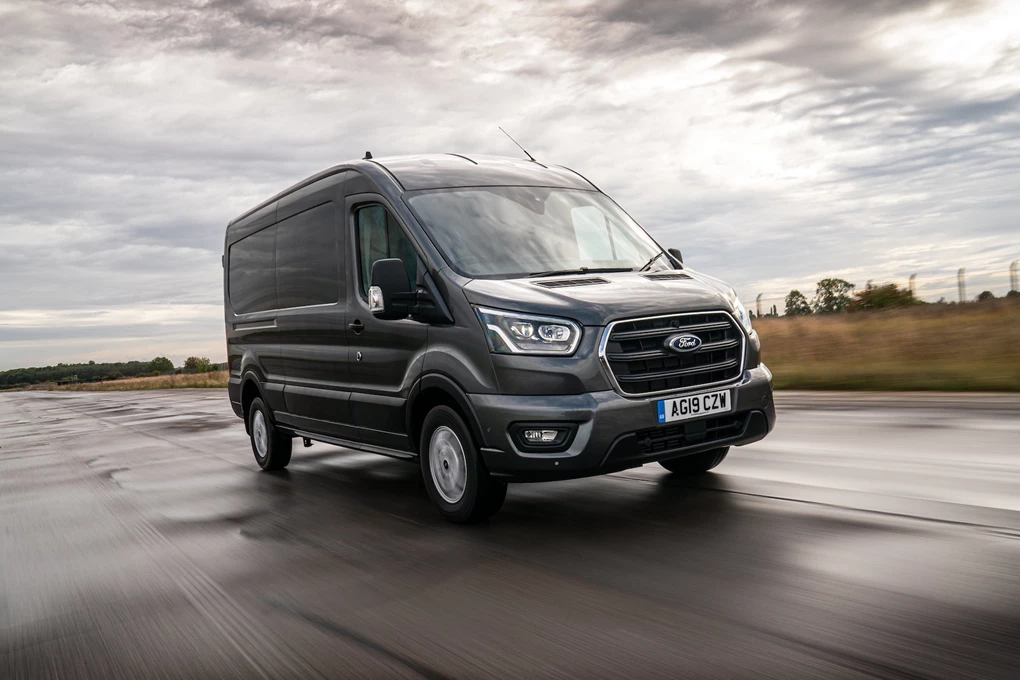 Interior and equipment
It's perhaps the cabin where you'll notice the most changes, with this new Transit having a much more modern feel than its predecessor. 
Gone is the cluttered dashboard layout and in place is a new eight-inch touchscreen, which is already widely used in various Ford cars. While the quality is also better than before, too, it still feels reassuringly durable and tough – handy given the tough lives some of these vans have. 
But what about load-carrying ability? Well the Transit doesn't disappoint. Thanks to those weight savings, the payload has increased by up to 80kg – meaning it can carry an impressive 1,418kg on the 3.5-tonne models. 
As for trim levels, four grades are available – Leader, Trend, Trail and Limited. 
The Leader is pretty sparse – coming with Bluetooth, remote locking and a trip computer, but little else. The Trend would be our choice, as this adds useful features such as a heated windscreen, cruise control, automatic lights and wipers and the aforementioned touchscreen. 
Limited is next in the ordinary line-up, and brings luxuries such as Bi-Xenon headlights, body-coloured bumpers and 16-inch alloy wheels. At the top of the line-up is a new rugged Trail version. It gains revised styling, black alloys, a leather interior and comes with additional off-road settings for maximum ability off-road.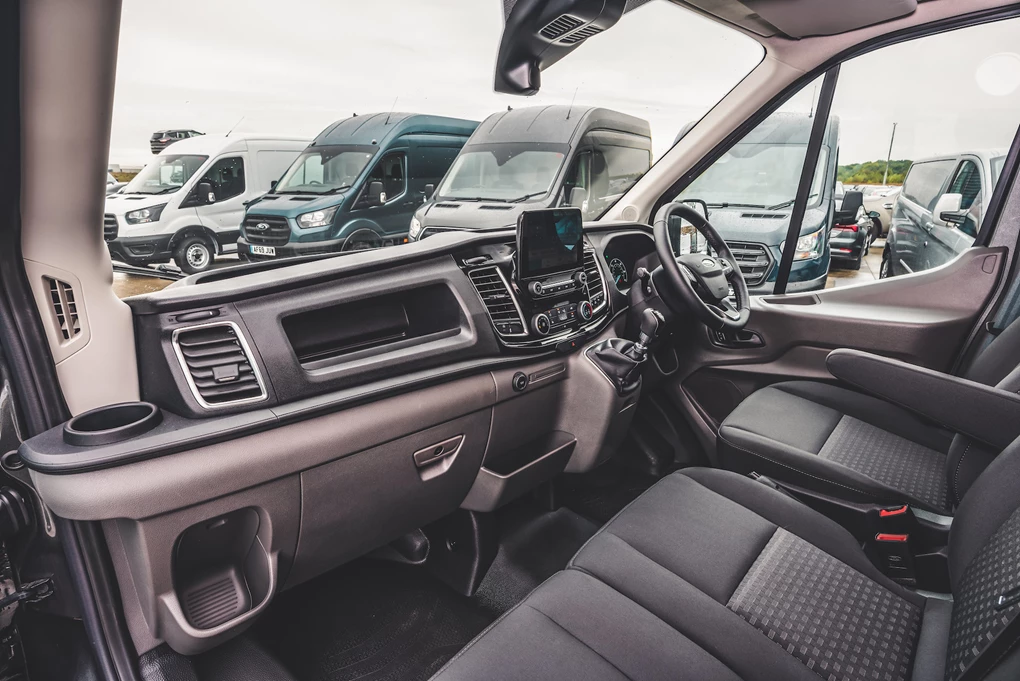 Cost
Prices for the Transit kickstart from a reasonable £27,595 for an entry-level Transit, but you'll want to look for a Trend model with the 128bhp 2.0-litre engine, which is available from £29,805. Mild-hybrid models are also quite a bit more expensive, so as clever as the tech is, it just costs a bit too much for marginal gains.
Verdict
The Transit has always been an instrumental part of the van world, and that's set to continue with this latest version. 
The 'marginal gains' approach to improve practicality will be gratefully appreciated by businesses, while the interior is a major step up compared to its predecessor. It also remains a great van to drive and deserves to retain its place as one of Britain's most popular vans.
Enquire on a new Ford Transit