It's been a long time coming back to the UK, but the Honda Civic Type R, one of the most revered hot hatches in history, has finally made its return.
The new fourth-generation Type R brings with it a significant number of changes, most notably the addition of a turbocharger to Honda's iconic VTEC engine for the first time ever. As well as this comes a plethora of technical enhancements to further refine this 310 horsepower ballista.
Unlike rivals like the Volkswagen Golf R and Ford Focus RS, the Civic Type R still channels all its power through the front wheels, but it's recieved a number of updates to combat the ever-present threat of torque steer.
In fact, it now stands as the most powerful front-wheel drive hot hatch in existence, the most powerful car ever to bear the red 'H' badge and was even rapid enough to lap the Nurburgring in the fabled sub-8 minute mark.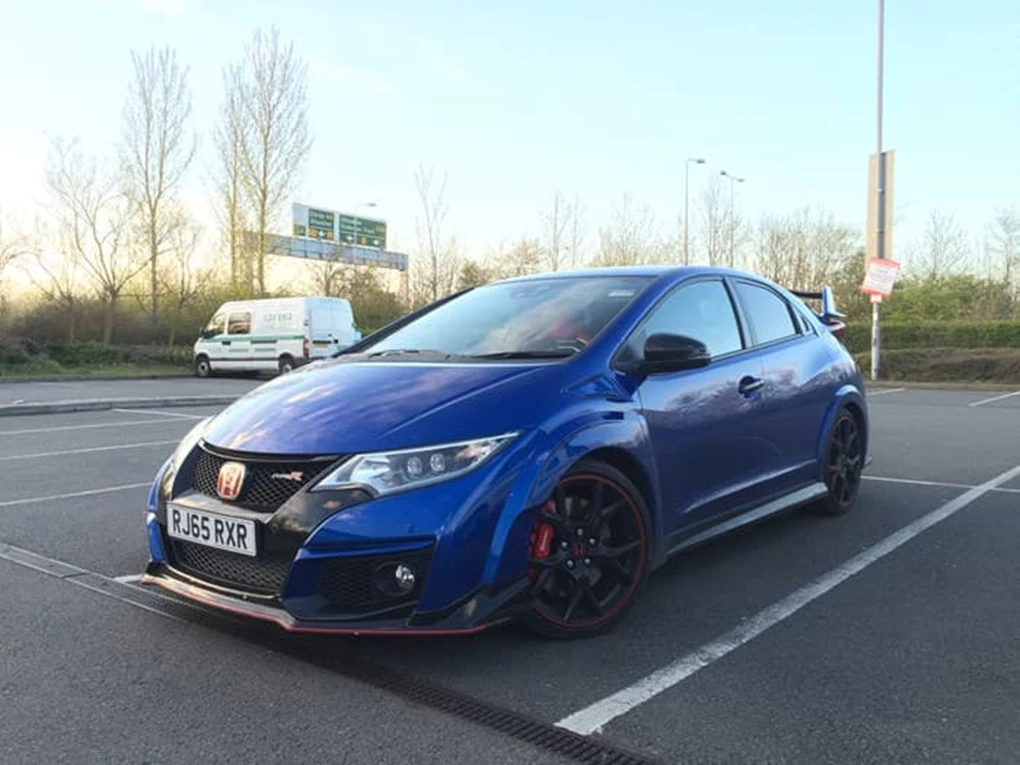 Performance
As with previous iterations, the Civic Type R features one of Honda's famous VTEC petrol engines. In fact, it's actually the same 2.0-litre motor carried over from the previous Type R model, albeit retuned to offer more than 100bhp extra over its predecessor. The addition of the monoscroll turbocharger marks the other main departure, and significantly boosts thrust in the lower rev range.
In terms of performance, the Type R generates 306bhp with a meaty 400Nm of torque. Peak power kicks in at 2,500rpm and the car is capable of ripping its way from 0-62mph in just 5.7 seconds, before hitting a top speed of 167mph.
Although, yes, there is a certain amount of turbo lag as is to be expected from a turbocharged car, performance fans will get a kick out of taming the boost pressure with their right foot while braking with their left, keeping the engine at peak boost and ready to thrust the car out of the corners.
There's no automatic gearbox either, just a six-speed manual which features the shortest throw in its class at a tiny 40mm. Honda says that this is to get as much man and machine interaction as possible, and honestly you wouldn't have it any other way, such is the satisfaction of rocketing through the gears and listening to that booming engine note from the exhaust.
The Type R also features a single R+ button on the dashboard to select a more track-focussed driving profile, a pleasingly simple option compared to the multitudinous selectable driving modes on many other rivals.
Pressing the button feels a little like prodding an angry bear, and sharpens up the car's throttle response and torque rating for plenty of go-faster laughs. It also stiffens the suspension dampers and weights up the steering, but be warned that this is better suited for track days as the suspension becomes almost unbearably stiff over public roads.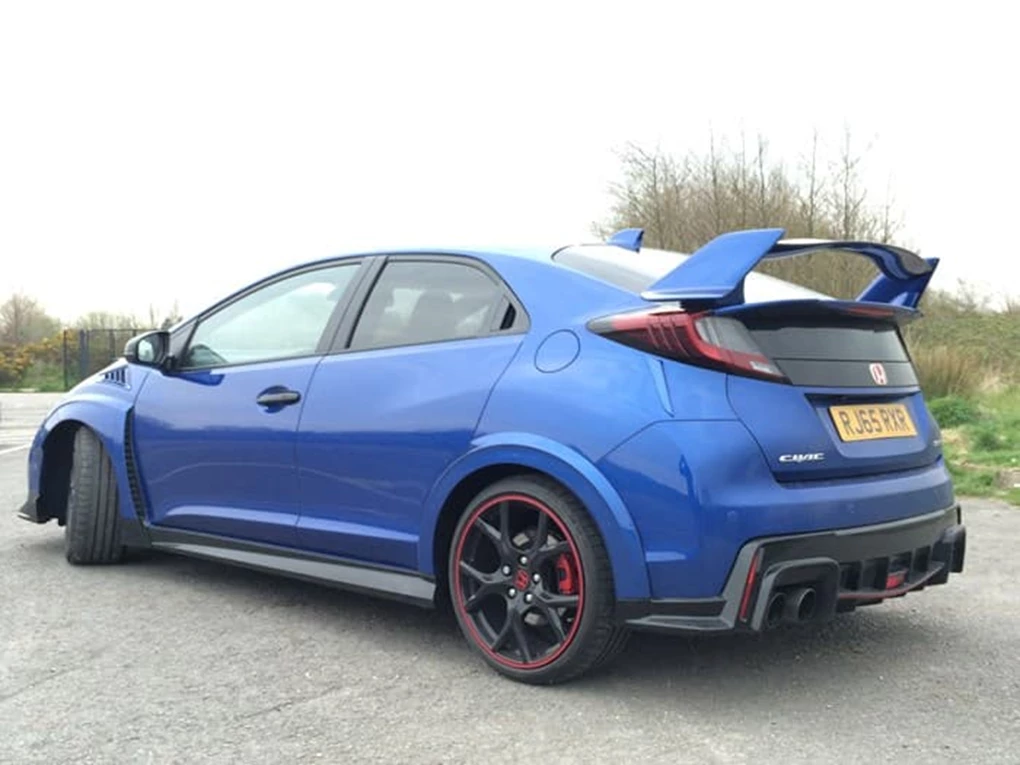 Ride and Handling
Those mean looks aren't just for show, either. As previously mentioned, the Type R features a rowdy and aggressive-looking aero kit to reduce drag and increase downforce
Along with the engine, the new Type R has had a range of technical tweaks made to further sharpen its ride and handling. For a start, the suspension is a massive 177 per cent stiffer than the previous model, and features the new four-point Adaptive Damper System (ADS) to allow individual control of each wheel's damper settings. This means that the car can adapt to the road in a matter of milliseconds in order to keep itself level and stable through corners, as the dampers self-adjust to compensate for added weight and lean. The ADS system also keeps the car stable under harsh acceleration and braking, particularly handy under hard cornering. Also noteworthy is the mechanical limited-slip differential on the front wheels, which actively keeps the nose tucked into the apex of a bend to tighten up your line when you really chuck it in hard. Those mean looks aren't just for show, either. As previously mentioned, the Type R features a rowdy and aggressive-looking aero kit to reduce drag and increase downforce via a revised front splitter, flared wheel arches and a massive rear wing that'll get you more than one or two looks from the public. New dual axle suspension at the front reduces torque steer by a significant 55 per cent, although the car does still have a tendency to struggle when it hits camber. Regardless, it feels extremely composed thanks to an 18 per cent overall increase in body rigidity, while the high-performance 350mm Brembo brake discs and exclusive Type R tyres keep all 306 horses under rein at all times. Naturally, the suspension is firm and even firmer in R+ mode, which stiffens damping force by 30 per cent. All the same, it's not quite the chiropractor's dream that some of its rivals are, and on relatively smooth surfaces like on the motorway, the Type R makes a surprisingly comfortable cruiser.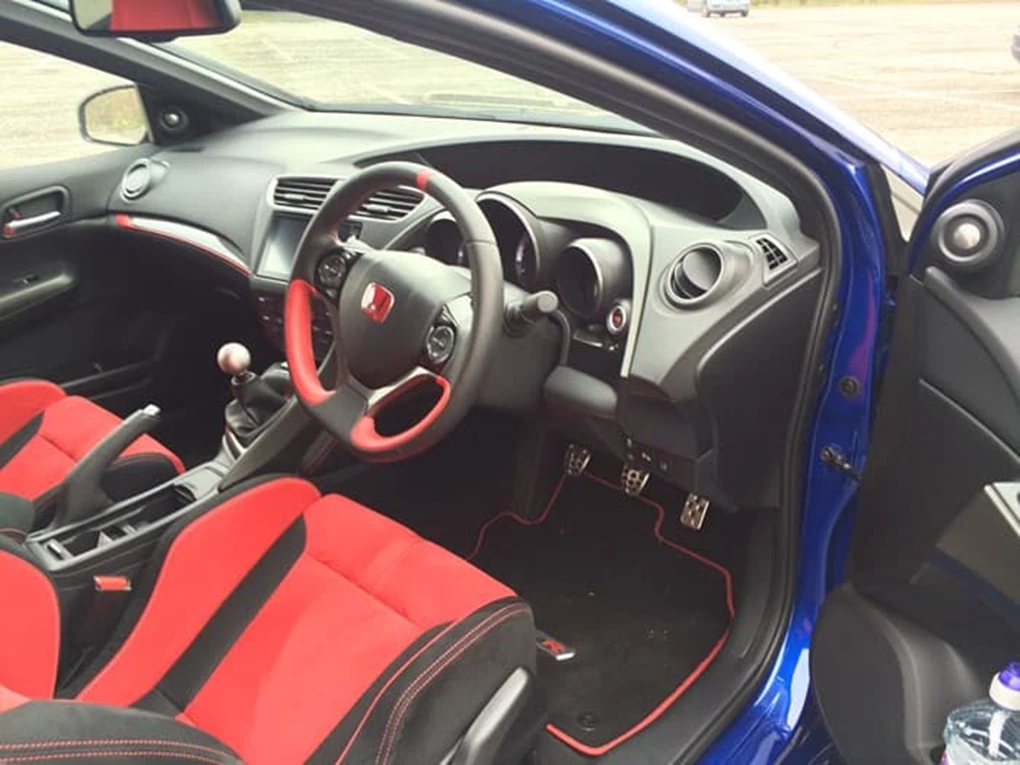 Interior and Equipment
The Type R's extensive aerodynamic package means that it's the only car in its class with enough downforce to generate negative lift.
Inside, the Type R is full of lots of fantastic little reminders that you're driving something considerably naughtier than the regular Civic. For a start, there's a pair of cloth-upholstered sports seats with tough side bolstering to cement you in place, and the fact that you have to clamber in and out of them like a racing driver only adds to the excitement. Elsewhere, while the dash is similar to that of the standard Civic with its futuristic split-level design, it comes with a neat little digital readout that shows you boost and braking pressure, along with how many Gs the car is pulling in the corners and under acceleration. It's a nice touch that's sure to keep hot hatch fans happy, but it can be a little hard to look at particularly when you're concentrating on driving the thing. Apart from that little niggle, the Type R is a great place to spend time. Speaking of displays behind the speedometer, if you are in +R mode, a table will appear near the instruments that allows you to record your own lap and sprint times. As standard, every Type R gets a wide range of kit including dual-zone climate control, Bluetooth and autonomous emergency braking alongside cruise control. Upgrading to the slightly more expensive GT trim will add various aesthetic upgrades like extra red trimming, plus a Garmin sat-nav system and front and rear parking sensors.
Cost
Although Honda claims that it can return an average of 38.7mpg, if you drive it like you're supposed to you'll see considerably less than that
The Type R can be yours for £29,995, with the GT model costing an additional £2,300. Compared against the likes of the Volkswagen Golf R and Renaultsport Megane 275, it's very competitively priced indeed and, along with the Focus RS, could be one of the biggest performance bargains currently on the market. Aside to its retail price, Honda also offers a £500, five-year service package for extra peace of mind. However, in terms of economy and emissions the Type R understandably fares less well. Despite the fact that its engine is Euro 6 compliant, it still emits 170g/km of CO2 and sits in the Group H tax band, meaning that it'll cost £205 a year to tax. Although Honda claims that it can return an average of 38.7mpg, if you drive it like you're supposed to you'll see considerably less than that, so be prepared to pay a lot for fuel, particularly if you use the recommended premium unleaded.
Our Verdict
Although the "race car for the road" title is something of a cliché amongst carmakers, when it comes to the Type R it's probably the closest you'll be able to get to a real racing car, at least in the hatchback segment. Brutally quick, reasonably priced and surprisingly practical for such an out-and-out weapon, it's equally at home being driven to the shops or whipped around your local track at the weekend. Although many drivers might be inclined to opt for four-wheel drive alternatives, the Type R has absolutely amazing levels of performance and grip for a car of its kind, and we defy any naysayer to take one for a test drive and not leave with a massive grin on their face.