Introduction
The Civic Type R has been with us in the UK since 2001 and through four generations has proved to be incredibly popular in the hot hatch market.
For previous generations, wannabe Type R customers would have had to wait a couple of years after the release of the Civic – but the new iteration has come out much closer, so people can get behind the wheel of the powerful hatch much sooner.
Based on the 10th generation Civic, the new Type R is one of the maddest looking to date, thanks to a huge rear wing and additional sport tweaks to make it look as mean as possible.
But how good can this latest version of the Type R really be, and what can it offer over its rivals, that include the Ford Focus RS and Volkswagen Golf GTI Clubsport S? We find out…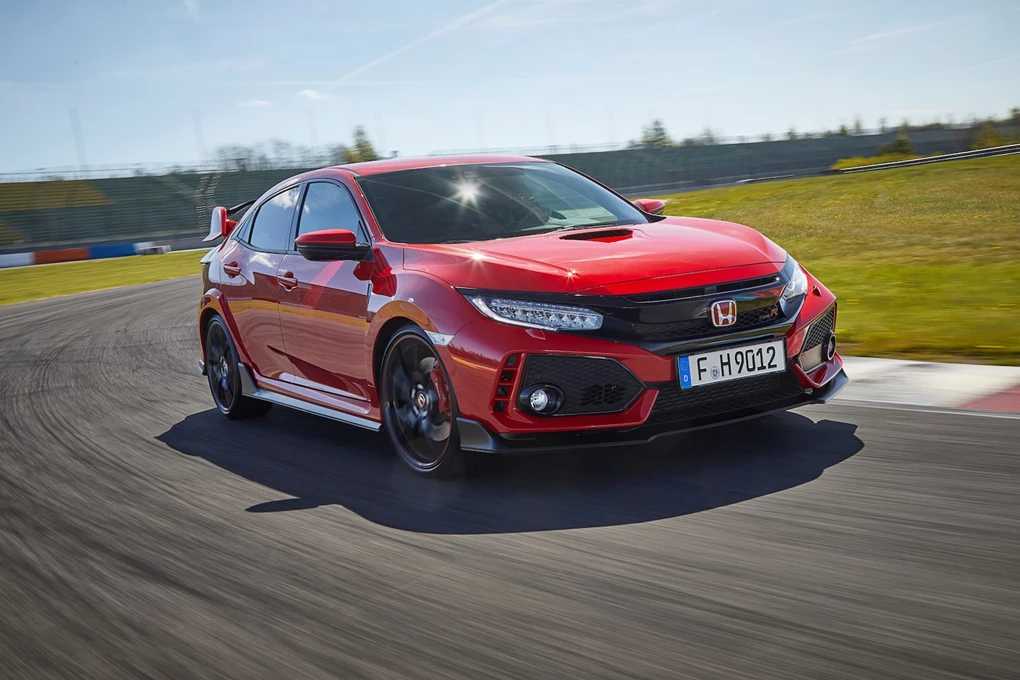 Performance
Under the bonnet of the Type R is a turbocharged 2.0-litre, four-cylinder petrol engine that develops 316bhp and 400Nm of torque. That's an impressive amount of power for a car of this size, and when paired to a six-speed manual transmission sending all the oomph through the front wheels, the Type R can go from 0-60mph in just 5.5 seconds and reach a top speed of 169mph.
The previous version of the Type R didn't feel particularly restrained, as it was always wanted to screech around at slower speeds and go fast – whereas this new iteration feels quite mature and can be perfectly good at driving at acceptable speeds. But when you switch it into +R mode, the response of the acceleration is much more potent – helping you rocket away and speed about when you want.
See Available Civic Type R
Ride & Handling
It's not difficult to say that this newer version of the Type R is a much better overall package than its predecessor, as it feels much easier to live with day-to-day and is nicer to drive overall. Even in its sportiest +R mode, the Civic's suspension soaks up the bumps and ruts of the British road network well.
In that top driver setting, the throttle response is enhanced, the steering made weightier and the ride is firmer to give you the ultimate hot hatch experience. Everything feels much more alert and that can make driving along a twistier section of road even more fun. Grip levels are also impressive, as the tyres are 10mm wider and much tackier – allowing for better purchase on road surfaces. Although more grip can mean less fun, this Type R is much quicker and is less fidgety.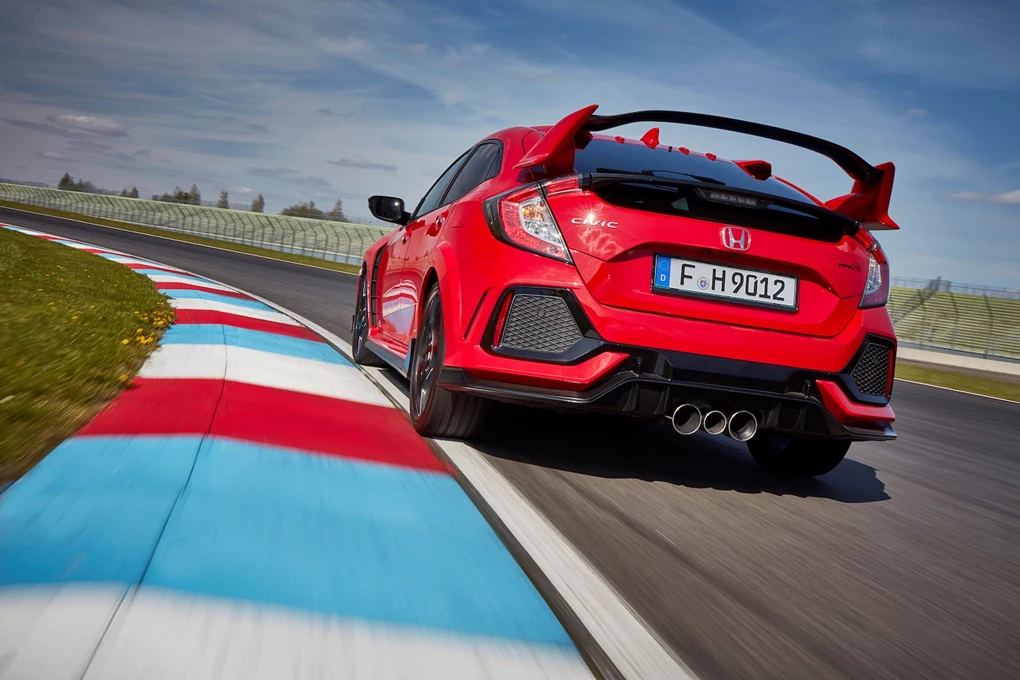 Interior & Equipment
With Honda extending the length and width of this 10th generation Civic compared to the previous version and the re-positioning fuel tank, interior space is much better than before. The driver now sits lower down in the cabin for a better driving position, while the rest of the interior space is much better than before – making the Type R a rather practical hot hatch. Boot space comes in at a respectable 420 litres, although that can be extended to 786 litres when the rear seats are folded down.
Honda offers the Type R in two trims – Type R and Type R GT – with the former providing more than enough equipment as standard. From the entry spec, the Type R is fitted with a seven-inch touchscreen with smartphone connectivity, automatic climate control, sports seats with suede upholstery, leather steering wheel, alloy pedals, drive mode select, LED headlights with high beam support, LED daytime running lights and 20-inch alloy wheels.
Safety equipment is also plentiful, with models boasting brake assist, collision mitigation braking, forward collision warning, lane keeping assist, lane departure warning, intelligent adaptive cruise control and traffic sign recognition.
Cost
Prices for the Type R start from £31,525, which when compared to its closest rivals, such as the Ford Focus RS (£32,765) and Volkswagen Golf GTI Clubsport S (£34,495), looks like really good value.
Although fuel economy is something that a hot hatch owner is unlikely to worry about, the Civic Type R returns a quoted 33.2 mpg and CO2 emissions of 178g/km.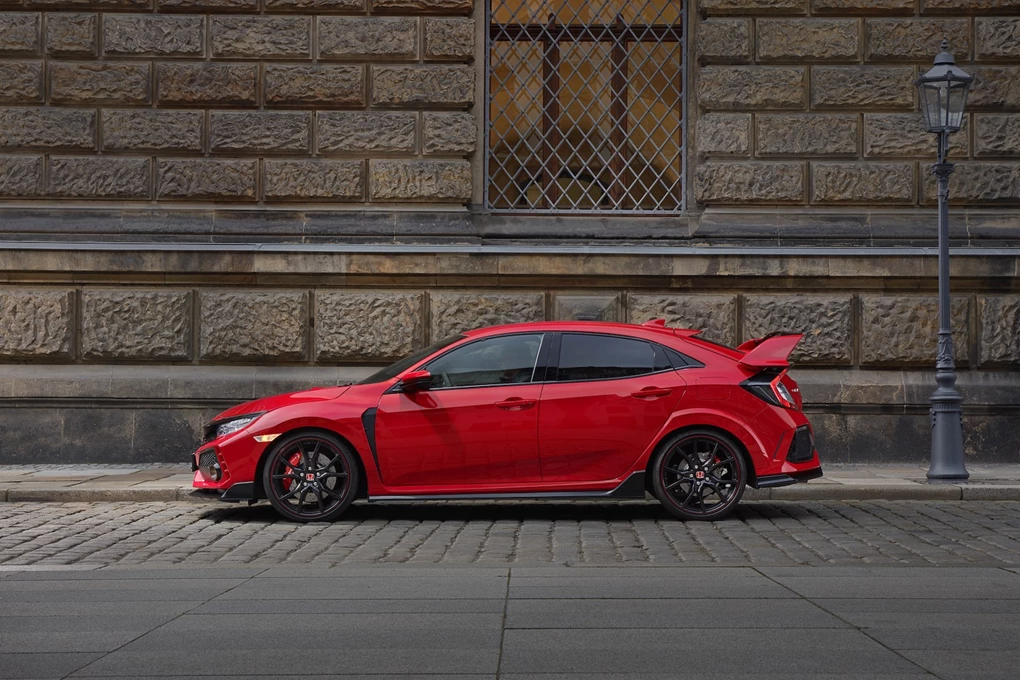 Verdict
Although the hot hatch market is incredibly competitive at the moment, the Civic Type R is very close to the top for a number of reasons. It looks bonkers, has an excellent driving setup and it also comes with a high level of specification to match the experience behind the wheel. Add to that it sits below its closest rivals in terms of price, and you've got a great hot hatch on your hands. It only comes down to whether you like the outlandish design enough to live with it.