For Apple it's the iPhone, to Xerox it's the photocopier, while for McDonalds it's the Big Mac. We are, of course, referring to core products, that one thing that serves as the cornerstone, the backbone of any successful company.
For Hyundai, here in the UK that's the i30 hatchback. But core products always have to evolve to keep fresh over time, just think of how much the iPhone has evolved – even the Big Mac has subtly changed over the years.
The last i30 was a great all-round car in the family hatch segment, if lacking a little of the sparkle that the absolute best cars in its class have. So, this new and improved version is now fresher looking, more upmarket and roomier inside. Hyundai also says it's now better to drive than ever too.
Has the new and updated version of Hyundai's biggest seller in Europe improved on its drawbacks?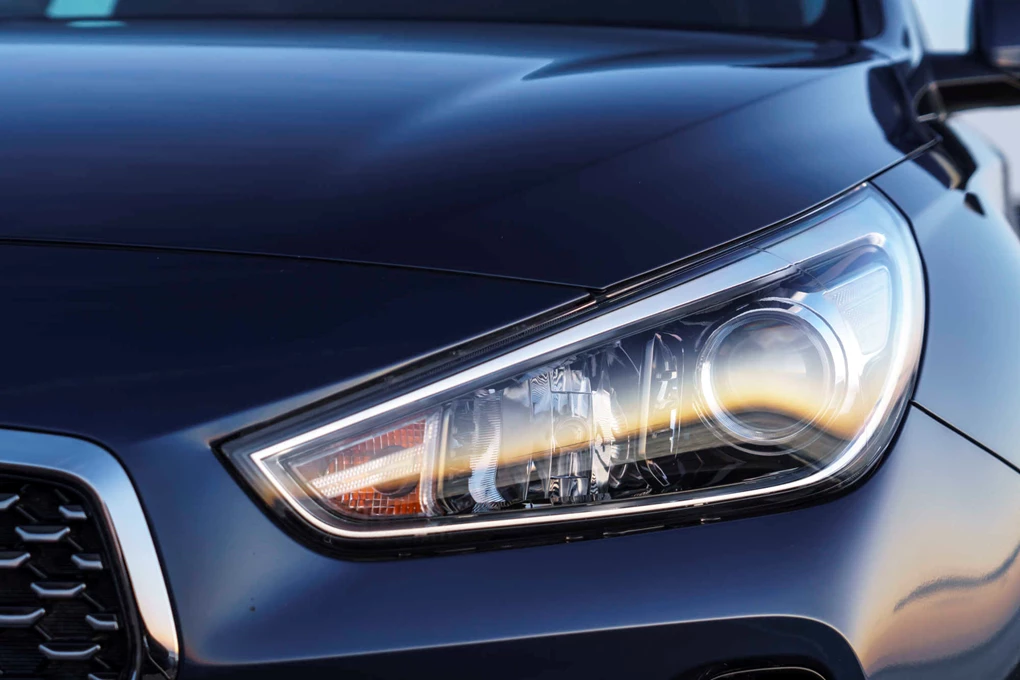 Performance
We've previously driven the new i30 with the most powerful 138bhp 1.4-litre engine, but this time round it's the little 1.0-litre turbo, which is new to the i30 range but the same motor that you'll find in the smaller i20 supermini.
It's got three cylinders and 118bhp, which isn't a bad figure considering its small size. However, despite the fact that the new i30 is lighter than its predecessor, the tiny 1.0-litre can feel like it struggles to cope with the weight of the larger car compared to the smaller i20.
There's a bit of turbo lag and a noticeable gap between when you put your foot down and when things actually start happening. It takes 11.1 seconds to get from 0-62mph, which isn't bad considering, though you will have to work the engine quite hard to get the absolute best from it.
Although you mightn't think that matters all that much – the i30's not 'hot by any stretch of the imagination, after all – overtaking on the motorway and getting up to speed on the sliproads can take a bit of forward planning, while getting up hills with passengers and a full boot will take a couple of downshifts.
Due to the fact that you have to work it so hard to get up to speed, you probably won't get amazing economy from it either. On paper, the 1.0-litre turbo can return up to 56.5mpg with 115g/km of CO2, but after having it for a week and some length motorway journeys we managed an average in the high 30s.
Overall, we'd recommend either going for the larger 1.4-litre engine if you'd rather have a petrol, though we reckon that the i30's diesel options will be more attractive to most UK buyers.
Ride and Handling
The i30 makes up for its lack of dynamic prowess with an agreeable, comfortable demeanour and a relaxed ride
Whichever engine you go for though, the i30 is a fairly good car to drive. Not the most exciting and not the most agile car in its class, though it makes for a comfortable and perfectly usable family motor. Some of the changes made to the updated car are a lightweight body, revised suspension to improve handling and steering that's been made 10 per cent quicker to improve on-road responsiveness. Body control is good and it does feel a good bit sharper to drive than the previous car, though the steering is still lacking in feel and the i30 can't match rivals like the Ford Focus or Mazda 3 for handling enjoyment. It's not the car for you if you enjoy the occasional B-road blitz, then, but that's no bad thing. The i30 does make up for its lack of dynamic prowess, with an agreeable, comfortable demeanour and a relaxed ride, particularly on A-roads and motorways where it's happiest cruising along at steady speeds. Refinement is good too with little noise from the engine once it's settled down and minimal road and wind noise too. Overall, it's a competent family hatch that's civilised and easy to drive, and for most buyers that's pretty much all you could ask for.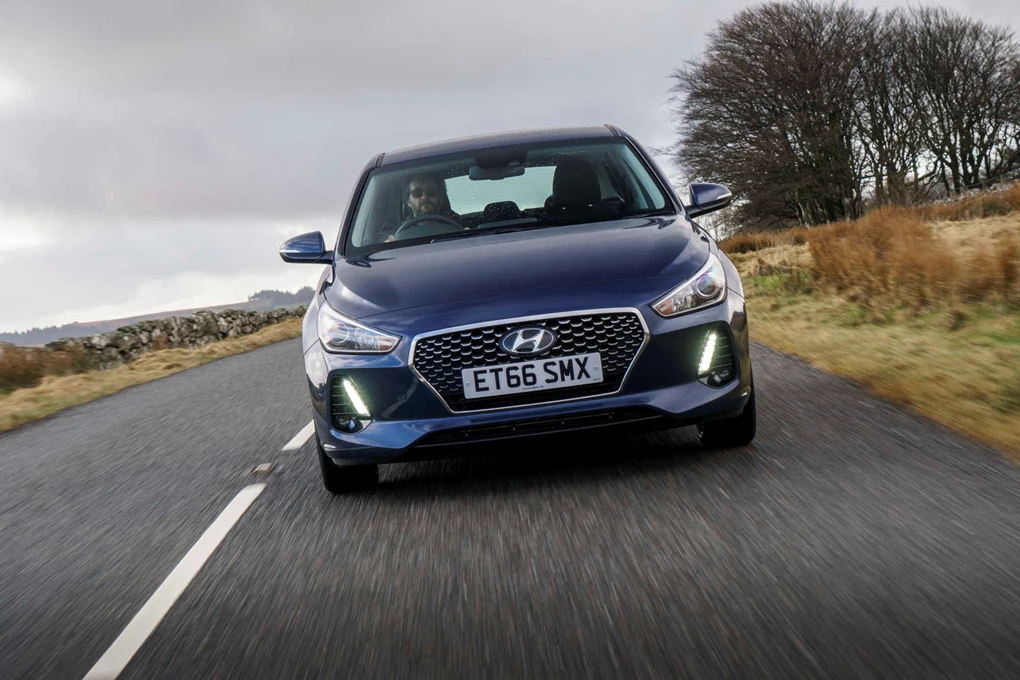 Interior and Equipment
Back in 2010, the Hyundai i30 was named the most satisfying car to own in the Driver Power Top 100 survey
We've previously praised the redesigned cabin of the new i30, which features a much fresher appearance and a decluttered control layout and which is a big improvement over the last version. In our last review, we tested the range-topping Premium SE trim, but this car tested here is the mid-spec SE Nav, which is likely to be one of the bigger sellers in the UK. Along with a large eight-inch floating touchscreen, SE Nav cars benefit from integrated sat-nav, Bluetooth and smartphone integration with Apple CarPlay and Android Auto. There's also parking sensors and a reversing camera included, while our test car comes with the optional Visibility Pack which adds larger 17-inch alloy wheels, dual LED headlights and dual-zone climate control for an extra £1,000. It's comfortable and spacious to sit in too, while there's plenty of leg and headroom even in the back. Hyundai says it's got the best rear space in its class, and though we must admit we haven't exactly broken out the measuring tape it does feel roomy and comfy enough to sit in even for long journeys. The boot has 395 litres of space, while folding the rear seats down increases maximum cargo capacity to 1,301 litres, which is more than rivals like the Focus, Golf and Leon, though the Skoda Octavia has slightly more space. If outright practicality is more your main concern, there is also the option of the i30 Tourer estate, which has a maximum boot space of 1,650 litres.
Cost
All models in the i30 range come as standard with a five-year unlimited mileage warranty
The new i30 starts from £16,995 for the entry-level model, while this SE Nav starts from £19,645 before options. The range-topping Premium SE, meanwhile, starts from £23,495, which puts the car about on par with main rivals like the Focus, Octavia and Astra and it's pretty good value for the amount of kit you get. All models in the i30 range come as standard with a five-year unlimited mileage warranty, plus five years' roadside assistance, five years' worth of free vehicle health checks and a 12-year anti-corrosion warranty for the paintwork.
Our Verdict
The i30 has been a very successful car for Hyundai and it's easy to see why with its core themes of practicality, affordability and good amounts of equipment. This new one keeps all of that and just adds a little bit extra, while its attractive warranties could be the icing on the cake that tempts buyers away from one of the more common family hatches. While it mightn't be the most exciting car around, and while we'd find it hard to recommend the 1.0-litre engine, as an all-rounder family hatch it remains one of the best.