Introduction
It's safe to say that the IONIQ range is a big deal for Hyundai, as it provides customers with an affordable range of electrified and frugal hatchbacks for people to choose from.
As the first model in the world to come with hybrid, plug-in hybrid and pure-electric versions, the IONIQ is a look forward for the motoring industry as manufacturers continue to develop more fuel efficient and environmentally-friendly vehicles.
The conventional hybrid doesn't need any input from an exterior charger – just petrol into the fuel tank to power the combustion engine, which in turn helps charge the battery to power the electric motor for zero-emission driving.
Other hybrids have proven that the IONIQ can make sense in the real world, but can it be as good as its segment rivals? We take a look…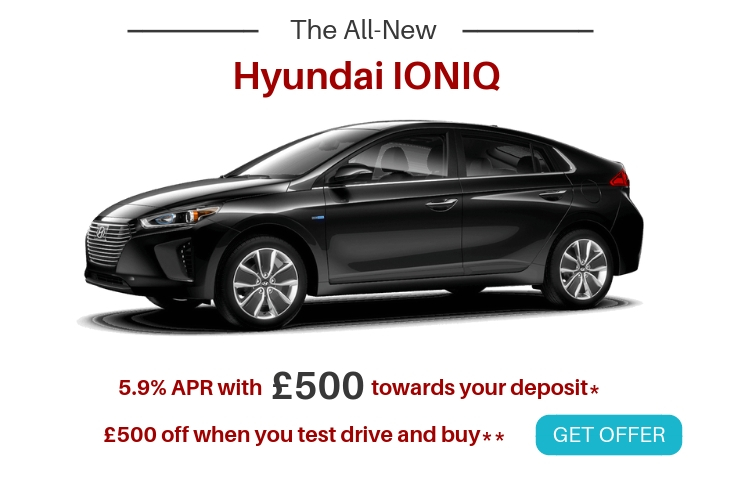 Performance
The IONIQ Hybrid is fitted with a powertrain that teams a 1.6-litre, four-cylinder petrol engine to an electric motor powered by a 1.56kWh Lithium-ion battery – which combine to develop 139bhp and 147Nm of torque. With the six-speed dual-clutch automatic gearbox installed, power delivery is very similar to that of a conventional car – so if you switch from a petrol or diesel rival you won't really tell the difference.
The IONIQ Hybrid isn't set up for performance, so the 0-60mph time of 10.6 seconds is not bad at all, and it has a top speed of 115mph. The electric motor kicks in on start-up and at slower speeds to reduce fuel usage, with energy recovery taking place when the car is decelerating or going downhill. When driving normally, the car decides the most efficient combination of engine and motor power to keep fuel consumption as low as possible.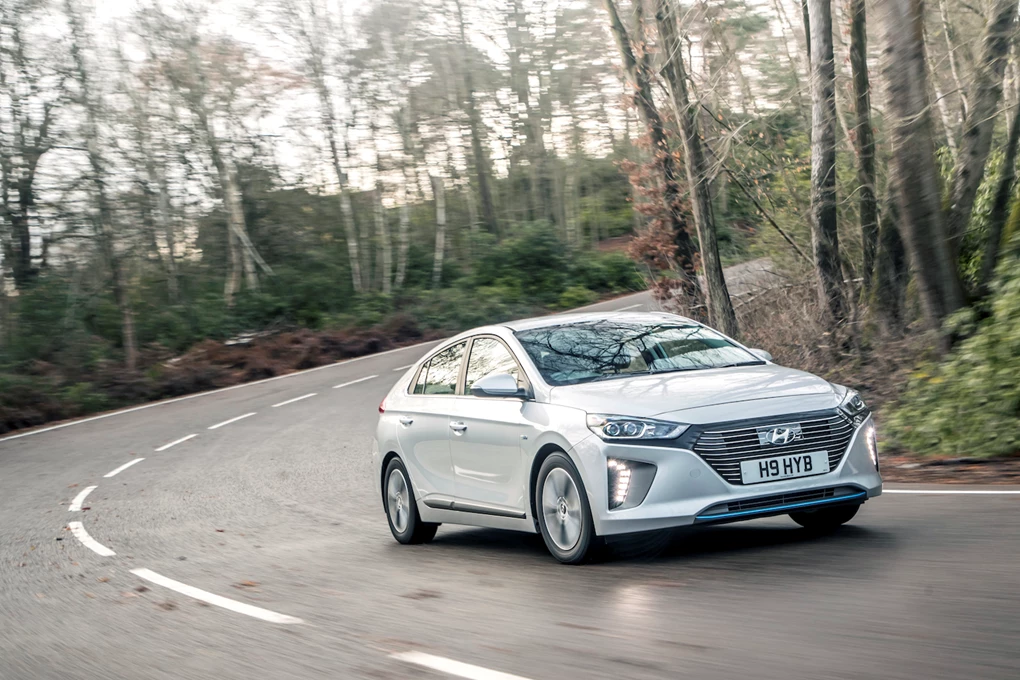 Ride & Handling
Most hybrid models aren't particularly invigorating to drive and the IONIQ does fall into that category – but it does feel much better to drive than its closest rivals. The steering can be quite heavy and doesn't offer that much feedback, which means you can find it difficult to place at times – something that is quite unsettling at higher speeds.
There is a sport mode that you can use if you want to hang onto gears for longer, but that can make the IONIQ feel strained under acceleration – so we'd leave it in its standard drive mode for all situations. When at higher speeds, the IONIQ does ride very well and is refined so that little exterior noise permeates into the cabin.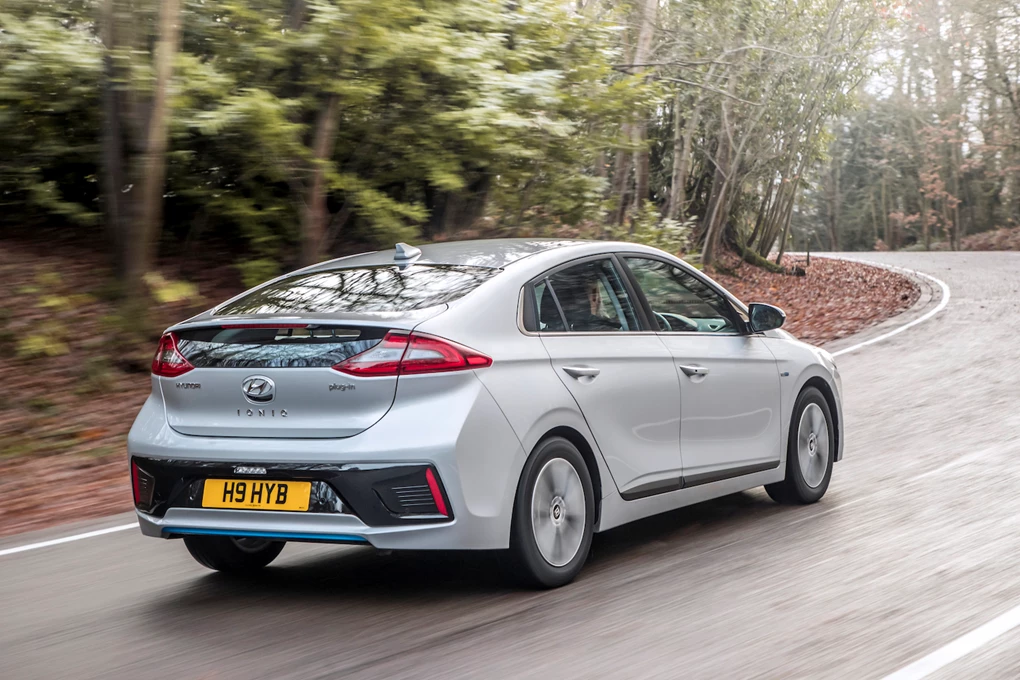 Interior & Equipment
With its hatchback format, the IONIQ offers plenty of space for passengers. The driver's position comes with a lot of adjustment so they can get comfortable, and rear occupants won't find they are lacking in any room either – with lots of head and leg room available.
You might have expected the boot to be larger than 443 litres, but with the batteries mounted under the boot floor the area is quite shallow. It can be extended through to the main cabin if needed, as the 60/40 split rear bench can be flattened to provide 1,505 litres of storage space.
The IONIQ comes with a good level of specification from the base SE trim level, with a five-inch infotainment touchscreen, 15-inch alloy wheels, dual-zone climate control, automatic headlights, autonomous emergency braking, Bluetooth, adaptive cruise control, lane departure and keep warnings, leather steering wheel and rear parking sensors and camera all coming as standard.
For the top-end Premium SE we tried, the car was also fitted with blind-spot detection, ventilated front seats, front parking sensors, rear cross traffic alert and automatic de-fog on the front windscreen. An eight-inch touchscreen infotainment system, a wireless charging pad and digital instrument cluster are all fitted from the mid-spec Premium model.
Cost
The Hybrid version of the IONIQ is the cheapest out of the three available powertrains, with prices starting from £21,790 for the base SE model. As we were behind the wheel of the top-spec Premium SE, the IONIQ we drove started from £25,390 – a respectable price considering the equipment on-board.
With the electrified hybrid system on board, Hyundai quotes a claimed fuel economy of 62.8mpg for the IONIQ – better than most comparable hatchbacks – and CO2 emissions of just 85g/km, meaning much lower running costs than similarly-sized, conventionally-powered hatchbacks.
LIMITED TIME OFFER - From now until 31st March 2019, the Hyundai IONIQ is available with 5.9% APR and £500 towards your deposit*. Plus £500 off when you test drive and buy**
GET OFFER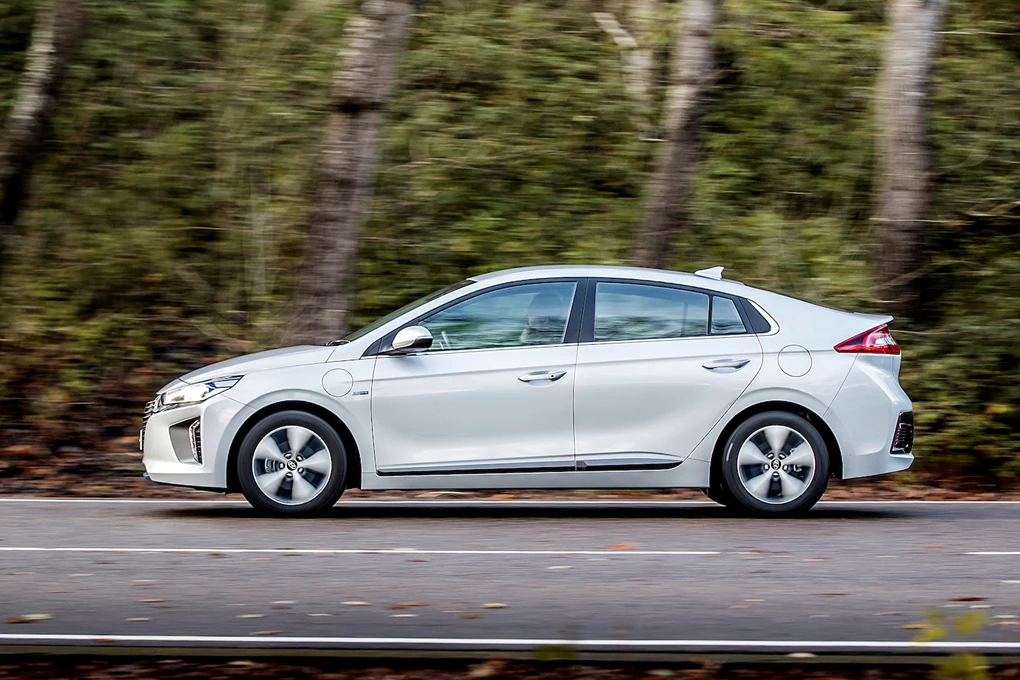 Verdict
The Hyundai IONIQ range is one of the cleanest currently on sale – with the South Korean brand catering for all those wanting a more environmentally-friendly way of travelling around. The Hybrid we tried was able to offer more than enough to convince any driver to switch to electrified driving, as it was practical, drove well enough and was comfortable on longer journeys. Running costs of this model are also excellent and much better than most other conventional hatchbacks. If the top-spec model is a bit too far out of your price range though, you will find the entry-level SE more than capable of suiting your needs.
Terms & Conditions
* Personal Contract Purchase 5.9% APR and 0% APR offers available from 3rd January 2019 to 31st March 2019. T&Cs apply. Subject to status. 18s or over. Guarantee may be required. Hyundai Finance, RH2 9AQ.
At the end of the agreement there are 3 options: (i) Part exchange the vehicle; (ii) Pay the Optional Final Payment to own the vehicle; or (iii) Return the vehicle. Further charges may be made subject to the condition or mileage of the vehicle. Excess mileage charge of 9p per mile applies. Quotes are based on 8,000 miles per annum. KONA Premium 1.0 T-GDi from £20,685 OTR & Tucson Premium SE 1.6 T-GDi 177PS 2WD from £30,610 OTR. KONA with £5481.25 customer deposit, then £199/month x 24 with £9,927.75 optional final payment. Tucson with £8,728.62 deposit then £299/month x24 with £14,205.38. Both quotes include £500 test drive saving. Images show metallic paint at extra cost. 0% APR offers available over 24 months only, minimum 25% deposit required.
** Test drive any new IONIQ Hybrid, IONIQ Plug-in Hybrid model during January, February and March, and go on to subsequently purchase and you will be given the relevant saving towards your purchase of the car. This offer can be used in addition to any existing offer (except Scrappage Offers & Affinity Offers) from 3rd January to 31st march 2019. All offers and savings are   subject to availability, while stocks last and are only available to private retail customers on new cars purchased, registered in the UK, and sourced through Hyundai Motor UK Ltd or its authorised dealers. Hyundai 5 Year Warranty subject to Terms and Conditions. Participating dealers only.
Emissions Statement
'Fuel Consumption MPG (l/100km) for Hyundai range. Low: 24.6 (11.5) - 64.2 (4.4) Medium: 33.6 (8.4) - 70.6 (4.0) High: 38.7 (7.3) - 72.4 (3.9) Extra High: 34.0 (8.3) - 52.3 (5.4) Combined: 34.0 (8.3) - 62.8 (4.5) Co2: 84 – 173. Figures shown are for comparability purposes; only compare fuel consumption and CO2 figures with other cars tested to the same technical procedures. These figures may not reflect real life driving results, which will depend upon a number of factors including accessories fitted (post-registration), variations in weather, driving styles and vehicle load.'