Introduction
After making its name in the UK as a budget brand that offers practical if not spectacular models, Hyundai is now one that makes quality vehicles that may not be at the top of everyone's list.
Cars like the i30 N, IONIQ and KONA Electric have seen to that, but with family SUVs where Hyundai still gets a lot of its interest, the South Korean brand has recently worked hard to update this area of its range.
We've got behind the wheel of the new Santa Fe, and it comes with a new look but more importantly a far more premium finish.
Sharing many of its components with chassis mate, the Kia Sorento, we see whether the new Santa Fe can stand out in the crowded family SUV segment.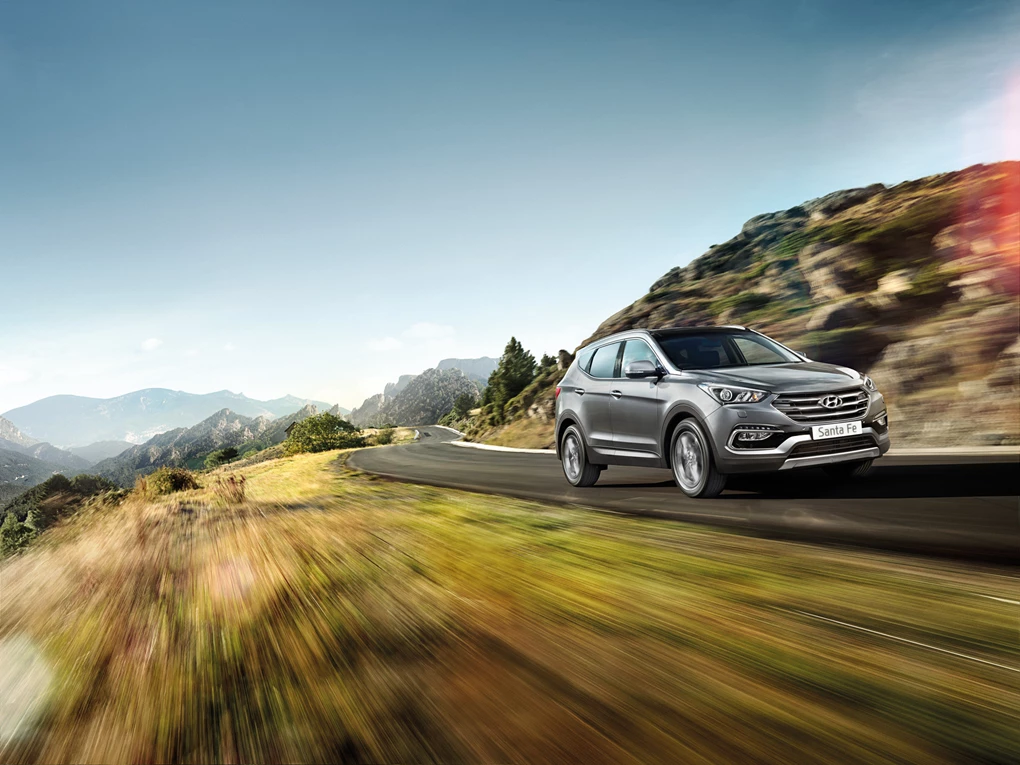 Performance
Only one unit is available with the Santa Fe – a 2.2-litre diesel engine that develops 197bhp and 440Nm of torque, which can be paired to either a six-speed manual or an eight-speed automatic transmission. It may not be the most powerful engine around, but it can power the Santa Fe from 0-60mph in 9.2 seconds and onwards to a top speed of 127mph.
When the engine is paired to the automatic transmission, the performance is smooth and well-refined, while the sometimes gruff diesel engine is sound-proofed well so it doesn't intrude on the cabin too much.
Ride & Handling
Hyundai has set the Santa Fe up for comfort more than anything else, and even some of the most rutted roads couldn't put the SUV off its stride. Feeling well-balanced, the Santa Fe even manages to carry on in this manner when pushed a little harder and even though the chassis isn't the newest around, it remains settled. As it is a high-sided, two-tonne car, body roll is a factor when cornering.
It does feel that the car is providing too much assistance while steering though, and despite the car behaving well in and around town, the Santa Fe can lack responsiveness at higher speeds – which takes time to get used to. Larger alloys don't help the ride either.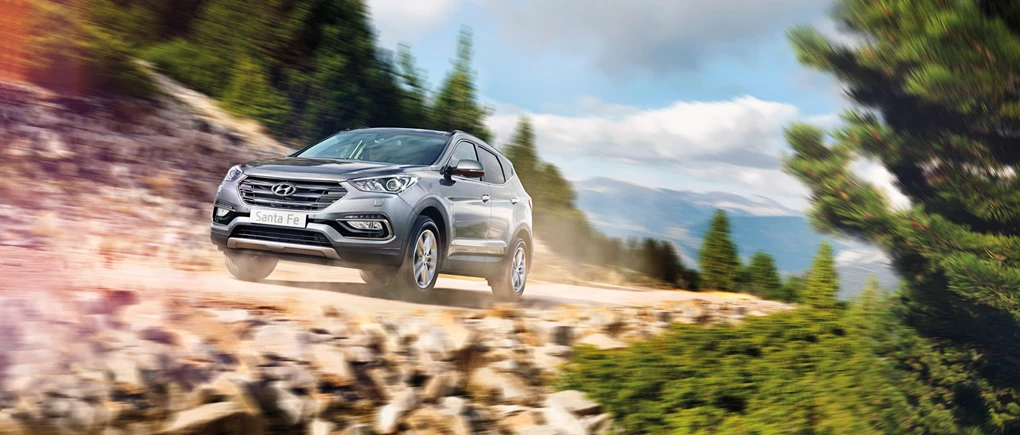 Interior & Equipment
Many models from the South Korean brand come with a well-thought out cabin and it's business as usual with the Santa Fe. All of the buttons and controls are where you would expect them to be and the quality of the finish is also up to a much higher standard than usual. It may be a bit dark in the cabin due to lots of dark-coloured plastics, but it's inoffensive and performs its purpose.
The 547-litre boot is more than large enough for most occasions – but if not, folding the rear seats down will reveal a 1,625-litre load space. Passenger space is great for all, as the high roof and long wheelbase allow for plenty of room for people of all shapes and sizes.
Available in three trim levels – SE, Premium and Premium SE – Hyundai caters for all from the base spec, even if it does start from £33,000. Standard equipment is of a high grade, including roof rails and alloy wheels, dual-zone climate control, automatic lights and wipers, a seven-inch infotainment touchscreen with smartphone connectivity, all-round parking sensors and reversing camera, and adaptive cruise control.
Trims higher up will provide a larger eight-inch touchscreen with satellite navigation, a KRELL premium sound system, LED headlights and leather upholstery, as well as ventilated seats, a sunroof, keyless entry and a head-up display.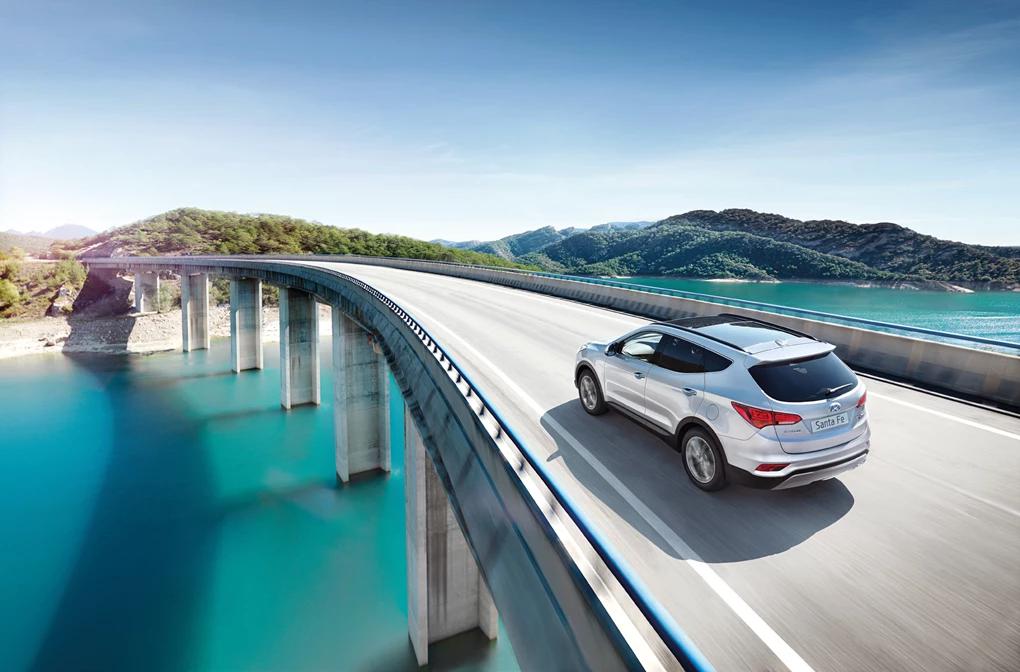 Cost
Considering the amount of equipment included and the overall quality of the product, the £33,425 starting price of the Santa Fe is not too bad at all. The Premium model takes the starting price up to £36,995, while the top-end specification has a starting price of £41,495 – which is a bit steep.
Depending on which version you go for, Hyundai claims the Santa Fe can return up to 43.5mpg and emit 150g/km CO2, which considering the size of the vehicle isn't too bad.
See Available Santa Fe deals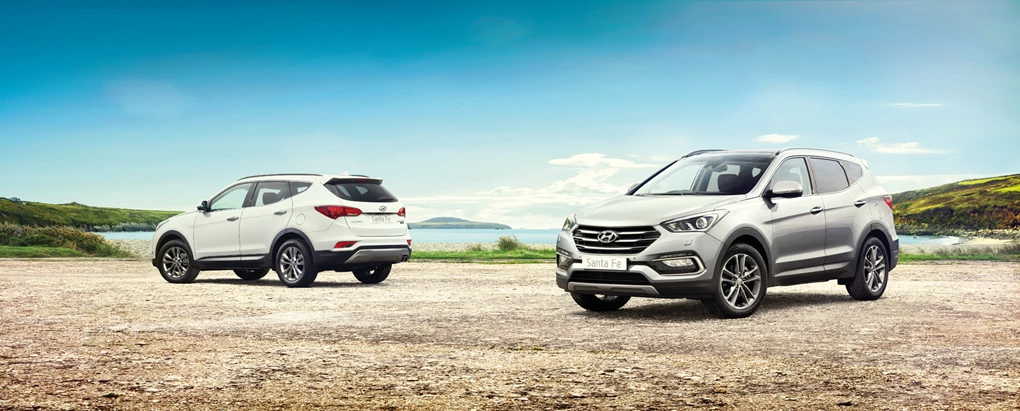 Verdict
The Santa Fe may have moved more upmarket in this edition, but it remains a great family car for a decent price. It provides good levels of comfort and practicality – like past iterations – but the finish is far better than before, showing the direction that Hyundai is heading. The South Korean marque may not have the reputation of a brand that builds high-end products, but if it continues in this vein that may change.