Introduction 
Jeep is in a big period of transition. Most commonly thought of as the brand behind big, heavy but robust off-roaders, it is now pivoting to creating greener, more eco-friendly models that have a wider appeal. Take the Renegade e-Hybrid, which we're looking at today. In time, it's set to replace existing petrol versions, but for now, stands alongside them as a more efficient and fuel-friendly option. It's even got a brand new powertrain setup - which we'll look at shortly - which has been designed to lower the environmental impact of this high-riding SUV. 
Jeep has already introduced a plug-in hybrid version of this car, but it hopes that a new, more accessible mild-hybrid version will broaden its appeal and open up the Renegade to a greater number of buyers. Let's take a look at what it has to offer. 
Performance 
As we've already mentioned this new powertrain is fresh to the Renegade and hasn't been adapted from an existing setup. It uses a turbocharged four-cylinder 1.5-litre petrol engine, which is then linked to an electric motor that itself is housed within a seven-speed dual-clutch automatic gearbox. There's also a belt-starter-generator which helps to seamlessly manage the transition of power between petrol and electric. 
Together, you get 128bhp and 240Nm of torque, resulting in a 0-60mph time of 9.5 seconds and top speed of 118mph. Though Jeep has yet to confirm efficiency figures, we've been told to expect in the region of 45mpg with CO2 emissions standing at around 135g/km. Those after better traction might be better served in the all-wheel-drive 4xe plug-in hybrid - this e-Hybrid is front-wheel-drive only. 
Ride and handling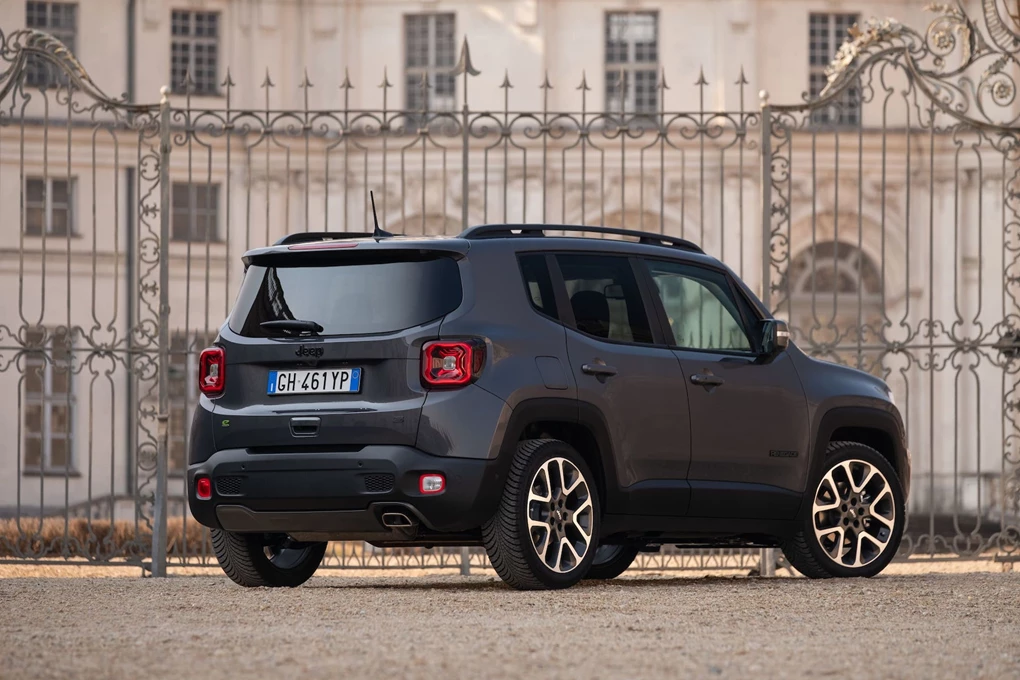 Sadly, though Jeep has worked hard to make the transition between electric and petrol power as seamless as possible, this hasn't quite translated to the real-world experience. The whole powertrain can feel a little dim-witted at times, with the switch between the two power modes coming in clunky, indecisive waves. It means that forward progression is hampered by the gearbox, with quite a lot of noise generated when you step on the throttle. 
That said, the Renegade really does well in urban environments, with its light controls making around-town driving a breeze. Plus, with its large windows, visibility levels are excellent, which will no doubt prove handy for those who may be trying out an SUV for the first time. 
Interior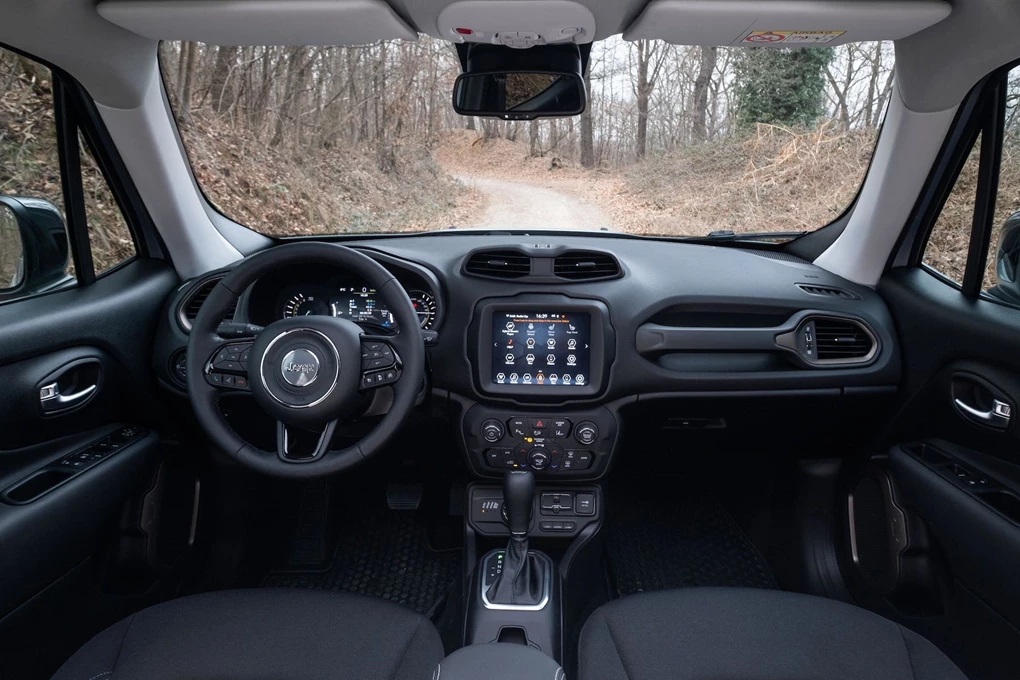 Jeep hasn't made all that many changes inside the cabin with this new hybrid version. It's sturdy and has plenty of hard-wearing materials, mind you, which does mean that it should stand up very well to family use. It's also impressively practical, with plenty of space for passengers to stretch out and get comfy. Headroom is particularly good, helped no end by the Renegade's boxy, upright design. 
Clever packaging of the hybrid system also means that the Renegade e-Hybrid has the same amount of boot space as the regular car, delivering 351 litres as standard or 1,297 litres with the rear seats folded flat. 
Equipment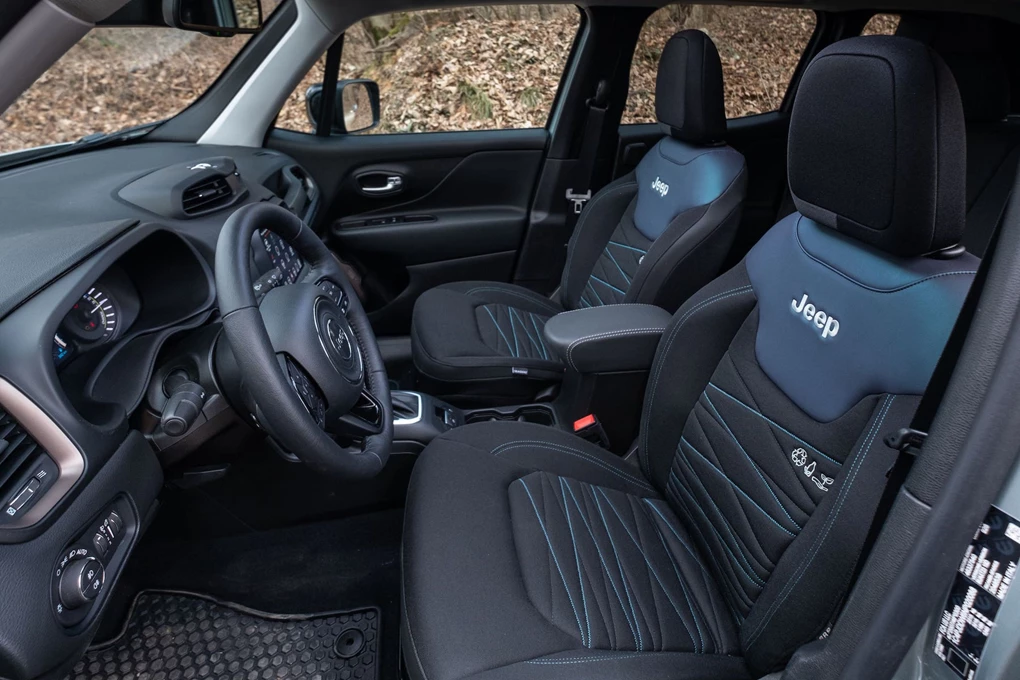 Jeep has given the Renegade e-Hybrid plenty of equipment to keep keen button-pressers happy. So entry-level Upland cars still get 17-inch wheels and an 8.4-inch colour touchscreen, as well as heated front seats and adaptive cruise control. This special-edition model also gets a host of eco-friendly touches such as 'Seaqual' seats which are trimmed in a material made from plastics taken out of the sea. 
Upgrade to 'S' models and you'll find additional features included such as leather upholstery and extra safety assistance equipment. 
Cost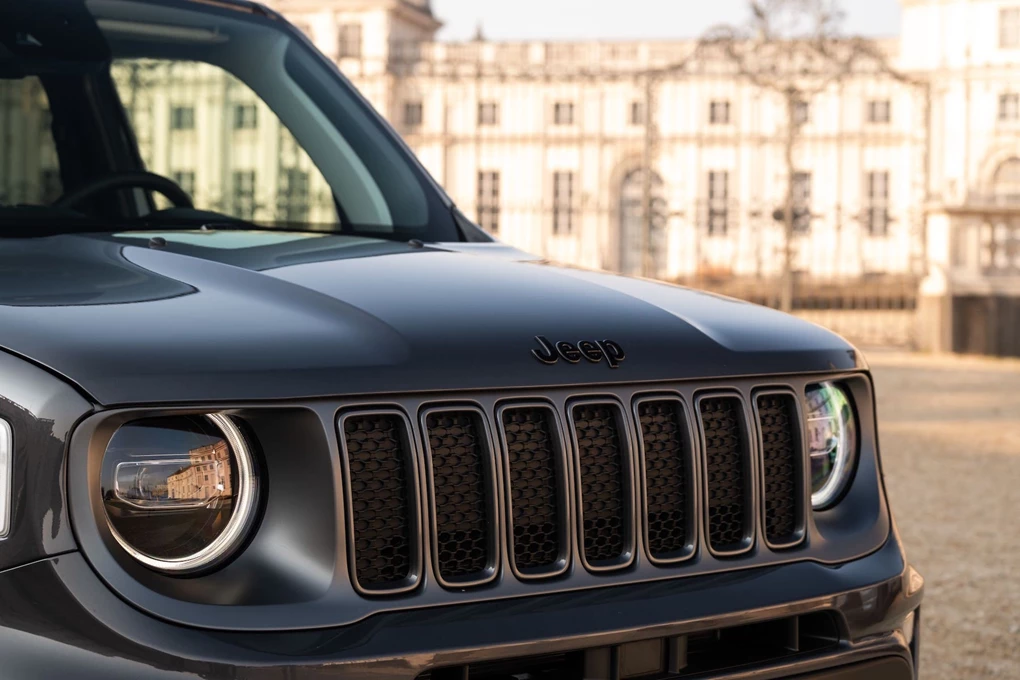 Prices for the e-Hybrid start from £31,130 for the Upland and you'll add an extra £1,000 for the upgraded 'S' version. Despite commanding quite a premium - particularly compared to other mild-hybrid competitors - the Renegade does bring plenty of standard equipment, while the reduced running costs compared with the standard petrol version will make it slightly cheaper on a day-to-day basis. 
Verdict
Though the introduction of an e-Hybrid variant does extend the Renegade's appeal somewhat, it does feel like a second-best choice when compared with the plug-in hybrid. This car can't match the PHEV's economy levels, while the e-Hybrid's limited ability to run on electric power means that it isn't quite as 'green' as others on the market. 
That said, the Renegade's practicality levels are still very strong and its robust, well-made character mean that it could still be a good option for those who want a rough-and-tough way of getting about. 
Enquire on a new Jeep Renegade