Introduction
The Wrangler is undoubtedly the car that epitomises Jeep and its rugged credentials, though the firm has always retained its core focus on off roaders.
This iconic 4x4 harks all the way back to WW2 with the Willys MB, and since then the Wrangler has always remained a model known for its rugged, no-nonsense approach. This has earnt it a loyal following ever since – sitting in a similar ilk to the Land Rover Defender.
But for 2019, Jeep is aiming to make the model more appealing on tarmac – one area where it has always struggled.
So, this new model sits on a new platform, which is lighter and bigger than its predecessor, though this is still a model weighing in excess of two tonnes.
Under the bonnet, there is the choice of two new engines – one petrol and one diesel. But don't go thinking the Wrangler has all gone soft, this is still a model with a core focus on its ability off-road.
Performance
Jeep has culled two of its old engines – a 3.6-litre V6 petrol and 2.8-litre diesel – in favour of a pair of new turbocharged engines – a 2.0-litre four-cylinder petrol and 2.2-litre.
It's actually the 268bhp petrol that is our pick of the pair, as it's smoother and more refined, and surprisingly doesn't seem too much thirstier to run than the diesel. The diesel could still be the best option for those who like to tow, with its low-down torque being more useful.
Each unit is paired to an eight-speed automatic transmission, while chunky leavers are there to operate the selectable four-wheel-drive.
Hardcore Rubicon versions also benefit from various off-road technology and chunky off-road tyres for the diehard Wrangler purists.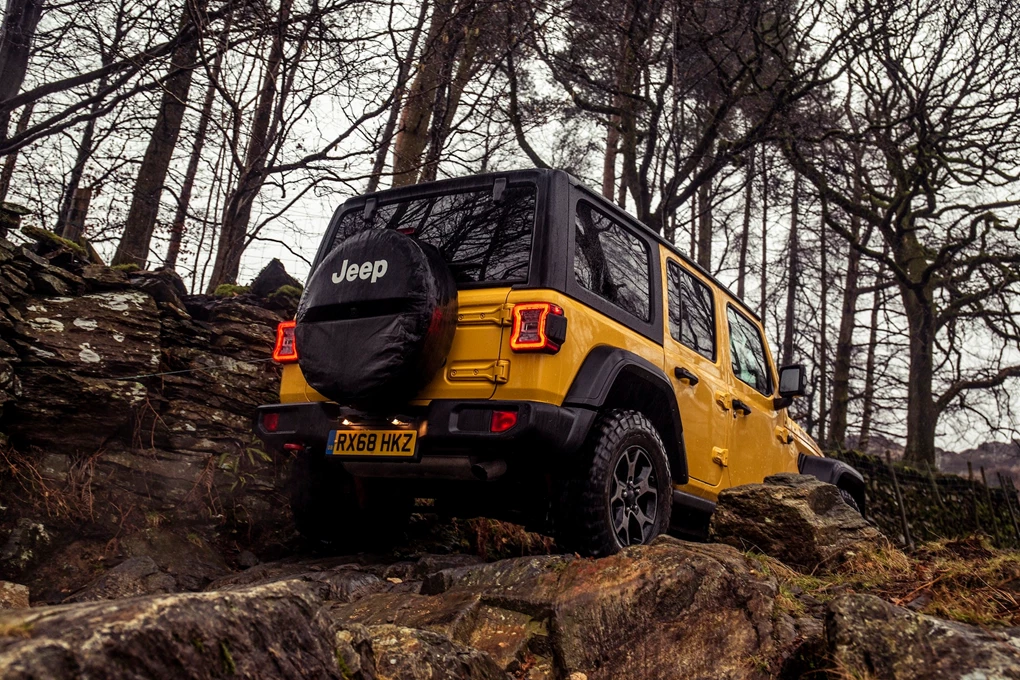 Ride and handling
Previously the Wrangler had both vague steering and a bouncy ride, and in truth could be a pain over long distances. However, this new car is a big improvement, and could easily handle a lengthy trip to the other side of the country.
It's far from being as good behind the wheel as something like the Land Rover Discovery, though we don't suppose that was ever Jeep's intention, but the ride is composed, and the seats are particularly comfortable. It's not a car that's meant to be pushed on tarmac, but it's perfectly fine at normal speeds.
And thankfully the Wrangler remains just as accomplished off the beaten track, with our challenging test route not even ruffling the off-roader's feathers.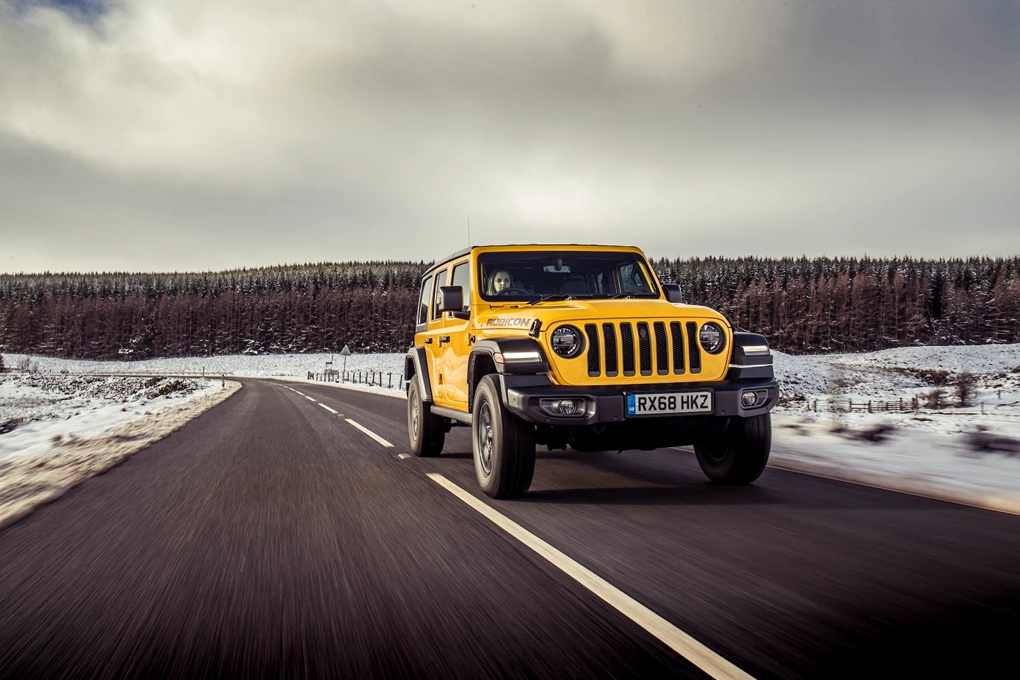 Interior and equipment
While Jeep has undoubtedly enhanced the interior of the Wrangler, it's still far from perfect in places. The driver's footwell is tiny, leaving you little room to put your left foot, and the interior quality doesn't quite feel good enough for a car of this price.
But what we love about the cabin is the Wrangler's charm, with its flat dashboard is a hark back to cars of days gone by, and the switchgear feels reassuringly sturdy – handy given some of the abuse some Wranglers will have to endure over the years.
Three trim levels are offered on the Wrangler – Sahara, Overland and Rubicon.
Standard equipment includes 18-inch alloy wheels, a large touchscreen, keyless entry and satellite navigation. Overland models bring leather upholstery, a hard-top headlining and revised 18-inch alloy wheels, while the Rubicon brings revised styling and a more advanced all-wheel-drive system.
See Available Wrangler deals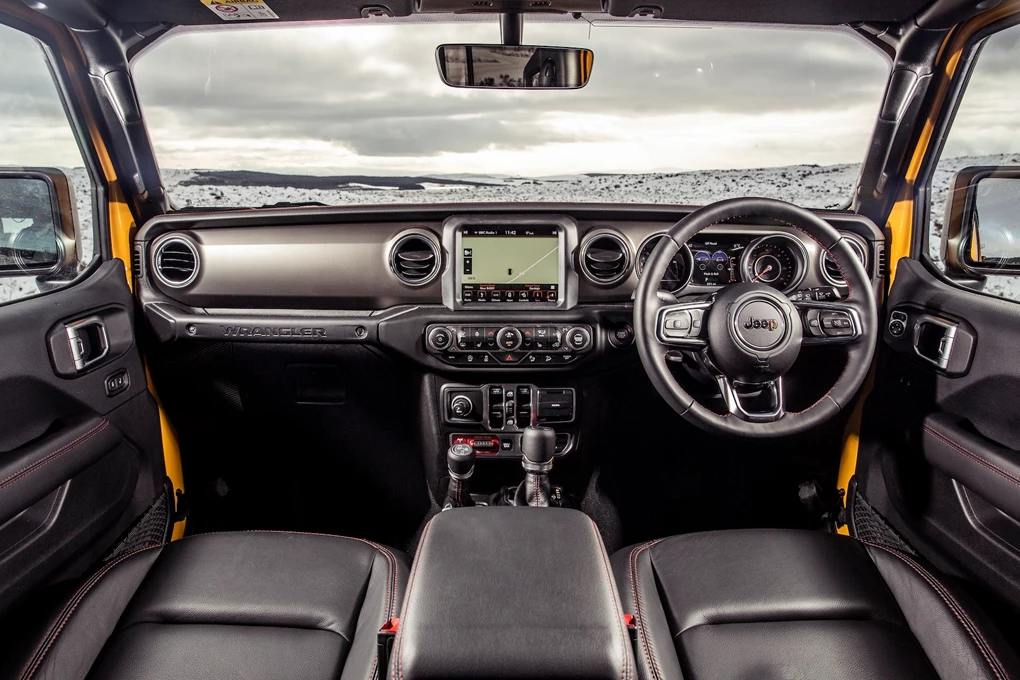 Cost
Retro-inspired models never tend to be cheap, and the same applies to the Wrangler, with prices starting from £46,455, which is quite expensive. Though comparing it to models such as the all-new Land Rover Defender can help to make it look better value for money.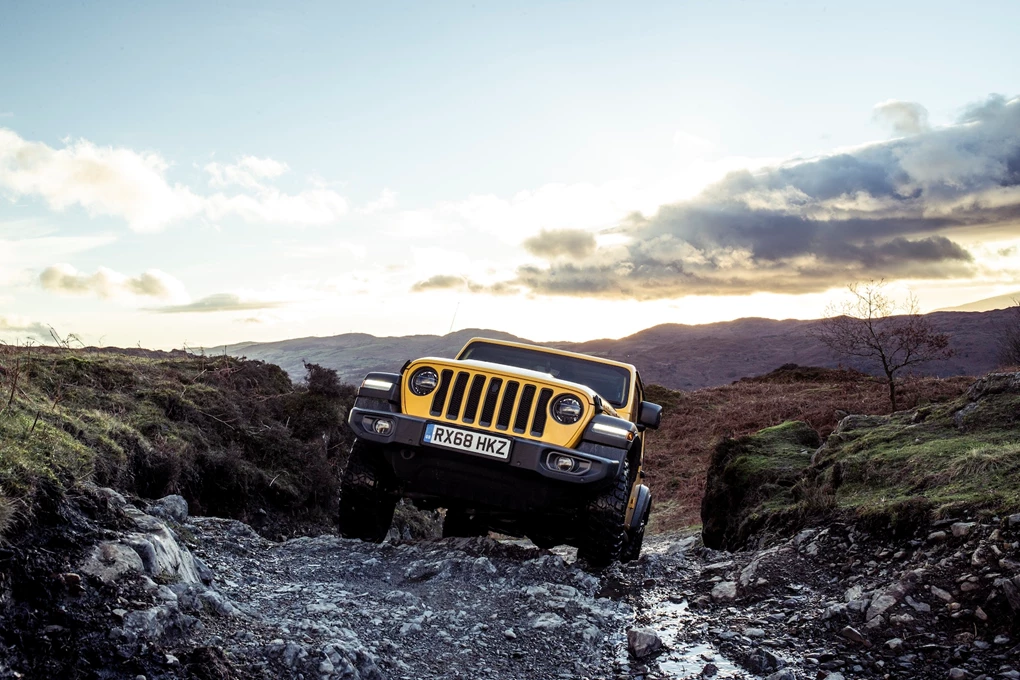 Verdict
If you think with your head, the Wrangler is a model that can be hard to get on with. Its backwards driving experience and low-rent interior not making it feel luxurious in the slightest.
But luxury is not what this car is about, rather we value the Wrangler for sticking with its proven formula of being a dependable off-roader, but now with more appeal than ever thanks to its better road dynamics and better engines.