A large part of the Wrangler's appeal must surely be its resemblance to the famous Willys Jeep, developed by the Americans for use in World War II. Nevertheless, the Jeep Wrangler is a rugged four-wheel drive vehicle which seems more at home on rough ground than on the public road.
The Wrangler comes in three-door short-wheelbase and five-door long-wheelbase forms, with a 197bhp 2.8-litre diesel engine and trim levels called Sahara, Overland and Rubicon, named after the famously rugged trail in North America. There's also a 3.6-litre V6 petrol with 280bhp.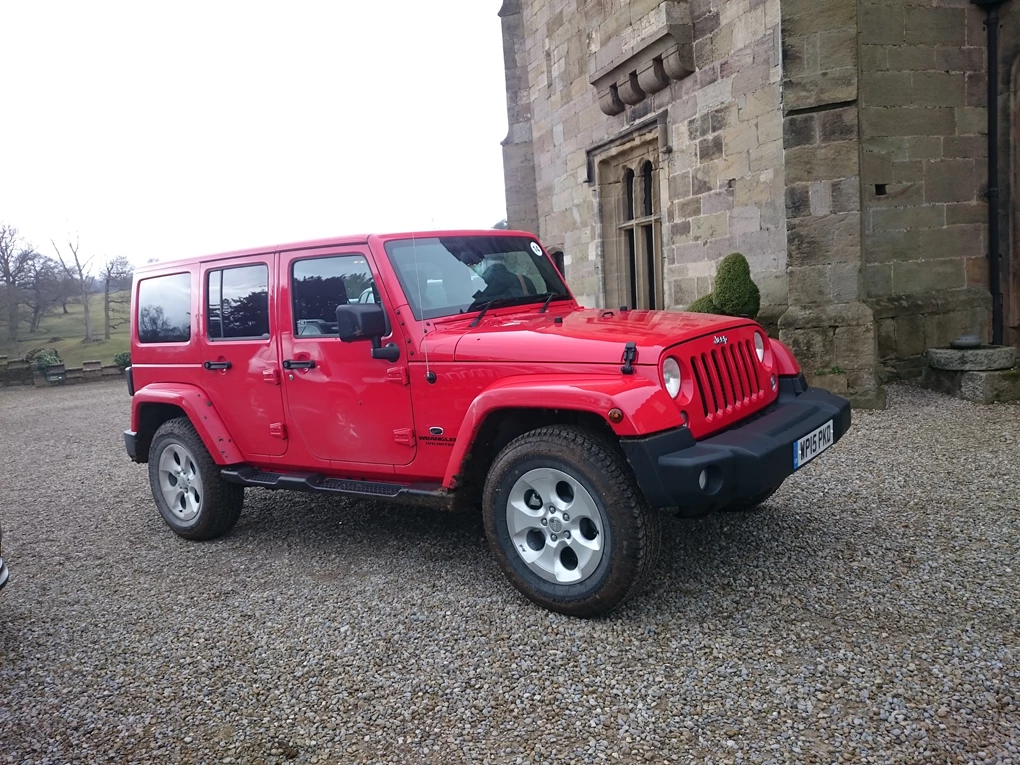 Performance
The diesel engine is quite strong, but the Wrangler weighs over two tonnes even in its smaller form, and the aerodynamic calamities created by its shape become apparent shortly after you leave town. Jeep quotes 0-62mph times of 10.6 seconds for the three-door and 10.7 for the five-door, and neither can exceed 100mph by much.
Up to about 30mph, though, the Wrangler is quite perky, and the engine's strong performance at low speeds (over 100bhp is already available at just 1,600rpm) is very suitable for off-roading.
Its five-speed gearbox shifts gears smoothly but slowly, and while there is a manual mode, the rocker buttons behind the spokes of the steering wheel feel rather antiquated and they're sluggish to respond.
With a relateively old-school construction and noise insulation, quite a bit of the engine's noise can be heard under acceleration, along with various sucking sounds and whistles from under the bonnet, but it does settle somewhat at a cruise. Above 60mph, however, the upright windscreen creates plenty of wind rustle, clearly signalling that the Wrangler wasn't designed for motorway work.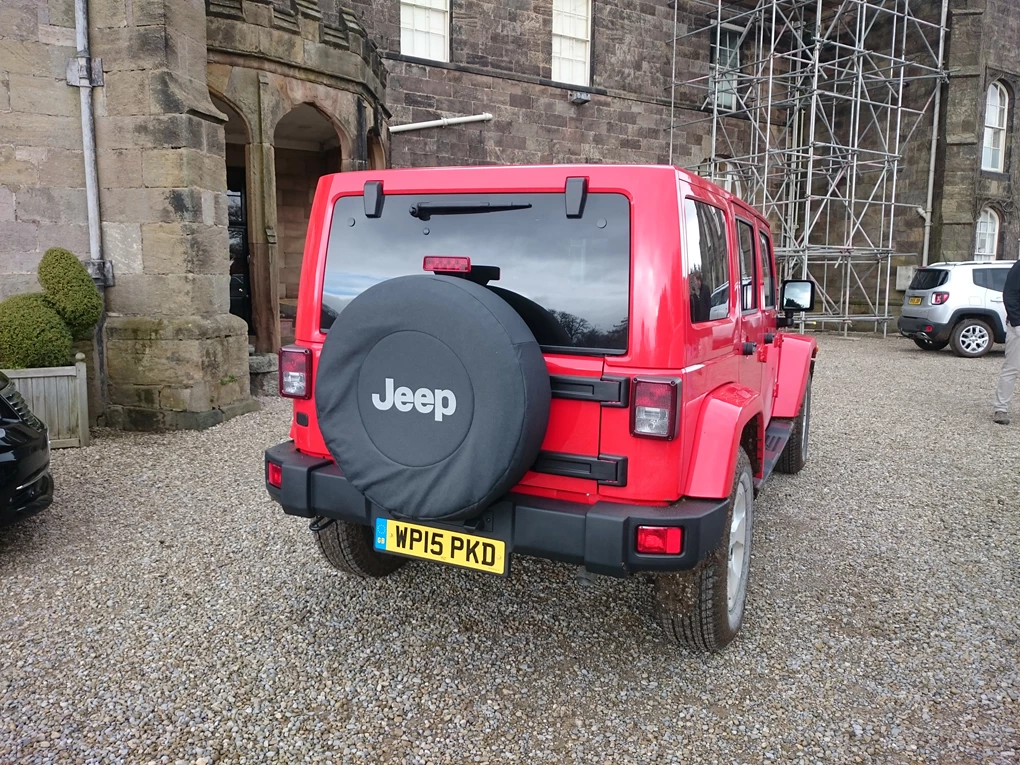 Ride and Handling
For a car of this type, the Wrangler rides quite well, absorbing small to medium-sized bumps effectively enough
With its high ground clearance and chunky tyres, the Wrangler excels when driven across virtually any off-road terrain. It also features some of the toughest suspension you'll find on any production car, tweaked over many years to help it perform in terrible conditions. The Rubicon model even features a front anti-roll bar that can be electronically disconected, allowing better front axle articulation.  On the road, it's better than you might expect. For a car of this type, the Wrangler rides quite well, absorbing small to medium-sized bumps effectively enough, though if you attack really severe ones with too much gusto you can feel the body shaking on the separate chassis. Fast cornering isn't advisable, because the steering feels vague and offers little feedback, but the Wrangler does a good job of coping with the power of its engine and feels quite secure up to a point.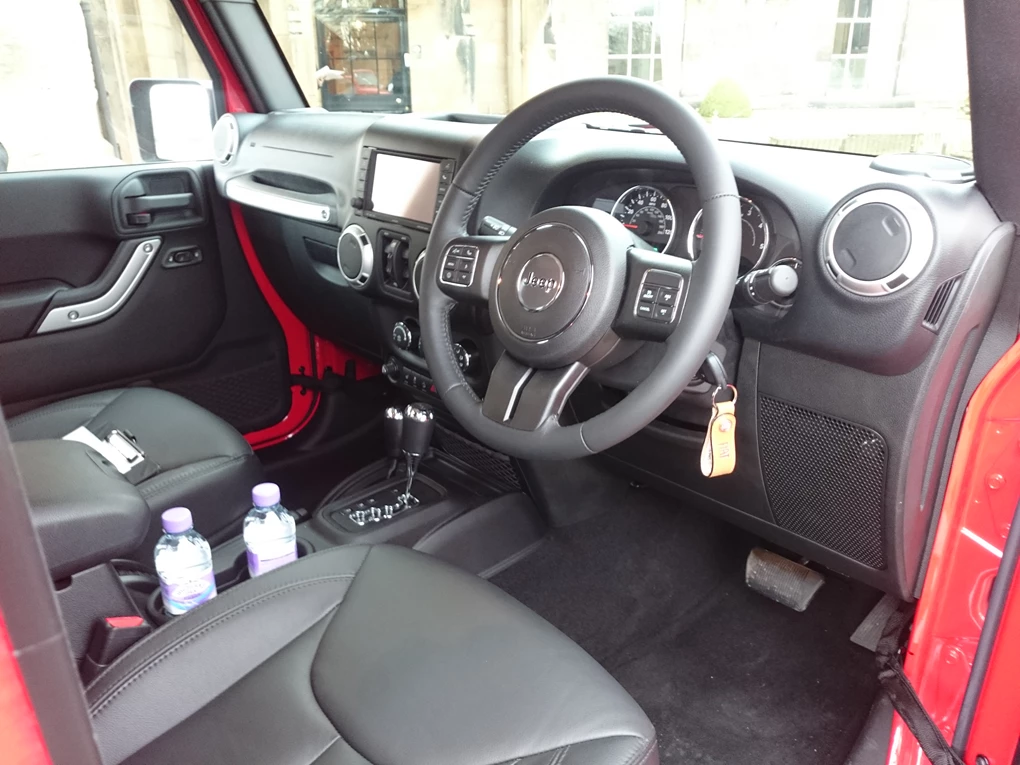 Interior and Equipment
The original public version of the Willys Jeep (which inspired the Wrangler) went out of production in 1986. The current Wrangler is based on a platform introduced 21 years later.
The three-door version of the Wrangler is quite astonishingly impractical, with a luggage capacity of just 142 litres (more than a Suzuki Jimny but very little else) when all the seats are up. Most of this volume is due to the vertical factor, so don't expect to be able to get long objects in there. With the rear seats folded you get 430 litres, or 68 less than the five-door provides with all the seats in place. In two-seat form the five-door can hold 935 litres. The interior is clearly set up for left-hand drive. The handbrake and the lever controlling how many wheels are driven and whether the transmission is in low or high ratio are both awkwardly distant from the person who needs to use them. However, as with the engine and transmission, the interior is surprisingly refined, well put together using high quality materials. Overland versions have 18-inch wheels rather than the 17-inch wheels fitted to the Sahara, and also come with leather upholstery and heated front seats.
Cost
The three-door Sahara is the cheapest model in the range at £30k.
Official combined fuel economy for the three and five-door Wrangler are 34.9mpg and 34.0mpg respectively, though you'd be doing well to beat 30mpg with either of them. CO2 emissions of 213g/km and 217g/km mean that Vehicle Excise Duty will cost you significantly more than most other SUVs. The three-door Sahara V6 costs just over £30k, while the four-door Overland 2.8-litre CRD we tested, came out at £36,345 with a few options fitted. It's not cheap then, costing a similar amount to a mid-range Land Rover Discovery Sport, which has an interior lightyears ahead of the Wrangler and can still travel as far into the mud as most of us would ever need.
Our Verdict
The Jeep Wrangler is nothing like as rough and ready as some people probably think it is. In some ways it's actually quite civilised. The biggest strong point of course is that it can handle pretty much any off-road terrain you throw at it with ease. Other than as a fashion accessory, though, it's not really at home on the public road. If you're in the market for a new SUV and on-road manners are of any importance to you, then there are many alternatives which fair better than the Jeep in this regard. If you want to experience the Wrangler at its best you need to take it to an off-road course and play with it until it's so muddy its own mother wouldn't recognise it.