Introduction
Hyundai and Kia are two leaders when it comes to electric cars, and while their EVs so far have always been based on more conventional cars, they're now moving to the point where standalone models are being produced. 
We've already seen the Hyundai IONIQ 5, and next up is the introduction of the Kia EV6 – creative name, we know. It uses the same platform as the IONIQ, which is a bespoke for EVs, and frees up plenty of cabin space, while using a range of new powertrains. 
Among the many benefits of this is the fact the EV6 is able to charge at up to 350kW, making it one of the quickest-charging electric cars around. There's also some rather wild styling at play too, which is quite the departure from what we're used to from Kia. While the firm calls it a crossover, it's more of a blend of a saloon and hatchback, before being put on stilts. But is this an electric car to consider? Let's find out.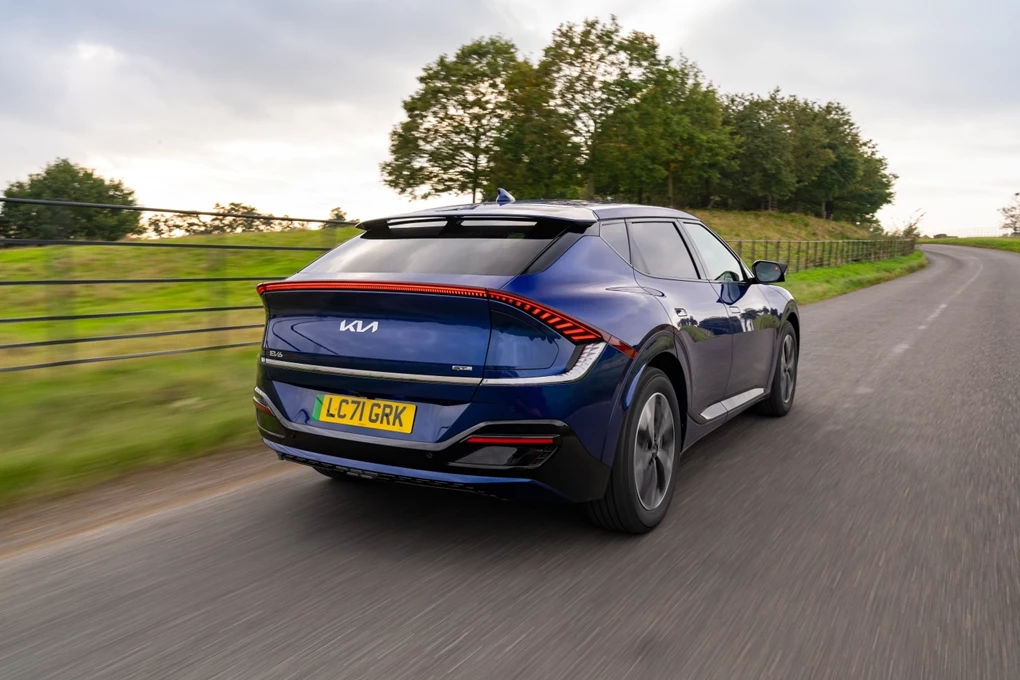 Performance
At launch there are two powertrains to choose between – a single motor rear-wheel-drive car and an all-wheel-drive option that gets a second motor. A hugely powerful GT model will also follow in due course as a rival to the Ford Mustang Mach-E GT. 
We're trying the single motor car here, which produces 226bhp and 350Nm of torque, and which can accelerate from 0-60mph in 7.1 seconds, on to a top speed of 114mph. If you want the more powerful version, this produces 321bhp and 605Nm of torque, meaning that 0-60mph can be dispatched in just five seconds. 
Thanks to a large 77.4kWh battery, this rear-wheel-drive car has a very impressive claimed electric range of 328 miles, dropping to 314 miles for the more powerful version. Thanks to that speedy charge rate, if you can find a 350kW charger, its battery can be topped up from 10 to 80 per cent in just 18 minutes, while plugged into an 11kW wallbox, it would take seven hours and 20 minutes.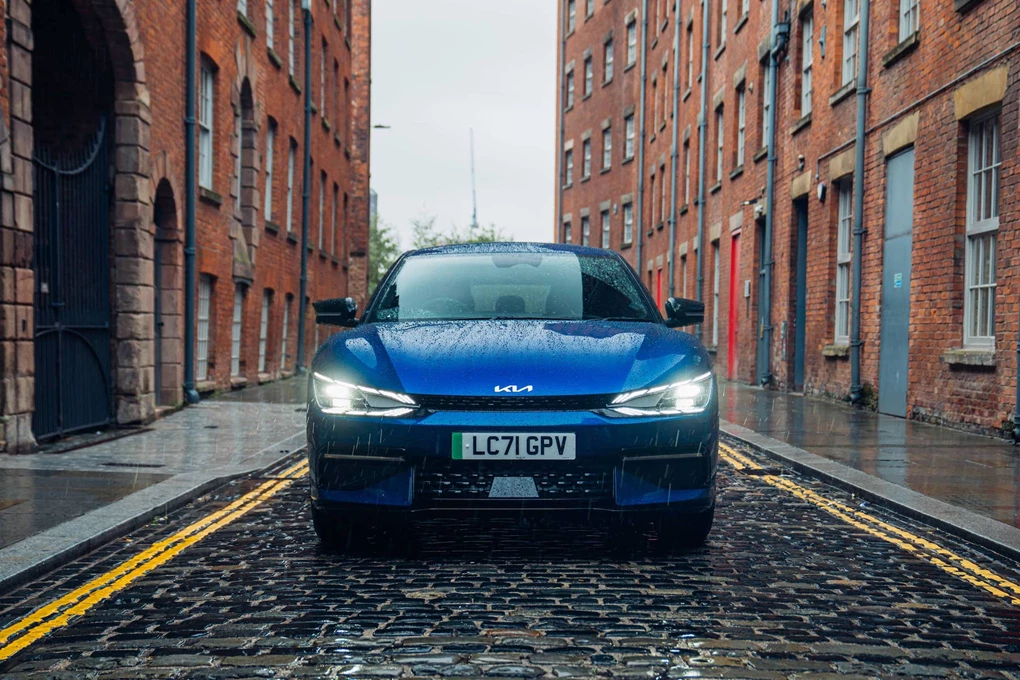 Ride and handling
Pictures of the EV6 actually deceive you into thinking it's smaller than it is, as – like the IONIQ 5 – its sheer size in person can prove intimidating at first. 
The electric powertrain brings the usual impressive responsiveness, with even this 'entry-level' option being no slouch. Yet where the EV6 is a cut above the rest is that it becomes quite agile in the corners, and actually a lot more exciting to drive than its competitors, and that's very rarely seen from an electric crossover. Yet at the same time it remains quite comfortable, though the ride is a tough firm at lower speeds.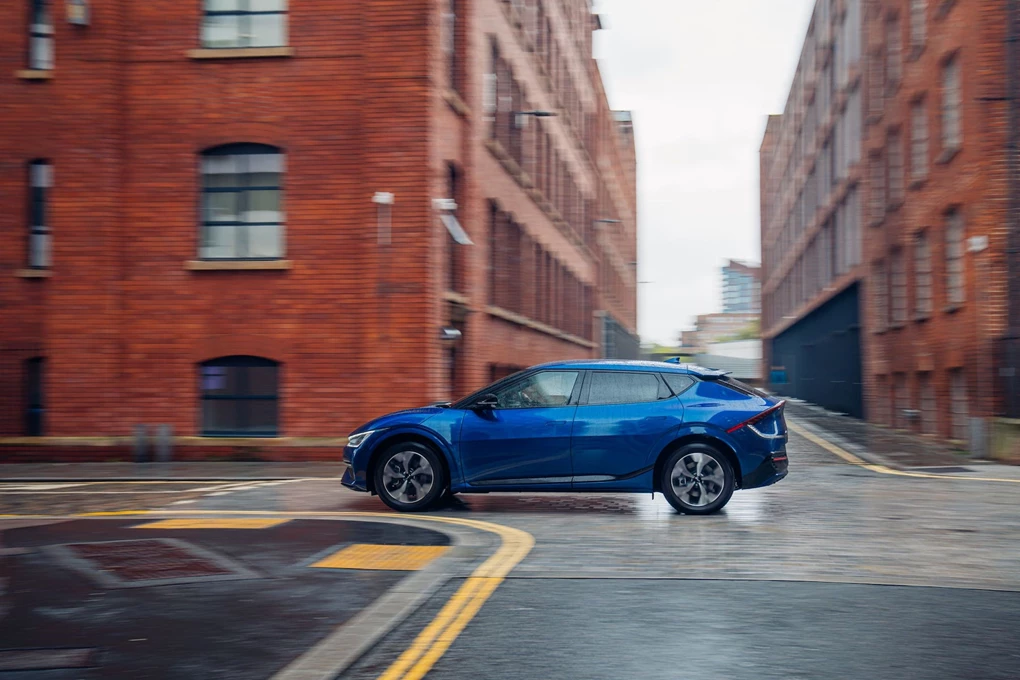 Interior 
Kia's interiors have seriously moved up a gear in recent years and we reckon the EV6 is its best yet. The cabin is focused around two BMW-like 12.3-inch curved displays, both of which offer pin-sharp graphics and are very easy to use. The quality is top notch as well, while the use of recycled materials in this Kia's cabin adds to the environmentally-friendly theme. 
But the other thing that really strikes you about the EV6 is just how roomy it is inside. The flexibility that comes from an electric car platform frees up an impressive amount of space, with the cabin being packed with storage spaces and the flat floor means there's loads of room in the back for passengers, too. The boot also measures a generous 490 litres, though it's not quite as roomy as Hyundai's IONIQ 5.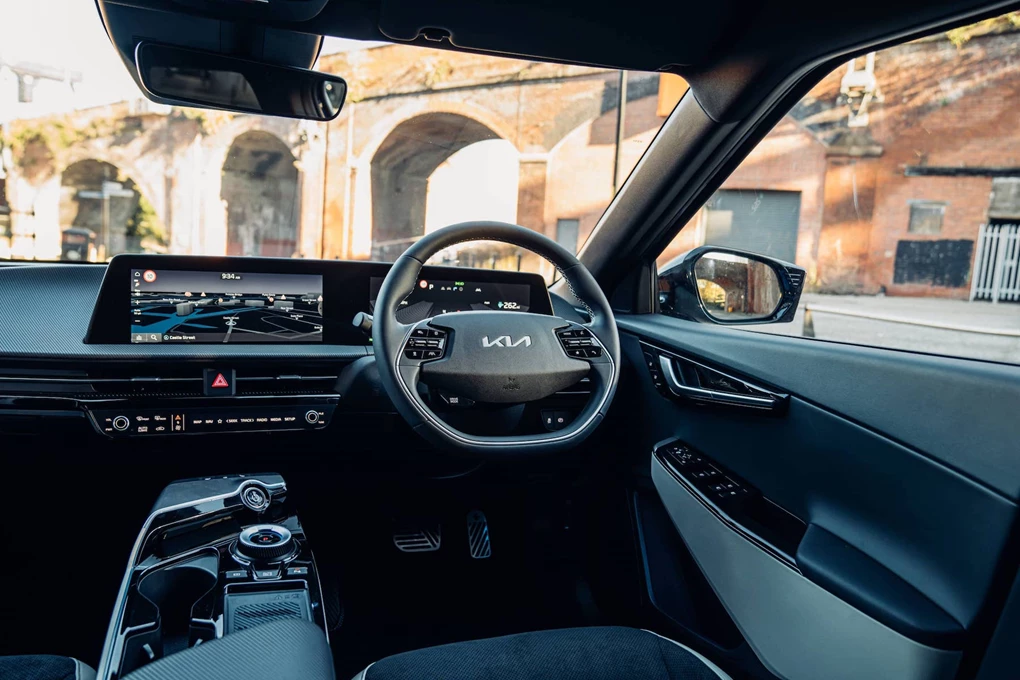 Equipment
Kia offers three trim levels on the EV6 – Air, GT-Line and GT-Line S. 
Even the Air model gets loads of equipment, including 19-inch alloy wheels, LED headlights, black vegan leather seat upholstery, a 12.3-inch curved touchscreen and keyless entry to name just a few features.
GT-Line then packs dual LED headlights, a wireless smartphone charging pad, and black suede and white vegan leather seats, while the current flagship GT-Line S packs a sunroof, electric boot, augmented-reality satellite navigation and a 14-speaker Meridian sound system.
Cost
Reflecting Kia's move further upmarket, the EV6 does have quite a premium price tag to go with it, with the range starting from £40,895 for the Air model. 
If you want the sportier-looking GT Line version, that will set you back £33,895, while the GT-Line S option comes in at £48,395.
Verdict
The EV6 is a hugely important car for Kia, and it's one that the South Korean manufacturer has truly nailed. With a good range and seriously impressive charging speed, it is an EV that can truly go the distance. 
Yet it's stylish to look at inside and out, and is really rather good to drive as well, comfortably setting it apart from many rivals.
Enquire on a new Kia EV6