The Picanto is the smallest car that Kia currently sells, but that hasn't stopped it from being one of the Korean company's biggest sellers. To keep it competitive, Kia has given its dinky city car a pretty significant nip and tuck for the new year.
Kia says that the lil' Picanto is now all grown up, both literally and figuratively. It's bigger inside and out, the wheelbase has been extended by15mm and the wheels pushed out to the corners, in order to make it look sportier and also to reduce the turning circle.
Certainly, it's really quite a cool looking thing; chunky, funky, much sharper and much more squat than before, it's one of the most arresting city cars on sale in terms of appearance, particularly when you spec it up in its sportier GT-Line guise.
Those larger dimensions also give it a bigger, more practical interior while there's more kit and a new 1.0-litre turbo engine for the first time. All in all, plenty of stuff, so how does the new Picanto measure up?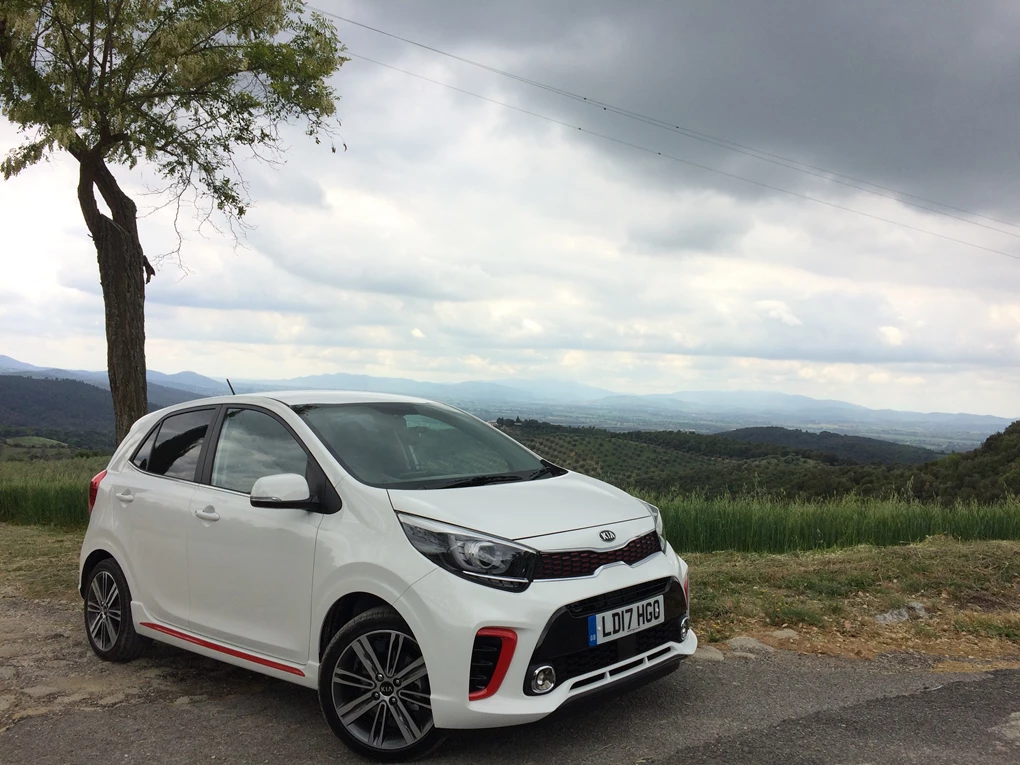 Performance
Although we mentioned that new 1.0-litre engine, which with 98bhp makes for the most powerful Picanto yet, so far we've only had the opportunity to try the existing 1.25-litre MPi petrol, along with the standard five-speed manual.
Compared against the smaller engine it makes a slightly more modest 83bhp, and although it's not particularly fast or exciting, it's plucky enough when you've got your foot down and for fuss-free motoring it'll do the job.
On open roads or on motorway slipways, getting up to speed can take a bit more forward planning than you might ideally like - the 0-62mph sprint takes around 12 seconds - but it accelerates smoothly and it's pokey enough for what most people will use it for.
It's also quite quiet and refined for a three-cylinder and can return up to 61.4mpg with 106g/km of CO2 on paper, which is fairly remarkable for a small petrol engine. Although the 1.0-litre can supposedly return a shade more, in practice the 1.25 will probably deliver better economy in terms of real-world use.
Ride and Handling
City cars typically aren't known for their dynamic ability, but we were really rather impressed by how well it handled itself
There are quite a few changes that Kia has made beneath the skin of the new Picanto too, with modifications to the suspension and steering in order to make the Picanto that bit more fun to drive, while the larger wheelbase has been designed to help improve ride quality and stability. City cars typically aren't known for their dynamic ability, but after having driven the GT-Line for quite a while on its test route, we were really rather impressed by how well it handled itself. There's also extra soundproofing to improve refinement, along with torque vectoring which Kia says reduces understeer during hard cornering. In truth, we couldn't really find any evidence of the torque vectoring system at work, but it does feel very agile in both tight city streets and sweeping B-road turns alike. The last Picanto could be a bit of a funny car in some respects though, with a very light but very aggressive clutch that could make it a bit of a pain to operate smoothly in urban traffic. Although that hasn't been completely remedied, it is much easier to drive at low speeds. As well as that, the steering's nice and direct and suffers from none of the overly-light vagueness that plagues many other city cars and overall, it's a very accomplished and entertaining little motor to drive.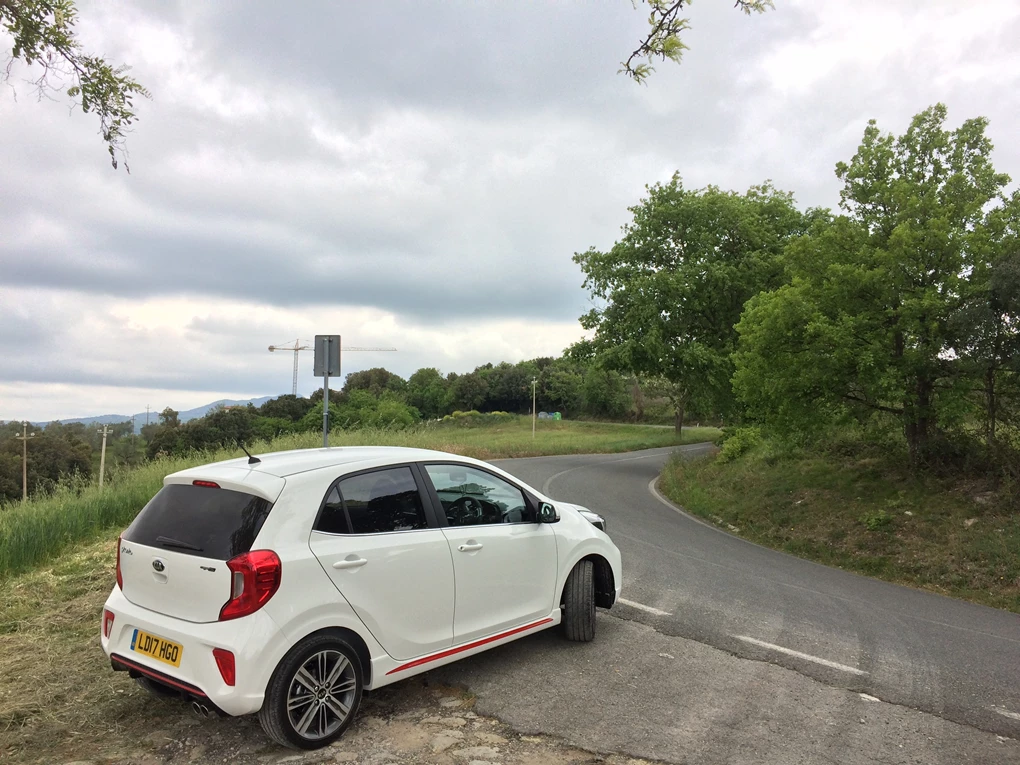 Interior and Equipment
Along with designing all new Kias, the company's chief design officer Peter Schreyer is also known as the man who designed both the Audi TT and the modern Volkswagen Beetle
The interior of the new Picanto is certainly much different to the last one too, with a cabin that's more modern, a lot sleeker and quite a bit more pleasing to be in. Some of the materials still feel a bit cheap, but the floating touchscreen available in higher trim levels, plus the new three-spoke wheel and some extra bits of metal trimming are particularly nice and add just a touch more luxury to the car. There are some criticisms that we have though, namely that the driver's seat doesn't adjust for height and that the steering wheel doesn't adjust for reach, which can make it difficult to get a comfortable seating position. Five trims are available in the UK, starting with the entry-level 1 and 2 grades. The sportier GT-Line which we tested here sits in the middle of the line-up, while 3 and GT-Line S sit at the top of the range. We had praised the previous Picanto for the sheer amount of kit that you get in such a little car and it's the same story here. Just some of the kit included in the GT-Line model includes sports seats with red leather highlights, air conditioning and autonomous emergency braking, which comes as standard on every Picanto. Buyers who want a proper touchscreen system will have to opt for either the 3 or GT-Line S trims, as all other Picantos come with a floating radio system that's distinctly old-school in appearance and functionality. In fairness, though, while too often the modern touchscreens fitted to cars look great but are laggy or confusing to use, the simple radio just works, while the chunky controls make adjusting the likes of air con on the move a doddle. Practicality was also another strong point of the previous Picanto and despite its compact dimensions it was quite easy to pack passengers in. With a smidgeon more interior room, this new model's even better, and comes with a surprising amount of head and legroom. That extended wheelbase also means that boot space has shot up from 200 litres to 255 litres. The rear seats fold 60:40 and with all the seats folded down there's 1,010 litres of space in total, giving the Picanto the biggest boot in its segment.
Cost
Like all Kias, the Picanto also gets a seven-year, 100,000-mile warranty as standard
The new Picanto range starts from £9,450 on the road for the entry-level 1 trim, while this GT-Line model starts from a shade more at £11,950. That makes it more than £1,000 cheaper than the likes of the Fiat 500, while it's exactly on par with the Hyundai i10. Running costs will be understandably low and, like all Kias, the Picanto also gets a seven-year, 100,000-mile warranty as standard which is transferable to the next owner if the car is sold for added peace of mind.
Our Verdict
In short, the Picanto might be the smallest Kia money can buy you, but it's big on equipment, big on value and now that bit bigger on personality as well. As city cars go, it's remarkably practical while being efficient and good to drive too. Many buyers will likely prefer the looks and appeal of rivals like the Fiat 500 or Volkswagen Up!, but the Picanto remains one of the smartest all-round choices in its segment.