The two biggest names in the crossover SUV market at the moment are the Nissan Qashqai and the Kia Sportage. Believe it or not, the Sportage has actually been around since 1993 and is now in its fourth generation, but it wasn't until the previous third-generation model that anybody in the UK really took any notice.
This latest fourth-gen model aims to further the successes of its predecessor, with new looks, more equipment and a more refined driving experience. Kia has also aimed to broaden and diversify the range with the addition of a sporty new GT Line trim.
Adding racy touches like large 19-inch alloy wheels and twin tailpipes, it certainly looks the part, so how does it measure up?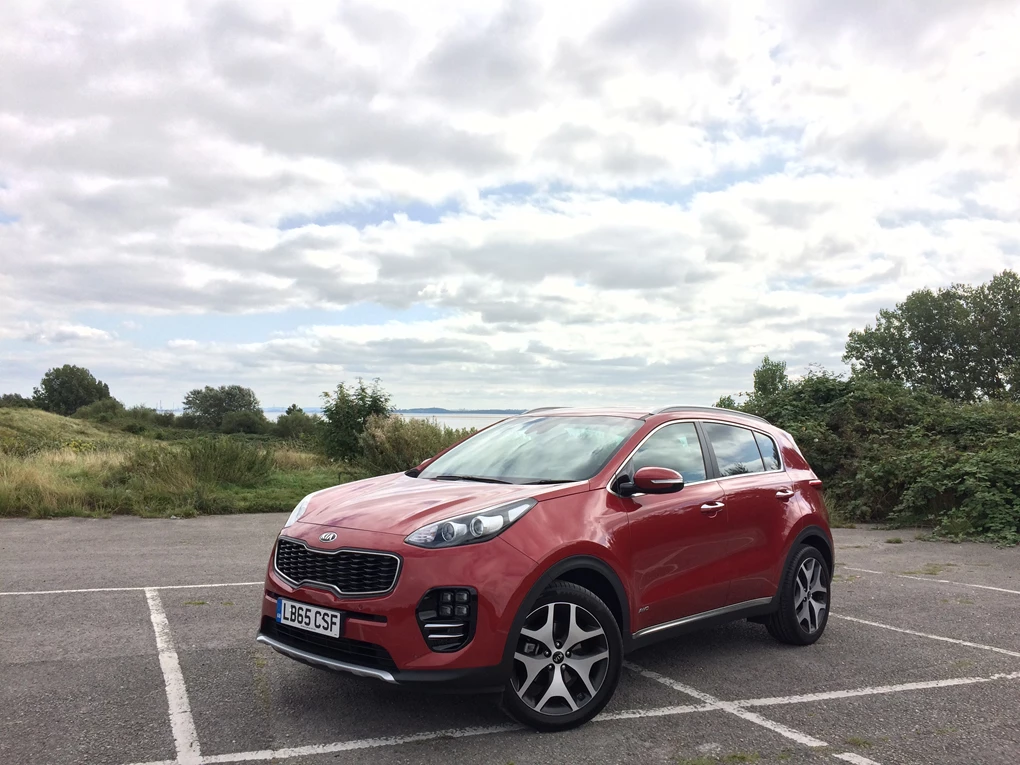 Performance
Although it adds sportier design features, the GT Line trim is purely an aesthetic upgrade and by no means a hot SUV in the vein of something like the Jaguar F-PACE or Range Rover Sport SVR.
As a result, it gets the same engine options as the rest of the Sportage range, and while we've previously tried the diesel engines which you can read about here, this time our test car comes fitted with the single 1.6-litre turbocharged petrol option.
Certainly a petrol-powered SUV seems like a bit more of a niche choice these days, but with 147bhp on tap there's plenty to like. Power delivery is smooth and punchy, and the engine pulls well with plenty of torque so the Sportage can hustle along at quite an impressive pace.
On paper, 0-62mph takes 9.2 seconds which is fairly impressive for a car of its kind, and although normally we reckon automatic gearboxes suit this kind of car better, the manual our test car came with is great, even if it's not the smoothest shifting thing in the world.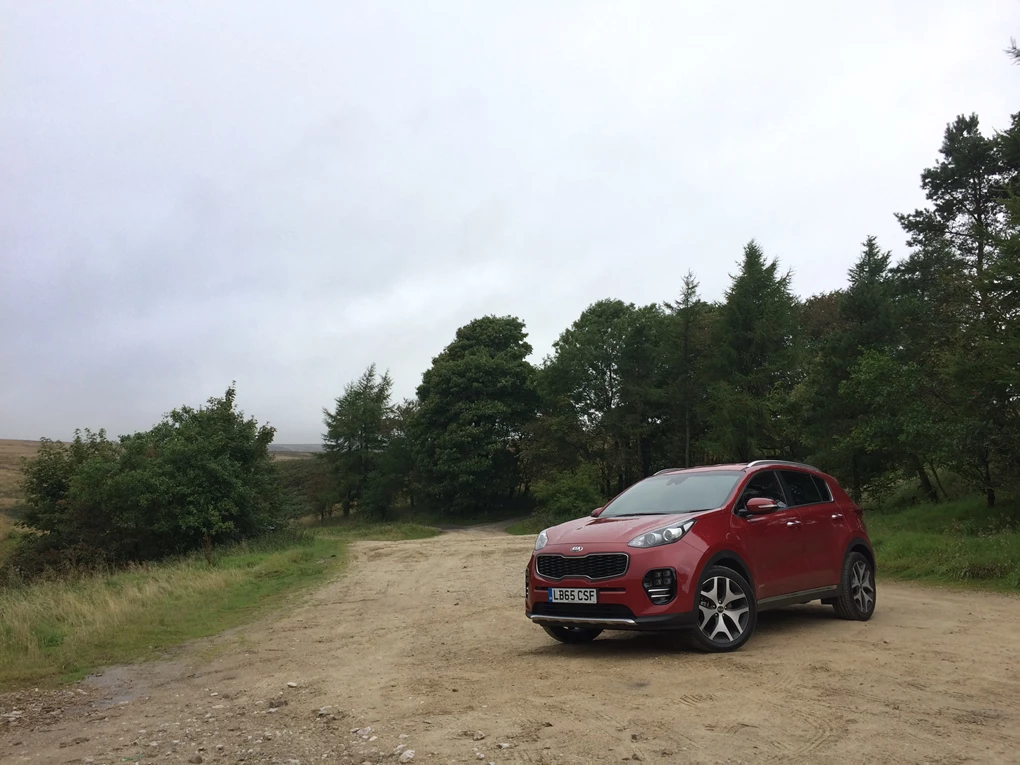 Ride and Handling
It feels remarkably controlled in the corners for a car of its size and height.
Popular as it was, the previous Sportage suffered from a squidgy setup and slightly lame steering, which meant that it was far from the best driving car in its class. In response, Kia has given the new version a considerable tune over its predecessor, and the result is that the car feels so much better to drive than its third-generation counterpart. It's still no Mazda CX-5, which really sets the bar for dynamics in its class, but it feels remarkably controlled in the corners for a car of its size and height. The steering system has also gotten an update with a new electric motor which vastly improves its accuracy and feedback, so you can more accurately judge what the car's wheels are doing on the road. Apart from the 2.0-litre diesel, the 1.6-litre petrol is the only Sportage model which comes with four-wheel drive, which might prove handy for anybody living in rural areas. It's relatively capable when it needs to be, but on a dry road it's hard to detect any real benefit.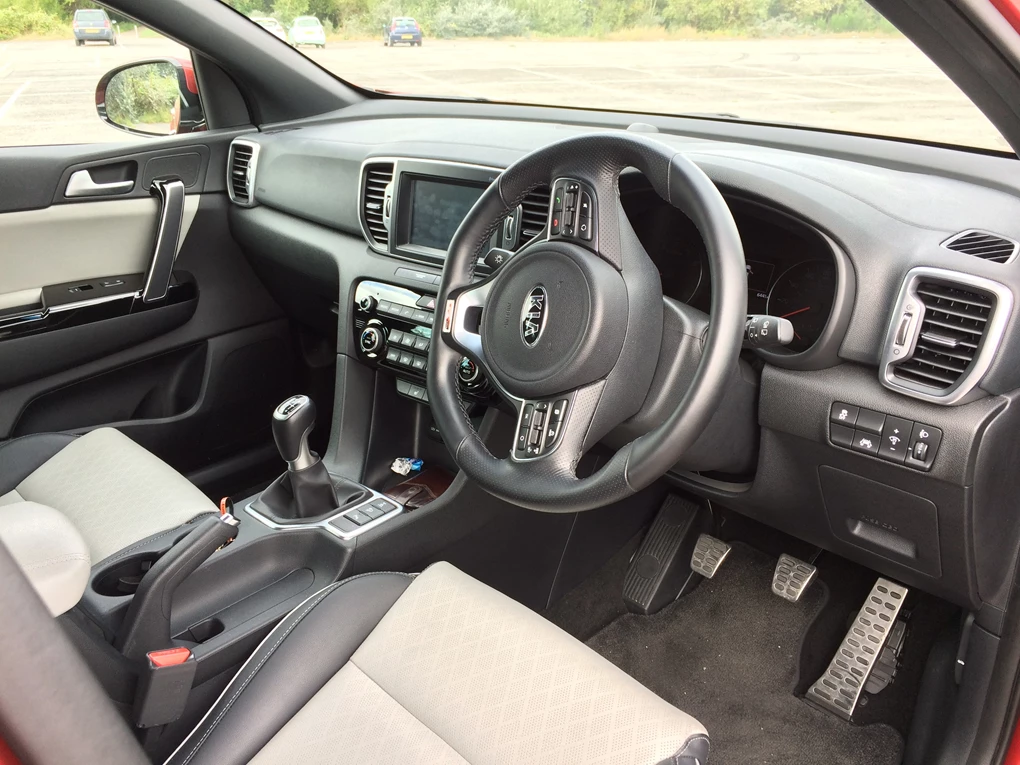 Interior and Equipment
The new Sportage underwent extensive testing in California, particularly for its performance on poorly maintained roads like the kind we have here in Britain.
We've previously praised the new Sportage's smart interior, which we reckon rivals the best cars in its class for upmarket touches, with its mix of soft-touch materials and its large infotainment screen. The GT Line model we tested also came complete with perforated leather touches dotted about the cabin, and despite sitting in the middle of the trim lineup it adds a surprising amount of kit more usually reserved for higher trims. That means the likes of heated rear seats, parking sensors and a reversing camera, plus dual zone climate control and automatic lights and wipers. There's plenty of space in the rear too, and while it mightn't be class-leading thanks to the Sportage's sloping roofline, the seats are very comfortable and twin ISOFIX attachments are great for families. Boot space is average for its class, with 491 litres with the rear seats up and 1,492 litres with them down. Opting for four-wheel drive however will see capacity drop by roughly 12 litres to make room for the rear differential, while the tall height of the Sportage might make loading heavier items more of an effort.
Cost
The Sportage benefits from Kia's much-lauded seven-year warranty, which is a big plus.
The base Sportage is priced reasonably enough from £17,995, but opting for the GT Line model will set you back at least £24,350, which is a big ask for a mid-spec car, no matter how popular it is. It's also hard to recommend the petrol for any driver concerned with efficiency, returning only 37.2mpg at best with 177g/km of CO2: fairly poor figures in this day and age. Of course, the Sportage benefits from Kia's much-lauded seven-year warranty, which is a big plus, but depending on your engine choice the car can be as affordable or as expensive to run as you make it.
Our Verdict
It's undeniable that the new fourth-generation Sportage is a much more refined and well-rounded product than its predecessor, even if it doesn't quite make the same quantum leap. While the petrol engine is smooth and strong, if not as economical as many of its rivals. In our opinion, the GT Line package adds some worthwhile extras and slightly better looks for the polarising new Sportage.