Introduction
SUVs have become a vital part of Mazda, with the CX-5 (launched in 2012) now one of the brand's most popular models. This was followed by the smaller but no less popular CX-3.
To fill another gap in Mazda's range, there is a new SUV on the block, which slots between the CX-5 and CX-3. Named the CX-30, not the CX-4 as that is a China-only model, this new car is akin to the new Mazda3 in much of its technology and underpinnings.
Highlights include the 3's new infotainment system, the excellent Skyactiv-X petrol engine and mild-hybrid Skyactiv-G technology available across the range.
But will there be too much overlap in Mazda's range, or is this another excellent SUV to come out of Mazda factories?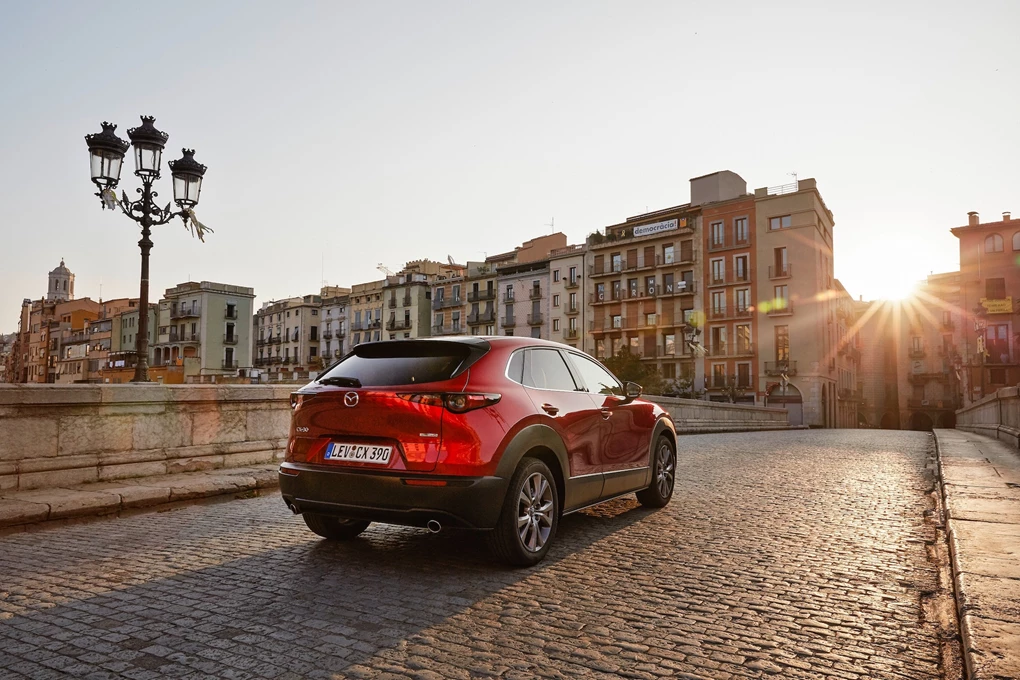 Performance
Powering our test car is an engine known as Skyactiv-G, which has recently made an appearance on the Mazda3 hatch.
Ignoring the modern trend to turbocharge everything, this is a naturally aspirated 2.0-litre unit that produces 120bhp and 213Nm of torque. It sends its power to the front wheels via a six-speed manual transmission, though an automatic gearbox is available, too.
The engine isn't brimming with power but a 0-60mph time of 10.6 seconds and a claimed top speed of 116mph are both respectable. It is very refined, however, and impressively smooth – perfect for long-distance journeys. As for efficiency, Mazda claims it's capable of a combined 45.6mpg, with CO2 emissions of 116g/km.
The second engine is what's known as Skyactiv-X, which is an impressive 177bhp 2.0-litre petrol engine that aims to bring benefits of a diesel engine – torque and efficiency – without losing the performance associated with a petrol. We've only driven a pre-production model, though it's likely to impress as it's both quicker and more efficient than the engine tested here.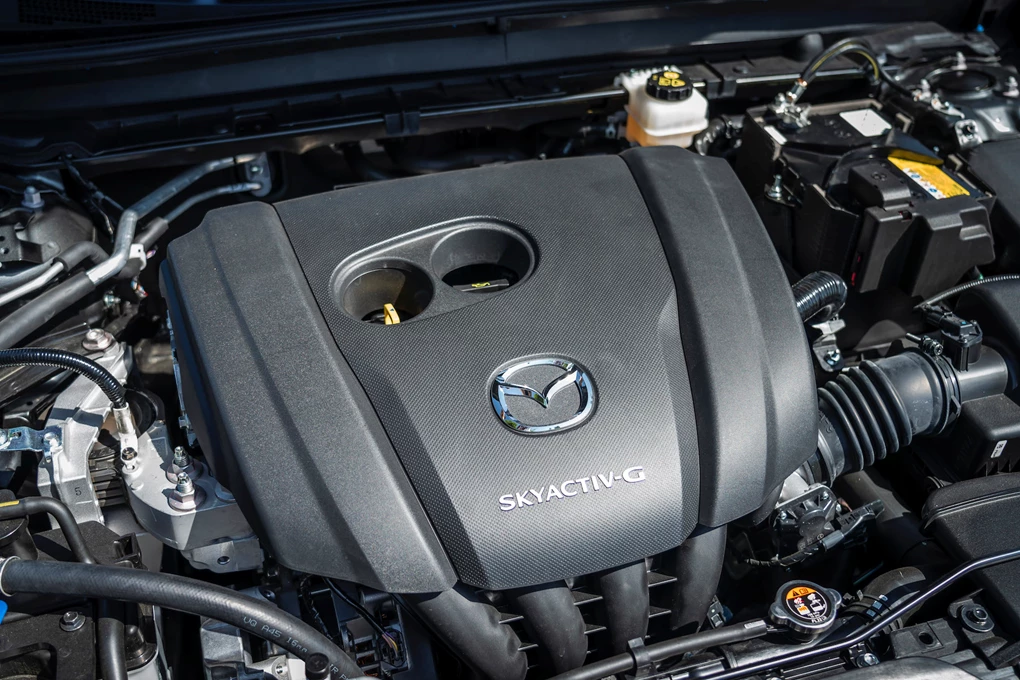 Ride and handling
Mazda is known for producing some of the most engaging cars in its class, and this is absolutely the case with the CX-30. Even when cornering hard it feels stable, and it's impeccable fun on tighter roads.
It's also a dream around town, thanks to superb agility and excellent all-round visibility, yet its mix of refinement and comfort also makes this a wonderful motorway cruiser.
The CX-30 delivers on all bases, making it a solid all-round choice. It will likely only be elevated further by the more powerful Skyactiv-X engine.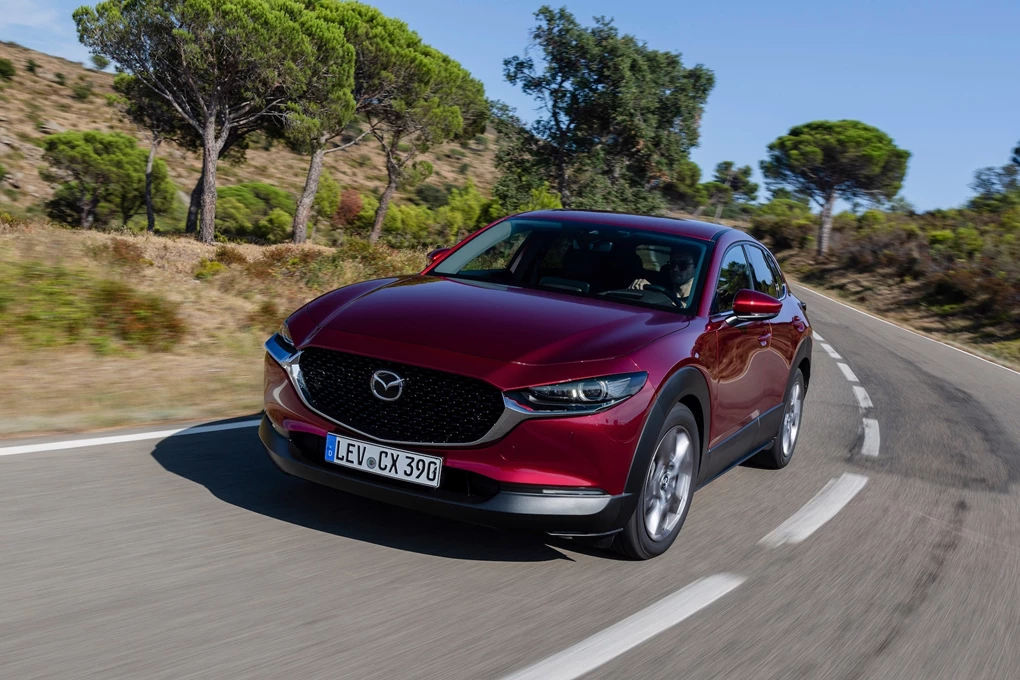 Interior and equipment
Jump inside the CX-30 and you're greeted by a superb interior – an area where Mazda worked tirelessly to improve on the Mazda3. It's been transferred over to here, too. The new 8.8-inch screen is fantastic to use, while the minimalist look works wonders to making the CX-30 feel classy.
The cabin quality doesn't quite feel good enough to rival the class best, but in fairness the cheaper plastics are only in places where you'll regularly make contact with. It's also spacious, with a decent amount of rear seat space, though the boot isn't as large or spacious as other cars on this class.
Five trim levels are offered, with entry-level kit being superb. Standard equipment on the SE-L includes a head-up display, an 8.8 inch screen with satellite navigation and adaptive cruise control. SE-L Lux brings an electric tailgate, a reversing camera and keyless entry.
Sport Lux comes with adaptive LED headlights, an electric sunroof and 18-inch alloy wheels, while the plush GT Sport brings leather seats, a heated steering wheel and a Bose sound system. At the top of the range the GT Sport Tech features additional safety kit – including an around-view camera and several driver aids to prevent parking collisions.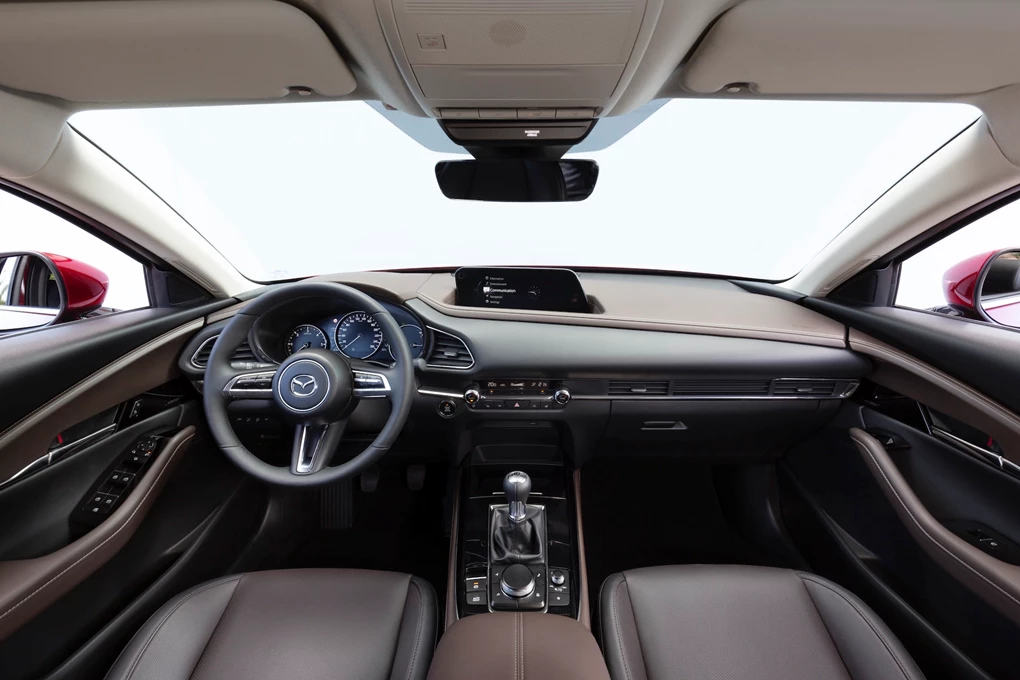 Cost
The CX-30 is well-priced next to rivals, with models starting from £22,895 and rising to £33,000 for the flagship Skyactiv-X petrol engine. Range-topping models are approaching the competitive premium segment, so the best advice is to stick to models underneath £30,000.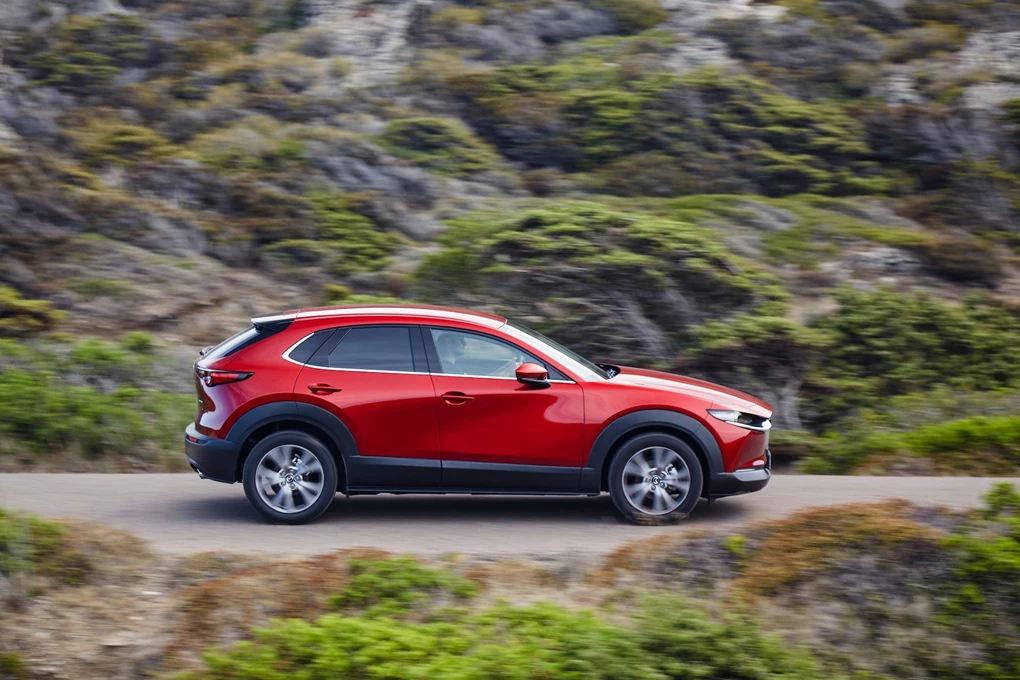 Verdict
The CX-30 is a great addition to Mazda's range, and it offers a well-kitted and refined package with a better driving experience than just about every other car in its class.
It might not be quite as spacious as the class best, and the entry-level petrol engine is lacking in punch, but this remains a well-rounded crossover that will slot perfectly into Mazda's range when it lands in the UK in January 2020.