Introduction
As with many firms, SUVs and crossovers have become an instrumental part of Mazda's line-up. After plenty of success with both the CX-5 and CX-3, Mazda has introduced a third crossover to its range – the CX-30.
It slots between the two cars already on sale (it's confusingly not named the CX-4 as that model already exists in China), and shares much in common with the latest Mazda3 hatch. That's certainly no bad thing as that car is one of the best family hatchbacks on sale.  
With its bold styling, high-quality interior and lengthy standard kit levels, Mazda is hoping to be onto another winner with this new crossover – not least because of its new Skyactiv-X petrol engine. More on that later…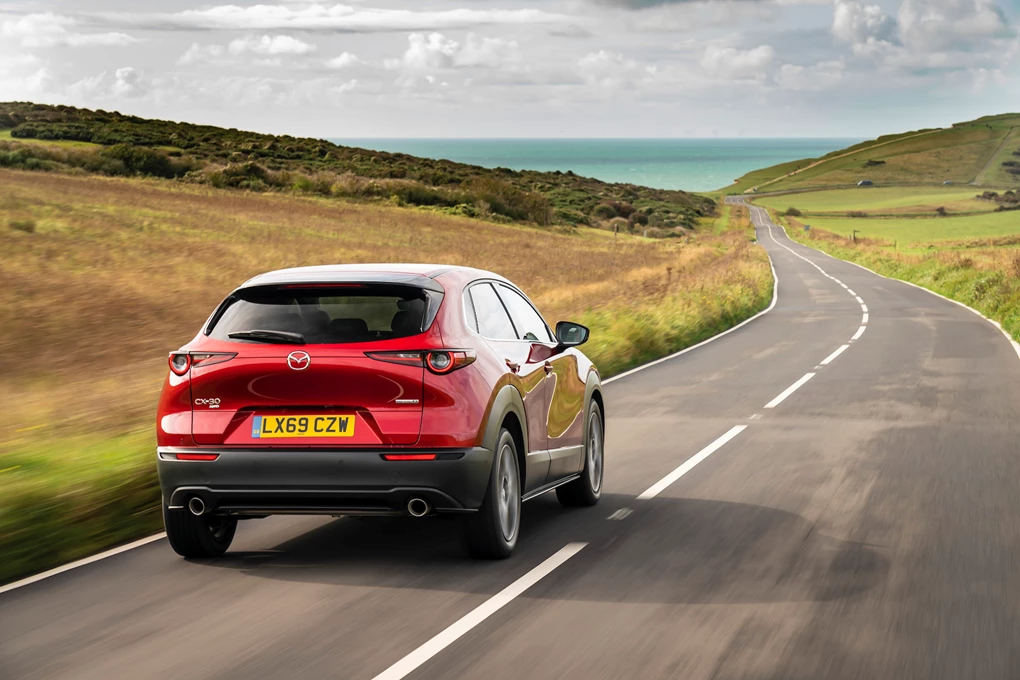 Performance
Interestingly for a mid-size crossover, the CX-30 isn't available with any diesel offering – buyers instead choosing from two petrol engines.
We've already tried the entry-level 120bhp 2.0-litre unit (called Skyactiv-G) but this is our first go in what's known as the Skyactiv-X. It's an engine that Mazda has been experimenting with for years, and one it's very proud of – being a 2.0-litre petrol producing 178bhp and 224Nm of torque.
It's the first engine of its kind to feature spark and compression ignition, which aims to make the engine combine the best bits of petrol and diesel units. It's impressively smooth, though really requires some eager driving to get the best performance – 0-60mph takes 8.8 seconds and Mazda claims it would reach 127mph maxed out.  
It comes paired to a six-speed manual transmission, along with the option of having front- or all-wheel-drive. Our car came with the latter – something that eats into efficiency, with fuel economy figures of 43.5mpg claimed, along with CO2 emissions of 146g/km.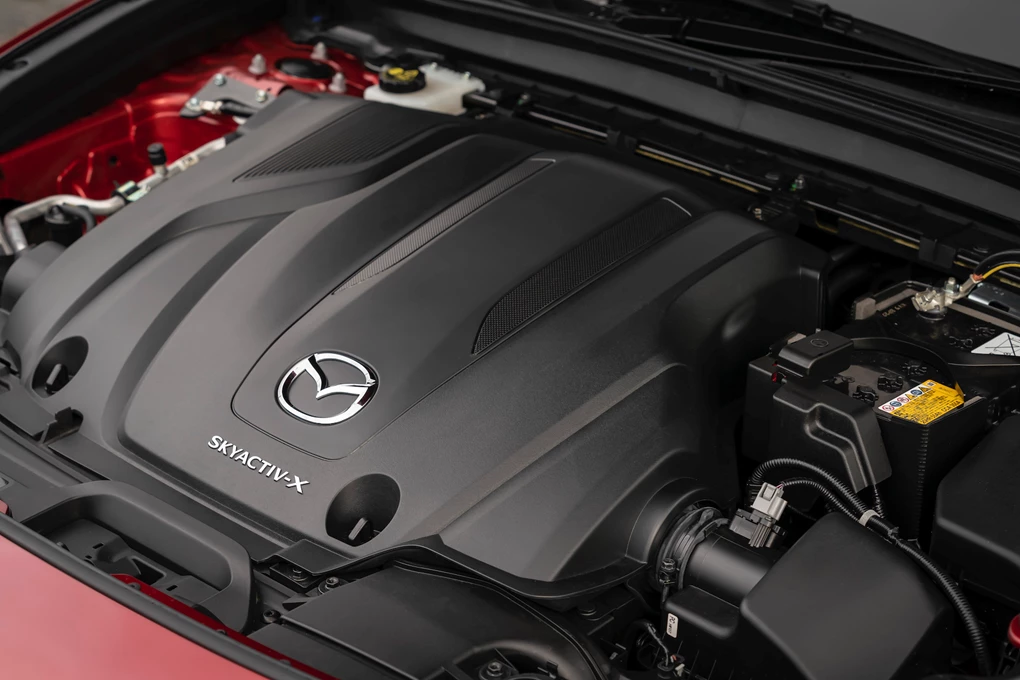 Ride and handling
Given that the Mazda3 hatch is one of the best cars to drive in its class, we had high hopes for the CX-30. Pleasingly it doesn't disappoint.  
It's one of the most enjoyable crossovers to drive – largely because, aside from the higher driving position, it doesn't feel like one. There's limited body roll, and the handling is excellent. It really is quite good fun to take down a B-road.  
But impressively, this enjoyable drive is not at the expense of comfort. Mazda doesn't try to make the CX-30 too 'sporty', and it means that it's also very comfortable and impressively refined. While this engine is undoubtedly the best option for the CX-30, it's just a little disappointing that there isn't much low-down torque, as you have to rev it quite aggressively to be able to perform overtakes or get up to speed quickly. On the plus side, the six-speed manual gearbox is one of the best to use, and preferable over the automatic.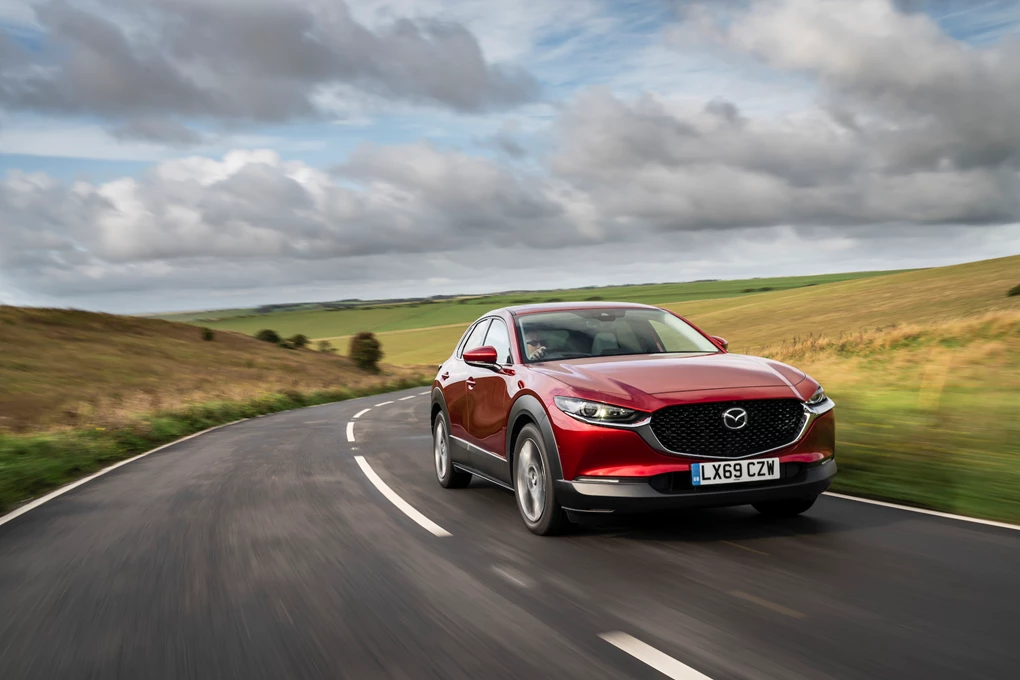 Interior and equipment
With Mazda's latest models, it's really trying to go further upmarket – rivalling the BMWs and Audis of this world, rather than the Fords and Vauxhalls. The cabin feels like it achieves that, with a stunning layout and predominantly high-quality materials used throughout. Our top-spec model also came with a full leather interior – really helping to give it an upmarket feel. The high-positioned 8.8-inch screen is also one of the best around.  
However, that sleek design has come at the expense of spaciousness, which certainly isn't this car's strong point. It's still a good size for a family car, but there's less legroom and boot space than you'd find in more versatile models like the Skoda Karoq.
Every CX-30 is well-equipped, with entry-level SE-L models come with LED headlights, 16-inch alloy wheels and rear parking sensors, with SE-L Lux versions bringing dual-zone climate control, keyless entry and a reversing camera. Next is Sport Lux, which is arguably the pick of the line-up – adding larger 18-inch alloy wheels, heated front seats and darker styling accents.
GT Sport brings a Bose sound system and black leather upholstery, while flagship GT Sport Tech adds a host of safety kit – including adaptive cruise control and a 360-degree camera.
Enquire on a new Mazda CX-30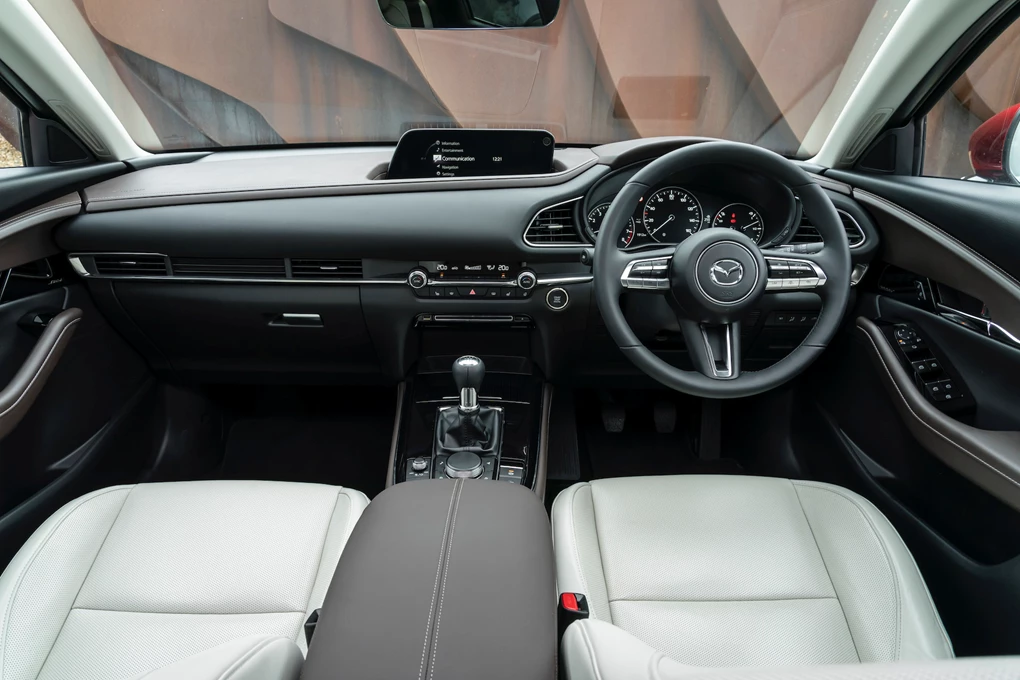 Cost
The CX-30 range starts off quite affordably, with models available from £22,940, though you'll want to be spending £24,440 to be able to get the more powerful Skayactiv-X petrol engines.  
The majority of the range represents good value, though we'd question whether you need to spend £1,500 to have all-wheel-drive – this pushing our car's price to more than £32,000.
If you're not too fussed by the crossover styling or higher ride height, the regular Mazda3 could be the better choice – saving yourself another £1,100.
Enquire on a new Mazda CX-30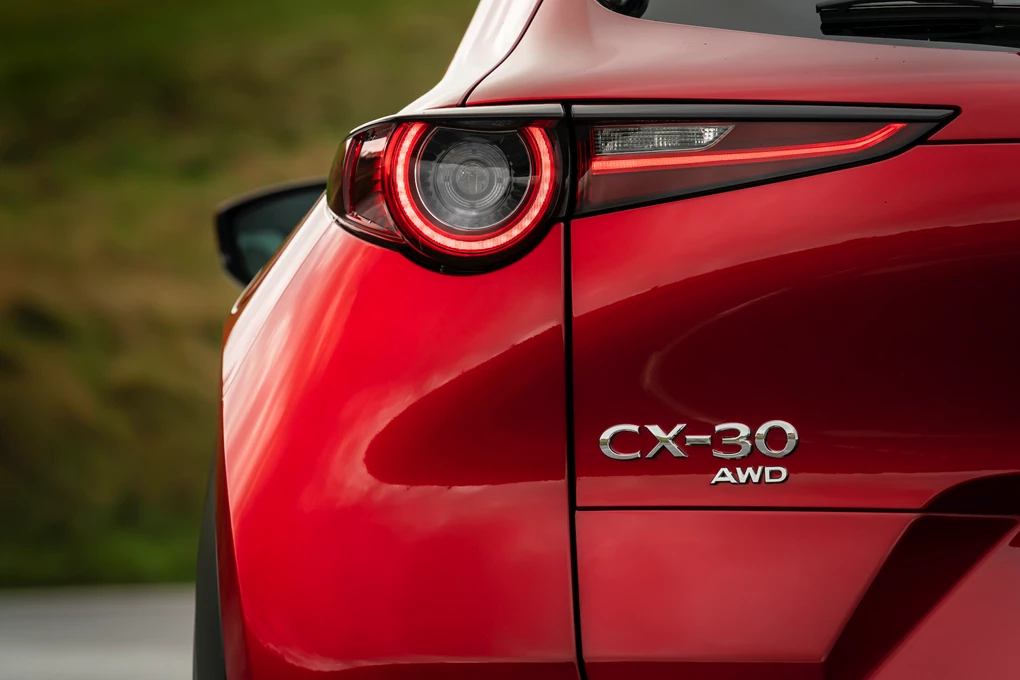 Verdict 
The Mazda CX-30 is a welcome entry to the crossover market. With its stylish looks (though the plastic cladding is perhaps a bit much in our eyes), high-quality interior and fantastic driving experience, it offers something that plenty of rivals can't.  
While spaciousness might not be its greatest asset, if you're willing to sacrifice a bit of versatility in the way of a sportier drive and better looks, the CX-30 is a brilliant choice.
Enquire on a new Mazda CX-30