Exterior
In the world of SUVs, creating a striking visual impression often plays a pivotal role in securing a prominent position on the sales charts. The Mazda CX-60 enters this landscape with a design that resonates with the brand's recognizable aesthetic language – characterized by sleek lines, graceful curves, and an inherent air of sophistication. It's a familiar presence on the road, unmistakably reflecting Mazda's identity. However, while it carries itself with assurance, the CX-60 falls short of distinguishing itself from the crowd, lacking the audacity of some more adventurous competitors.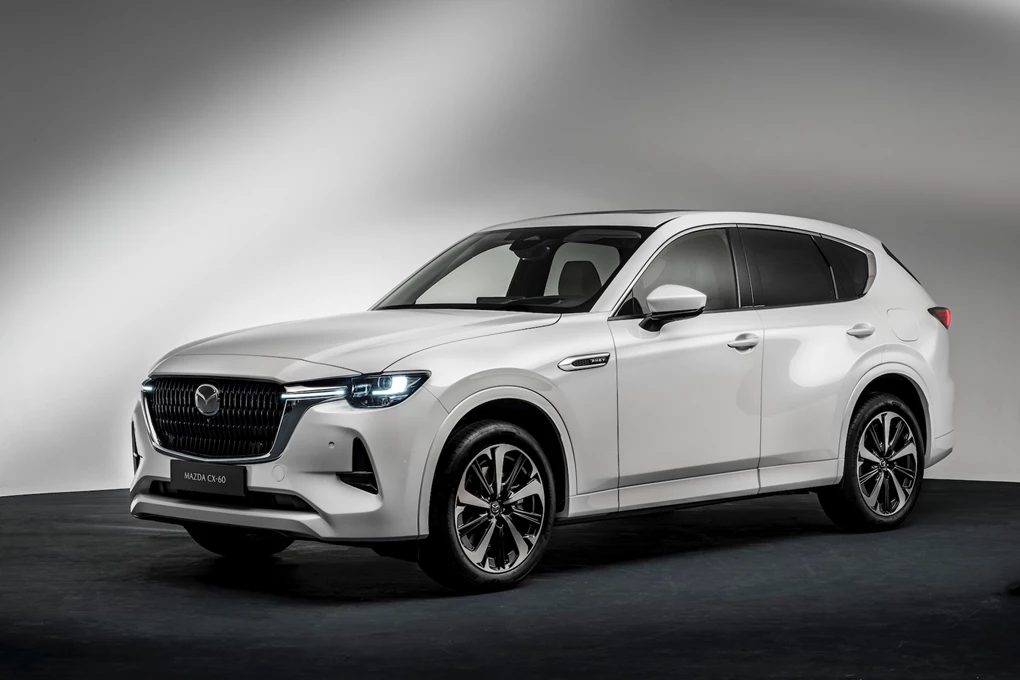 At the forefront, the distinctive Mazda grille takes center stage, flanked by meticulously crafted LED headlights that inject a dash of modernity into the overall design. A subtle interplay of light and shadow graces the CX-60's profile, imparting a sense of dynamism even when stationary. The incorporation of chrome accents and refined detailing contributes to an air of premium quality. Although the CX-60's exterior design is undoubtedly harmonious and skillfully executed, it lacks the singular panache that could truly make it a head-turner.
Explore the Mazda CX-60
Interior
Stepping into the Mazda CX-60, occupants are met with an interior thoughtfully designed to amalgamate comfort, practicality, and contemporary technology. While not venturing into groundbreaking innovation, the cabin offers a well-structured and cozy setting for both driver and passengers.
A standout feature is the Driver Personalisation System, available in certain trim levels. This forward-thinking system employs facial recognition to automatically adapt the driver's seat settings upon entry. This convenient feature caters to shared drivers, ensuring that each user effortlessly finds their preferred driving position.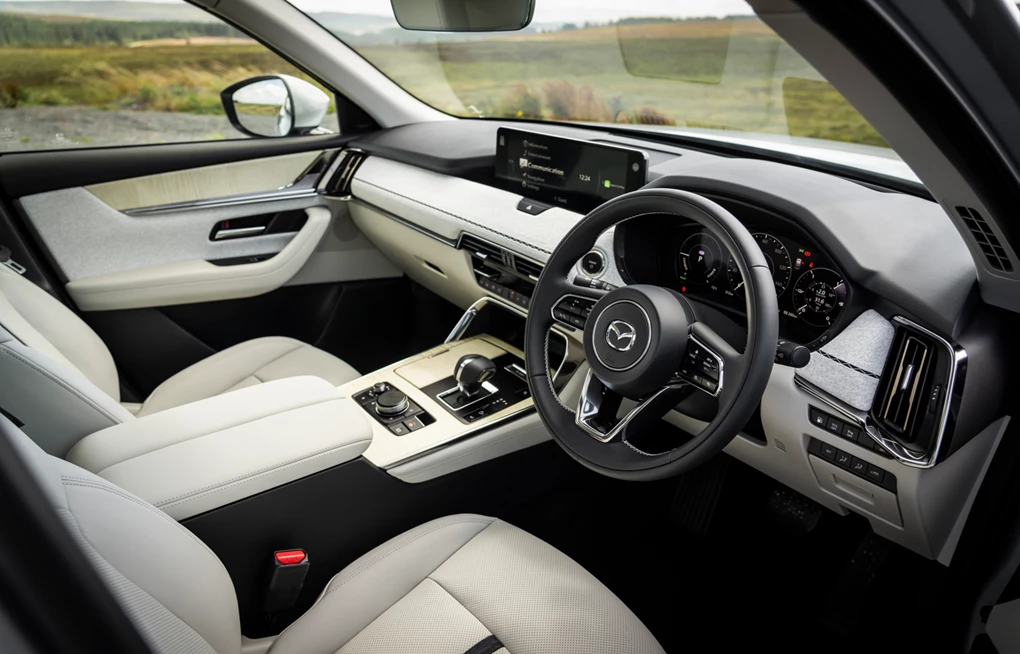 The cockpit revolves around a crystal-clear and dynamic 12.3-inch driver's instrument display. The user-friendly arrangement presents vital information without overwhelming the driver, elevating the overall driving experience. Physical controls for the climate system enhance driver convenience, permitting adjustments without diverting focus from the road. Optimal visibility from the driver's seat is achieved through narrow windscreen pillars and a lowered dashboard.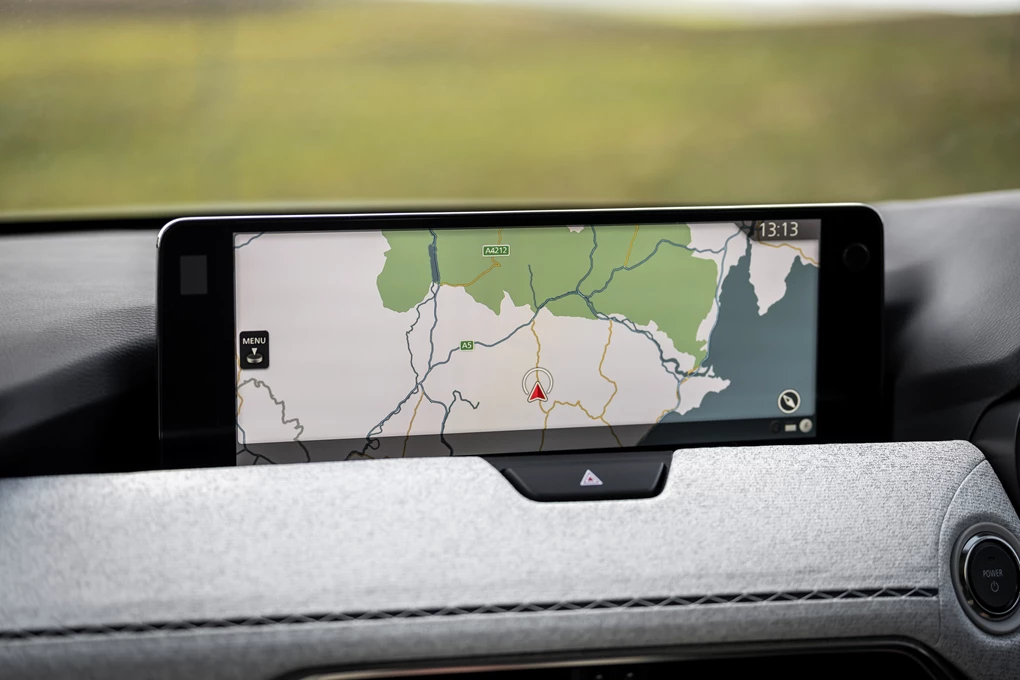 Performance and Handling
Beneath the Mazda CX-60's hood lies a diverse array of powertrain options, each delivering a distinctive blend of performance and efficiency. From turbocharged diesel engines to the plug-in hybrid variant, the CX-60 lineup caters to a spectrum of drivers, whether they prioritize spirited driving or economical commuting.
For those in pursuit of a harmonious balance between power and efficiency, the turbocharged 3.3-liter six-cylinder diesel engine (e-Skyactiv D200) stands as a dependable choice. Producing 197bhp, it offers ample low-end torque to propel the CX-60 to motorway velocities effortlessly. However, it's worth noting that acceleration from 0 to 62mph lags slightly behind rivals such as the Audi Q5.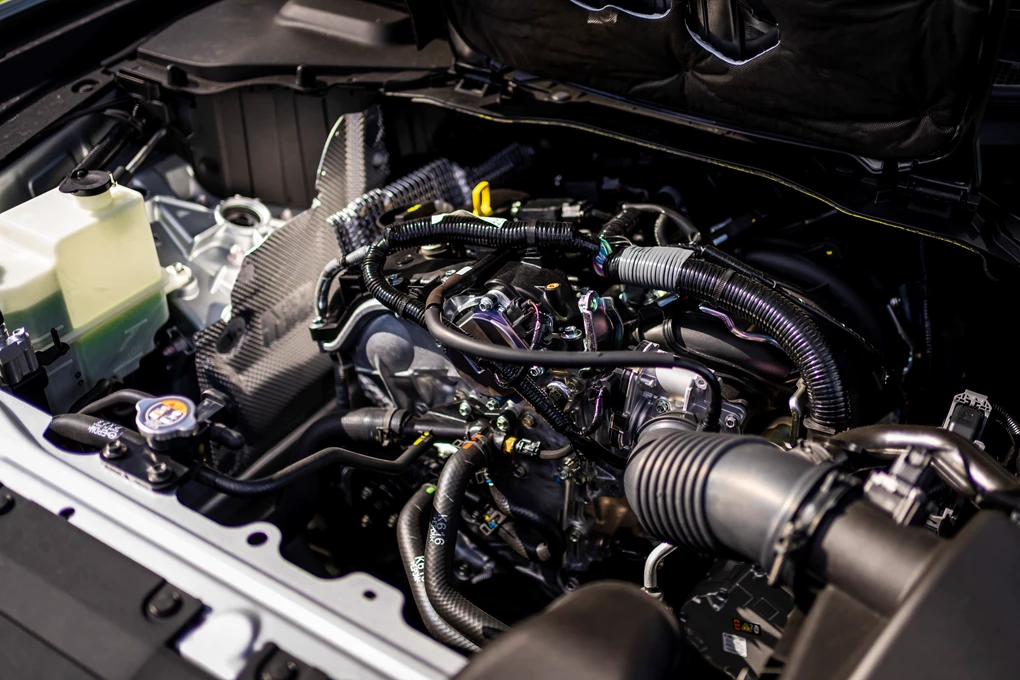 Advancing up the performance ladder, the e-Skyactiv D254 version of the same diesel engine generates 251bhp, resulting in a quicker 0-62mph acceleration time of 7.4 seconds. However, it's the plug-in hybrid (PHEV) variant that truly earns the moniker of "speed demon" within the lineup. Merging a 2.5-liter four-cylinder petrol engine with a 134bhp electric motor, the PHEV boasts a total power output of 323bhp and accelerates from 0 to 62mph in a brisk 5.8 seconds.
Yet, the PHEV's allure extends beyond sheer acceleration. Featuring a 17.8kWh (usable) battery and an electric-only range of 39 miles (albeit real-world figures may vary), it presents an appealing choice for corporate car users aiming to minimize emissions and capitalize on tax incentives.
On the road, the CX-60 exhibits adept handling and ride comfort, delivering a polished and sophisticated driving encounter. While it may not ignite the fervor of enthusiasts seeking razor-sharp responsiveness, it adeptly balances comfort and control, rendering it suitable for both daily commutes and extended journeys.
However, the transmission leaves room for improvement. The eight-speed automatic gearbox sporadically displays roughness at lower speeds, occasionally demonstrating hesitation and oscillating between gears in the pursuit of fuel efficiency. Although this might not be glaringly noticeable during standard driving conditions, it slightly detracts from the overall smoothness of the ride.
Explore the Mazda CX-60
Practicality
Regarding practicality, the Mazda CX-60 presents a blend of attributes and conveniences that cater to both occupants and drivers. Although it refrains from revolutionizing the concept of SUV practicality, it adeptly strikes a balance between space, utility, and ease of use.
Starting with the front seats, the CX-60 offers generous leg and headroom, ensuring a comfortable seating position for the driver and front passenger. The layout of the cockpit fosters an ergonomic driving encounter, bolstered by the presence of the Driver Personalisation System, which adapts seat configurations based on facial recognition – a welcomed amenity for households sharing the vehicle.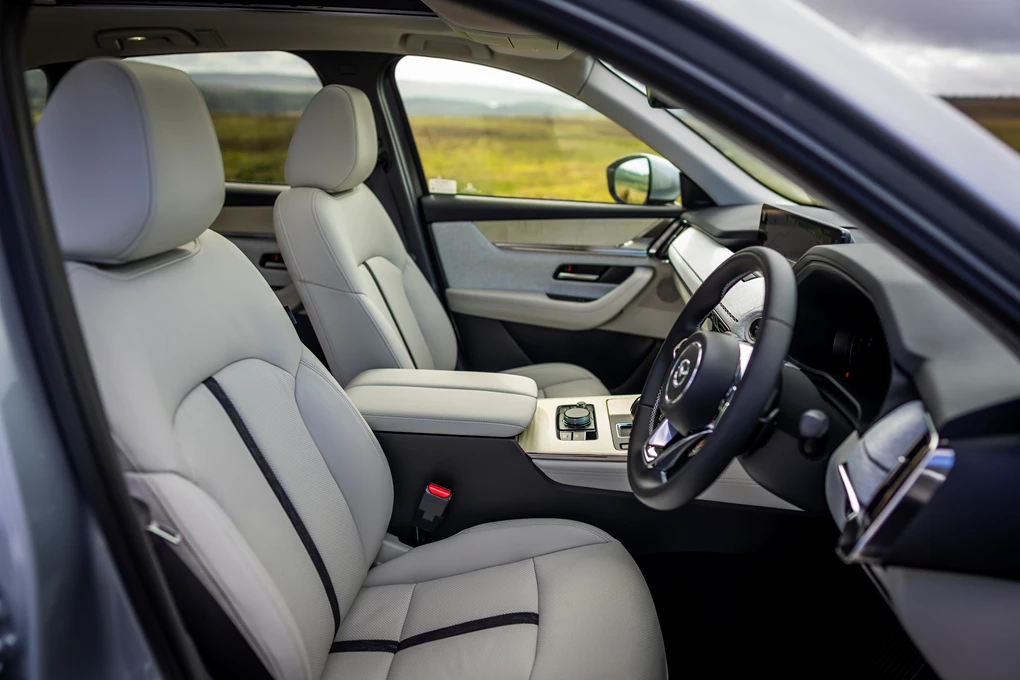 Transitioning to the rear seats, the CX-60 provides adequate space for two adults to sit comfortably. However, it's worth acknowledging that the increase in room compared to the smaller Mazda CX-5 isn't particularly significant. Tall passengers might perceive a slight shortage of legroom, especially if the front seats are adjusted towards the rear limit of their travel range.
For those contemplating the CX-60 as a family-oriented conveyance, the availability of a third row in specific models offers additional flexibility. Yet, it's essential to acknowledge that this third row is optimally suited for shorter journeys, given that the central hump on the floor might affect comfort during longer travels.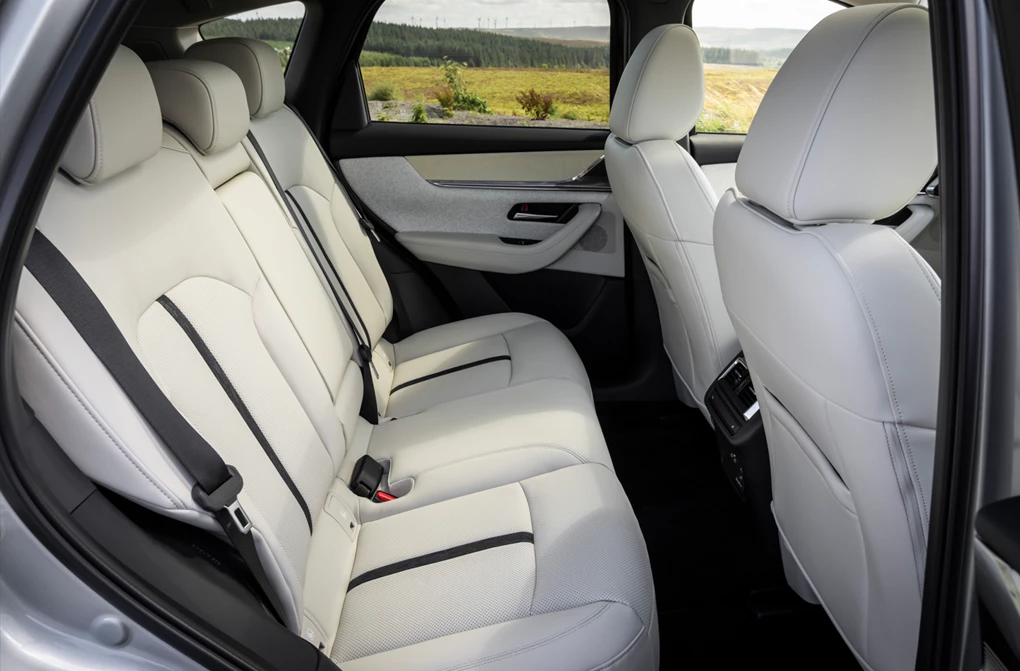 The realm of cargo space presents a mixed scenario. While the CX-60 delivers respectable luggage capacity, it might not outshine its peers in terms of spaciousness, as rivals frequently offer more room for bulkier items. Nonetheless, the CX-60's cargo capacity should adequately serve daily requirements. However, those with intentions of transporting larger loads might find it falling short of their needs.
Verdict
The Mazda CX-60 steps onto the premium SUV stage with confidence, marking a significant endeavor to establish its presence within this fiercely competitive domain. As Mazda's venture into the premium sector, the CX-60 introduces its distinctive fusion of elegance, comfort, and ingenuity to the discourse.
The CX-60's exterior design, while evoking familiarity, radiates an air of sophistication and refinement. While it may not trailblaze in terms of audaciousness, it confidently stands as a manifestation of Mazda's signature design language.
In conclusion, the Mazda CX-60 emerges as a commendable contender in the realm of premium SUVs. While it doesn't seize the limelight with unparalleled dominance in any specific facet, it adeptly maintains equilibrium, catering to a diverse spectrum of drivers who seek a polished and comfortable driving experience. For those valuing a touch of premium allure without relinquishing practicality, the CX-60 presents a persuasive proposition as an option deserving of consideration.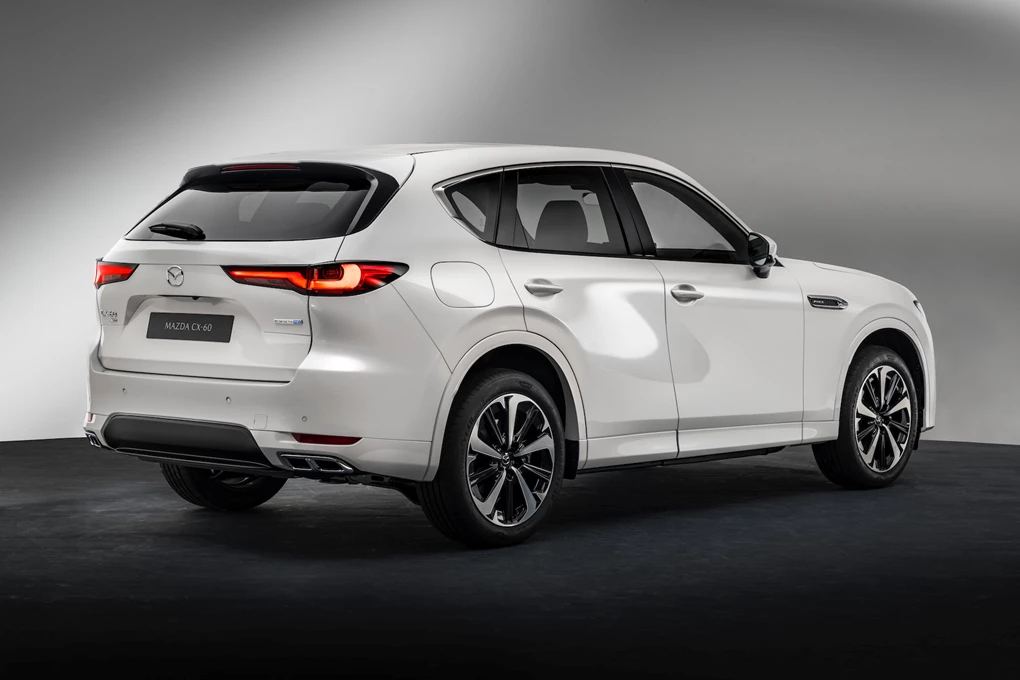 Explore the Mazda CX-60