Introduction
The Mazda MX-5 is, for many, a car that needs little introduction. In fact, it's the best-selling two-seat drop-top ever produced, with the model this year celebrating 30 years since going on sale. There's a special edition model coming later in the year, but for now we've got our hands on the latest version of Mazda's legendary roadster.
You'll struggle to tell the model apart from its predecessor, with only the bump at the back housing a reversing camera separating the new car from the older.
Most of the changes are under the surface – there's now a brand-new 181bhp 2.0-litre petrol engine replacing a 158bhp. That doesn't sound like a significant increase, but it's enough to make it noticeably quicker. Customers demanding more refinement and comfort have had their needs addressed, while more safety kit is now included as standard too.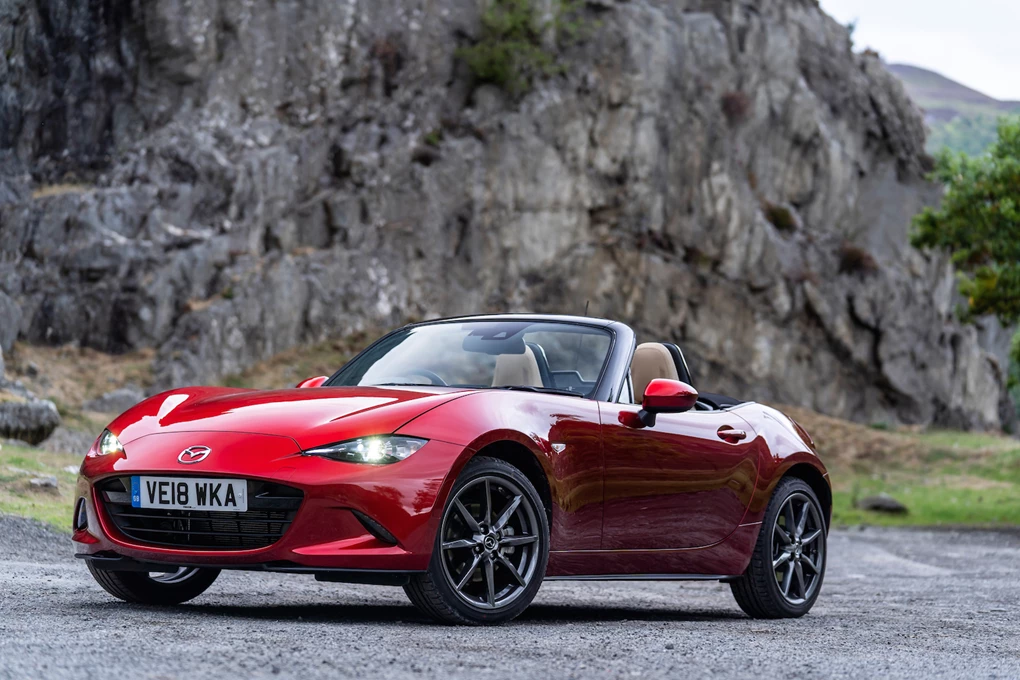 Performance
As mentioned earlier, we now have a more powerful range-topping version, with that car's 23bhp increase feeling well-appreciated. It means the MX- 5 can now accelerate from 0-60mph in 6.7 seconds and keep going to a top speed of 136mph. That's plenty of power to make the MX-5 feel zingy, while we also like the fact the MX-5's rev limiter has increased from 6,800rpm to 7,500rpm.
That makes a lot of difference as the MX-5 feels at its best on the redline, where its ability to bring a massive smile to your face is second to none.
An automatic gearbox is available, but the six-speed manual transmission's snappy change makes it by far the best choice.
As with before, a purer 1.5-litre petrol engine is also available as an entry-level option.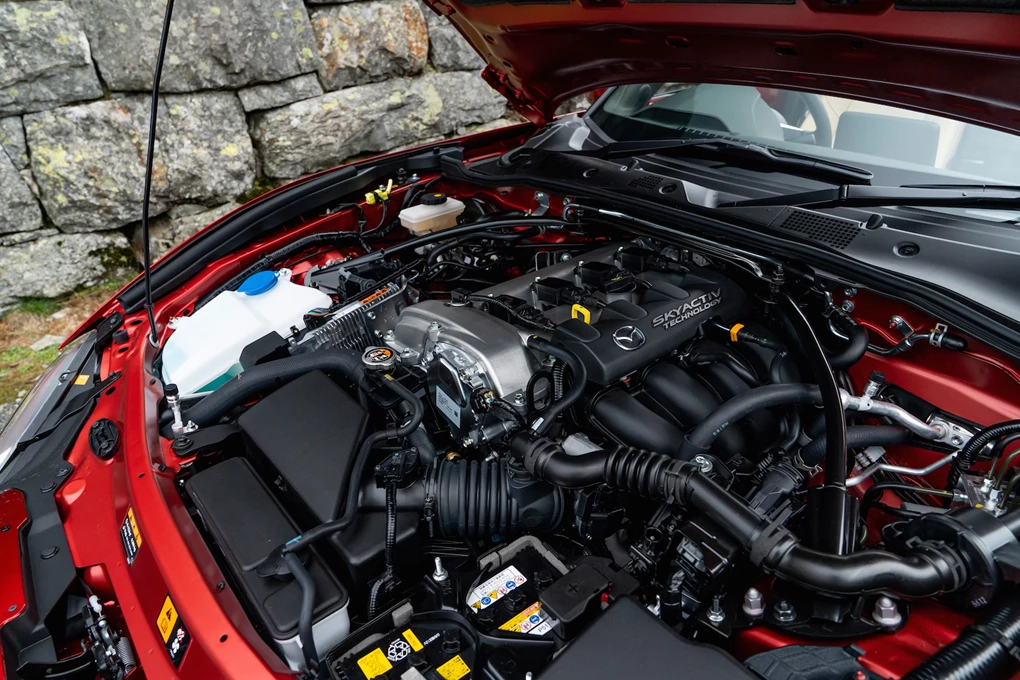 Ride and handling
The MX-5 is one of the most accessible and cheapest ways of owning a sports car. It's a perfect driver's car formula with a low driving position, a compact pedal box and a thin-rimmed steering wheel.
Unlike other models, MX-5s are not about going as fast as possible, but rather accessible fun. And that is precisely where it delivers.
It's beautifully balanced and offers superbly direct steering, but is still easy to manage, even for those drivers who perhaps aren't as experienced. While motorways are not the MX-5's strong suit, it feels superbly capable both nipping around town and when it's pushed on a B-road.
Interior and equipment
Previously, customers had few grumbles about the way the MX-5 drove, but some were not so pleased with cabin.
While it's not perfect, improvements have made to the cabin, which now feels sturdier and more premium than before, with improved interior finishes and few flimsy-feeling plastics.
Taller drivers will also be much happier, too, as the MX-5 now features reach adjustment for the steering wheel, which helps drivers to find that perfect position behind the wheel.
Standard equipment on the MX-5 includes 16-inch alloy wheels, LED headlights, keyless entry and air-conditioning, while range-topping GT Sport Nav+ models come laden with equipment, such as 17-inch alloy wheels, a reversing camera, heated Nappa leather seats, automatic lights and wipers and a seven-inch touchscreen.
See Available MX-5 Deals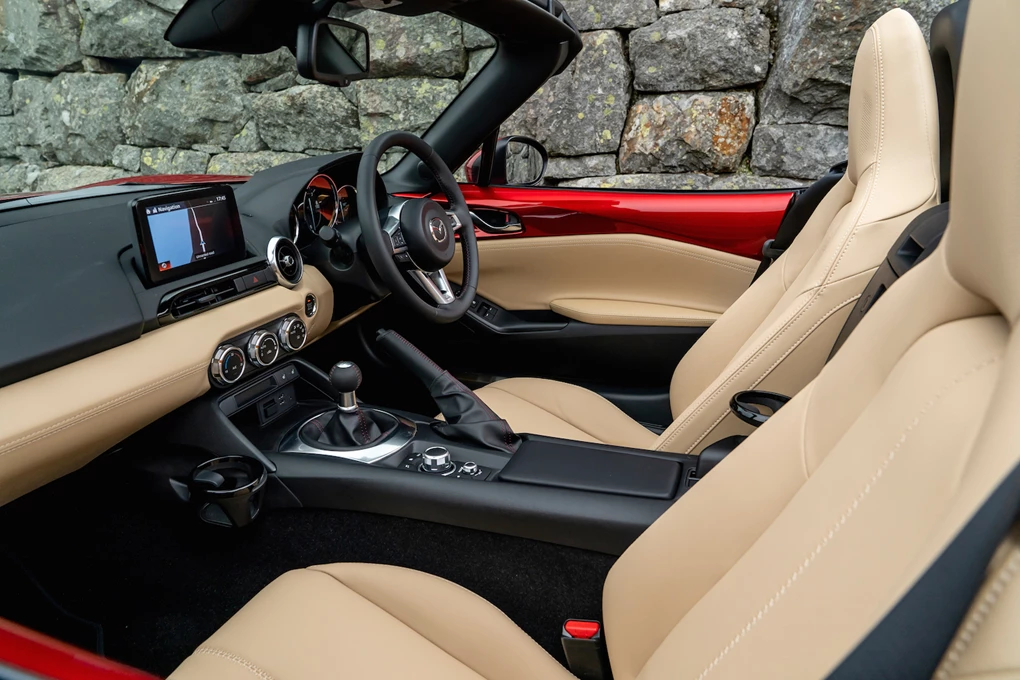 Cost
Prices start from £19,495 for the MX-5 with a 1.5-litre petrol engine, which makes it one of the most affordable new sports cars on sale, meanwhile a model with the more powerful 2.0-litre petrol engine comes in at £22,795, which still makes the MX-5 cheaper than many hot hatches.
It will also be one of the most affordable sports cars to run, thanks to the 2.0-litre model's ability to return a claimed 40.9mpg, with CO2 emissions of 156g/km. It will mean that it's no more expensive to run than a hot hatchback, too.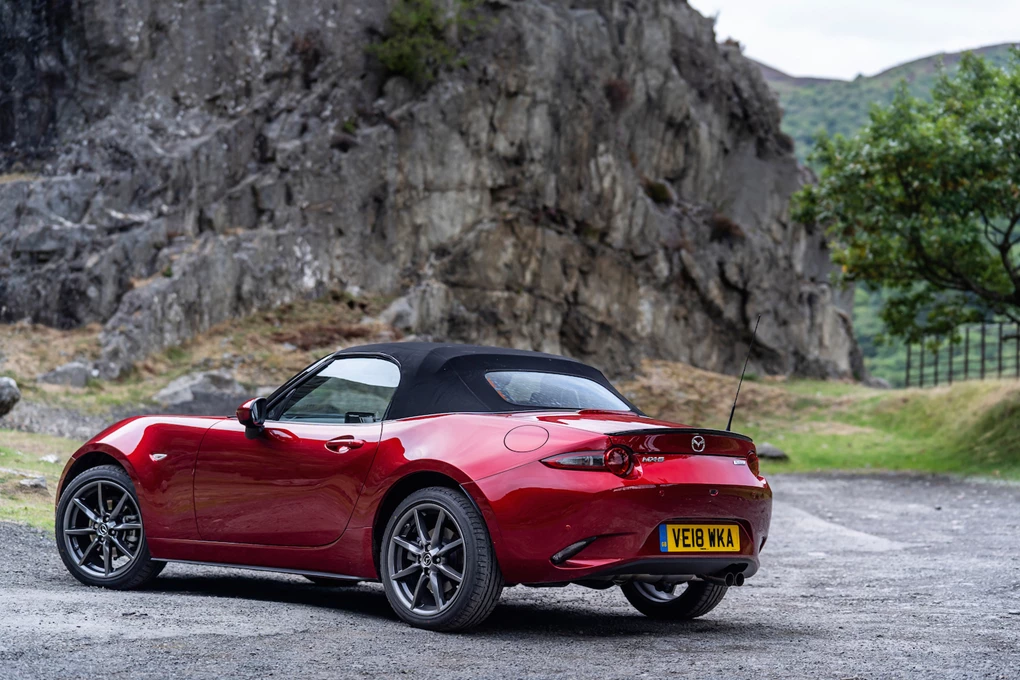 Verdict
The latest update of MX-5 might not be a major one, but it's one that's made key differences to keep the Japanese sports car at the top of its class.
The MX-5 shows that cars don't need to be overcomplicated, heavy and expensive to be huge fun behind the wheel. The extra comfort and safety features only add to an even more rounded package.