Introduction
The A-Class has gone on to be a huge success for Mercedes in recent years, being by far the brand's most popular car and one of the UK's best-sellers. 
And with its high-quality interior, premium design and refinement it's easy to see why. Now Mercedes is looking to expand its appeal further with a new plug-in hybrid model known as the A 250 e.
It combines an existing petrol engine with an electric motor and batteries to create a seriously convincing (on paper) and efficient family hatchback. But is it as appealing in practise? Let's take a look.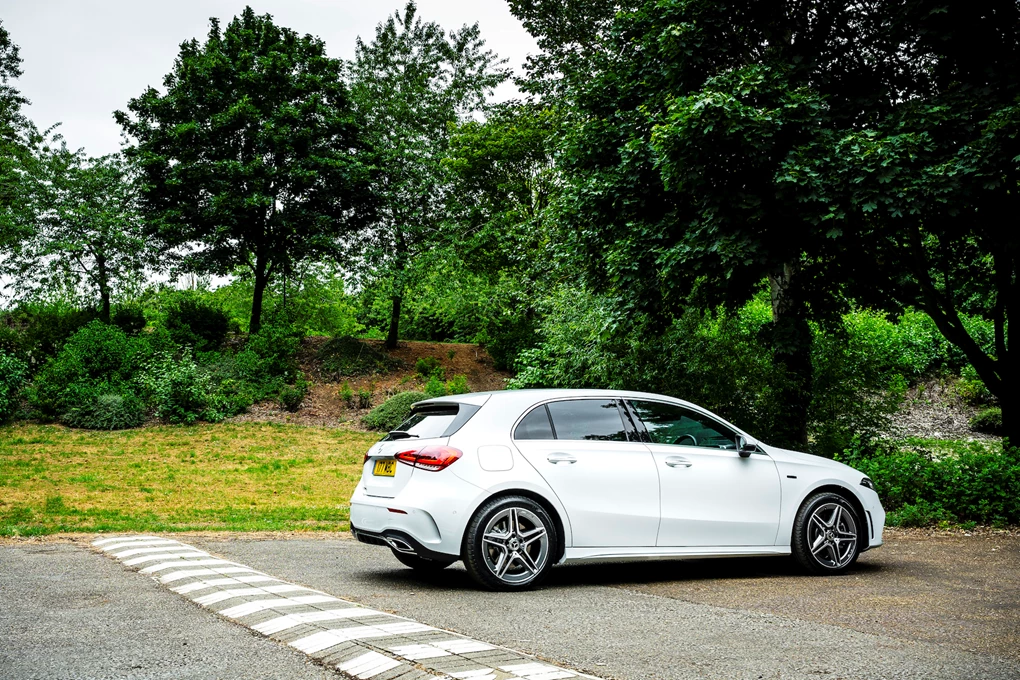 Performance
The A 250 e combines the turbocharged 1.3-litre petrol engine that you'd find in the standard A 200 petrol A-Class with an electric motor and a 15.6kWh battery. The total result is 215bhp and a healthy 450Nm of torque, which means it can reach 0-60mph in 6.1 seconds and head on to a top speed of 149mph, or 87mph if you just leave it in electric mode. An eight-speed automatic gearbox is used, which delivers its power to the front wheels. 
But more impressive here is the A 250 e's large 15.6kWh battery, which gives this Mercedes an impressive electric range of 45 miles – one of the longest of any plug-in hybrid. If you charge it regularly, there's the possibility for some impressively low running costs – the firm claiming it will return 282.5mpg, with CO2 emissions of just 24g/km. That latter figure is particularly important if you're looking at this A-Class from a company car perspective as it gives it a benefit-in-kind (BIK) tax rate of just six per cent. In contrast, a standard diesel A 180 d has a BIK of 28 per cent.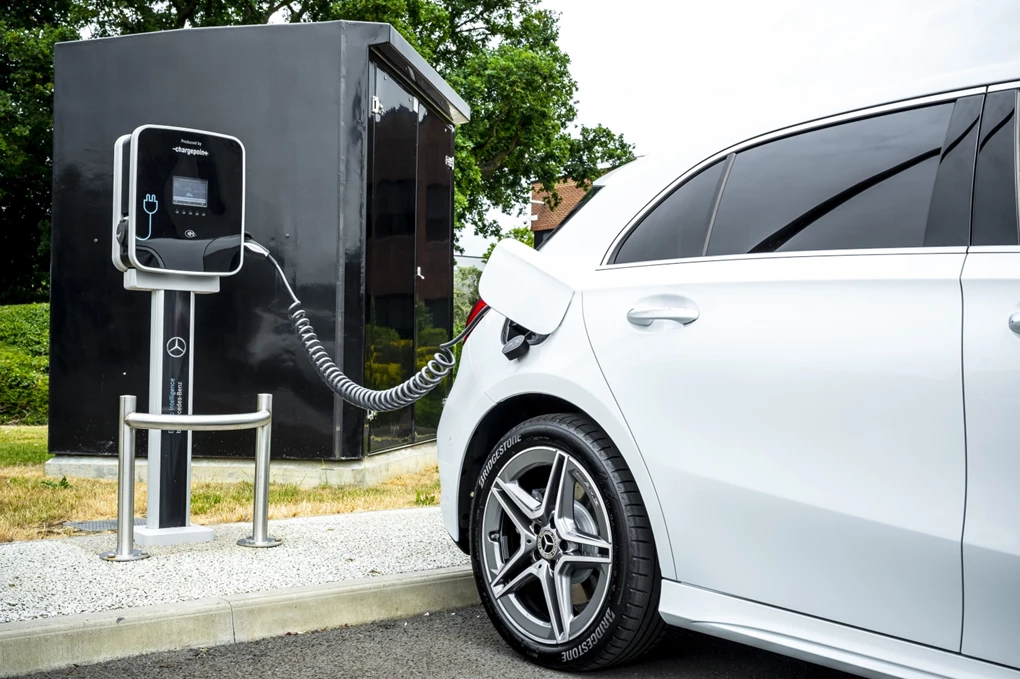 Ride and handling
Leave the A 250 e in electric mode and this is where it's at its finest, where it's swift, quiet and refined. The switch from petrol to electric is also smooth, though harsh acceleration ruffles a few too many feathers as the engine becomes really quite vocal.
Through the corners you can feel the weight from the batteries as well, with slightly more lean than what you'd find in a standard A-Class. That said, if you drive it leisurely and charge the battery then this is a very accomplished plug-in hybrid, which should be able to complete the majority of journeys as if it's an EV.
Interior and equipment
How Mercedes has managed to cram all the tech from its more expensive cars into the A-Class is quite the achievement, and the cabin of the A 250 e is undoubtedly one of the best things about it. It has a real wow factor with its digital dials and touchscreen, which are both joined on to each other to create a really modern cabin. The quality throughout is also superb. 
But given the A-Class isn't the most spacious hatchback in its class, the extra space taken up by the batteries doesn't help matters. Boot space reduces from 370 litres to 310, though seats that fold 40:20:40 are a useful touch. Rear space isn't especially generous but there's enough room to use the A 250 e as a small family car. 
As for equipment, all A 250 e models come in an AMG Line-badged trim. Standard kit is generous and includes 18-inch alloy wheels, LED headlights and sports seats. Upgrading to AMG Line Executive brings a larger 10.25-inch touchscreen, a reversing camera and wireless smartphone charging. 
AMG Line Premium adds keyless entry, a larger 10.25-inch digital instrument cluster and 64-colour ambient interior lighting, meanwhile the top-spec AMG Line Premium Plus brings more advanced LED headlights, electric front seats and a panoramic sunroof.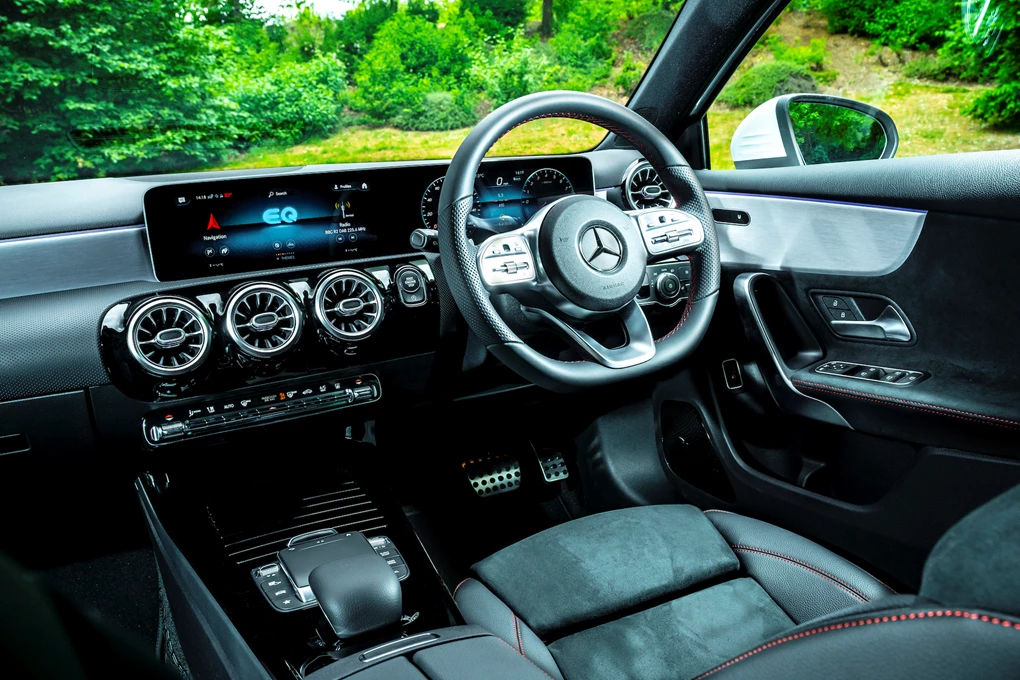 Cost
Plug-in hybrids are never cheap and are usually positioned as the more top-spec versions. The same is true here, with the A 250 e's plentiful power making it sit alongside the A 250, albeit not with quite the same performance due to its extra heft. 
So prices start from £32,980, which might seem a lot of money for what it is, though it's worth considering the possibility for such low running costs and generous standard kit. We'd recommend sticking with the standard AMG Line model as the 'Premium Plus' drives the price up to £37,480, which is a bit too much money in our eyes.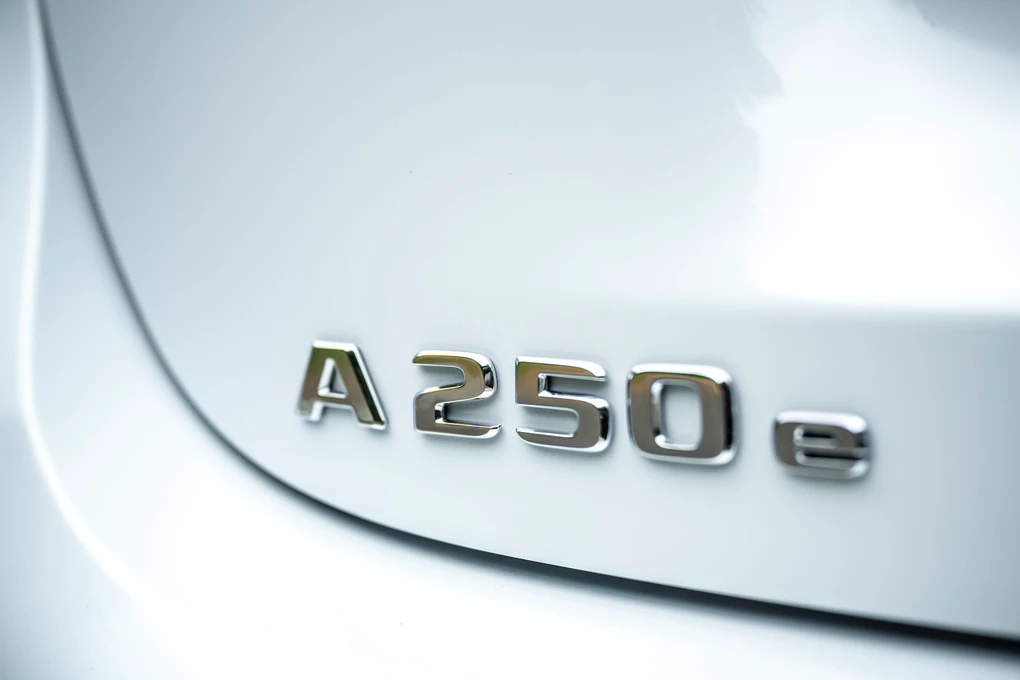 Verdict
When it comes to a plug-in hybrid with the ability to give you low running costs, there are few better options than the Mercedes A 250 e. With a 45-mile electric range, it's noticeably more than rivals. You're also treated to the A-Class's classy styling and show-stopping interior. 
But despite the healthy power on power, this is no hot hatch, so if you're looking at something in that respect, the standard A 250 petrol would likely be more appealing.
Enquire on a new Mercedes A 250 e