Introduction
Mercedes-AMG's C63 is one of the most popular and desirable models in its line-up – even more so with the 'S' upgrade and in an Estate guise. But how do you improve on a winning package like this? Well the key to this update is to leave the performance alone, so the C63 S's delightful 4.0-litre V8 engine remains perfectly intact.
But what Mercedes-Benz has done is remove the old seven-speed automatic gearbox in favour of a new nine-speed unit, while an electronic limited-slip differential is now fitted as standard.  
Elsewhere it features a more advanced traction control system, while on the styling front the C63 S benefits from a refreshed grille, revised LED headlights and a fresh rear diffuser. New alloy wheels have also been introduced.
It's key to remember that this is a subtle update, rather than an all-new model, but have these changes – notably on the dynamics front – changed the C63 S for better or worse?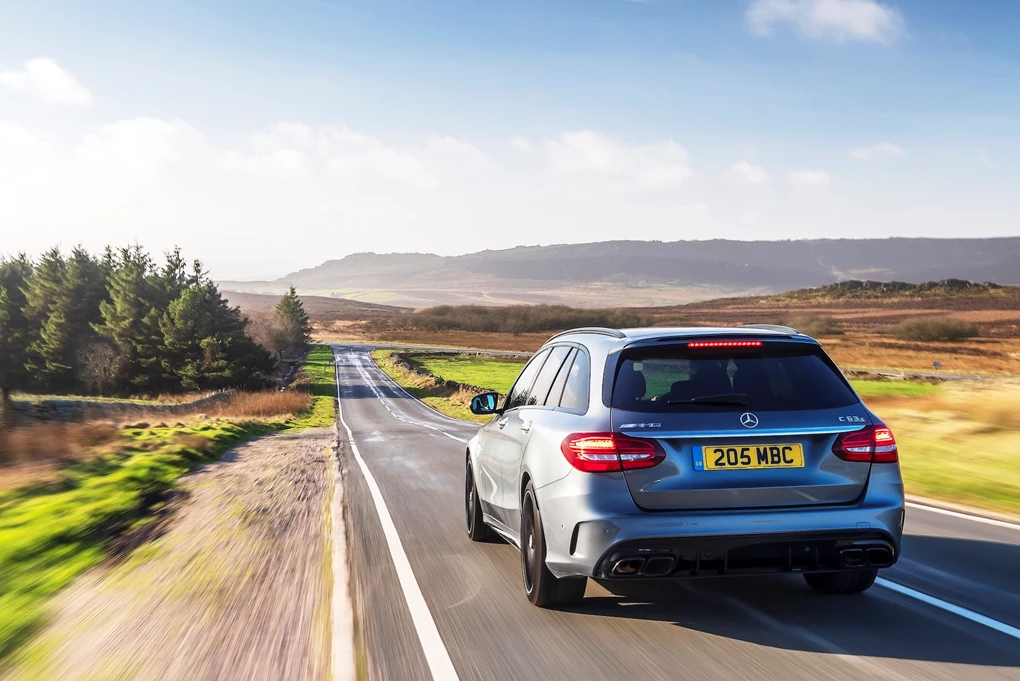 Performance
Many AMG fans mourned the loss of the naturally-aspirated 6.2-litre unit that Mercedes-Benz used in its '63' models for many years, but as soon as they got to experience the new 4.0-litre bi-turbo V8, most were quickly converted.
It's a sensational engine – arguably one of the best available today – and we're so glad Mercedes-Benz has kept it the same in this updated model. In 'S' guise, the C63 produces 503bhp and an impressive 700Nm of torque. It sticks with sending its power to the rear wheels, and makes do with a fantastic new nine-speed automatic transmission.
With 700Nm of torque on tap, Mercedes-Benz claims the C63 S will sprint from 0-60mph in just 3.9 seconds, and reach a top speed limited to 174mph. Unsurprisingly, the running costs won't be cheap. Even Mercedes-Benz's claimed fuel economy figure of 28.3mpg is a bit ambitious, while CO2 emissions are high at 229g/km.
Ride and handling
All these updates might be subtle, but combine them all together and it makes a big difference. The largest of these differences is the new nine-speed auto 'box, which is smooth and predictable, and allows you to make full use of that delightful engine. Third and fourth gears are the most thrilling, as this is where you can really exploit the performance.
The introduction of the electronic rear differential also helps the C63 S to feel more secure behind the wheel – previously the rear-wheel-drive nature could make it quite a handful at times.
The only slight problem with it is that the suspension just feels a bit too firm for UK roads, even when you put it in the softest of settings. Opting for the smaller 18-inch alloys would be a good choice to make, though this is a small complaint to what is otherwise a faultless driving experience.
See Available C Class deals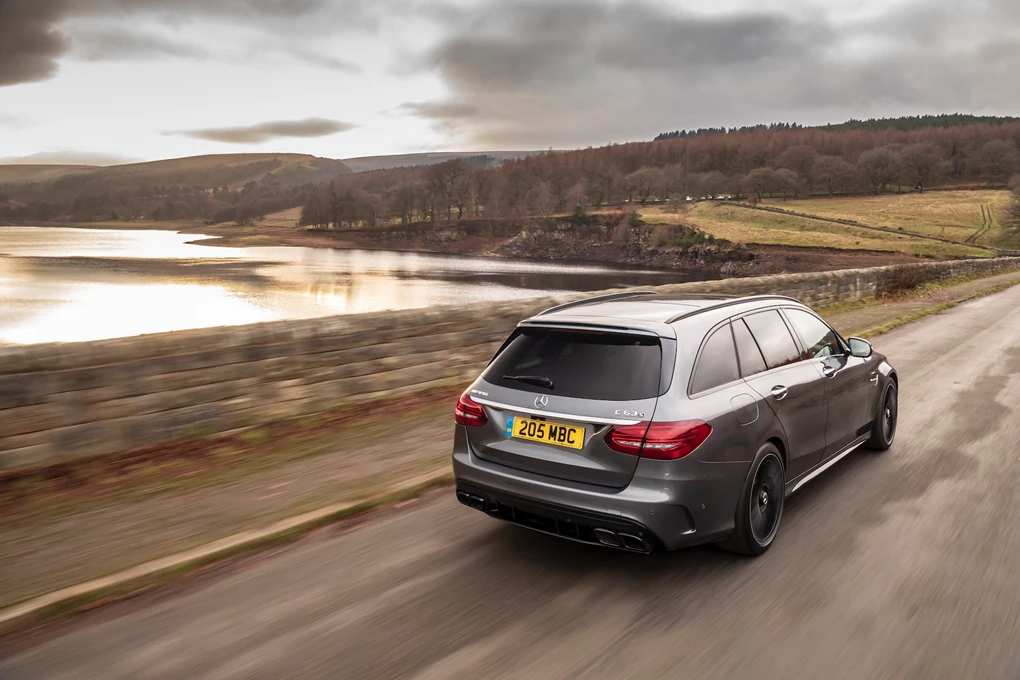 Interior and equipment
Mercedes-Benz has worked hard in recent years to improve its interiors – bringing them up to the quality of BMW and Audi. While there is the odd hard plastic on the inside, the interior is largely made up of high-quality materials, with lots of leather and carbon fibre used throughout.
And should you be wanting something spacious and practical, the Estate is undoubtedly the choice to go for. The 490-litre boot is generous, and increases to 1,480 litres when the rear seats are folded. Though the backseats aren't the most generous, there's more than enough legroom for most – making the C63 S a surprisingly effective family car.
Mercedes-Benz previously used to offer a regular C63 and a more powerful 'S' model, but with the majority of buyers opting for the top-spec model, the firm has now ditched the cheaper option.
Standard equipment is very generous, with highlights including a large 12.3-inch digital dashboard, alongside a 10.25-inch central infotainment display, along with 19-inch alloy wheels, nappa leather AMG sports seats and an excellent flat-bottomed steering wheel, to name but a few features.
You can also opt for a 'Premium Plus' package, too, which adds a Burmester sound system, a panoramic sunroof and a 360-degree camera to name but a few features.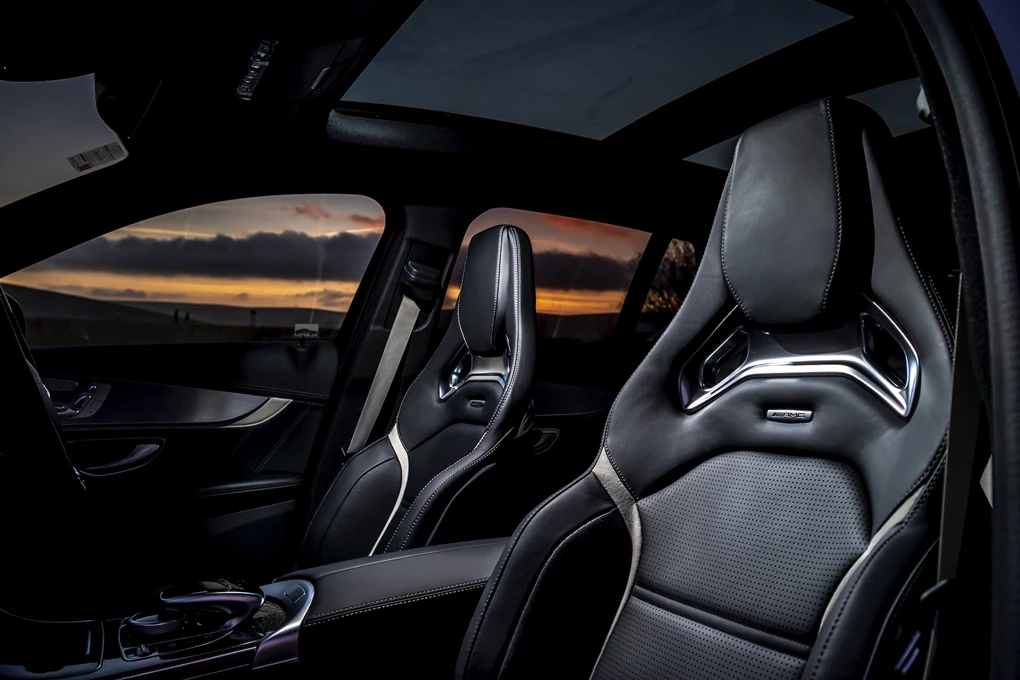 Cost
Unsurprisingly all this performance and luxury comes at a price, with the C63 S Estate starting from £78,068, which is a lot of money to spend on an estate. Opting for the Premium Plus package is only a marginal step up to £81,182. Each cost around £2,000 more than the equivalent saloon model.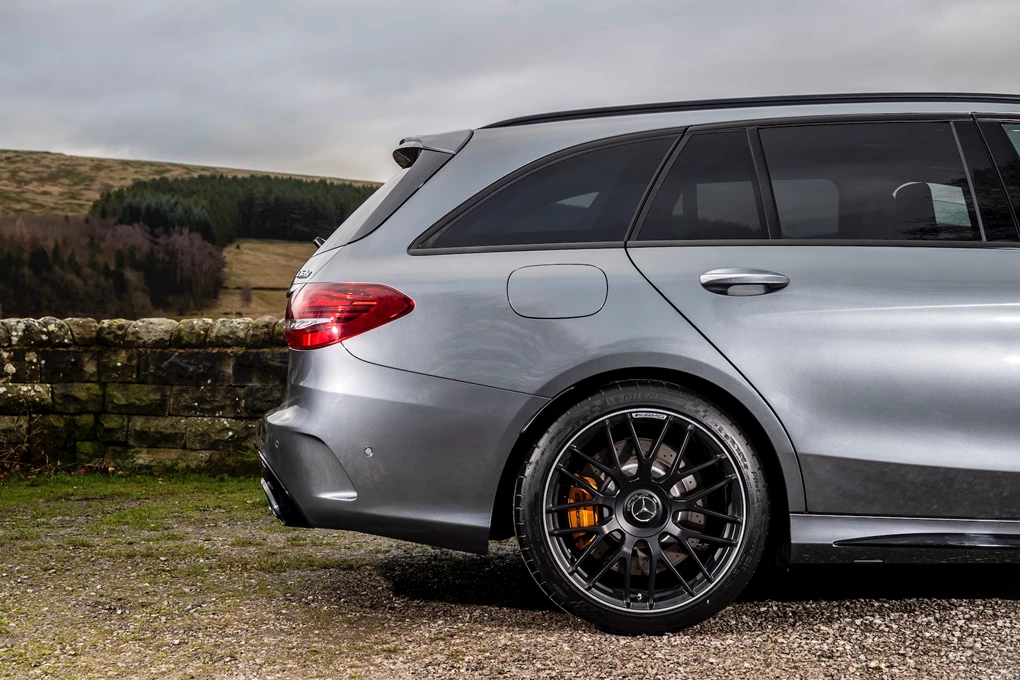 Verdict
The C63 S is a model that needed little tweaking to remain at the top of its game, yet small revisions have ensured the C63 S remains the go-to small estate car.
It's a mesmerizingly capable model that offers outrageous performance, and in Estate form, is a car that you could happily use every day as your only family car.
The running costs aren't for the faint hearted, but we think it would be a worthy compromise to make when you consider the thrills on offer.