Introduction
The Mercedes-Benz B-Class is based on the A-Class, which has grown ever more stylish as the generations have gone on. This mini-MPV is for the straight-thinking bar buyer, bigger in size with a lot of space and flexibility on offer makes it a great choice for family car buyers.
It also boasts a more stylish look than before in this new guise, as well as the firm's latest MBUX infotainment system, which includes two touchscreens merged together to create one huge digital dashboard.
But is there a point of choosing it over the A-Class?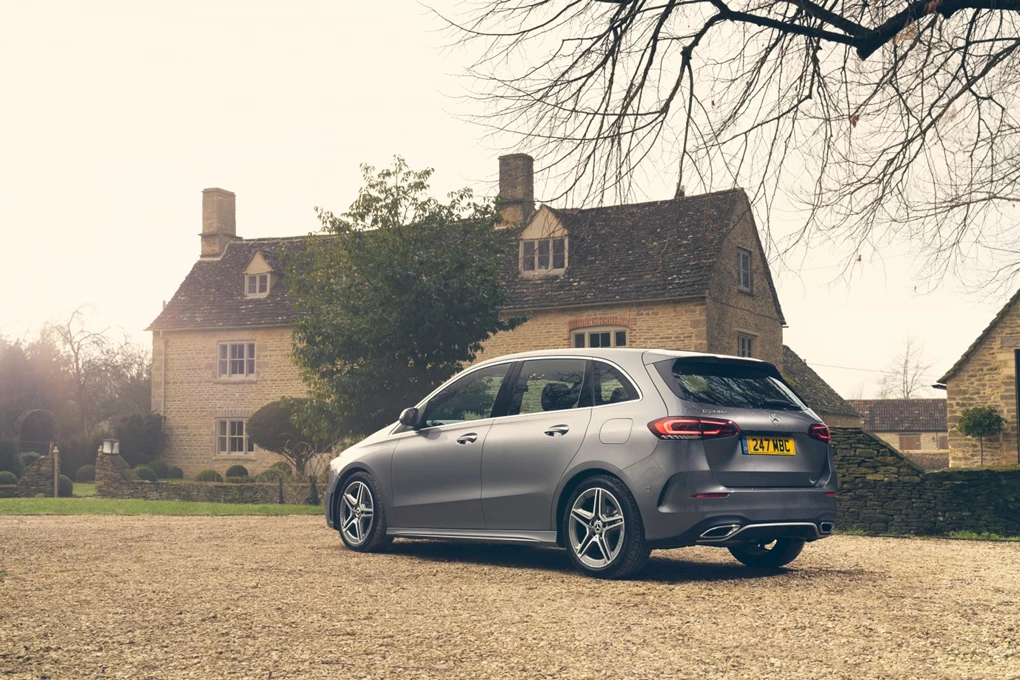 Performance
The B-Class picks and chooses the best engines from the A-Class, with the option of two petrols and two diesels. You also don't find any of the AMG variants on the B-Class.
The range kicks off with two Renault-sourced 1.3-litre petrol engines, producing 132bhp (B 180) and 159bhp (B 200). More expensive 2.0-litre engines are available in the form of the 187bhp B 220 and 221bhp B 250.
Opting for diesel leaves you the choice of a 114bhp 1.5-litre engine along with two 2.0-litre units – producing 146bhp (B 200d) and 185bhp (B 220d).
Our test car was the B 200d, which comes paired to a new eight-speed dual-clutch automatic transmissions. It's worth noting that no manual gearboxes are offered with the B-Class, which is partly a shame given this new 'box can feel a bit slow to react in certain scenarios.
While largely smooth and punchy, it lacks any urgency, although driven steadily this is rarely an issue. The 0-60mph sprint with this engine takes 8.1 seconds, along with a top speed of 136mph.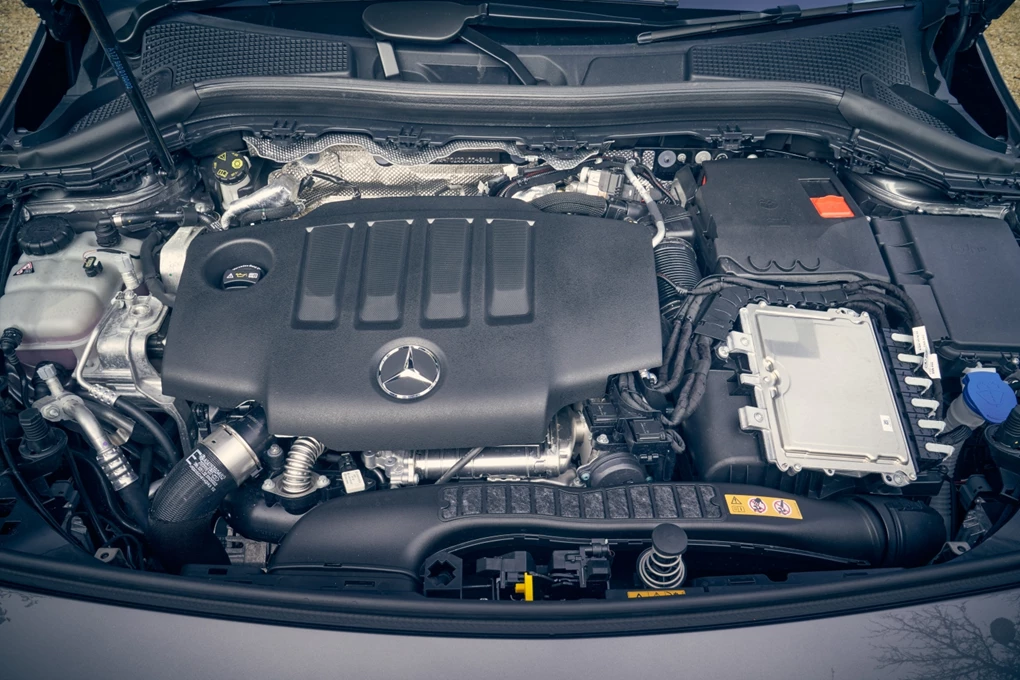 Ride and handling
Past B-Class models have lost some of the dynamic sparkle that you find in the A-Class, but thankfully this doesn't seem to be the case here.
You sit higher up in the B-Class, which results in a better view of the road, although you can sense that there is slightly more lean in the corners than there is in the standard A-Class. That said, our AMG Line test car does a good job of making the B-Class great to drive for a people carrier. This grade cuts the ride height by 20mm, but thankfully doesn't seem to impact ride quality too much. Even on 18-inch alloy wheels, it rarely crashes over potholes and remains stable and composed on rougher stretches of road.
See Available B Class deals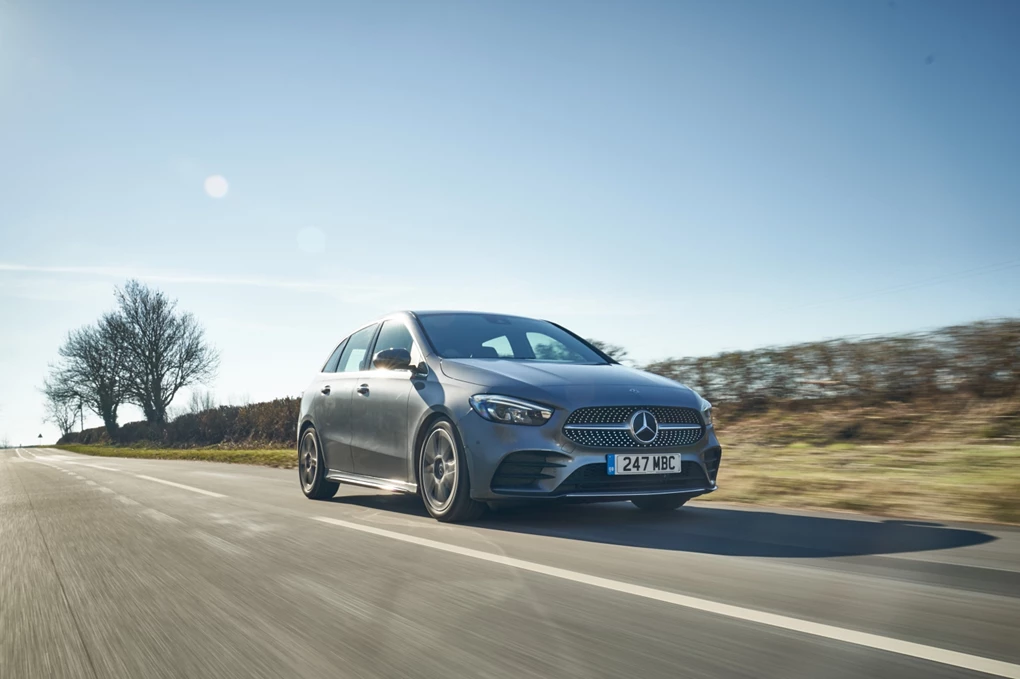 Interior and equipment
The latest Mercedes-Benz models have really stepped up their game when it comes to their interiors, and it's the new MBUX (Mercedes-Benz user experience) infotainment system where this is most prominent.
This is undoubtedly one of the best operating systems on any car, with two digital screens giving the interior a fantastic modern feel. Though several dials can be used to operate it, the voice assistant is really useful here, and works seamlessly, which is a rarity for speech-controlled functions. Interior quality is top-notch throughout, too.
Think of the B-Class as a practical hatchback and it's generously spacious. Despite retaining a similar footprint to the A-Class, it manages to offer a spacious 455-litre boot, with plenty of room for adults to travel in the rear seats in comfort. But make no mistake, this isn't really an MPV – more of a swollen hatchback.
Just two trim levels are offered – Sport and AMG-Line.
Sport comes with two seven-inch screens, 17-inch alloy wheels, a reversing camera LED headlight, lane-keep assist and keyless go.
The popular and more stylish AMG Line grade adds 18-inch alloy wheels, sports seats, AMG bodystyling and faux leather and microfibre upholstery.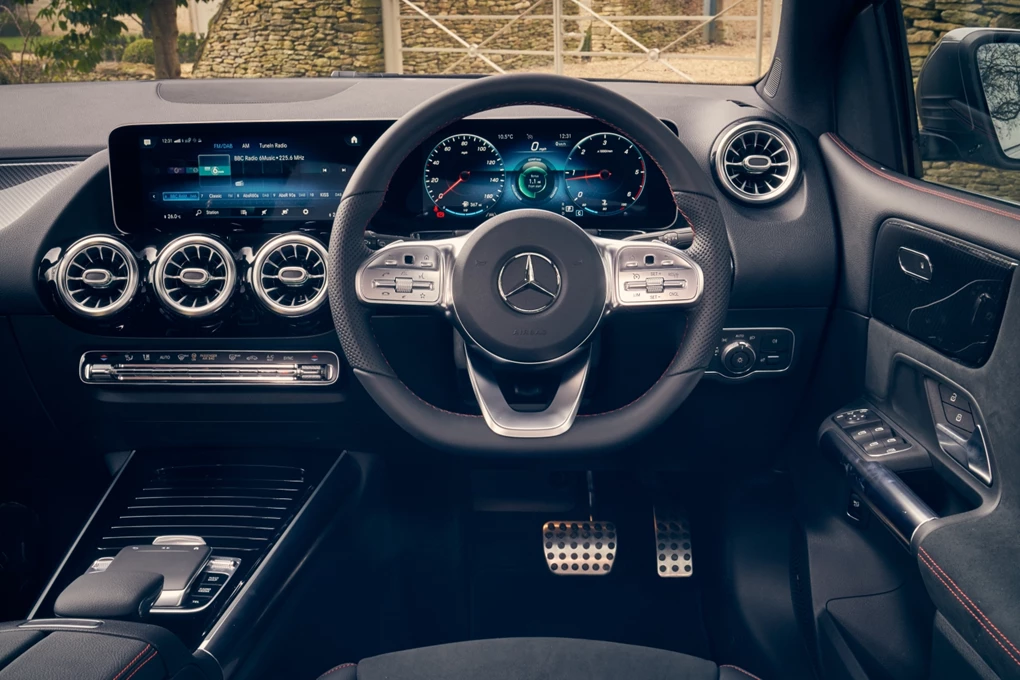 Cost
The Mercedes-Benz B-Class kicks off at £24,495, which is £1,300 more than the A-Class. Our test car came in at £30,240, which is perhaps a bit too expensive for a diesel hatchback, even if it's a rather premium one.
Our B 200d test car returned 55.4mpg with CO2 emissions of 115g/km, but it's the B 180d that's the most efficient. This can manage a claimed 58.9mpg, along with CO2 emissions of 111g/km.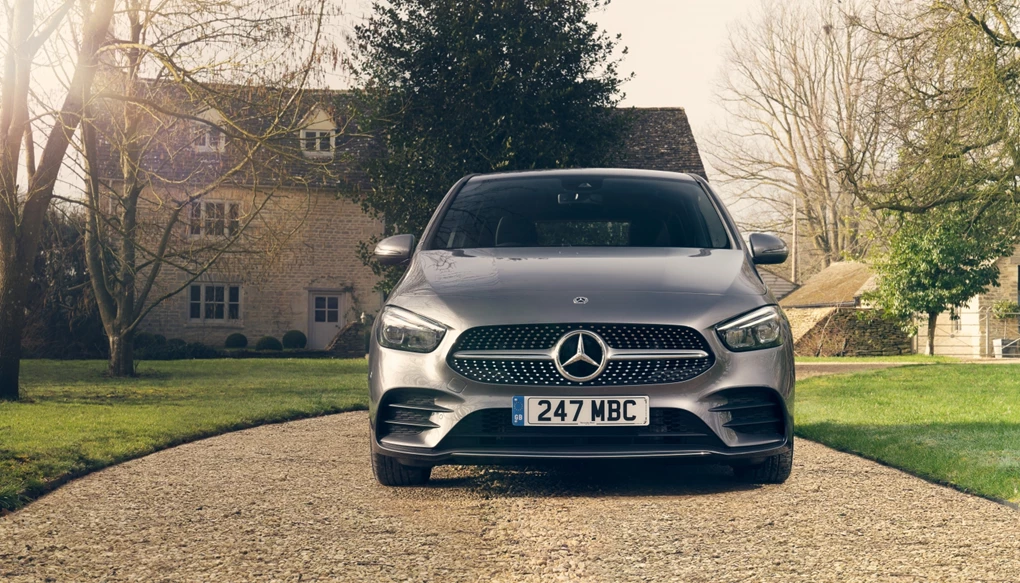 Verdict
Mercedes-Benz has made vast improvements to the B-Class on this latest model. It now looks stylish and comes with a superb interior.
By increasing in size, it's also improved on the only real reason you would buy one over an A-Class – space and practicality. This is by no means a rival to proper MPVs like the Renault Scenic, but if you find an A-Class just too small, this could be the car for you.
Interested in a new Mercedes-Benz B-Class? Find local prices, today!