Introduction
Like most manufacturers these days, Mercedes is gearing up a huge EV offensive over the next few years, with electric versions of the GLA and S-Class all in the pipeline. 
But the latest battery-powered Mercedes model to be launched – wearing the brand's 'EQ' nameplate – is the EQV. It's essentially the electric version of the brand's large V-Class MPV, though doesn't shout about its EV credentials as it looks remarkably similar to the standard diesel model. 
The few giveaways include a redesigned grille featuring an even more prominent three-pointed star, along with new alloy wheels and plenty of those specific 'EQ' badges dotted around. But can the EQV do enough to make buyers consider making the switch to electric? Let's find out.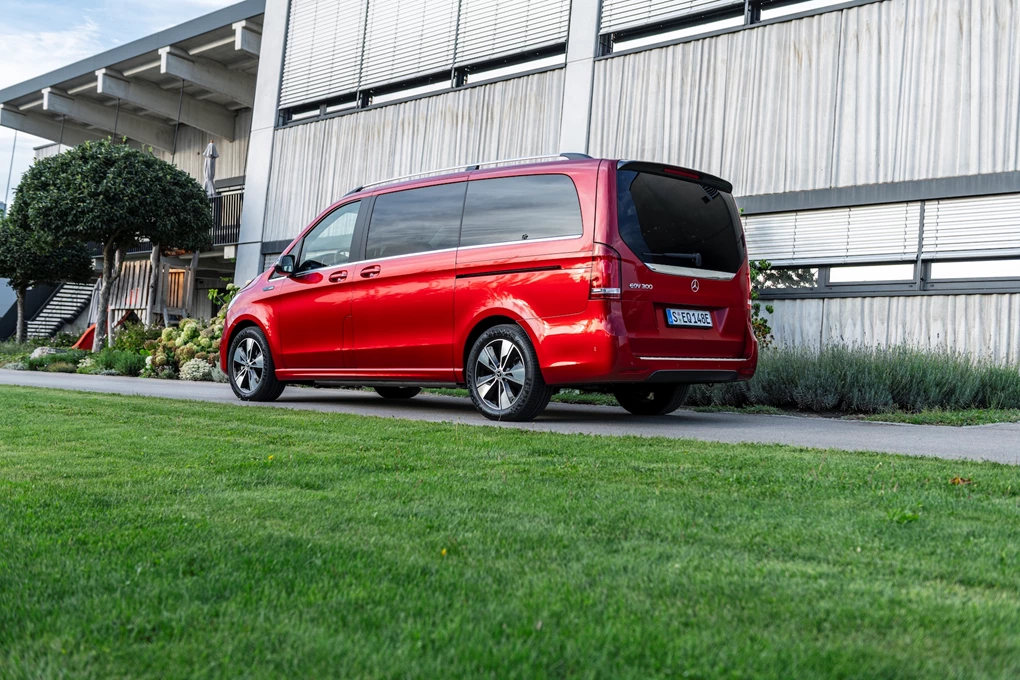 Performance
Underpinning the EQV is a 150kW motor that produces 201bhp and 366Nm of torque, which is mated to a large 90kWh battery.
In terms of performance figures, Mercedes claims the EQV can reach 60mph in just under 12 seconds and head on to a top speed of 99mph. 
That large battery is the key thing here, as it allows for a claimed 213-mile electric range, which is one of the longest of any car in this class. The ability to charge at a rate up to 110kW also means the battery can be charged from flat to 80 per cent in 45 minutes; while using a home wallbox, you can expect the battery to charge in around 10 hours.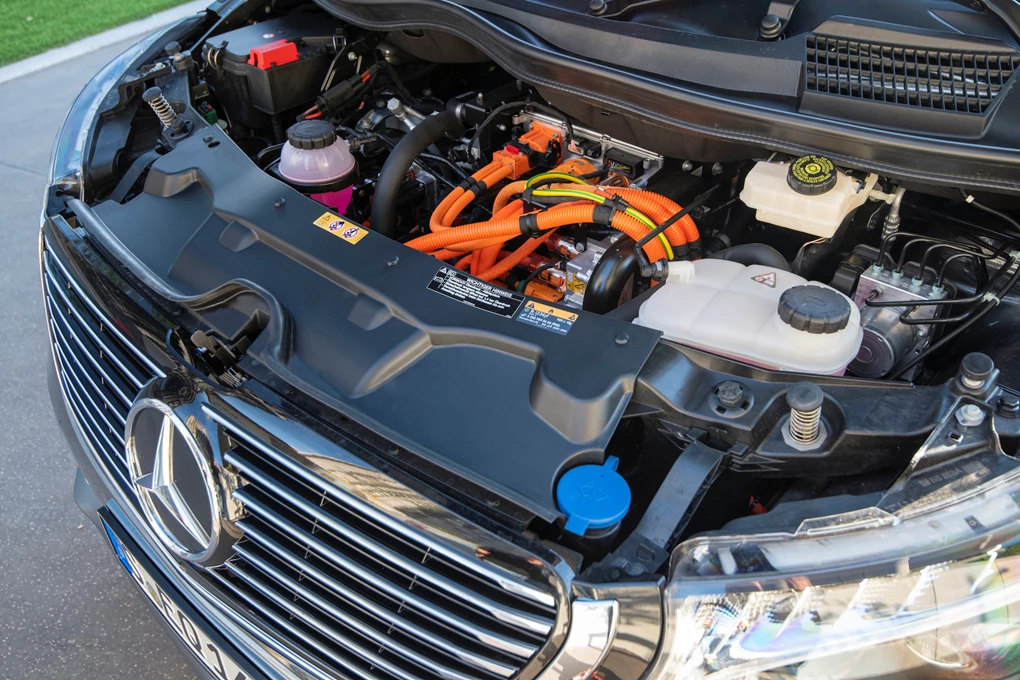 Ride and handling
With many V-Class models being used around the city or as a shuttle to and from airports, it makes a lot of sense for it to be an EV. 
Refinement and comfort are undoubtedly the main considerations behind the wheel for a car of this type, and the EQV doesn't disappoint on either front. 
When it comes to weight, the EQV is a significant 458kg heavier than the standard V-Class, though it does a decent job of hiding that heft, with corners being the only giveaway of its additional weight. Used sensibly, though, it remains a very competent cruiser that's a very comfortable way to travel.
Interior and equipment
Spaciousness is paramount on a model like the EQV and it doesn't disappoint. 
As the batteries are located beneath the cabin floor, there's no intrusion in overall space and it remains just as practical as the standard diesel-powered V-Class. With sliding rear doors, access is very easy, while it can seat seven adults in a 2:3:2 layout. Headroom and legroom are excellent throughout. The quality is also top-notch, with the EQC having a far more premium feel than just about all of its rivals. 
In terms of equipment, the EQV is available in three grades – Sport, Sport Premium and Sport Premium Plus.
Entry-level models come with 17-inch alloy wheels, LED headlights, electric sliding doors, a 10.25-inch touchscreen and a range of safety tech, including blind spot monitoring, autonomous emergency braking and traffic sign recognition. 
Sport Premium adds upgraded LED lighting, a chrome styling kit, along with a useful 360-degree camera, Apple CarPlay and Android Auto, a fold-out rear table and electric front seats. At the top of the range, the AMG Premium Plus comes equipped with air suspension, 18-inch alloy wheels and a Burmester sound system.
Cost
Electrification isn't cheap and with the EQV's large battery and long list of standard kit, this Mercedes has a rather steep price to say the least. 
Models start from £70,665 and rise through to £77,145 for the flagship Sport Premium Plus model. On the plus side, running costs will be very affordable, with the EQV exempt from road tax and any congestion charges – ideal if you regularly have to drive through a city centre.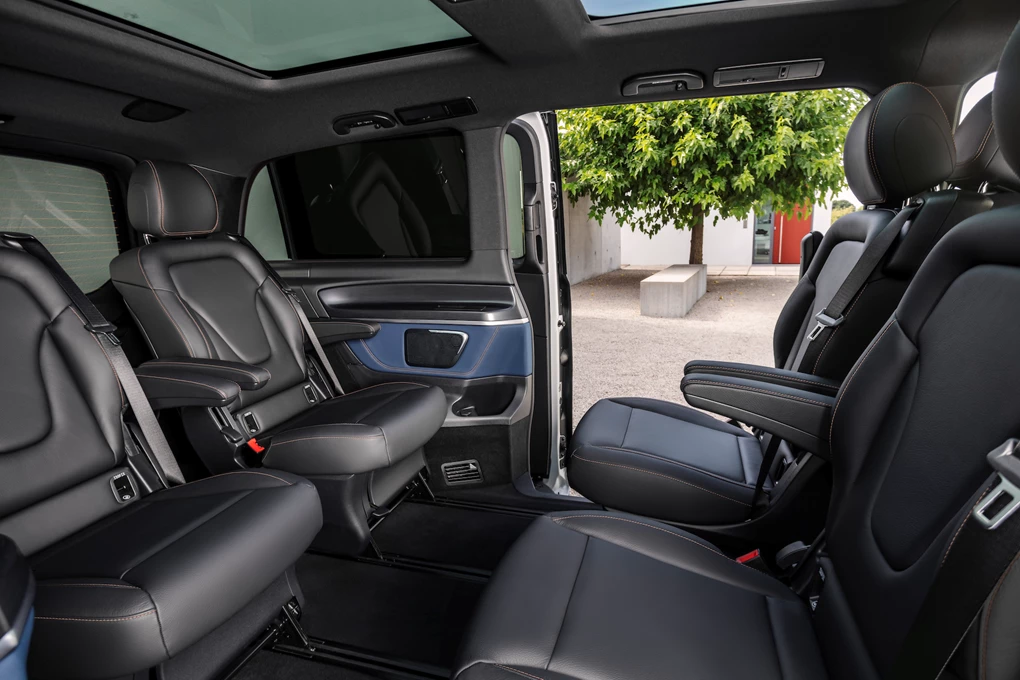 Verdict
The EQV is a model right at the forefront of Mercedes' electric car plans, with this MPV really helping to normalise the look and feel of battery-powered models. 
While expensive to buy, it's a very appealing prospect for those looking for a large premium people carrier, not least due to its well-integrated powertrain and credible electric range.
Enquire on a new Mercedes EQV