Strictly speaking, the MINI Countryman has always been an SUV but given that MINI occupies such a unique space in the market it's never quite felt like one. To most people, it isn't an SUV, it's just "the big MINI".
Or at least that's the way it was. For 2017, the Countryman has grown up a bit, both literally and figuratively. It's now based on the same platform as the BMW X1 and has increased in dimensions accordingly.
And, even though MINI's unique style and heritage means that people who want a MINI generally know they want a MINI - and a MINI only - now for the first time the Countryman competes proper with crossovers and SUVs like the Range Rover Evoque, Ford Kuga, Kia Sportage and Mazda CX-5.
It's still very much a MINI though, from the way it looks to the Cooper name badge. Want that classic MINI fun but with a bit of extra sensibility for good measure? The Cooper SD might be for you.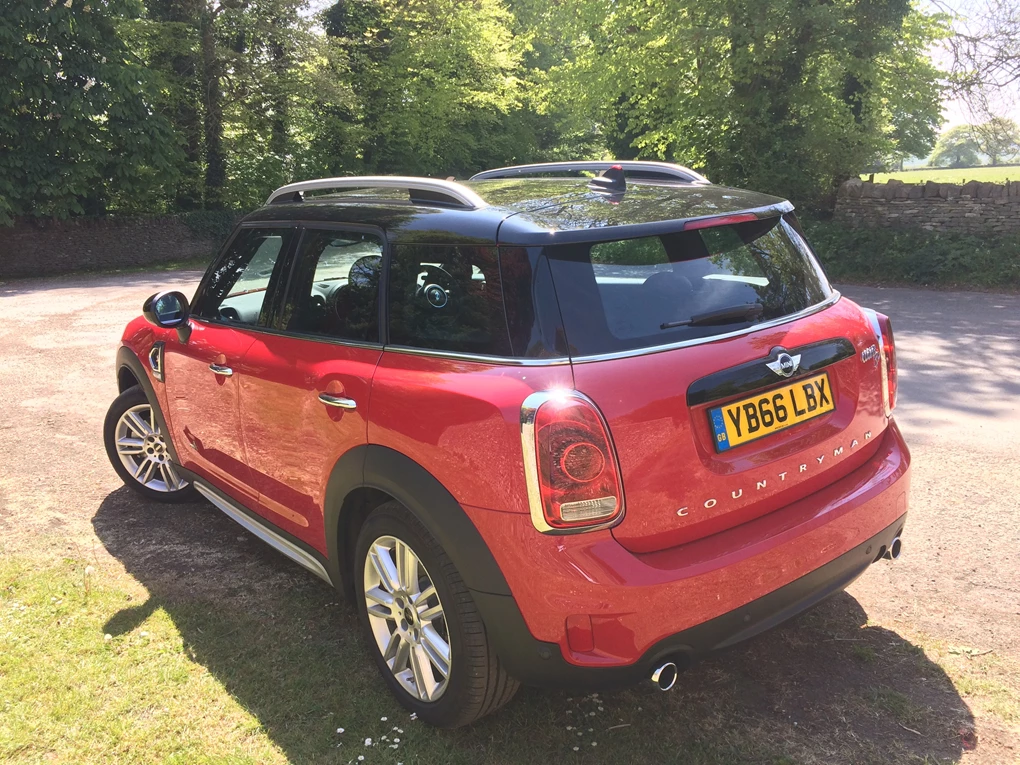 Performance
The Cooper SD model comes with a 188bhp turbocharged diesel engine, which is linked to a six-speed manual gearbox as standard though most buyers will likely opt to spend a little extra for the eight-speed automatic.
It's the fastest diesel Countryman you can have, with the ALL4 four-wheel drive model able to dispatch the 0-62mph sprint in just 7.4 seconds, which is only 0.2 seconds slower than the equivalent petrol Cooper S.
As an all-rounder the SD is a good option; it accelerates smoothly and has plenty of pulling power from low down in the rev range, meaning that getting up to speed on motorway sliproads and speedy overtakes alike are no problem.
Refinement is often a problem with diesel engines and it's true that the one in the Cooper SD can get a little rattly when you're thrashing it hard, but otherwise it settles down nicely and is refined enough, particularly cruising on the motorways.
With 400Nm of torque and four-wheel drive the SD ALL4 would also make an ideal towing car, however it's worth mentioning that the Cooper D is slightly less powerful and slightly less quick, but just as torquey, cheaper to buy and more efficient to boot. In other words, if you don't need the extra speed, the regular Cooper D might suit you just as well.
Ride and Handling
It's not as eminently chuckable as the smaller hatches, but feedback-rich steering inspires confidence and for what it is it's extremely enjoyable.
Typically, SUVs and larger crossovers aren't the liveliest cars to drive. The reason for this is fairly simple; with something that big and tall, the laws of physics dictate that there's only so much you can do with it dynamically, but the MINI Countryman is easily one of the best small SUVs out there to drive, if not the best. It might be the biggest car ever to wear the MINI badge, but it's impressive to drive and feels much smaller once you're on the road. Compared to the rest of the range, it's a little odd at first to be sat up so high, but it's every bit as nimble as you'd expect from a MINI and once you're up to speed it's a brilliant laugh. Of course, it is considerably heavier and taller than the MINI Hatch, so naturally it does lean more in the corners and it's therefore not as eminently chuckable as the smaller hatches, but feedback-rich steering inspires confidence and makes it easy to control, so for what it is it's extremely enjoyable. Drivers can select from three different driving modes: Green, Mid and Sport. Sport mode can sometimes feel a little too hardcore; it makes the standard MINI Cooper range really come alive, but for the Countryman it feels a bit like overkill. Mid or Green are the ones to stick with then, but even in standard mode the car's suspension is on the stiff side. That adds to the sense of agility, though some drivers might find it a little firm or jittery over craggy surfaces or speedbumps. As well as that, the large and boxy body shape means that the Countryman suffers from a bit more wind noise than the rest of the MINI range, but overall it's nicely refined. All Countryman models come with the option of ALL4 four-wheel drive, and although it's not intended for serious mud-crawling in the way a Skoda Yeti or Jeep Renegade would be, it's fairly capable when the going gets tough. We've tested the Countryman on roads, over rocky and muddy crags, in the wet and on sandy beaches and it's demonstrated the capability to tackle it all with relative ease, which should give buyers that extra peace of mind and will also come in handy if you regularly tow trailers or carry roof boxes. You can have the Countryman with either a standard six-speed manual or an eight-speed automatic. The manual works well, with a slick and quick action and makes the car feel a little more involved, though if we were to spec a car ourselves we'd likely go for the auto, which makes the far just that bit more liveable day-to-day and which will likely appeal to the majority of UK buyers.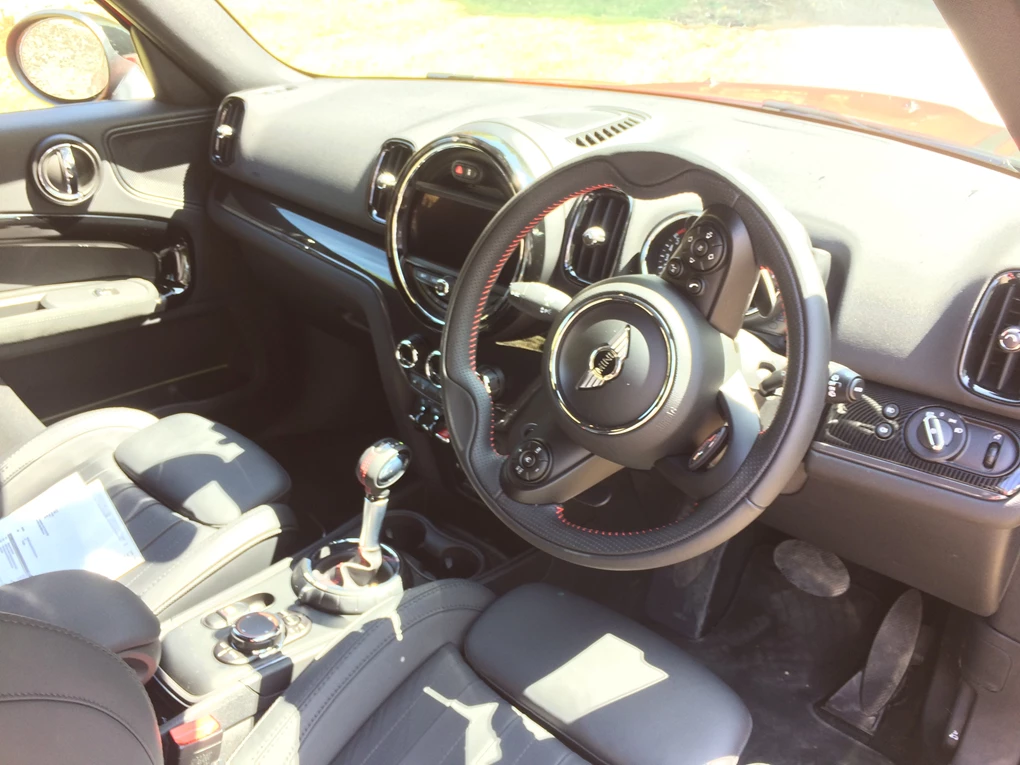 Interior and Equipment
The original Mini, which went on sale all the way back in 1959, could be bought for just £497!
It used to be that if you wanted a practical car, a MINI would be the last thing on your mind, but these days that's not so much of a concern given new models like the five-door Hatch, the Clubman and, of course, the updated Countryman. Those larger dimensions pay dividends in terms of all-round practicality, with a very tall roof that gives loads of space both in the front and in the back. The wheelbase has been extended by approximately three inches, so there's more legroom too while the rear bench can be adjusted back and forth to prioritise passenger space or boot capacity. There's good visibility too courtesy of a seating position that's high enough so you can see out, but not so bad that you feel perched up metres above the road. The interior has been subtly revamped with some more high-quality materials, but it's still very MINI with the large circular dials and toggle switches buyers have come to expect. There's also now more equipment as standard, including the likes of integrated sat-nav, Bluetooth connectivity, DAB radio and 16-inch alloy wheels. As well as that, the boot is larger with 450 litres with the rear seats up, and a maximum capacity of 1,390 litres with the seats folded down. The boot aperture is wide and the loading surface wide, which makes sliding in large and heavy items a breeze.
Cost
MINI says that the Cooper SD ALL4 can return up to 57.6mpg on the combined cycle, with 111g/km of CO2
The new MINI Countryman starts from £22,465 for the entry-level Cooper, while the Cooper D starts from £24,425. ALL4 costs roughly £1,600 more than that, while the range-topping Cooper S and Cooper SD start from £24,710 and £27,965 respectively. MINI says that the Cooper SD ALL4 can return up to 57.6mpg on the combined cycle, with 111g/km of CO2. It's worth noting that selecting the automatic gearbox option will see emissions rise to 129g/km of CO2, and although the SD ALL4 is probably the best all-rounder in the range, there are more efficient options, notably the regular Cooper D and the new Cooper S E plug-in hybrid.
Our Verdict
The previous Countryman occupied the unenviable position of being not MINI enough for MINI fans, but not quite at the point where it would be considered a genuine rival to SUVs proper. This second-gen version is much bigger than its predecessor, but it's also a considerable improvement in just about every area. Fear not, as although the sight of a Countryman would no doubt have Sir Alec Issigonis spinning in his grave, that classic MINI character is still there. For the right blend of performance and practicality the Cooper SD is a fine choice, but we reckon everyday buyers would be just as happy with the standard Cooper D too.