Introduction
Since being revived by BMW, the 'new' MINI brand has relished on its heritage – and the John Cooper Works Clubman is a fine example of this.
The original Clubman was an estate-like model with compact dimensions and rear doors opening like a van, and MINI successfully reinvented that model in the '00s. John Cooper Works is another hark back to the past, with MINI naming its performance division after a legendary racing driver known for tuning these models.
Combine these two and you have an intriguing proposition to rival the usual like of hot hatches – think the circa 300bhp Volkswagen Golf R, Mercedes-AMG A35.
300bhp in a MINI? Yes, that's right – the JCW (as we'll call it from now) – received a hefty boost of power, which makes this the most powerful road-going MINI ever, along with its larger Countryman sibling. A more raucous exhaust system, a stiffer chassis and a new eight-speed automatic gearbox also aim to help deliver the thrills.
The JCW also benefits from a raft of changes received by the standard Clubman – most notably new lights and an improved infotainment system.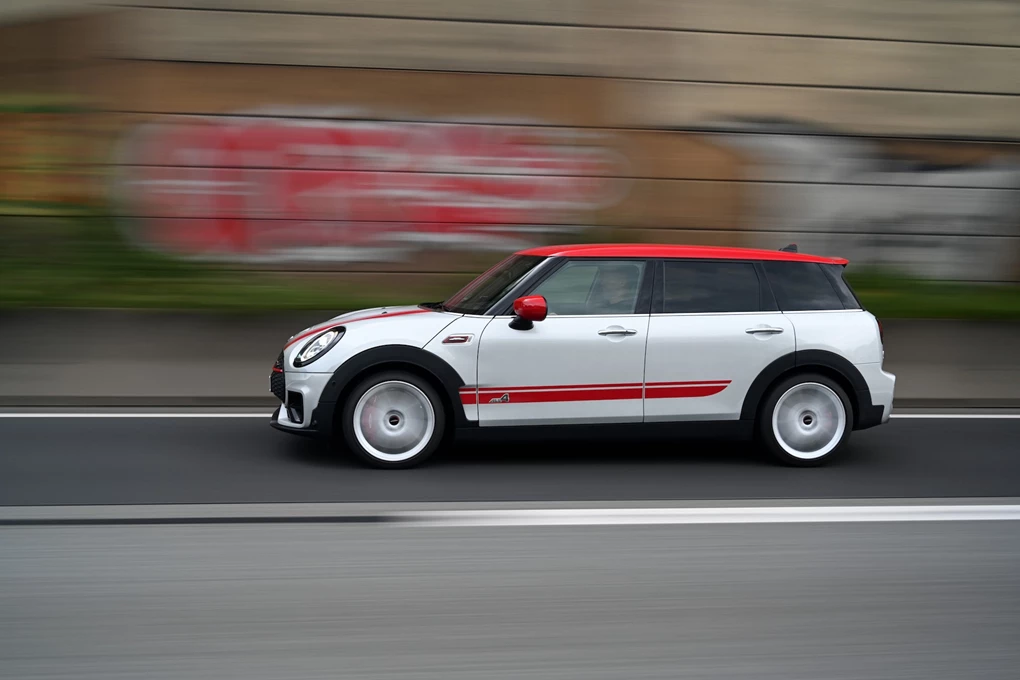 Performance
The JCW Clubman's engine is something that's not particularly new – this 2.0-litre turbocharged petrol engine is similar to that in the normal Cooper S and also the new BMW M135i. That said, MINI engineers have been hard at work to transform this into a hugely powerful hot hatch.
It kicks out 302bhp and 450Nm of torque, which is around 75bhp and 100Nm more than before. It certainly helps to cut down the 0-60mph time, which now measures an astonishing 4.7 seconds, along with an electronically-limited top speed of 155mph.
This healthy gain of power moves it from being a Volkswagen Golf GTI rival to more of a Golf R competitor, with the results being achieved from a new crankshaft, uprated components and a larger turbocharger.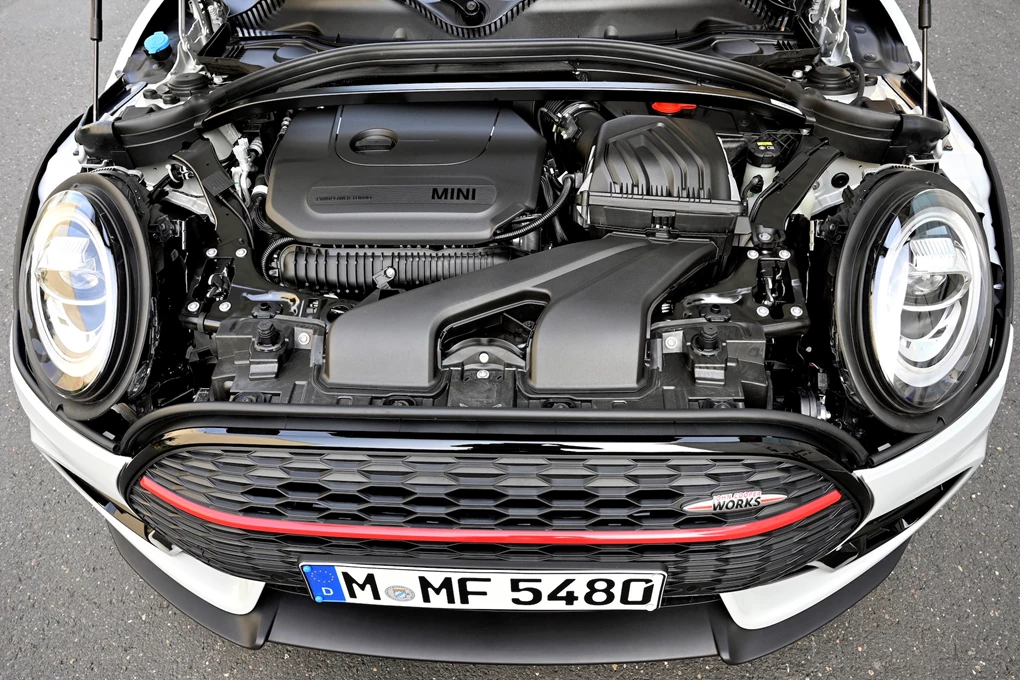 Ride and handling
The highlight of this facelift is undoubtedly the engine – not least for its headline-grabbing 'most powerful MINI ever' status. It certainly feels quicker than before, although the eight-speed automatic gearbox can feel a bit lazy in manual mode. It's accompanied by a thrilling four-cylinder soundtrack, though.
But unlike rivals, this Clubman is better when driven smoothly, with this model feeling quite heavy – particularly when braking. It remains remarkably composed through the corners, but perhaps lacks that 'go-kart feel' that fast MINIs have been known for in the past.
We also recommend opting for the optional £700 adaptive suspension, which just helps to take edge off the standard car's slightly firm ride.
See Available Clubman deals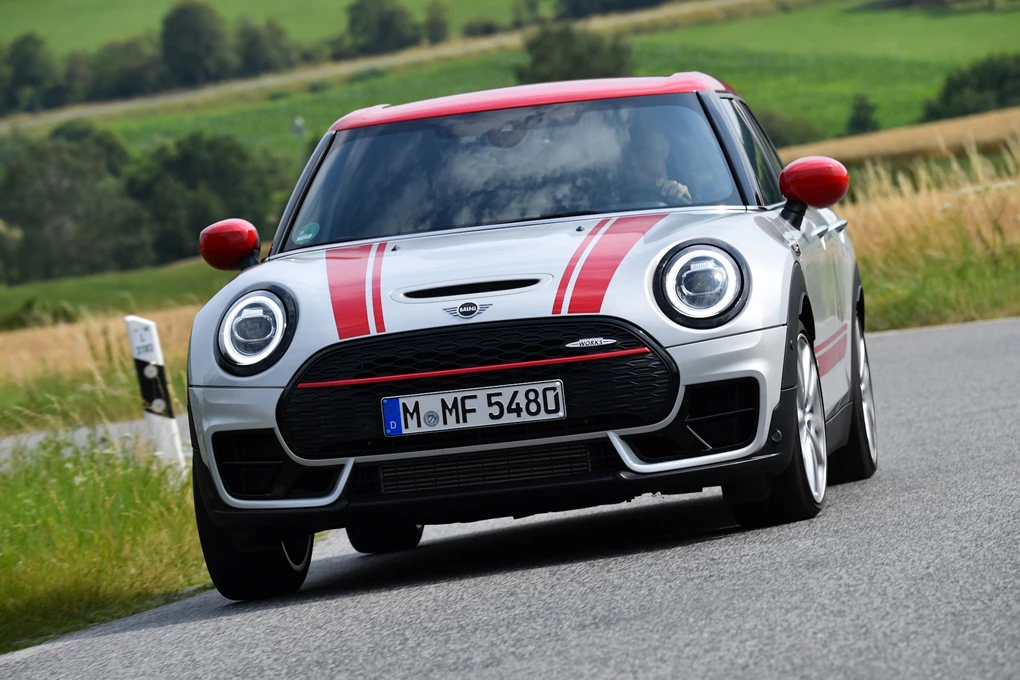 Interior and equipment
MINI has its interiors nailed, and despite not being technically as upmarket as BMW counterparts, this Clubman's interior feels delightfully upmarket. Highlights include the excellent dashboard materials and aeroplane-like cockpit buttons – one of the MINI's quirks.
The new touchscreen is also improved and is simple and easy to use. It's housed in what was once the circular speedo, but it has been successfully reinvented for modern use. As with all MINIs, this Clubman is hugely appealing both inside and outside thanks to its quirkiness and ability to differentiate it from just about every other car on sale.
Standard equipment is plentiful, with the JCW coming with 18-inch alloy wheels, a John Cooper Works bodykit, performance brakes and a sports exhaust. The interior is equally well-specced, thanks to leather sports seats, a 6.5-inch touchscreen and front and rear parking sensors.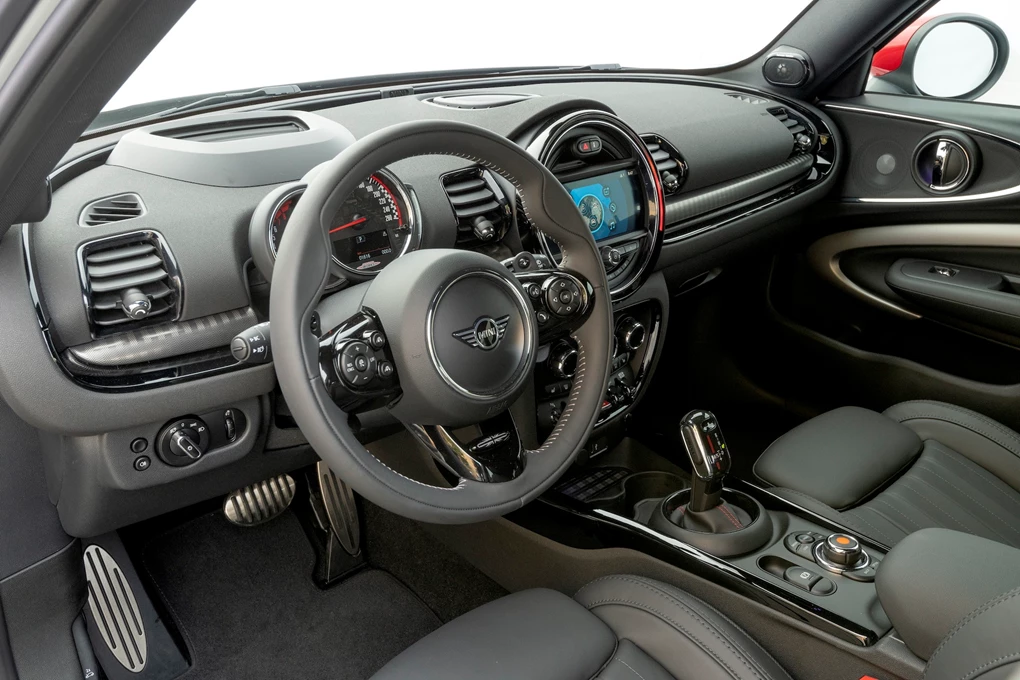 Cost
You have to really love the JCW's uprated engine to justify its price tag. Next to rivals from Mercedes-Benz and Volkswagen, it looks competitive, but compare it with the £23,900 Cooper S and this extra-hot version looks a bit excessive at £34,250.
That said, the extra standard equipment, sporty styling and performance tweaks can help to justify its price. Fuel economy figures up to 40mpg and CO2 emissions as low as 161g/km are also respectable for something with this level of performance.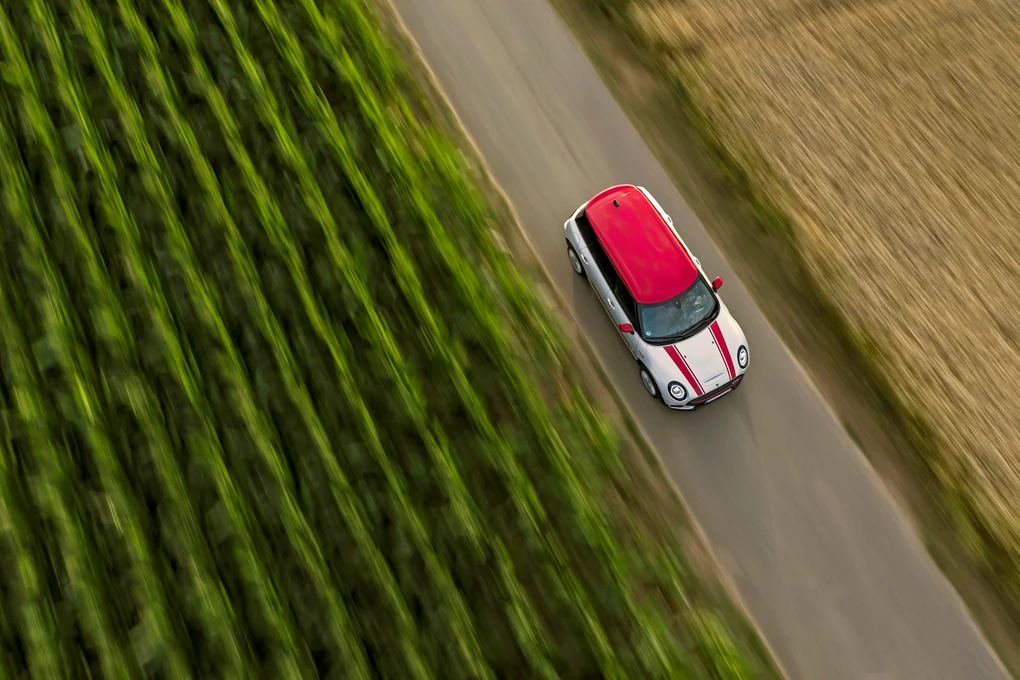 Verdict
The MINI JCW Clubman is a rather unusual choice in the hot hatch world, but one that's really quite compelling for its ability to stand out from the crowd. The interior and quirky styling will also be draws for customers.
Its new 302bhp engine puts the JCW in unchartered territory, and even if it never feels quite as fast as the performance figures suggest, it will be more than enough performance for most drivers.