Introduction
With the e-NV200 proving to be a great option in the commercial vehicle market, it could be argued that the Combi version could do just the same in the MPV segment.
Capable of up to 187 miles on a single charge depending on the battery pack you choose, the e-NV200 Combi can also seat up to seven people – all while emitting no harmful chemicals whatsoever.
For large families living in town and cities, this car could be a great option as it will also be kinder to other road users and could be a great introduction into electric driving.
But what is it like to drive and how practical is it? We find out…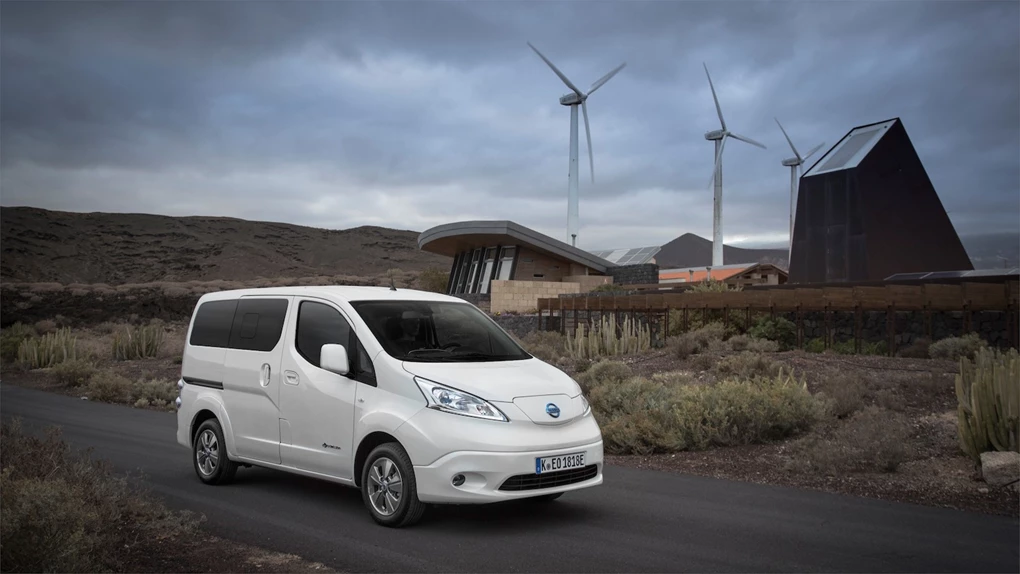 Performance
Using a 40 kWh battery paired to a 107bhp electric motor that drives the front wheels, the e-NV200 isn't the fastest vehicle around – as it can go from 0-60mph in 14 seconds and only reaches a top speed of 76mph. That doesn't sound particularly impressive, but as this MPV is best-suited to urban driving, the instant delivery of the 254Nm torque is more than strong enough for getting the van up to speed on urban streets.
The 40 kWh power pack provides a large improvement over the previous battery used, as the last option only had 106 miles of range. This latest version has up to 187 miles in Eco driving mode, with a standard cycle likely to yield 124 miles of driving.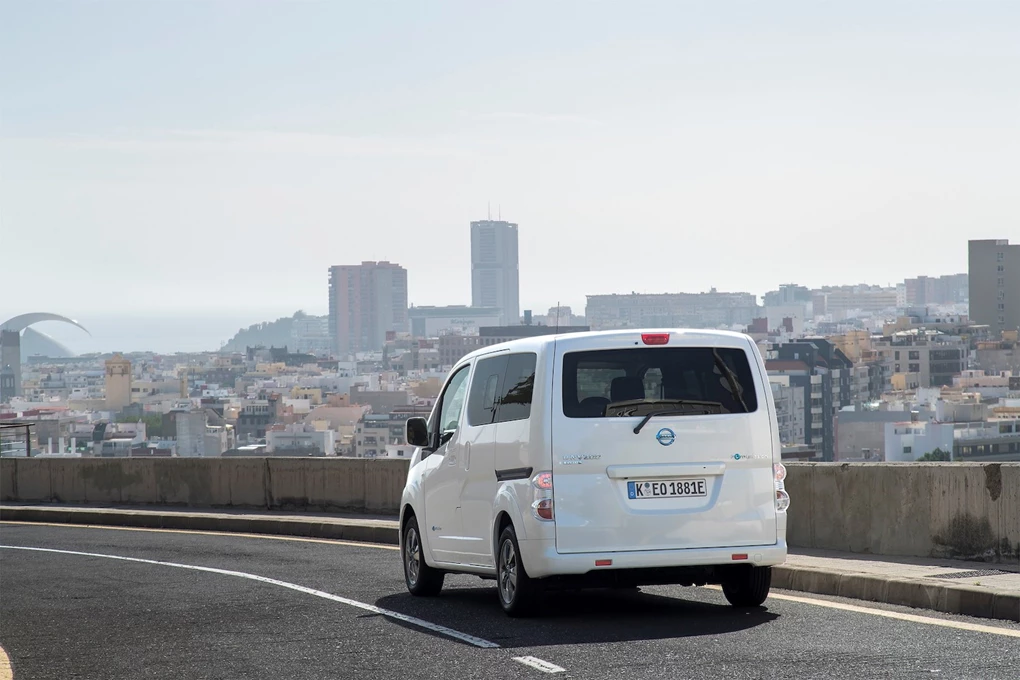 Ride & Handling
There's no hiding the e-NV200's van origins, so the high sides will mean you incur some body roll when going through the corners, and due to the battery being mounted low down, handling isn't the MPV's strong suit. That's not to say it's bad, but just don't expect it to feel particularly stable if you vigorously throw it into a corner.
The ride, however, is quite supple and soaks up a lot of the bumps along the way. Higher speeds can make the van feel quite bouncy if you encounter a rut in the road, but as urban driving is where the model will likely preside there's no need to worry about that.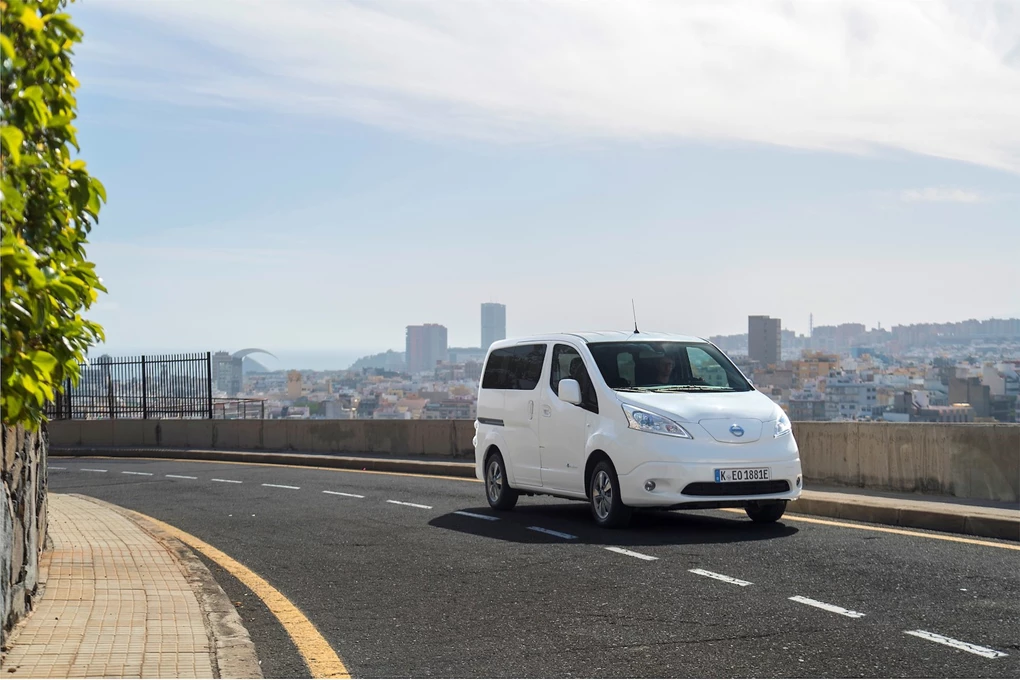 Interior & Equipment
Depending on which seating layout you choose, the e-NV200 can have up to 3,100 litres of load space behind the front seats, which is frankly excellent for a family vehicle. But in the normal five-seat configuration, customers get up to 1,900 litres behind the seats – while the seven-seat has 870 litres of boot space when all the chairs are in place. With the chairs folded flat, the seven-seat option has 2,940 litres – which is more than enough room for most.
Nissan offers the e-NV200 in three trim levels – Visia, Acenta and Evalia – and the standard level of equipment offers all the essentials. Visia models come with daytime running lights, a multifunction steering wheel, keyless start, Bluetooth for the CD/radio system, Aux and USB connectivity and all the necessary charging equipment.
On the Acenta version, the e-NV200 comes with rapid charging function, sliding side window, cruise control, speed limiter, automatic climate control and a rear-view camera – while the top Evalia spec adds body-coloured bumpers, privacy glass, LED headlights, 15-inch alloys, satellite navigation and a digital radio.
See Available e-NV200 deals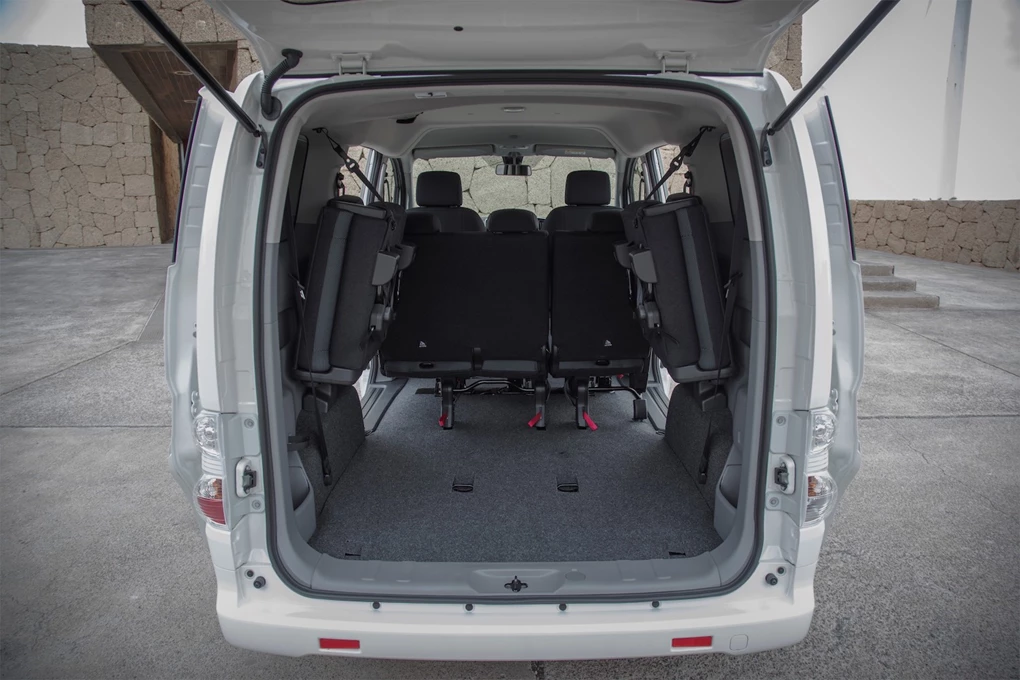 Cost
Following the government's plug-in vehicle grant, pricing for the e-NV200 Combi starts from £27,999, which gets you the five-seat option in Visia specification.
Depending on which method of charging you choose, the e-NV200 can be charged from 20 per cent to 80 per cent full in under 60 minutes – while using a wallbox can replenish the battery in seven and a half hours. Using a domestic socket will take 21 and a half hours, so we'd recommend getting a wallbox if you can.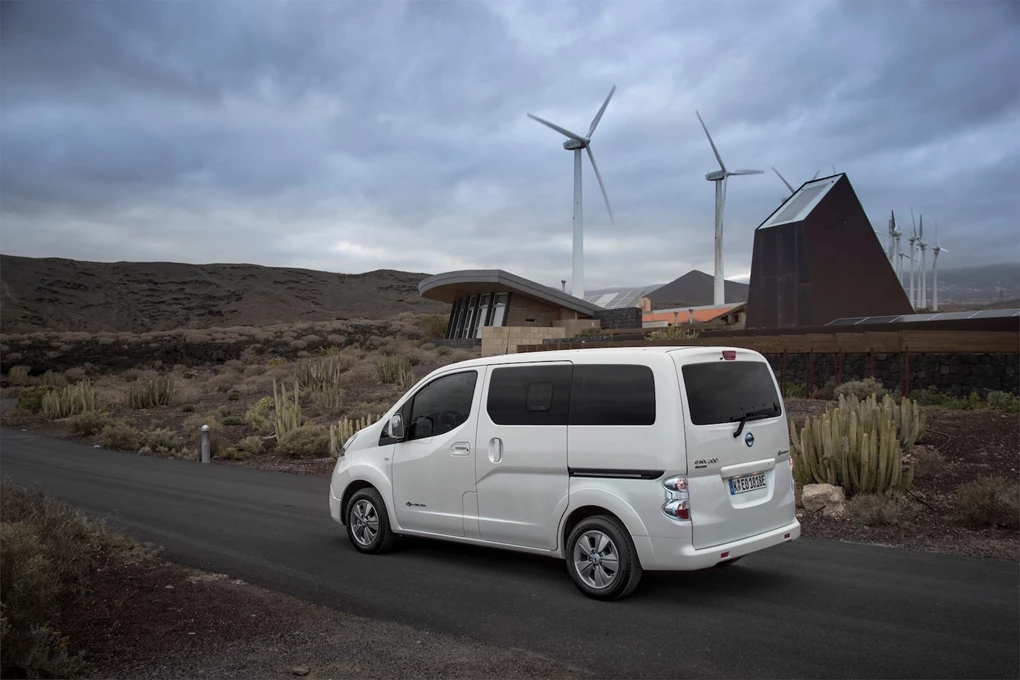 Verdict
If you're after an ecological and spacious vehicle, the e-NV200 could be the option for you. If you go for the five-seat option, you have loads of space behind the seats as well as plenty of room for passengers – while the seven-seater is a great urban people carrier. It may not be the most invigorating to drive, but the e-NV200 is built for the city and can be an excellent alternative to a fuel-burning MPV. With a good range as well, you should definitely consider this if going on long distances regularly isn't what you do.