Introduction
When it comes to domination of a market, Nissan has the European EV segment near enough completely covered with the Leaf. Now in its second generation, it's the top-selling battery-powered car across the continent — with 130,000 sold since its 2010 inception.
It's no struggle to see why, either. The model has consistently managed to make the seemingly-alien concept of driving an EV normal, which has resonated with buyers to no end. That said, Nissan isn't resting on this success and is having a crack at making range anxiety a thing of the past with this — the Leaf e+.
What's new, then? Well, a fresh 62kWh battery in place of the regular car's 40kWh unit,
Increasing the car's claimed range. Nissan says it can do 239 miles between charges — a notable leap from the base machine's 168-mile claim. Performance is up as a result too, speaking of which…
Performance
So yeah, with a bigger battery comes bigger power — 214bhp and 340Nm to be exact. With the standard car kicking out 148bhp and 320Nm, it's a noticeable leap too.
Nissan says it will do 0-60mph in 6.7 seconds, but with instant torque delivery it feels much quicker than this. A 98mph top speed is also possible. This bump in power just makes living with the Leaf that bit easier, with merging on motorways and pulling out of junctions a real breeze.
When it comes to its range, 239 miles may be a bit optimistic — though 200-210 should be achievable with very little effort.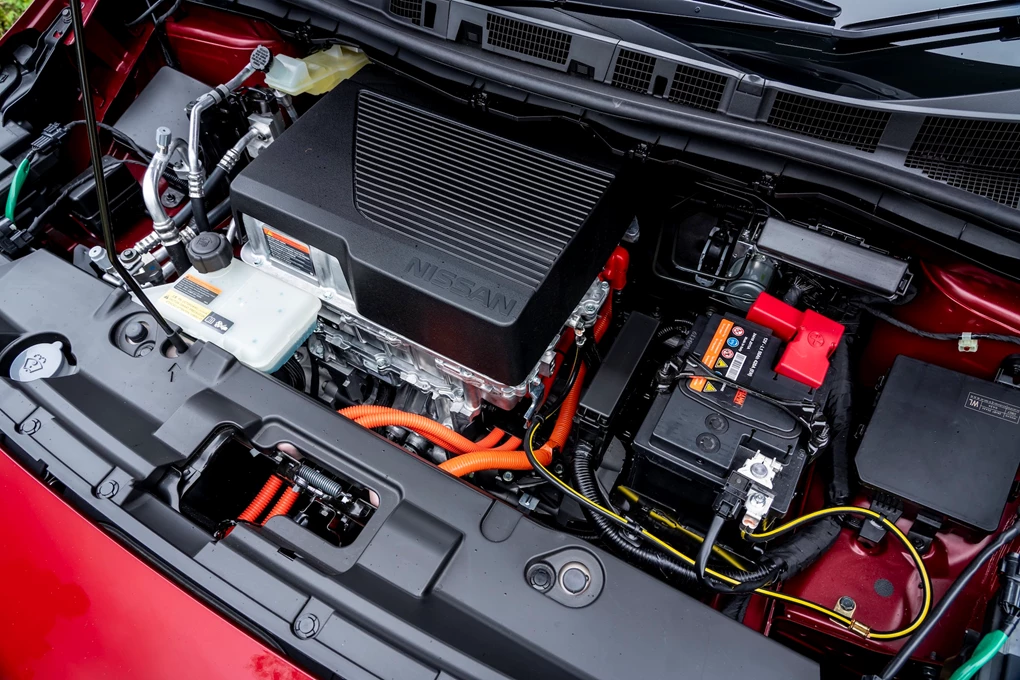 Ride & Handling
The overall driving experience of the Leaf e+ isn't dramatically different from that of the standard car. Navigating busy town streets is just as easy thanks to well-judged steering and decent visibility — if anything it's even easier thanks to that extra bit of power.
It's very much a similar story on the motorway, too. Road noise is fairly low — if more noticeable than internal combustion cars as a result of its near-silent electric motor — while the ride remains fairly comfortable too. The 'e-pedal' tech — which allows both braking and acceleration to be controlled with one pedal — is fun to use once you get the hang of it, too.
The noticeable difference here is under harder driving, when the extra weight that comes with the larger batteries is apparent. The car's balance does feel compromised, with a hint more understeer than usual when pressing on.
See Available LEAF deals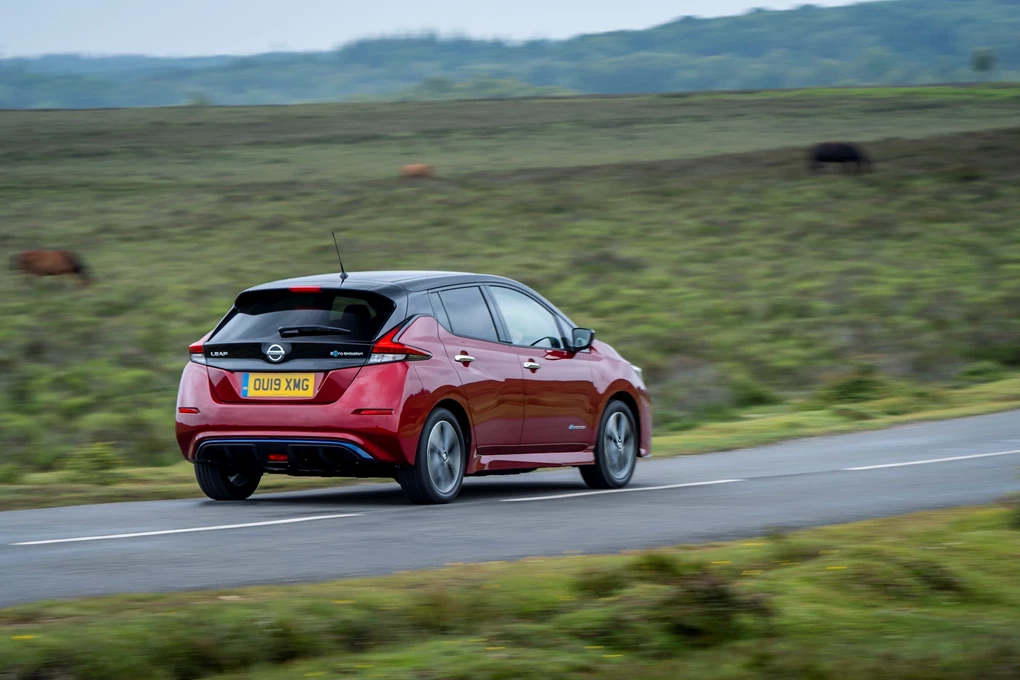 Interior & Equipment
There's nothing to indicate the e+ is a new addition in terms of the interior — with the regular car's cabin carried over in its entirety.
That's no bad thing, though. Everything feels well put together, with a reasonable amount of soft-touch materials deployed in the cabin. Search hard and you'll find scratchy plastics, but they're in areas drivers will rarely come into contact with.
The Leaf e+ can seat five in comfort and, despite the extra batteries, retains an impressive 405-litre boot capacity. That's more than a Ford Focus (375 litres) or Volkswagen Golf (380 litres).
Just one specification is available for the e+ — and that's range-topping Tekna grade. As standard, there's automatic full LED headlights, rain-sensing wipers, a seven-speaker Bose audio system, an eight-inch touchscreen infotainment system with Apple CarPlay and Android Auto support, 17-inch alloy wheels and a leather/suede combination interior upholstery.
On top of that, Nissan's ProPilot safety package is a standard-fit item. This brings adaptive cruise control, lane keep assistance, steering assist, self-parking and blind-spot monitoring. This all sounds great, but there's a price to pay…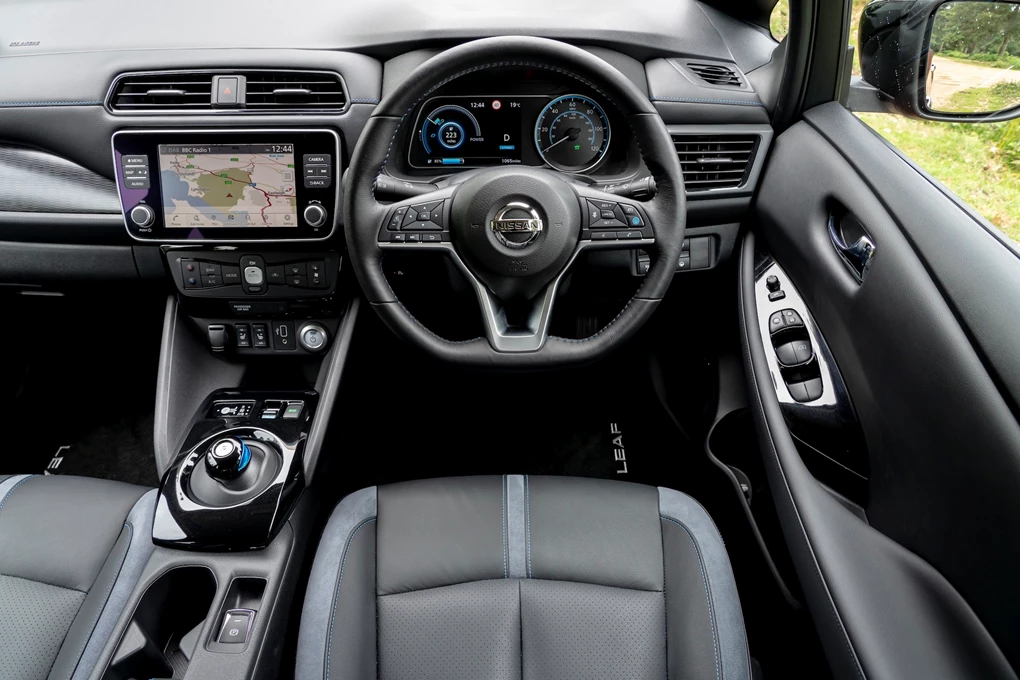 Cost
To be exact, that price starts at £35,895. That's notably more than the Hyundai Kona Electric and Kia e-Niro, which offer similar ranges and levels of kit. Adding to that, our test car weighed in at £36,820 as a result of its optional metallic paint and two-tone roof.
On the plus side, there's no VED to pay as a result of its zero-emissions status, while charging costs whatever your electricity provider decides the rates are that day.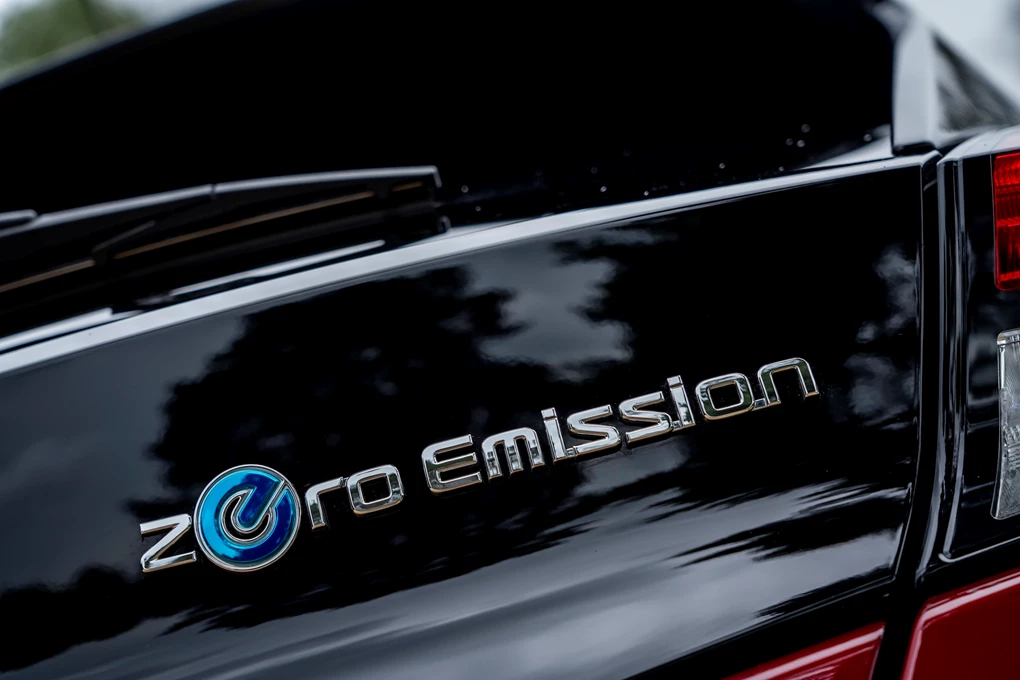 Verdict
Thanks to more range, more performance and high equipment levels, the Nissan Leaf e+ only enhances the appeal of EV ownership.
Its claimed range may be a stretch but at an achievable 200+ miles, it will suit the lifestyle of all but those who spend their lives on motorways while an experience that's familiar to most cars on the roads means it won't alienate those who aren't quite ready to embrace the futuristic take other manufacturers have on the EV concept.
That said, it's hard to look past the starting price considering rivals from South Korea offer just as much for a little bit less. On the plus side, an e+ can be yours a lot quicker than the e-Niro or
Kona Electric, both of which have order lists stretching into 2020, and that might just be enough to sell it.
Interested in a new Nissan Leaf? Find local prices, today!