Introduction
Choice is absolutely key in the Peugeot range at the moment, with the brand endeavouring to offer petrol, diesel, hybrid and electric models across much of its line-up.
It's already well on the way to achieving that, with the brand's latest 2008 being a key part of this, as alongside conventional petrol and diesel options, you can now have the electric e-2008. It joins the ever-growing line-up of battery-powered models, with key rivals including the Kia e-Niro and Hyundai Kona Electric.
Retaining the same swish styling as the standard car (aside from badging you'd be hard-pressed to spot the difference), a tech-laden interior and decent electric range, it promises plenty. But does it deliver? Let's get behind the wheel and find out.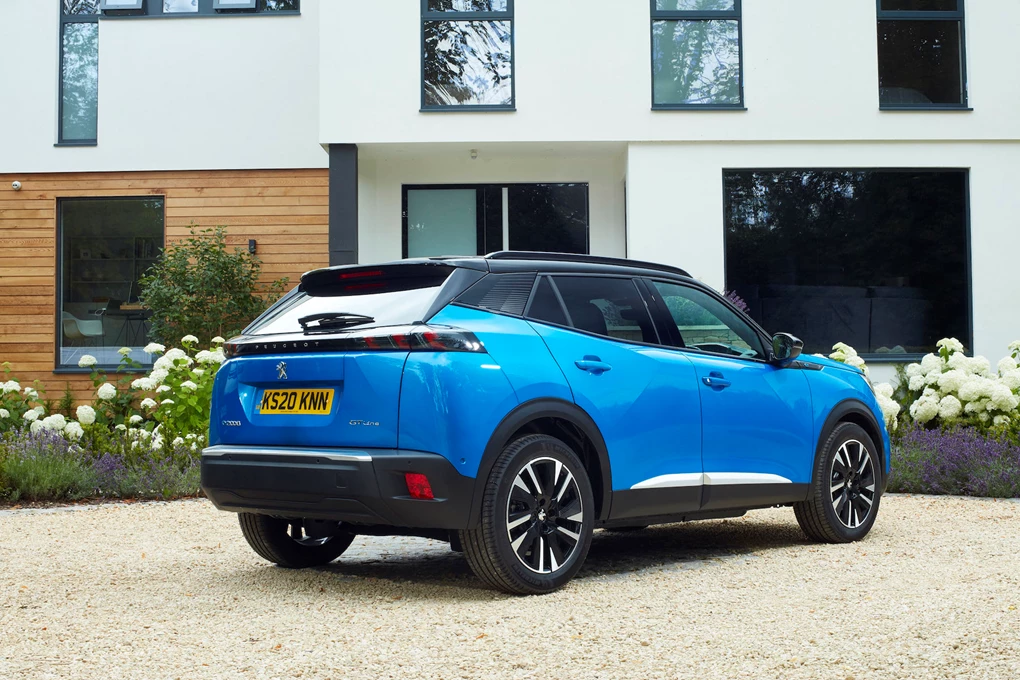 Performance
The e-2008's powertrain will be one that's familiar if you know anything about electric Vauxhalls, Citroens and DS models as its underpinnings are widely used in a range of products. 
Powered by an electric motor delivering 134bhp and 260Nm of torque, the e-2008 is able to reach 60mph in 8.8 seconds and hit a top speed of 93mph, though because of the way the power is delivered, it actually feels quicker than that figure suggests.
A 50kWh battery is also used, which Peugeot claims allows for an electric range of between 191 and 206 miles, depending on trim level and wheel size, for example. The range is closer to 150 miles in real-world driving, though, which lags behind that of rivals from Kia and Hyundai. It can also be charged (to 80 per cent) using a rapid charger in just 30 minutes when a 100kW charger is used. While if you plug in at home with a 7kW unit, you could expect the battery to charge in around seven hours.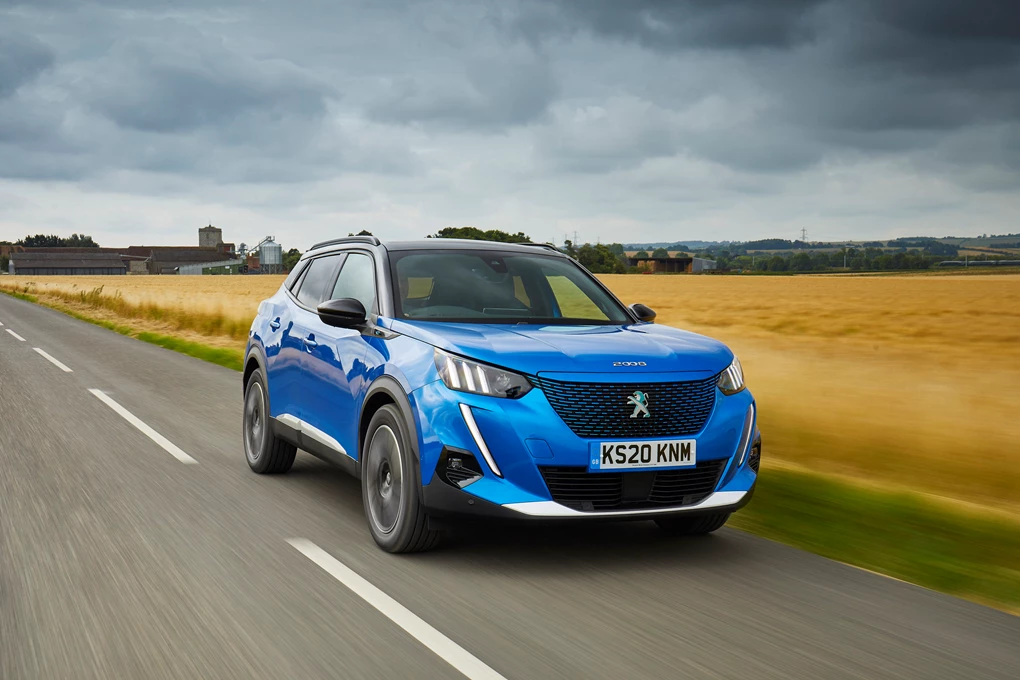 Ride and handling
The e-2008 is likely to be a first EV for those buying it, and it's very well judged in that respect. Though performance is brisk, it's not quite as rapid as some rivals, though certainly feels no worse for it. You'll also need to be in Sport mode if you want the maximum power, as other driving settings cap the power to maximise the range. 
Elsewhere, the e-2008 prioritises ease of driving, as it's impressively refined while also has a relatively soft suspension setup, even considering the additional weight over a petrol 2008. It doesn't handle quite so well as a rival like the Volkswagen ID.3, but in day-to-day driving it's a very useful and capable tool.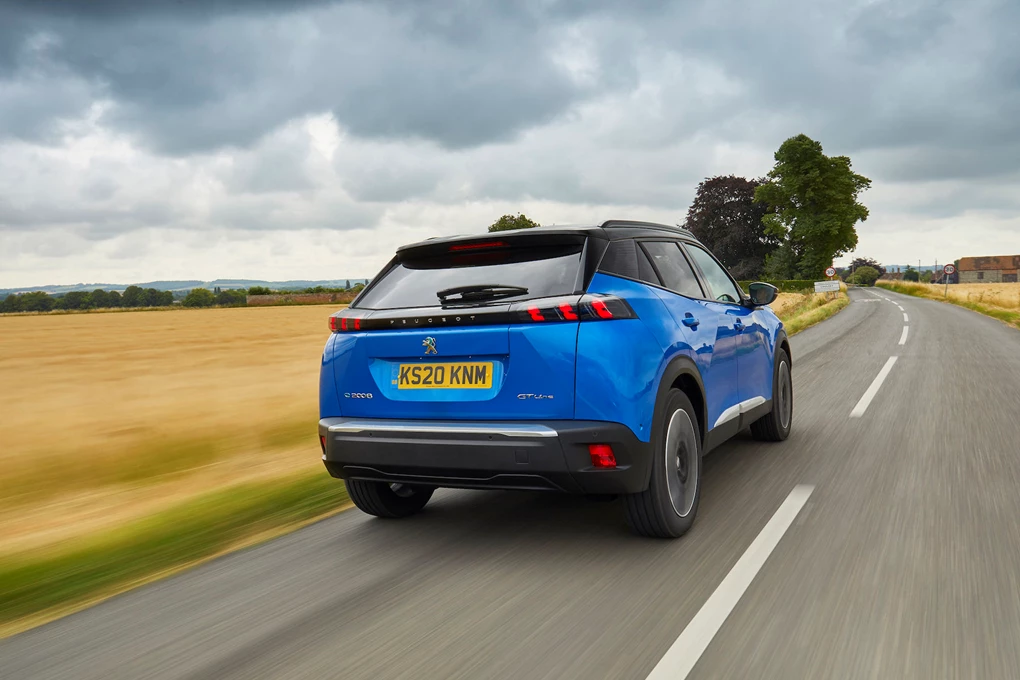 Interior and equipment
While the e-2008's exterior has an ability to turn heads, it's pleasing that Peugeot has made sure the cabin looks equally dramatic. It gets the same premium look and feel as the brand's far more expensive models, while details like the small steering wheel and head-up digital dials make it look like nothing else in this class. The downside is that some drivers will find the top of the steering wheel gets in the way of the dials, which isn't ideal. But you can't knock it for technology and quality generally. 
And while not class-leading when it comes to interior space, there's far more room than you get with a typical supermini, including Peugeot's own 208. The boot measures a respectable 434 litres and is no less spacious than a petrol-powered version of this crossover, while adults – providing they're not too tall – should be able to sit comfortably in the rear seats. 
In terms of trim levels, the e-2008 gets the same choice as the standard car, with five versions to pick from. 
We start with the Active Premium, which gets 16-inch alloy wheels, automatic climate control, electric folding mirrors and LED headlights to name just a few features. Step up to Allure to get 17-inch alloy wheels, a reversing camera and leather-effect upholstery, while Allure Premium gains the aforementioned 3D digital cockpit. 
GT then adds a sportier styling kit along with full LED headlights, a large 10-inch touchscreen, smartphone charging plate and heated front seats, with the flagship GT Premium gaining 18-inch diamond-cut alloy wheels, Alcantara upholstery, keyless entry and adaptive cruise control. 
Cost
In-line with other electric crossovers, the e-2008 brings a noticeable increase in price compared to a petrol model with similar power – around £6,500 to be precise, with models starting from £30,730 once the government's £2,500 grant has been deducted. 
Speaking of the grant, it's only available on the Active Premium, Allure and Allure Premium trims, as these are the only ones that have a list price of under £35,000, and therefore qualify for the grant. GT and GT Premium cars could be worth steering clear of, as with a price of £37,000 and £38,500, they are very pricey. 
Verdict
The Peugeot e-2008 is certainly a welcome addition to the electric crossover range – bringing style and premium interior to this segment, while it's pleasant to drive and roomy enough for most small family needs too. 
Though the range isn't hugely impressive, and top-spec versions are rather expensive, stick to a mid-spec model and you're left with a very appealing EV that should be very easy and affordable to live with. 
Enquire on a new Peugeot e-2008