Following the arrival of the new Megane hatchback earlier in 2016, the Sport Tourer estate version now has a new-generation model of its own.
Considerably more practical than its hatchback counterpart, the new Megane Sport Tourer has some radical design features, like the big C-shaped headlights for instance, which give it more of a chance of standing out next to similar-sized rivals. Speaking of which, they include the Ford Focus Estate, Vauxhall Astra Sports Tourer and SEAT Leon ST.
Utilising the same CMF platform as the Megane hatchback and the Renault Kadjar, the new Sport Tourer has engine and trims which are more sophisticated than what was offered with its predecessor. We were impressed when we tested the hatch, but does the new Megane estate impress too?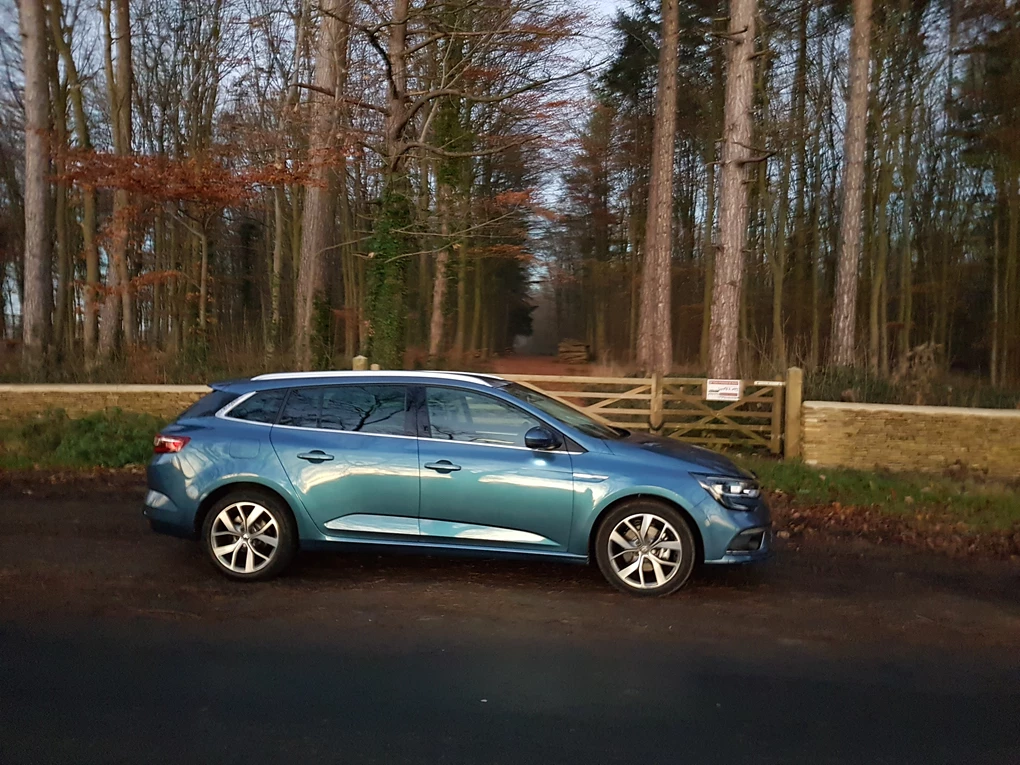 Performance
Engines for the Megane Sports Tourer include a 1.5-litre dCi diesel with 108bhp and a 128bhp 1.6-litre diesel plus a 1.2-litre TCe petrol with 128bhp. A 108bhp diesel-hybrid variant will join the line-up sometime in 2017.
While the 108bhp diesel is cheaper and will likely lead sales, we tested the Megane estate with its 128bhp diesel engine and it's a decent unit which, like its less powerful counterpart, offers appealing running costs.
With this diesel, the Megane estate records a 0-62mph sprint time of ten seconds and there's 320Nm of torque which arrives low in the car's rev range, something which helps the smoothness of the drive. A six-speed manual gearbox is standard and while it doesn't feel like it stands out next to rivals it deals with gear changes easily enough to keep the driving experience a relaxing one.
The 108bhp diesel is a decent engine overall, but having the extra perk from this 1.6-litre diesel is a nice feeling as it makes certain situations like uphill sections more of a doddle. Like other four-cylinder diesel engines, this one can sound raggedy when you push it but this is more of a nitpick really and it's not the noisiest diesel we've tried in a family car.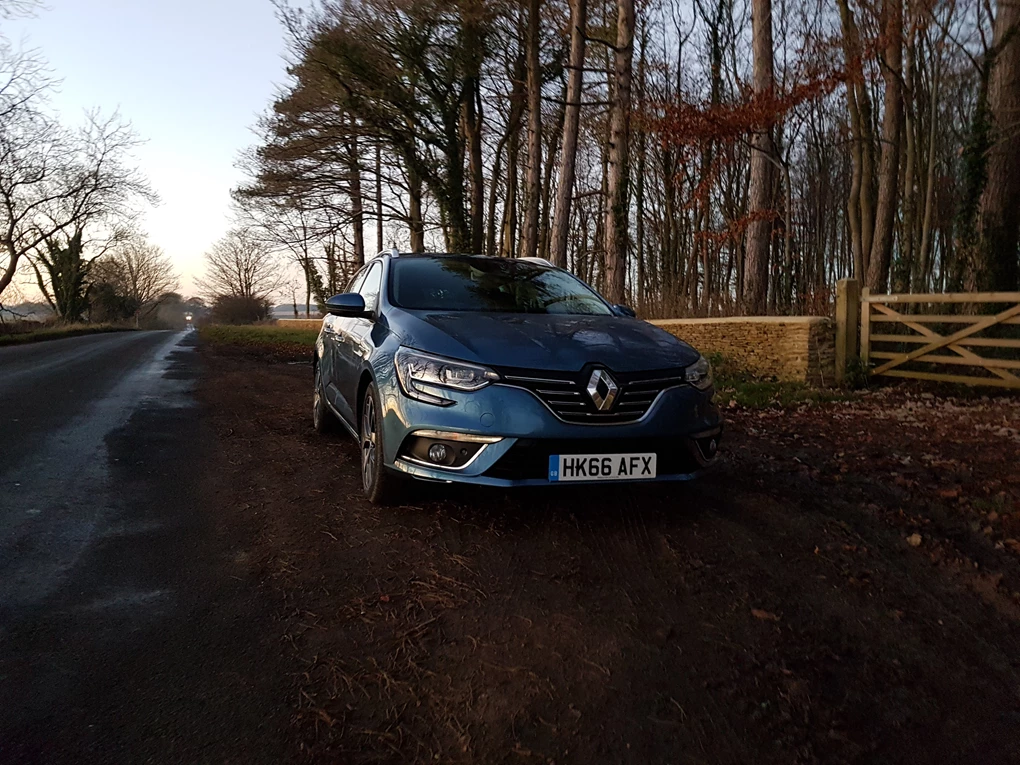 Ride and Handling
Grip levels from the Megane estate are high and there's good agility with hardly any body roll through the corners.
The latest Megane hatchback's drive does a decent job striking a balance between sporty and comfort-focused characteristics. Unsurprisingly, the Megane Sport Tourer tilts the balance a little further towards comfort, but that doesn't mean this isn't an engaging car to drive. Grip levels from the Megane estate are high and there's good agility with hardly any body roll through the corners. It also does a decent job of soaking up bumps and there's different driving modes you can choose to adjust the weight of the steering. The differences between the different driving modes are very subtle though, so you'll probably just stick to the normal setting. The steering is light, which will feel handy when you're negotiating tight corners within a city, but we would have liked a bit more feel and weight just to add that extra bit of confidence when driving on higher speed roads. Some rivals are slightly more engaging, but you do at least always have a good understanding of where the wheels are pointing and there is potential for some fun at least.
Interior and Equipment
The second-generation Renault Megane won the European Car of the Year award back in 2003.
Compared to its predecessor, the interior of the latest Megane Sports Tourer is a big step forward. The cabin has an overall less cluttered and plusher feel to it, although some scratchy plastics can be found in certain spots. What really catches the eye though is the nifty new 8.7-inch portrait touchscreen for the R-Link 2 multimedia system. This is a standard feature of the Megane estate from Dynamique S Nav trim upwards. Even the standard kit list for the Megane estate is pretty good, including DAB radio, Bluetooth connectivity, air con and cruise control. The Dynamique S Nav sits around the middle of the Renault's trim selection, above Expression+ and Dynamique Nav and below Signature Nav, GT-Line and GT Nav. As well as the portrait touchscreen, Dynamique S Nav additions include 17-inch alloys, darker tinted rear windows and a reversing camera. There are a several optional kit packs available but choose carefully since adding more than one will add at least another grand to the car's price. There's a decent amount of head and legroom for both front and rear passengers of the Megane Sport Tourer and you get 587 litres of boot space as standard. That's not quite as much as the Leon ST and Octavia Estate (both with 610 litres), but the Renault convincingly beats virtually all other rivals.
Cost
The Sport Tourer is priced from just over £18,500 and in the Dynamique S trim and with its 128bhp diesel the estate begins from just over £23,500.
The 108bhp diesel is the most frugal conventional engine for the Megane Sport Tourer, but the 128bhp dCi's official figures aren't too shabby either, averaging 70.6mpg combined and emitting just 104g/km of CO2. But if you're not too fussed about the performance upgrade, there's still a good chance you'll lean towards the 108bhp which records 76.4mpg combined and emits only 96g/km. The Sport Tourer is priced from just over £18,500 and in the Dynamique S trim and with its 128bhp diesel the estate begins from just over £23,500. That's a little more than other rival estates' starting price in mid-level trim but the difference is marginal really and you are getting a fair amount of nice tech with the Dynamique S trim.
Our Verdict
The latest Renault Megane Sport Tourer feels like a significant improvement compared what has come before it in numerous aspects including quality, practicality, technology and performance. It feels like a genuine contender to the best in its class and, on top of that, it has an interesting design which allows this car to stand out more. We can understand if you opt for the most efficiency-focused 1.5-litre diesel engine, but we'd recommend you seriously consider the 128bhp diesel instead since we like its extra perkiness and it's still a frugal unit.