Introduction
People expect big things from a manufacturer's flagship model, and when it comes to Skoda's range-topping Superb, this is a model that has always delivered.
Whether it's been comfort, value or spaciousness, both the hatchback and estate variants of the Superb have always impressed, and been a fantastic alternative to far more premium offerings – in terms of badge anyway.
Now, halfway through the current third-generation Superb's lifetime, Skoda has given the model an update to keep it on par with rivals.
It ushers in revised styling, though it's hardly noticeable aside from the new 'SKODA' lettering at the rear. One of the key differences is the addition of a new plug-in hybrid version, which goes on sale in the UK at the start of 2020, though we're yet to get behind the wheel of that.
Skoda has also upped the ante on the safety front, too, introducing predictive cruise control with side assist, as well as a developed emergency braking system that can now detect pedestrians.
So, this is only a slight facelift, but is it one that can keep the Superb at the top of its class?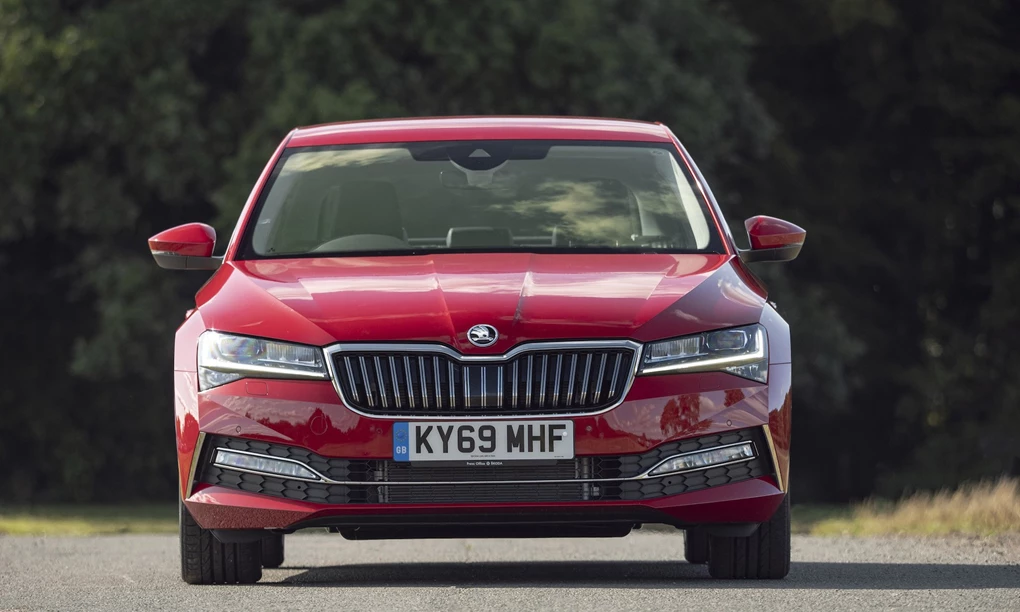 Performance
Skoda offers six powertrain options with the Superb, with the more powerful engines able to have automatic gearboxes and all-wheel-drive.
Those looking for efficiency should look at the 118bhp 1.6-litre diesel engine, which can return up to 50mpg, while performance needs will be fulfilled with a 268bhp 2.0-litre petrol engine, which can reach 0-60mph in 5.4 seconds and hit a top speed of 155mph.
Our test car was fitted with what is a great all-round engine – a 2.0-litre diesel engine returning 187bhp and 400Nm of torque. It came paired to a seven-speed DSG automatic transmission, which delivers its power to the front wheels. It's capable of a 0-60mph time of 8.1 seconds and can reach a top speed of 148mph. As for efficiency, Skoda claims it can return 47.1mpg, with CO2 emissions of 117g/km.
It offers a fantastic blend of performance and efficiency, and is an accomplished long-distance cruiser, though the 148bhp version of the same engine could be just as good if you don't need that extra acceleration.
See Available Superb deals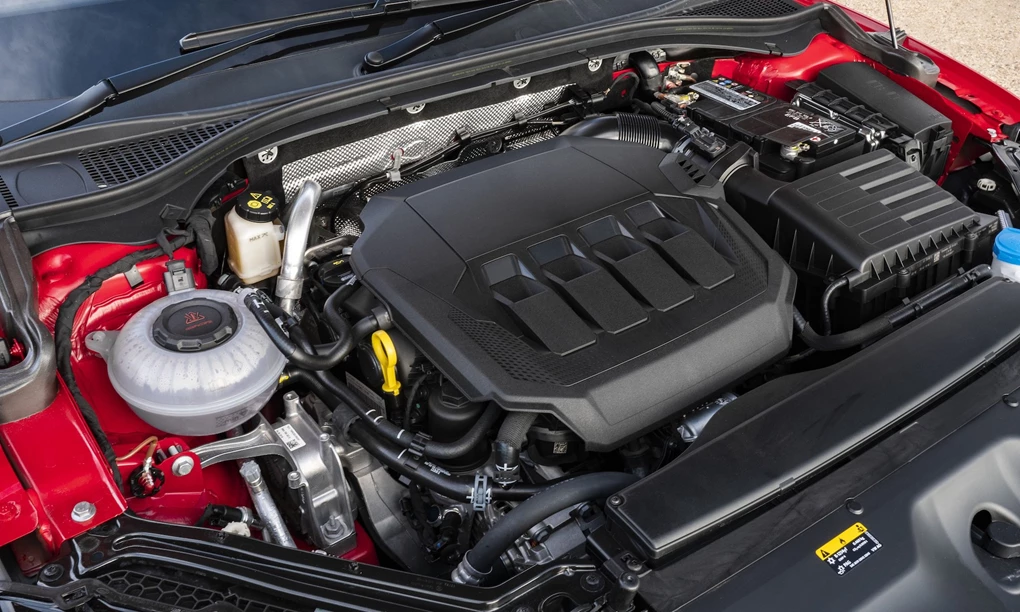 Ride and handling
The Superb is arguably one of the best models when it comes to cruising, with a supple ride and excellent refinement. Our more stylish SportLine Plus version came with large 19-inch alloy wheels, though, which are not as comfortable as other options in the line-up.
Despite this 'Sport' billing, don't be fooled into thinking the Superb is a BMW 3 Series rival when it comes to its driving experience, as the Superb is as predictable and easy to drive as most other Skodas. That's exactly the point of the model, as it's designed for comfort, long-distance driving and refinement, and it excels in all these areas.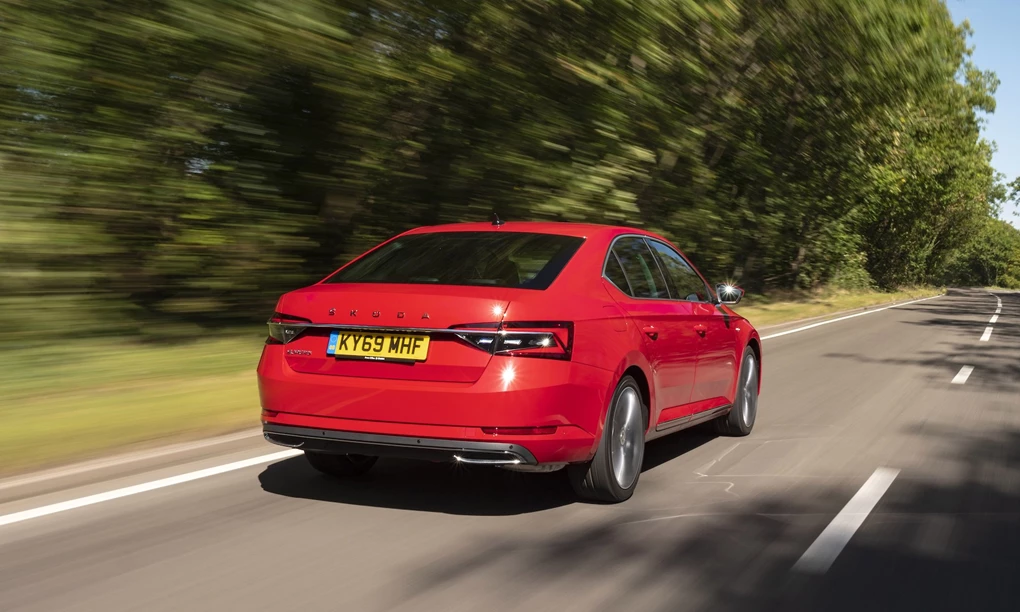 Interior and equipment
If you're looking for spaciousness, the Superb is ideal. The cabin is quite simply vast, with acres of room for all occupants. In fact, rear space is outstanding, with legroom easily rivalling that of luxury cars costing three times as much. The hatchback's boot is also enormous – offering 625 litres of space, or 660 litres with the more versatile estate.
The fit and finish of the Superb is excellent, too, with Skoda making the model feel nearly as premium as pricier rivals, while the 9.2-inch touchscreen in our car is one of the clearest available. Our SportLine Plus. Model also benefits from red interior trim, as well as Alcantara sports seats and a sportier steering wheel – adding a dash of flair into this versatile model.
Plenty of trims are available, with standard on 'S' versions including an eight-inch touchscreen, keyless start, LED headlights and 16-inch alloy wheels. Upgrade to the fleet-friendly SE and this adds dual-zone climate control, front and rear parking sensors, adaptive cruise control and a driver fatigue monitoring system.
Popular SE L models add Matrix LED headlights, heated leather seats and keyless entry, while the SportLine Plus gains 19-inch alloy wheels, Alcantara seats and a larger 9.2-inch touchscreen. The range-topping Laurin & Klement version meanwhile brings LED interior lighting, heated steering wheel, a digital cockpit, a Canton sound system and integrated Wi-Fi to name but a few prices.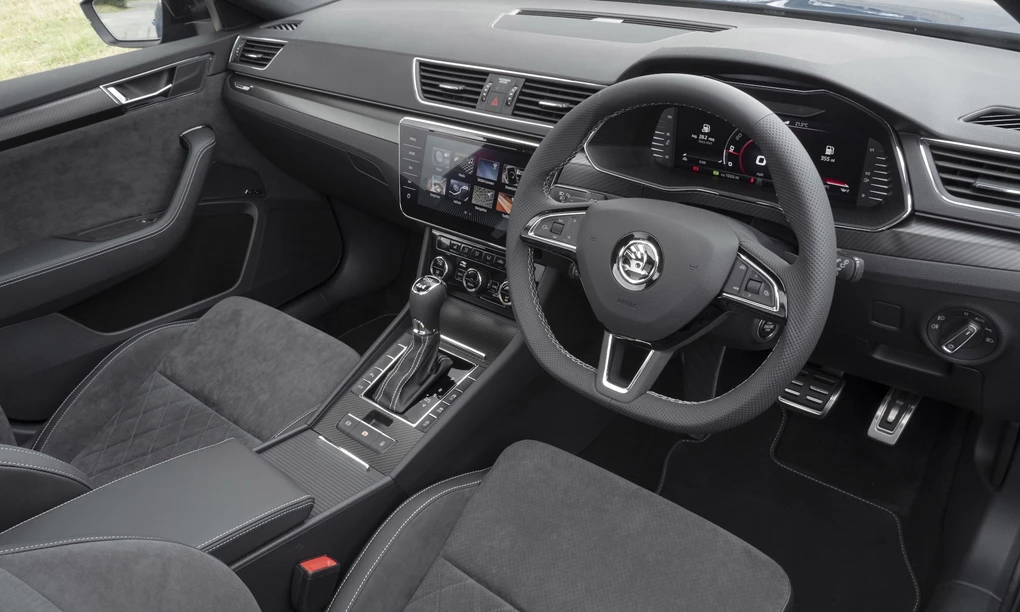 Cost
The Superb has also represented astonishing value for money, and this continues with the latest car, with prices from £23,905, which gets you a tremendous amount of car for an affordable price. We'd recommend opting for the SE or SE L model, which feature just about all the kit you could ever want, with prices starting from £24,460 and £27,695 respectively.
While range-topping models are close to the £40,000 mark, which is admittedly expensive for a Skoda, it's worth considering that you won't find anything with more kit, refinement and space for that money.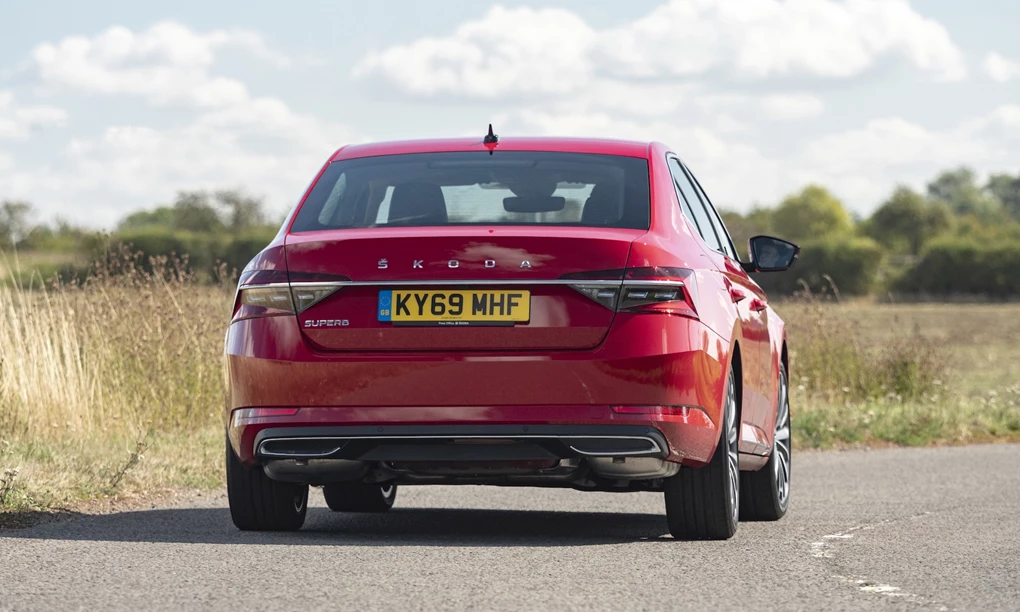 Verdict
Skoda hasn't changed the Superb massively with this new car, but it didn't need to. It's a testament to just how excellent the model was in the first place that it continues to be so well-rounded, even four years after the last generation went on sale.
If you value for comfort, space and value for money that's all wrapped up in a classy package, there really isn't a better choice than the Skoda Superb. While we wouldn't personally choose the SportLine Plus version, the rest of the trim levels make a fantastic amount of sense, and make the Superb a worthy range-topping model for Skoda.
When the plug-in hybrid joins the line-up, it will only become even more appealing.