Introduction
The estate market is filled with stylish vehicles that offer as much space as an SUV, and, in many cases, can be much better to drive, too.
One such estate is the SKODA Superb and the Czech model comes with all the attributes that you would want for a family car – a large boot, lots of passenger space and quality features.
Although it may not be as premium as similarly sized rivals, such as the Mercedes E-Class Estate and BMW 5 Series Touring, it is markedly cheaper than both and could be the smart option for those wanting a comfortable load-lugger.
We get behind the wheel of the top-end Laurin & Klement version to see just how good the Superb Estate really is.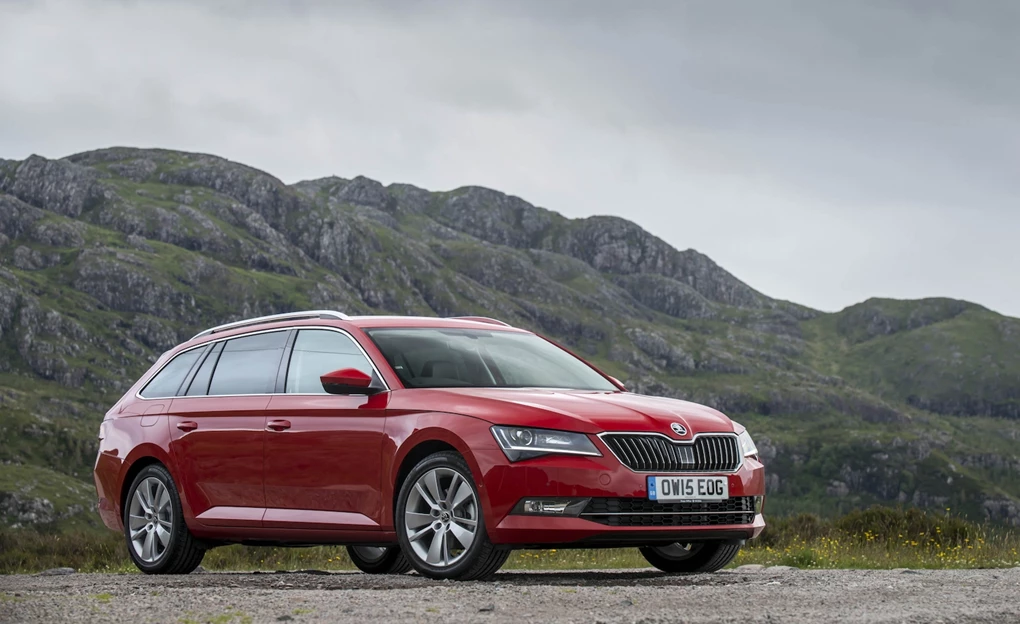 Performance
Under the bonnet of our Superb L&K was a four-cylinder, 2.0-litre TDI diesel unit that developed 150bhp and 340Nm of torque – with two other engines available on the top-spec model, including a 268bhp petrol paired to four-wheel drive. With the diesel unit on-board, the Superb Estate can go from 0-60mph in 9.1 seconds and reach a top speed of 132mph.
Here, the engine was paired to a seven-speed dual-clutch transmission for smooth shifts – but the throttle response can be a bit temperamental at times, meaning you can either creep away from standstill without much impetus or rocket away with only a slight change in the pedal position.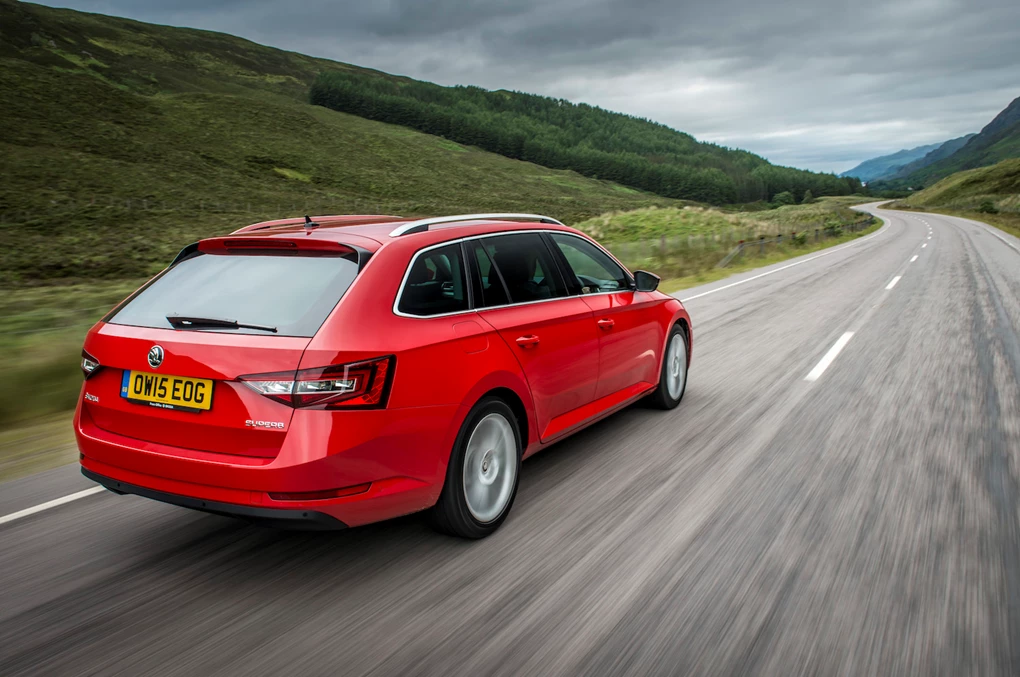 Ride & Handling
SKODA models are normally set up for comfort compared to other VW Group options, and the Superb Estate is one of the cossetted options around. Thanks to well-balanced suspension, cruising in this is wonderful and when paired with the diesel automatic powertrain, motorway driving is a breeze.
As this car is set up to be practical and safe, SKODA ensured that there wasn't a lot of play in the steering and it feels very predictable. Although the option of four-wheel drive will provide you with further grip, the front-wheel drive model we tried had more than enough for you to get the power down. All of this makes the Superb feel a bit boring, but when using it for long-range driving and getting large amounts from A to B, that's not the worst thing in the world.
See Available Superb Estate deals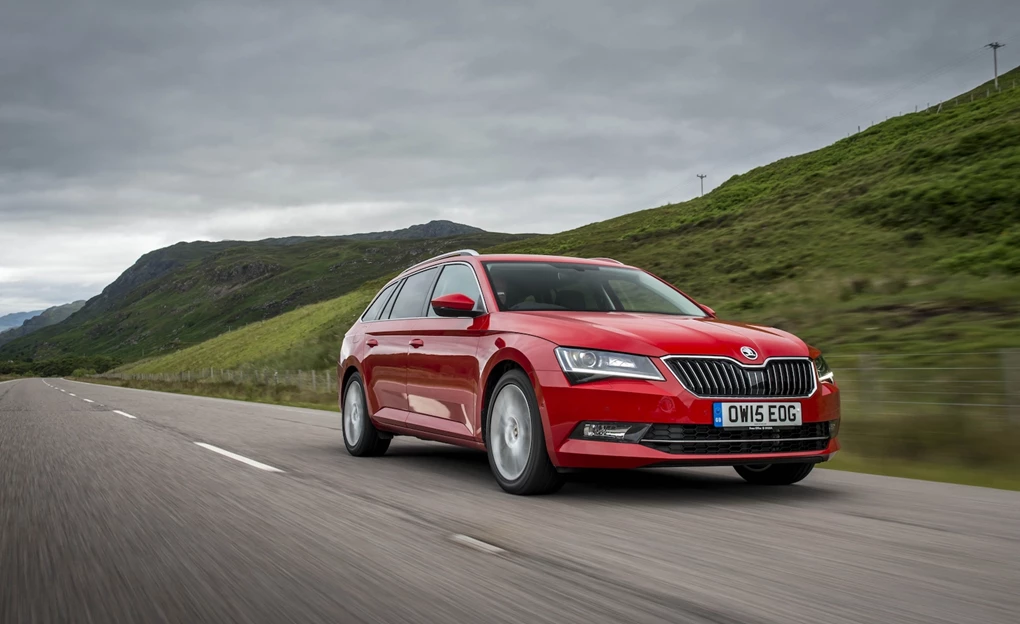 Interior & Equipment
This is where the Superb excels more than anywhere else, as the cabin is both well-made and extremely capacious. The interior space for passengers is truly excellent with more than enough room in the front, while there is still loads of area for rear passengers to stretch out in. On top of that, the boot is really large as well, with customers getting 660 litres to work with – but if that isn't quite enough, folding the split rear seats down will reveal a 1,950-litre loading space, making the Superb one of the practical cars around.
Offered in seven trim levels, SKODA gives customers more than enough choice to find the right Superb Estate model for them. Standard features on the base-level S model include 16-inch alloy wheels, daytime running lights, a leather multi-function steering wheel, air conditioning, electric windows, cloth upholstery, a 6.5-inch infotainment touchscreen, DAB radio, Bluetooth, front assist automatic braking and some of SKODA's 'Simply Clever' solutions – an ice scraper in the fuel filler cap and a removable LED torch in the boot.
As the top-spec model, the Laurin & Klement trim comes with the majority of SKODA's top features, such as 18-inch alloy wheels, Bi-Xenon headlights and LED daytime running lights, rear LED lights, tri-zone climate control, an electrically-operated boot, leather upholstery, front ventilated seats, heated seats throughout, a 9.2-inch infotainment display, smartphone connectivity, satellite navigation and Wi-Fi hotspot, as well as umbrellas built into the doors.
Driver assists on the L&K model were also extensive, with features such as blind spot detection, adaptive cruise control, park assist, a rear view camera, lane assist, driver fatigue sensor and mode control also included on the Superb.
Cost
Even with all that kit on the base-spec model, prices for the Superb Estate start from £23,410, which gets you the practical car in S spec with the entry-level 1.5-litre petrol that develops 148bhp. The L&K version we tested cost £33,500, which is as much as an entry level BMW 5 Series Touring or Mercedes E-Class Estate – and it feels as premium as its more established German rivals.
The 2.0-litre diesel we tested was also particularly frugal returning a figure higher than the claimed 61.4mpg, with CO2 emissions set at just 118g/km.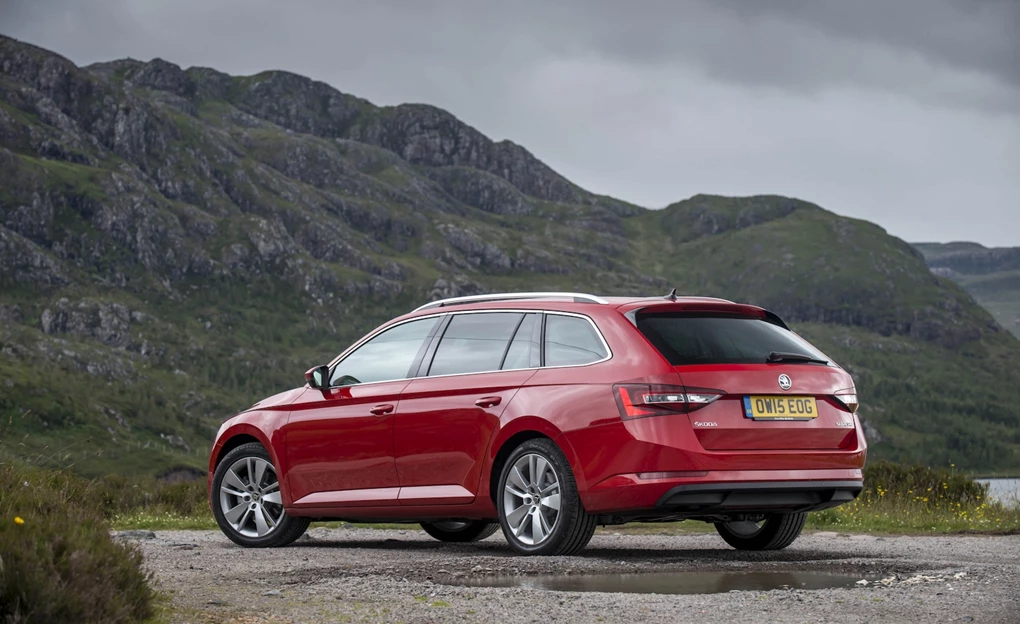 Verdict
There are few cars that can match the Superb Estate on value for money, practicality and equipment levels, while the cruising performance also helps this car make a lot of sense. With the diesel engine on board, travelling long distances while using little fuel is very simple and when that's paired to a comfort setup, the Superb is really quite good at going far at a consistent rate. Even top-spec models make more sense than more premium rivals as you get a lot more kit for your money. So what SKODA has done here is make one of the best value for money cars around, as well as one of most practical.