Introduction
In the past if you've wanted a large estate car, and crucially don't have an unlimited budget, there have been few better options on the market than the Skoda Superb Estate, which has proven to be a worthy flagship in the Czech firm's range for several years.
The latest model went on sale in 2015, and has recently been overhauled with a host of updates. On face-value alone, it looks like the mildest of updates, with changes being reserved to new Matrix LED headlights (the first for a Skoda), as well as additional chrome trim and a new front bumper. The interior has also been moved further upmarket, too, thanks to a greater use of plush materials.
The powertrain options remain the same, aside from the addition of a new plug-in hybrid, which we'll be getting our hands on at the start of 2020.
Here we're trying a punchy 2.0-litre petrol engine to work out if the Superb Estate should still be at the top of your shortlist.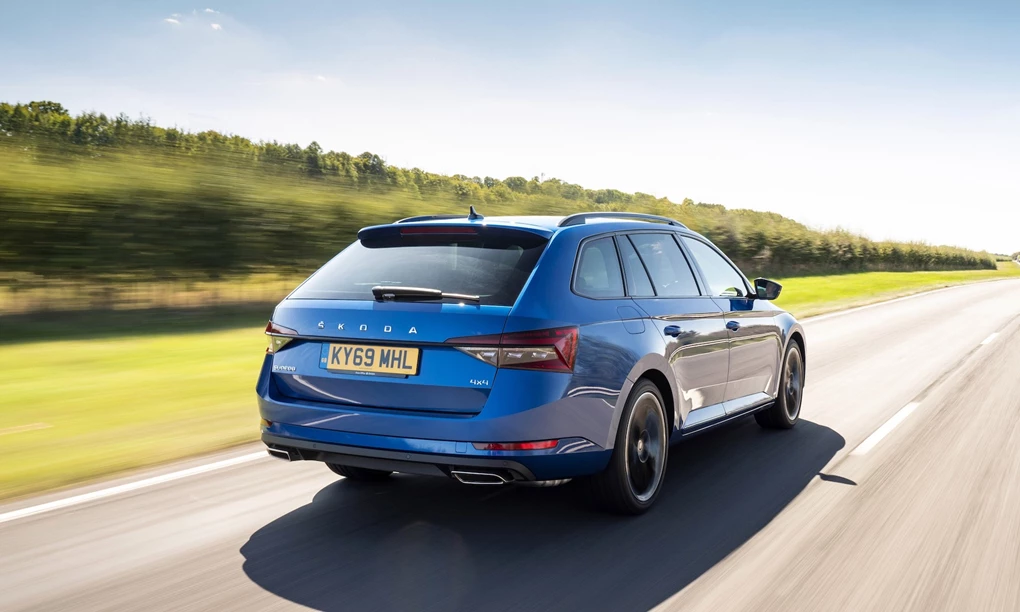 Performance
Skoda continues to offer an extensive line-up of powertrain options with the Superb, as plenty of petrol and diesel engines are available.
It's diesel that's set to dominate for the fleet users this model largely appeals to – with 1.6- or 2.0-litre units available. They can be paired to manual and DSG automatic transmissions, while the 187bhp 2.0-litre unit can benefit from all-wheel drive.
But our test car features an engine that's not likely to be at the top of buyers' shortlists – a 187bhp 2.0-litre petrol engine paired to a seven-speed automatic transmission. It's a worthy option, though, with the engine having plenty of punch, while also being impressively refined.
Decent performance is served up as well, with 0-60mph being reached in 7.5 seconds, and reaching a claimed top speed of 142mph. We also found it to be far more efficient than Skoda's own estimates – as it returned 45mpg on a long run, which exceeds Skoda's 37.7mpg figure. CO2 emissions of 141g/km are also claimed.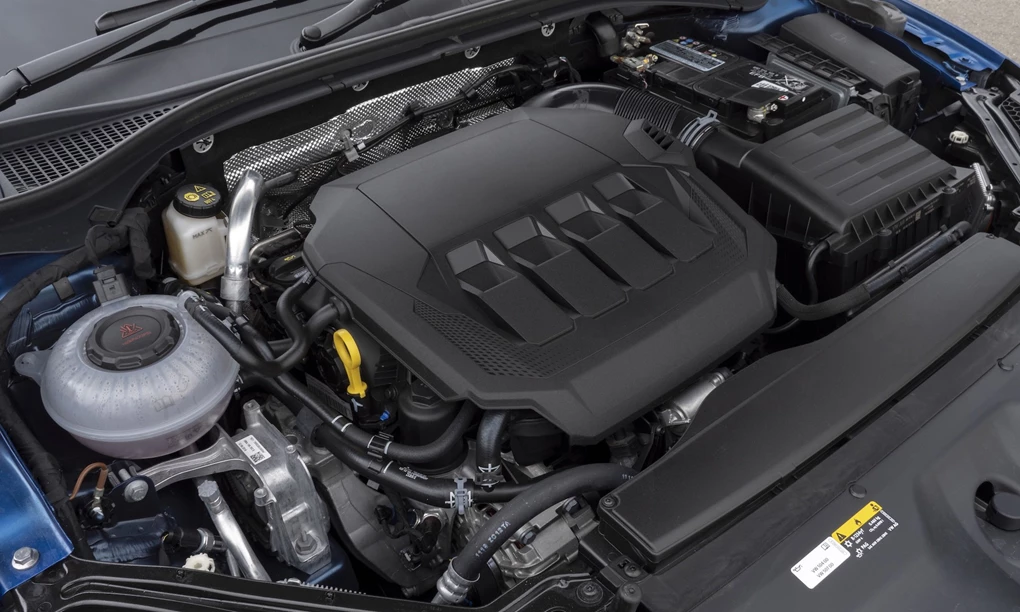 Ride and handling
Most people won't go into the Superb expecting something that's promising to deliver a dynamic driving experience. This is a model aimed at long-distance cruising, and that's where it excels.
Even on larger 18-inch alloy wheels, our SE L grade car offered an exceptionally supple ride, while even at higher speeds it feels remarkably refined, with only a bit of wind noise being generated from the large door mirrors. This engine is also a perfect match for the Superb's relaxed character – delivering the performance as and when it's needed but remaining quiet and composed the rest of the time.
One of our few gripes is that the DSG automatic transmission can feel a little hesitant at times – particularly when pulling away at a junction or when wanting to overtake. Engaging 'Sport' mode helps to alleviate that, though.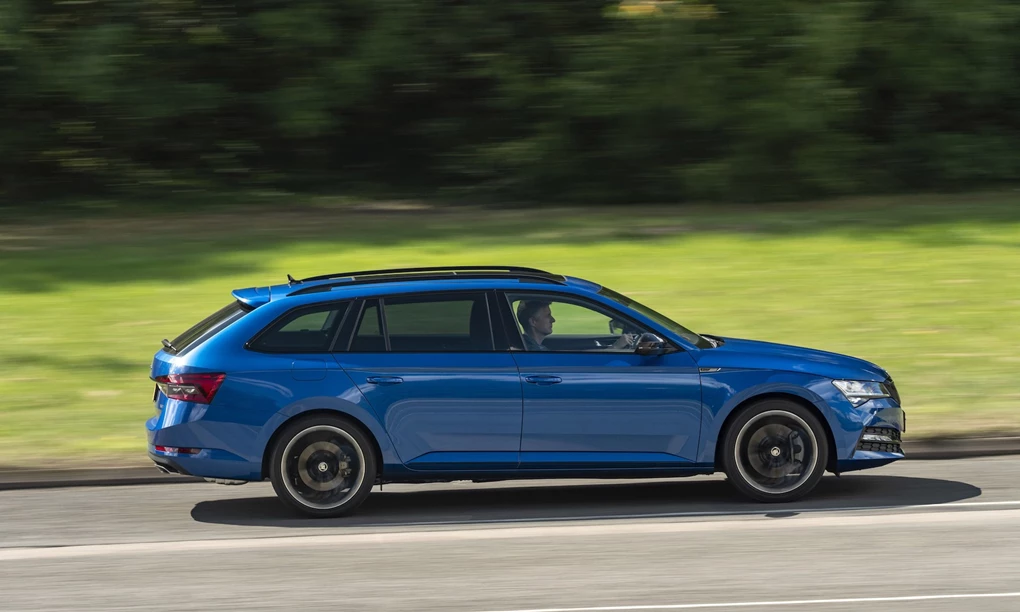 Interior and equipment
The changes that have taken place on the Superb aren't enormous, but each has helped to bring the Superb even more upmarket and in-fitting as Skoda's range-topping model. Changes include new chrome detailing, new seat covers and contrasting stitching. It certainly feels on par with the Volkswagen Passat for quality, though it's not yet up to levels of Audi and Mercedes – nor is it intended to be.
The 9.2-inch touchscreen fitted to our car is a £1,210 option, which seems steep, though it certainly helps to add a modern feel to the cabin, while also coming with a handy in-built Wi-Fi hotspot.
But the clear thing to take from the Superb is its immense practicality. It really is huge, with rear seat space that could rival luxury cars triple the price. Three adults can also fit comfortably in the rear. The 660-litre boot is also the largest of any estate car with the seats up, and the practical shape of the Estate's rear only adds to the spaciousness.
Standard kit on the entry-level Superb includes LED headlights, an eight-inch touchscreen and 16-inch alloy wheels, with SE L trim bringing Matrix LED headlights, heated front seats, leather upholstery and blind-spot monitoring to name but a few features. It certainly won't leave you wanting for much, though you can take things further with the range-topping Laurin & Klement. With this version, you'll find luxurious touches like a Canton sound system, heated steering wheel and park assist.
Cost
Skoda has always been a brand known for offering great value for money. While the brand has undoubtedly moved further upmarket in recent years, it still continues to offer affordable motoring. Prices for the latest Superb start from £24,635 for the hatch or £25,645 for the estate, which resembles remarkable value.
Our SE L model with the powerful 187bhp petrol engine might increase the price to £32,035, but with this still costing less than any entry-level executive model, we still reckon it's one of 2020's biggest bargains. We'd recommend the SE L though, as more upmarket examples can be quite costly.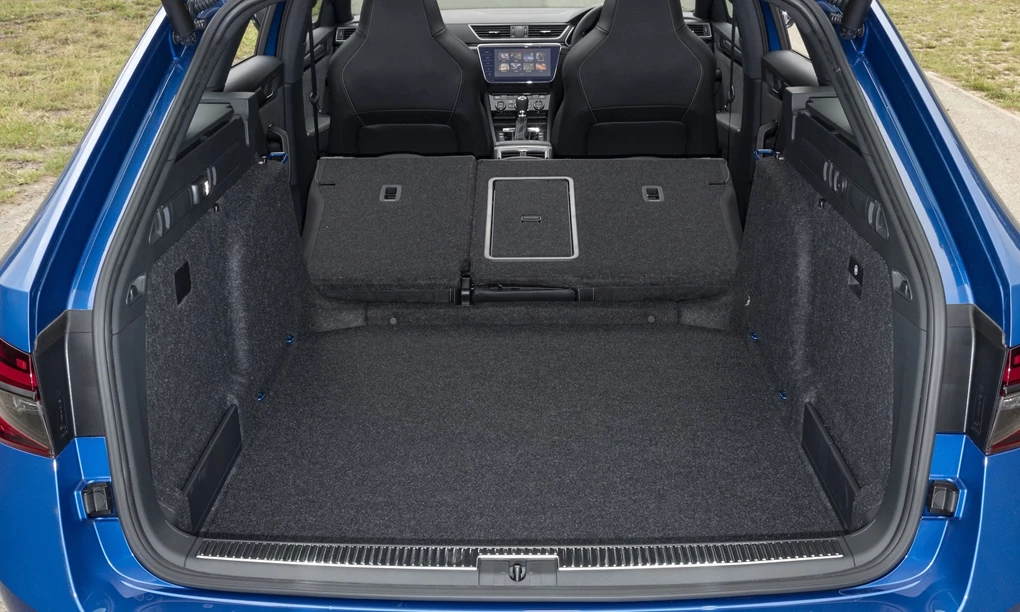 Verdict
Slight tweaks were all that were needed to ensure the Superb Estate remains right at the top of this class in the large family car sector. Few others can combine value for money, comfort and spaciousness quite like the Superb, while also wrapping it up in a classy and premium package.
And while diesel might still be the default option for most buyers, this smooth petrol option shouldn't be discounted as it's a remarkably good all-rounder.