If you have found yourself Googling 'affordable sports cars' then chances are you've come across the Subaru BRZ at some point, or possibly the Toyota GT86 – both of which were created in a joint effort between the two brands.
Aimed at offering fun at a reasonable price, the BRZ is a rear-wheel drive, front-engined coupe that relies on enthralling driving dynamics instead of colossal performance. Accompanied by a trademark rumble from its boxer engine, the BRZ's raw appeal has certainly split opinions since its arrival in the market in 2012.
We put it to the test to see whether it deserves the 'sports car' nametag.
Performance
Performance in the BRZ isn't stonking, due to the naturally-aspirated disposition of its 2.0-litre four-cylinder petrol engine, the only unit on offer. It does however still manage to produce 197bhp and a zero to 62mph sprint time of 7.6 seconds.
Push it hard enough though and bounce the revs high – about 6,000 to 7,000rpm - and you get a pretty zippy coupe. The turbo power is missed when you want to get off the mark quickly, but once you've picked up pace, the effort certainly feels worth it.
Mashing the throttle would be a pain if it wasn't for its satisfyingly mechanical six-speed manual gearbox, which allows you to glide through the gears flawlessly, giving an old-school boy racer feel. It reminds us a little of the Mazda MX-5's gearbox. There is a six-speed automatic 'box available with paddle shifters behind the steering wheel, but for fun-factor we suggest going stick, plus the auto's sprint time is slightly more sluggish at 8.2 seconds.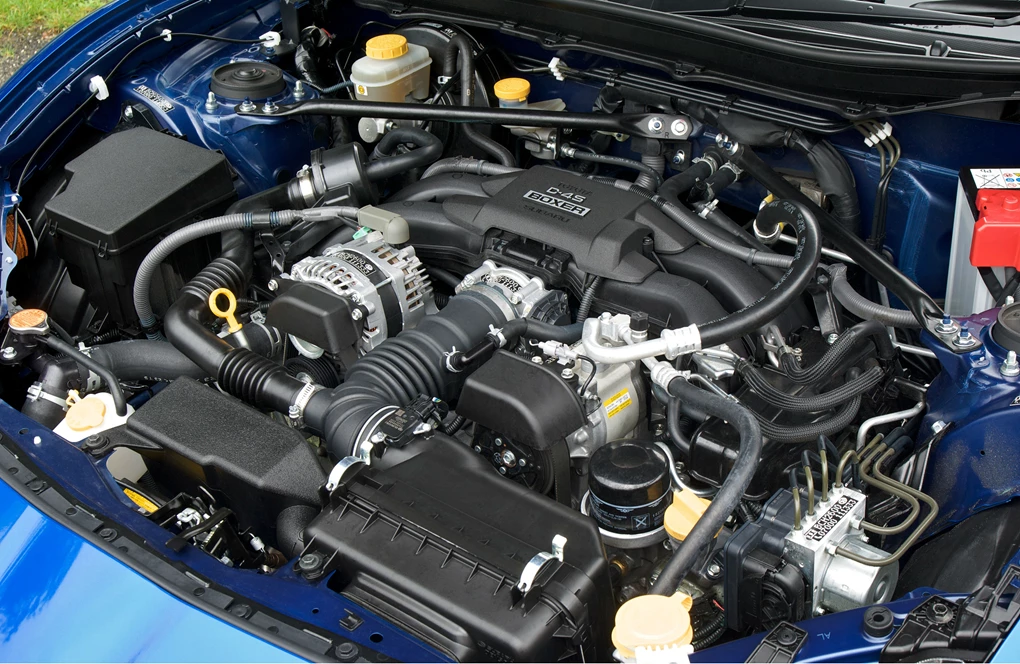 Ride and Handling
Its steering is sharp, accurate and well-weighted, ensuing confidence in the bends.
The BRZ's power may not be as obvious as some of its competitors, but there is no messing around when it comes to its agility on the road. First off, its steering is sharp, accurate and well-weighted, ensuing confidence in the bends. The suspension isn't too firm either, so it won't knock your fillings out but it still manages to stop the car from rolling in the corners. As it is rear-wheel drive, you never really feel like you are going to nosedive into understeer, as the car feels neutral and balanced. The fact that everything in the car is mounted so low, including the engine, helps when it comes to composure as well, as does the Subaru Vehicle Dynamics Control system. You can actually disable this system if you fancy a little more freedom. You may have to reign in the Colin McRae in you though, otherwise you may find the back-end flying out when you floor it through a bend, due to its rear-wheel set-up. Entertaining nonetheless, but better reserved for track days.
Interior and Equipment
Subaru used to offer an Everything Taken Care of (ETCo) package with its BRZ, which included monthly scratch and dent repair as well as a free monthly car wash.
It's no secret that the BRZ's interior is 'stripped back' and that insulation from the outside world is lacking a little – all thanks to its low price tag. The radio is also a bit of a throwback to the 90's. Although it isn't lavish, the cabin still offers plenty of kit to keep most happy. Standard BRZ models come with cruise control, USB connectivity, 17-inch alloys and dual-zone climate control with aviation-styled toggles. Figure-hugging bucket seats are also a standard feature, which really accentuates the BRZ's excellent cockpit-like driving position. For those who want modern-day conveniences such as sat-nav and Bluetooth can specify them as an option, although with regards to the former, we would rather opt for a portable system. It can be tricky climbing in and out of the rear seats and getting comfortable once you are back there, so you are more likely to lash small bags on them when you jump in. The boot isn't massive either, offering 243 litres – smaller than your average supermini. But get the front seats in the right configuration and fold the back seats down and you have 1,270 litres to play around with. The seats lay completely flat as well.
Cost
It is worth noting that the claimed average of our BRZ model was 36mpg – but we managed to get 43mpg.
The BRZ's price tag is its most alluring feature from a cost point of view, coming in at £22,500, which is the same price as a Ford Focus ST. Subaru now offers a five-year/100,000 mile warranty as well. Those after a sports car probably won't be too concerned with fuel economy, but it is worth noting that the claimed average of our BRZ model was 36mpg – but we managed to get 43mpg, although we did do a fair bit of motorway slogging. The 181g/km CO2 figure will set you back £225 a year in VED tax.
Our Verdict
Without sounding too much like a car salesman, the BRZ is definitely a driver's car. But what does that mean? Well, to get the most out of it and reap the benefits of its character you really have to work the gearbox and pay close attention to the rev counter. Get it right and you will be left grinning. Those after fast lap times should look elsewhere, preferably somewhere with a turbocharger. But if you want a sporty coupe that offers fun in return for an emotional and physical investment from the driver, then the BRZ is brilliant.