So, what - you may be asking - is a Subaru Levorg? Well, it's a replacement for the Subaru Legacy estate, although the last time that car was sold in Britain was in 2008. It's smaller this time too, and it will find itself competing with everything from hatchback-derived estates like the SEAT Leon ST, to the more traditional Ford Mondeo Estate and Audi A4 Avant.
As is the tradition for any Subaru, it's equipped with permanent four-wheel drive, and it feels rugged and practical. With just one trim level and petrol engine being imported into the UK, the Levorg isn't going to worry German bean counters too much, but could it be a leftfield choice worth investigating? Read on to find out…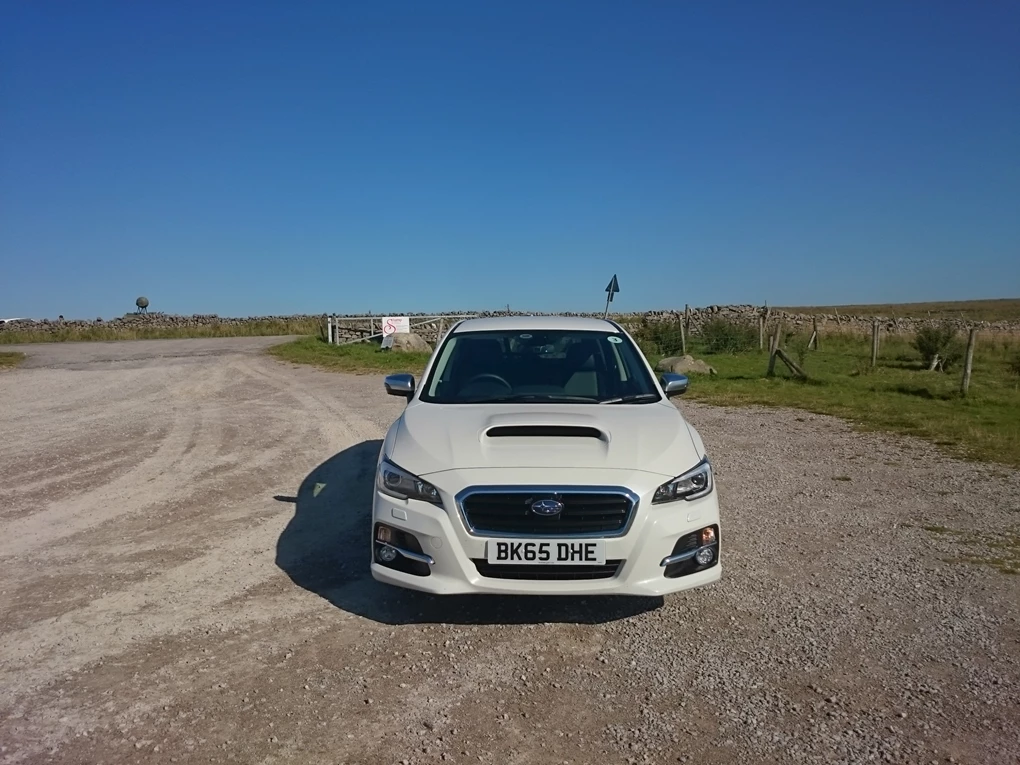 Performance
Looking at its gulping bonnet intake and beefy dual tailpipes you'd be forgiven for thinking the Levorg had a rally-bred engine, but actually, its 1.6-litre turbo petrol is quite sensible. Power is middling, with 167bhp and 250Nm of pulling power getting the Subaru from 0-62mph in 8.9 seconds. That puts it in the ballpark of most diesel estate cars, including the Mazda 6 Tourer 2.2 150, but it wouldn't see where hotter models like the Leon ST Cupra went. The SEAT has 276bhp and takes 6.1 seconds to cover the same benchmark, despite only having front-wheel drive.
Power is fed to the road by a CVT automatic gearbox Subaru calls 'Lineartronic', offering smooth acceleration with no gear changes.
This is said to offer a boost in efficiency, but CVT's are often criticised for robbing cars of driver feel. While the powertrain is smooth and vice-free around town, its 'elastic band' power delivery can feel quite remote at times, so to combat this, Subaru has fitted flappy paddles behind the steering wheel to select six virtual 'gears'. It helps, but a manual gearbox would have given the Levorg a sportier feel and helped it to appeal to more buyers.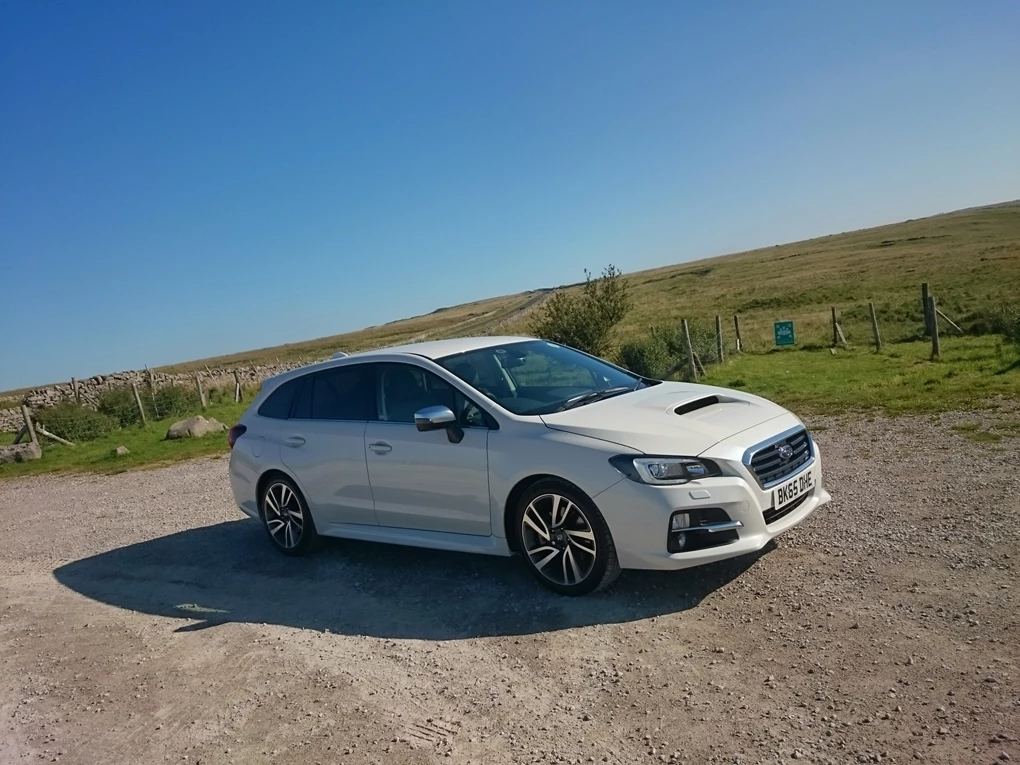 Ride and Handling
Which all adds up to a surprisingly fun estate on a twisting country road
The Levorg has quite a low stance, four-wheel drive and some suspension parts 'borrowed' from the WRX STI, which all adds up to a surprisingly fun estate on a twisting country road. If anything, the Levorg has steering which feels more natural than the STI, and because its suspension is also less stiff, it flows rather pleasantly along. While it was dry during our test, you also get the impression its unerring grip would make it impressive in poor weather. But, it's not perfect, and the wheels have a tendency to thump into pot holes and ride poorly over speed bumps, making the Levorg feel less well resolved than rivals like the Golf Estate, which manage to be both comfortable and reasonably sporty.
Interior and Equipment
The name Levorg is derived from 'Legacy', 'Revolution' and 'Touring' and has been adopted because the Legacy is still on sale in some parts of the world. 
Subaru's cabins have been criticised in the past for having hard, scratchy surfaces, but the Levorg is a step in the right direction. It might still have a slightly workmanlike character, but the materials on show, sporty leather steering wheel and the infotainment system are all far more as you would expect in a car costing around £28k.  The only version coming to Britain is the top GT trim with generous levels of kit. There's the seven-inch touch-screen with sat-nav, LED headlamps, heated seats, four USB ports, dual-zone air-conditioning and a reversing camera. While the Levorg can't quite match the Golf Estate for quality or ease of use, it does offer better all-round visibility. Relatively thin door pillars, a low window line and dashboard all make the Levorg easy to see out of. The boot is well-finished and with 522 litres behind the rear seats it should be big enough for most families and this extends to 1,446 litres. It's not class-leading, however, with the 610-litre Skoda Octavia Estate being a fair bit roomier.
Cost
The only available engine option returns 38.9mpg
Costing around £27k the Levorg isn't particularly cheap, but then you do get four-wheel drive and plenty of equipment. For comparison, a Skoda Octavia vRS Estate costs around £26k with an automatic DSG gearbox. But, a bigger issue is running costs, with the only available engine option returning 38.9mpg and emitting a hefty 164g/km of CO2, figures making it more expensive to run than many diesel SUVs. Even the aforementioned Octavia vRS (with 50bhp more than the Subaru) returns 43.5mpg and emits 147g/km.
Our Verdict
In many ways the Subaru Levorg is a good car; it has a decent cabin, it's practical and the handling is very assured and suited to all conditions. But, Subaru's decision to fit it with a relatively thirsty petrol engine and CVT gearbox, means the Levorg will always struggle against its rivals, which are predominantly bought with a thrifty diesel engine. Those who want a small, fast estate car are also likely to be won over by the extra power and lower running costs of a Focus ST Estate, Leon Cupra ST or Octavia vRS, the last of which is now also available with four-wheel drive.