Subaru has been making Outback models since 1994, when the name was originally used for a more off-roady offshoot of the iconic Legacy estate. Named after the vast, remote outback region of Australia, its title should offer some sort of clue as to what it's all about.
Buffed up with extra body cladding and high-riding suspension, the Outback aims to blend the practicality of an everyday family estate with genuine off-road capability and good value pricing.
The Outback now stands as its own model after the Legacy was replaced by the Levorg, but is still as beloved by farmers and family drivers alike as it ever was.
But, with the introduction of new models like the SEAT Leon X-PERIENCE and Skoda Octavia Scout which aim to offer similar off-roading credentials, does the Outback still deliver the goods?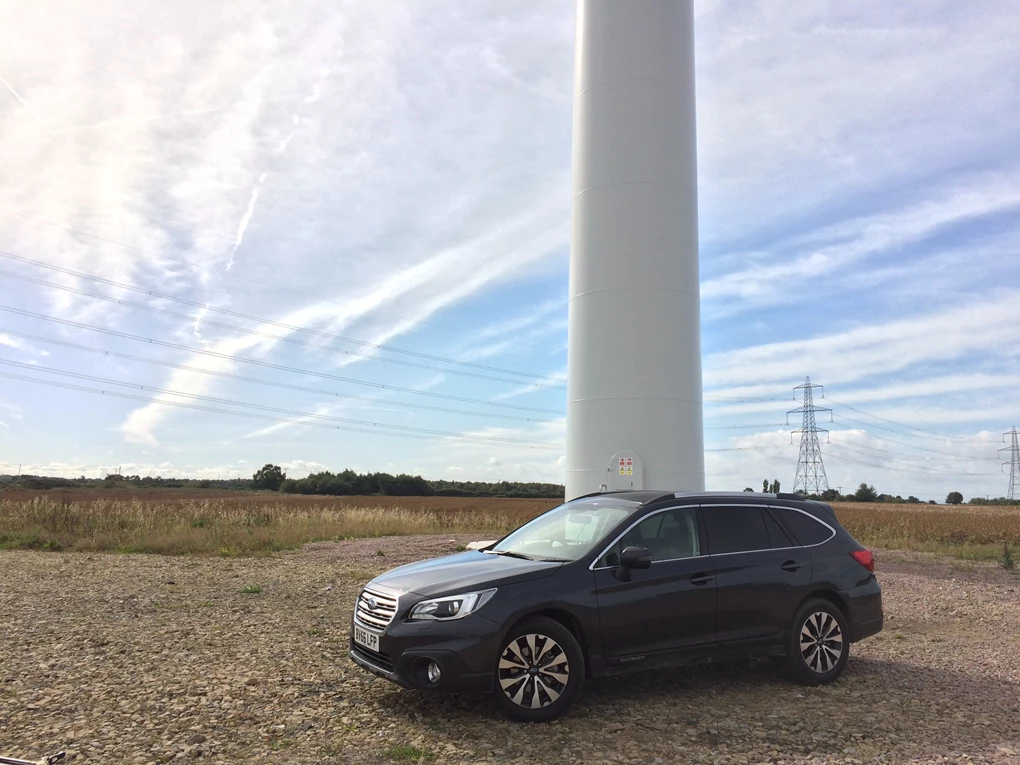 Performance
Two engines are available with the Outback, a 173bhp 2.5-litre boxer petrol engine or the 148bhp 2.0-litre boxer diesel. The diesel is likely to appeal the most to British customers.
Smooth and strong under acceleration and remarkably refined for an engine of its kind at all speeds, there's enough power for most with a broad spread of torque that makes the car useable without being too fast.
As standard, the car comes with a six-speed manual gearbox but for a little more cash the Outback can be had with Subaru's Lineartronic CVT automatic. This is probably the best gearbox of its kind on the market and suffers from little of the droning numbness of some other CVTs.
0-62mph takes 9.9 seconds, but of more interest to buyers will be its torquey pulling power and permanent four-wheel drive, which allows the Outback to tow weights of up to two tonnes.
Ride and Handling
Although it's at its most impressive off-piste, it's fairly good on the road as well.
Of course, said four-wheel drive along with raised ground clearance and long-travel suspension is the main attraction of the Outback, and the sheer ruggedness of the car allows it to conquer all sorts of surfaces with extraordinary ease. It's no Jeep Wrangler but for what's essentially a beefed-up family estate it's not far off, and the sheer amount of grip available means the Outback leaves many supposed off-road cars and SUVs eating its literal dust. Whether it's squidgy autumn leaves or drizzly tarmac, sharp gravel or deep snow, the Outback simply tackles it and keeps on going, something which will appeal greatly to drivers living in more remote areas. Although it's at its most impressive off-piste, it's fairly good on the road as well. There's not too much body lean for such a high-riding car, although slightly numb steering means that it lacks engagement and is categorically more of a workhorse than a drivers' car.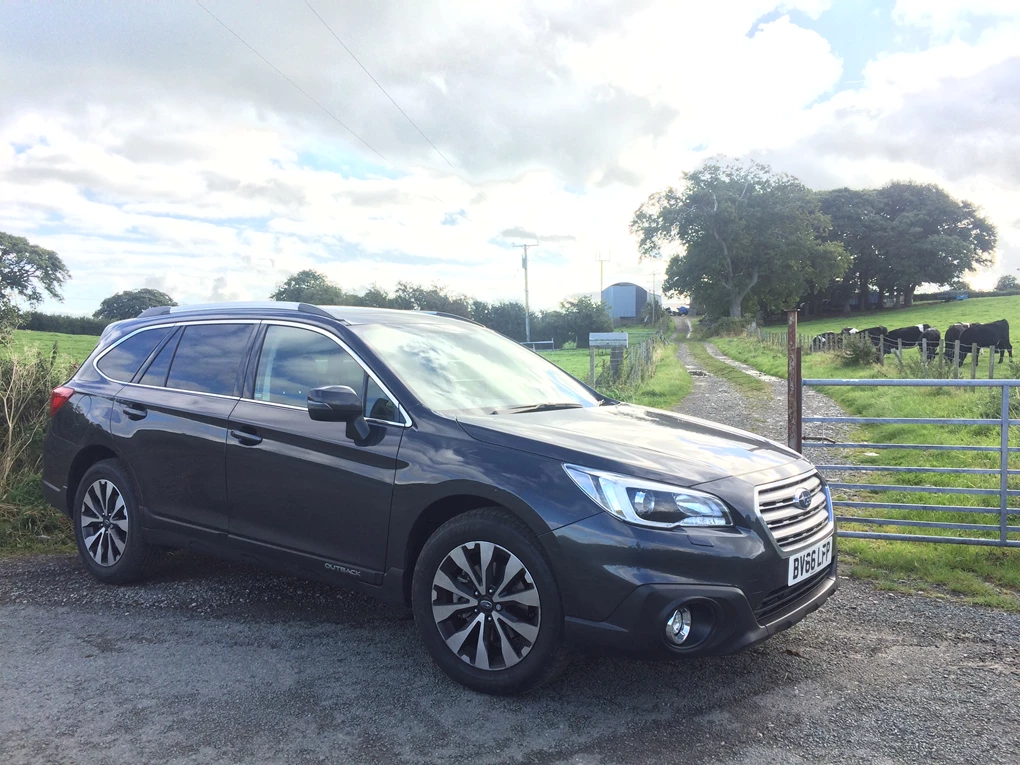 Interior and Equipment
Subaru's logo depicts the six stars of the Taurus constellation, which is particularly easy to spot over Japan's night sky. Even the name Subaru is the Japanese word for Taurus.
Function rather than form is what Subaru tends to prioritise, though the latest version of the Outback does introduce some nicer interior bits like brushed chrome hints and a sleek, seven-inch touchscreen to contemporise it a bit. It can't match some rivals for upmarket appeal of course, but build quality is good and buyers are unlikely to be fazed by its lack of glamour so long as they're getting the bulletproof reliability they demand. Subaru has also kept the specs refreshingly simple with two trims available: SE and SE Premium. Standard kit includes LED headlights, cruise control and a reversing camera, while the higher trim adds a sunroof and keyless entry, plus leather seats and a powered rear tailgate. There's plenty of room inside to sit five adults comfortably, while Subaru has also dotted the car with lots of thoughtful little touches like deep door bins, hooks for shopping backs in the back and one-touch triggers to fold the rear seats down. It's estate car boot is generously proportioned with a lowered tailgate and 512 litres of space with the seats up, while folding them flat increases maximum cargo capacity to a van-rivalling 2,000 litres.
Cost
It also comes with a five-year, 100,000-mile warranty as standard.
Prices for the Outback start from £27,995 while our test car was priced from £32,995. Compared against cheaper models like the Octavia Scout it's a bit more, but the Outback gives cars like the Audi A6 Allroad a run for their money in terms of size and performance. One thing that Subarus have never been typically great at is fuel economy, and the Outback claims a modest economy figure of 46.1mpg when equipped with the 2.0-litre diesel. It also emits 145g/km of CO2. Many of its rivals will be cheaper to run, but of course the trade-off is that the Outback is much happier off-piste. Residual values won't matter quite so much as the sort of buyer who will choose the Outback will tend to keep it for many years, while it also comes with a five-year, 100,000-mile warranty as standard.
Our Verdict
Buyers these days tend to go straight for the SUV option when they want a car that's spacious and even vaguely capable off-road, but the Subaru Outback proves that sometimes physically bigger isn't always better. With flexible performance, genuine off-road capability and a stylish but hard-wearing and practical interior, the Outback is a do-anything, go-anywhere pack mule of a car that's sure to appeal to plenty of people. That said, it probably won't sell as well as more mainstream rivals and it's not the best car in its class to drive. But core buyers, devoted Subaru fans and anybody who wants genuine capability and not just the looks will love it.