The latest in what is becoming a long line of Subaru Outbacks is, like its predecessors, a semi-off-road version of the Legacy estate. The latter, however, was pulled out of the UK market at the end of 2013. The Legacy has since been replaced by the fully road-focused Levorg.
Rivals for the Outback include the SEAT Leon X-PERIENCE, Audi A6 allroad and Volvo V40 Cross Country.
Compared to its predecessor, the latest Outback has a restyled exterior, some suspension development and substantial revisions to the 2.0-litre diesel and 2.5-litre petrol engines. The diesel still produces 148bhp like before, while the petrol unit's output has been upgraded from 165bhp to 173bhp.
Both are available with a CVT automatic transmission called Lineartronic, and you can have a cheaper six-speed manual gearbox in diesel models but not petrol ones.
Cars with Lineartronic are fitted as standard with a system called EyeSight safety assist, which includes adaptive cruise control, pre-collision braking and throttle management and steering assist. Also featured is a lane departure warning and notifications that a previously stationary vehicle in front of you has started to move.
EyeSight can automatically bring the car to a halt if the driver has failed to notice that a crash is imminent, and won't let it move away (no matter how hard the accelerator pedal is pressed) when there's a solid object directly ahead.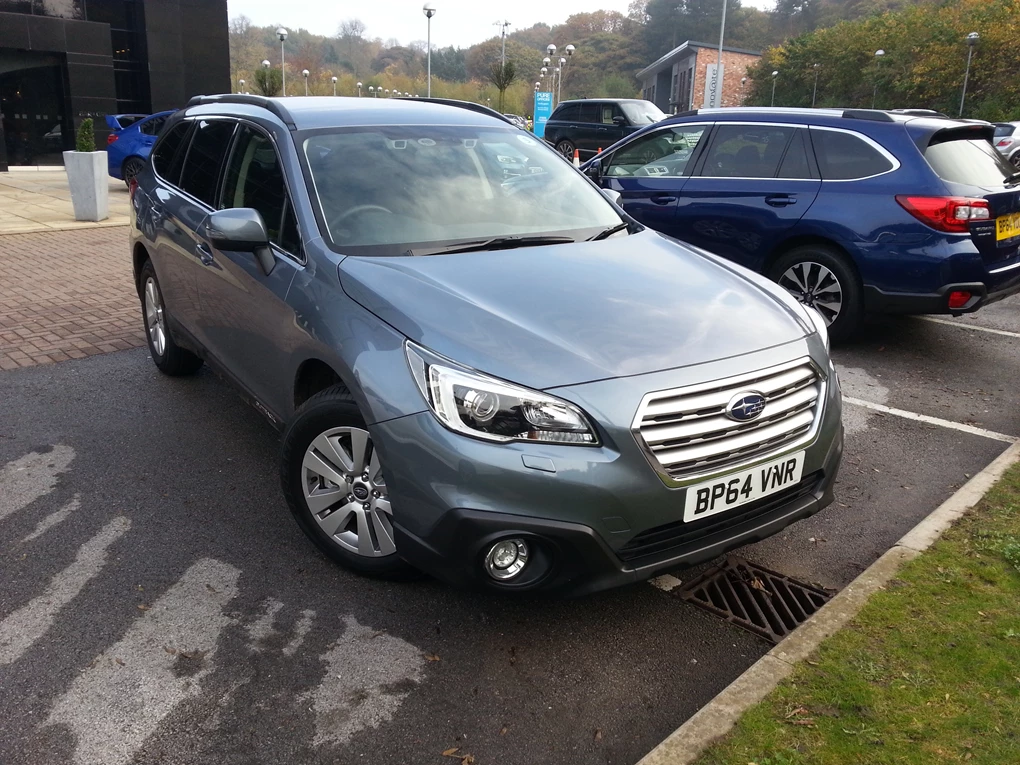 Performance
Despite its lower output, the diesel engine gives the Outback a quicker 0-62mph time. A car fitted with it can do this run in 9.7 seconds with the manual gearbox or 9.9 with the Lineartronic 'box.
The 2.5-litre petrol model takes longer to do the 0-62mph sprint, 10.2 seconds to be exact, but it does have a higher top speed. It can keep going to 130mph, while the diesels can manage only 119mph and 124mph with the manual or Lineartronic respectively.
The characteristics of the two engines are responsible for this. At 4,000rpm the 2.5-litre petrol produces 132bhp, a figure the 2.0 diesel can achieve at under 2,700rpm. Both engines are very quiet in gentle running and the diesel in particular has a pleasant amount of pep whenever you put your foot down.
However, despite Subaru's work on noise suppression, both the diesel and petrol become loud and harsh when you're accelerating hard at high revs.
The Lineartronic transmission has a manual setting that lets you change gears with steering wheel-mounted paddles. But in its standard setting, this gearbox operates very smoothly. The penalty for being allowed to make your own gearchanges in the manual is a rather notchy shift quality which will be familiar to anyone has driven a manual Subaru in the past.
The towing capacity is greater than before at 1,800kg with a braked trailer for the diesel models and 2,000kg for the 2.5 petrol.
Ride and Handling
Few estate cars, and certainly none with the Outback's off-road pretensions, are quite so much fun through a series of bends on a tarmac surface.
Subaru spent a lot of time on the suspension settings of the current Outback to address criticism of how its predecessor handled. The manufacturer's efforts seem to have paid off, as the car offers decent levels of grip even if you attack quick corners. The considerable ride height means that the centre of gravity is further from the ground than it would be in a non-off-roader estate, like the Levorg. But the company's expertise in producing soft but well-damped suspension ensures that the car still feels well controlled even when it's leaning over a long way. The amount of body roll you're subjected to through the corners is actually less than you might expect. It copes better in this regard than some of the other estates out there which offer limited off-road ability. Few estate cars, and certainly none with the Outback's off-road pretensions, are quite so much fun through a series of bends on a tarmac surface. The ride quality, on the other hand, is pretty firm even on the 17-inch wheels fitted to the entry-level SE model. The SE Premium version runs on 18-inch wheels, with lower-profile tyres, and its ride is even firmer. Off-road, the Outback performs very well on the worst terrain that most customers would be prepared to encounter. It's helped in this respect by the introduction of X-Mode, a selectable control system previously available only on the Forester but now also found on Lineartronic-equipped Outbacks.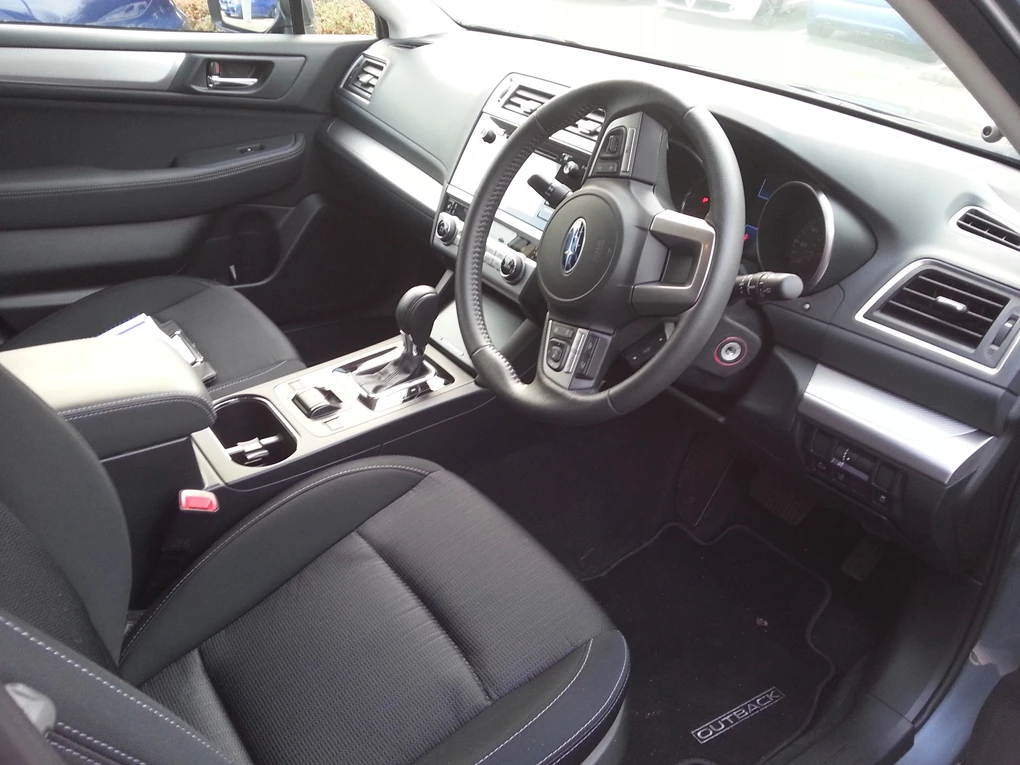 Interior and Equipment
This is Subaru's fifth-generation of the Outback. The first went on sale in the UK in 1995.
The interior quality in the latest Outback has some welcome improvements over its predecessor, but this is not one of the car's strong points. There is little of the premium feel you would expect in a car that can cost you around £30,000. The latest Outback is, however, very roomy in the front and back, with more space for all occupants, and the luggage capacity has had a modest increase from 526 to 559 litres. 47 of these total litres are accounted for by a new and remarkably deep compartment under the removable boot floor. Unfortunately, Subaru supplies only a tyre repair kit rather than any kind of spare wheel. The Outback does scores well, however, for rear visibility. In addition to the equipment already mentioned, all Outbacks are fitted as standard with cruise control, automatic LED headlights, heated front seats, privacy glass, a reversing camera and roof rails. Also featured is an infotainment system with satellite navigation, smartphone and Bluetooth connectivity and a seven-inch touchscreen. The SE Premium also has a sunroof (with a wider opening than in the previous model), keyless entry, push-button start, leather upholstery and a powered tailgate.
Cost
For lowest running costs you'll want the diesel manual, which has official combined fuel economy of 50.4mpg and, if the last Outback is anything to go by, should be able to achieve that quite comfortably in real life.
The cheapest Outback is the 2.0-litre diesel manual SE, which costs around £28,000. Prices increase to about £30k for the same engine and trim but with the Lineartronic 'box. The petrol-run Outback starts from around £28,500. The most expensive Outback is the diesel SE Premium Lineatronic which costs about £33,000. Even this one is cheaper than any example of the Audi A6 allroad or Volvo XC70, both of which are similar to the Subaru in both size and conception. There are some rugged estates with a lower starting price than the Outback, like the Leon X-PERIENCE which starts at roughly £25k. For the lowest running costs you'll want the diesel manual, which has official combined fuel economy of 50.4mpg. If the last Outback is anything to go by, you should be able to achieve that quite comfortably in real life. Lineartronic drops this figure to 46.3mpg, but Subaru quotes identical CO2 figures of 145g/km for both models, which means annual Vehicle Excise Duty payments from year two onwards of £145 and a Benefit In Kind rating of 27 per cent from when the car goes on sale rising to 33 per cent in 2019-20. The 2.5 isn't far behind, which is less of a surprise than it might first appear when you realise that it has start/stop which the diesel rather disappointingly doesn't. Combined fuel economy is 40.4mpg and the CO2 rating is 163g/km.
Our Verdict
The latest Outback does everything you'd expect from this sort of estate car in a competent manner. It also represents a considerable advance over the previous Outback. It's more practical, it's a lot more fun to drive and its interior is of better quality. Subaru still has work to do on that last bit, though, as some rivalling estates offer far more appealing interiors. We'd also like to see a bit more time spent on reducing noise levels at higher speeds and the firmness of the ride. If it can do all that, the Outback will be an even more convincing rival to the much more expensive German and Swedish opposition than it is now already.