The name WRX STi can spark fond memories of the days when Subaru saloons use to compete in the World Rally Championship. Famous British rally drivers including Colin McRae and Richard Burns both found success in rally's biggest championship behind the wheel of a Subaru Impreza WRX STi.
Because of its rally roots and relative affordability, the STi performance saloon has had a big cult following in the last couple of decades. Those sporting glory days have long since faded, however, and for a few years the performance saloon actually disappeared from the UK market.
In 2014, however, Subaru decided to bring back the WRX STi, but this time marketed as a standalone product which even subtracts the Impreza name (now only reserved for the hatchback instead).
The Subaru WRX STi stands in a rather unique position in today's market. The other performance saloons on sale nowadays come from premium brands and are far more upmarket. Really, in terms of pricing and performance alone, the WRX STi is more comparable to hot hatches like the Audi RS3 Sportback, Volkswagen Golf R and Renaultsport Megane 275.
So what we have here is a car with the practicality of a saloon but the power and pace of a thoroughbred sports car. But is that a recipe for success? Read on to find out more.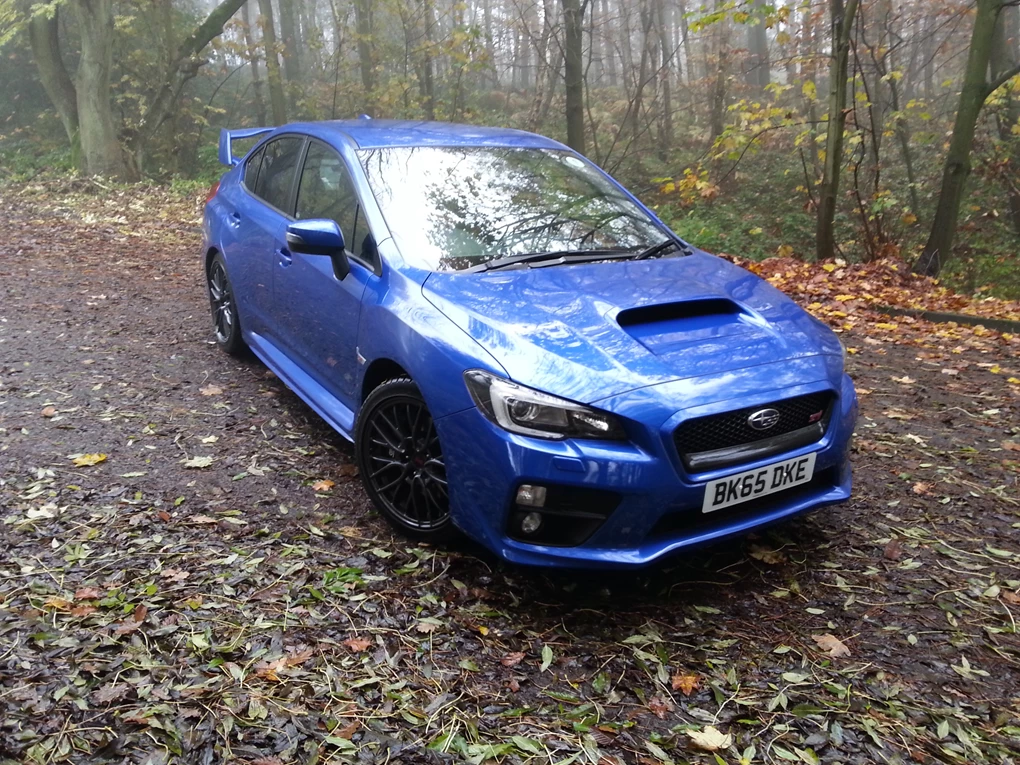 Performance
There's only one specification of the WRX STi to buy and it uses a 2.5-litre turbocharged Boxer petrol engine that produces a tasty 296bhp and 407Nm of torque at 4,200rpm. This unit is hooked up to a six-speed manual gearbox and a four-wheel drive powertrain.
The true performance potential from this package doesn't really spring into life until you hit 3,000rpm. When it really gets going though, there is a delightful growl from under the bonnet and a distinct whooshing sound from the turbo. This car certainly sounds and feels dramatic when you push hard from a standstill. Officially, the WRX STi will go from zero to 62mph in 5.2 seconds and reach a top speed of 159mph.
Realistically, in order to match that sprint time, you have to be very aggressive with how you work the clutch pedal and gear stick, both of which feel heavy. This way of driving is unlikely to faze enthusiasts, but when you're this hard on the clutch, the car tends to judder a lot between the gear changes. It's certainly more physical and demanding than a Golf R, particularly if a DSG auto is fitted.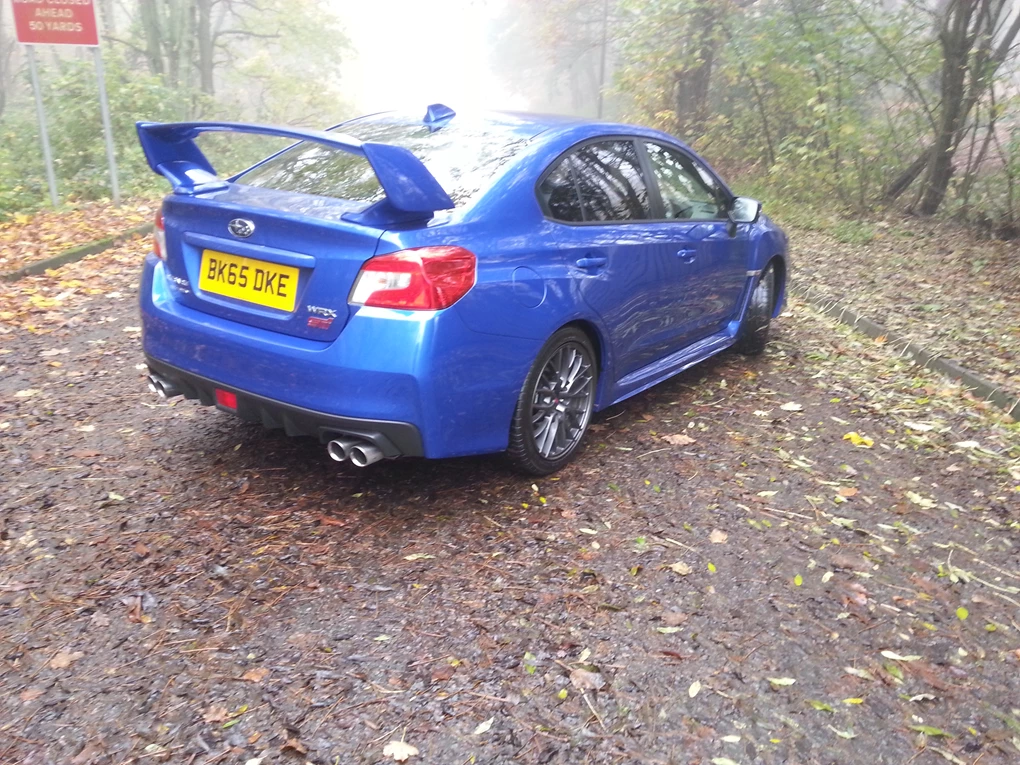 Ride and Handling
The steering feels very weighty at low speeds, but it gets lighter as you speed up, and for a car that's all about enthusiastic driving it actually feels rather vague.
On dry or wet roads, the WRX STi with its four-wheel drive set-up offers an immense amount of grip. When taking on high speed corners the car remains unflustered if your approach is enthusiastic. Problems with understeer are unlikely to ever crop up and the body control is excellent. The steering feels very weighty at low speeds, but it gets lighter as you speed up, and for a car that's all about enthusiastic driving it actually feels rather vague. This latter point is underwhelming, especially when you consider that the WRX STi feels set-up like a track day car – it's very sharp but sacrifices comfort. The ride is very firm and every bump and undulation is felt during a trip. Speed bumps, an afterthought when driving many other cars, become an obstacle in this car. This feels at odds with the STi's rally background, where supple suspension is a necessity, and it strikes us that Subaru has instead gone after fast track times. It also lacks refinement, meaning road noise intrudes the cabin at most speeds. If you plan any long trips in this car you and any passengers will need to be in a very tolerant mood considering how noisy and rough it can be.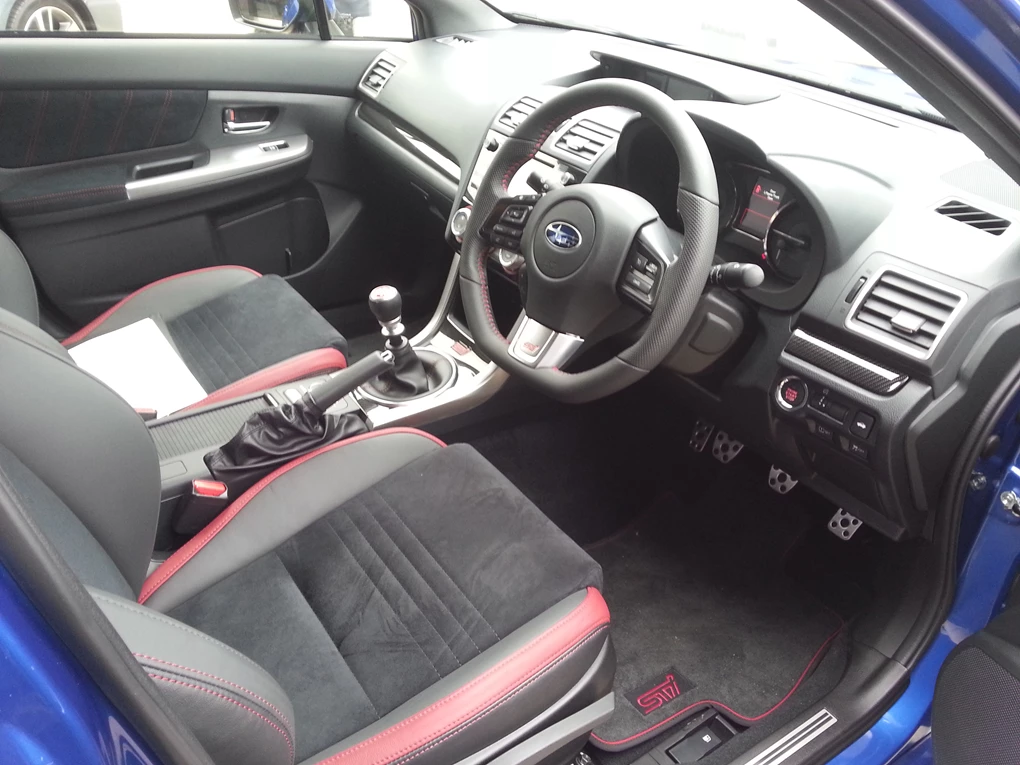 Interior and Equipment
STi are the initials for Subaru's motorsports and tuning arm - Subaru Technica international. The first ever WRX they created was launched in 1994.
Thanks to its saloon body and sizeable boot, the WRX STi is notably more practical than the vast majority of hot hatches around. The seats, finished in leather and Alcantara, are comfortable and head room is decent all-round. The Subaru's long wheelbase means there's also a pleasing amount of leg room for adult passengers both front and back too. Standard boot capacity is 460 litres, near or over 100 litres more than the likes of the Golf R, RS3 Sportback and the Renaultsport Megane. The Octavia vRS, with 590 litres as standard, is the only hot hatch that stands out for boot size next to the Subaru. While the floor is quite high and the opening is a bit smaller than a hatchback's, the Subaru's boot is still very adept for a weekly shopping trip. The materials and equipment feel old-fashioned in terms of presentation and quality but that'll probably please fans of the STi badge. Visibility all-round is good, although at the rear it is slightly hampered by the car's spoiler and parking sensors and camera are not available. Speaking of equipment, the WRX STi does come standard with dual-zone climate control, Bluetooth, cruise control, windshield wiper de-icer and a 4.3-inch LCD touchscreen for entertainment and vehicle data. The touchscreen feels easy enough to use but sat-nav is not standard. It joins the options list alongside the World Rally Blue paint job (£500).
Cost
The official combined fuel economy is 27.2mpg, which is over 10mpg below the Golf R and Civic Type R.
Starting at just under £30,000, the WRX STi appears like an absolute bargain when you just compare it to other iconic performance saloons like the BMW M3, Mercedes C63 AMG or the Vauxhall VXR8 GTS. Compared to hot hatches, the Subaru is far cheaper than the RS3 Sportback and near identical to the Golf R and Honda Civic Type R. On paper then, the WRX STi's purchase price looks appealing but expect to pay a lot in running costs. The official combined fuel economy is 27.2mpg, which is over 10mpg below the Golf R and Civic Type R. Also, the CO2 emissions are 242g/km which is way more than you get from modern day hot hatches and puts the WRX STi in the second to highest tax band for Vehicle Excise Duty (band L to be more exact).
Our Verdict
You can have some proper fun in the latest Subaru WRX STi, but to deliver what entertainment there is on offer, this car sacrifices a lot including ride comfort, refinement and frugality. It does have an impressive history behind it and eye-catching styling, but it feels as though the Subaru has been superseded by the latest wave of hot hatches. Even die-hard Subaru fans are likely to want more steering feel and a more consistently boisterous soundtrack from the engine. The WRX STi has a nostalgic appeal which little in its price range can replicate. However, there are hot hatches which can do what this car does just as well, if not better, in a more comfortable and cheaper manner.