Introduction
Toyota's Aygo has been a key player in the city car segment since 2005, with the firm selling it alongside almost identical models from Citroen and Peugeot. 
But with those two French firms withdrawing from the partnership (and the petrol city car class altogether), Toyota is now going at it on its own, with its new offering being the Aygo X.
Injecting some crossover-like styling to the city car segment, the Aygo X not only looks funkier than before but sits 11mm higher up too. Bringing a raft of new technology, is there still a place for a petrol city car these days? Let's get behind the wheel and find out.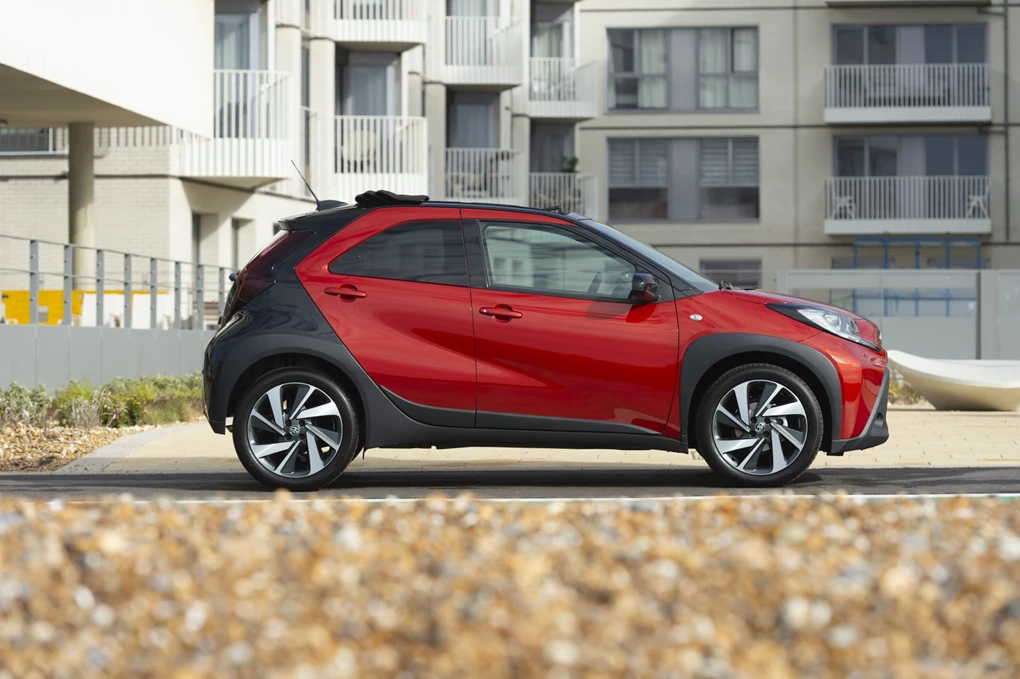 Performance
Though this might be a next-generation city car, Toyota has largely kept the same powertrain from the old Aygo. 
It's not something you can get particularly excited about – a 1.0-litre three-petrol unit absent a turbocharger or any kind of electrification. Putting out a modest 71bhp and 93Nm of torque, you can choose the Aygo with a five-speed manual gearbox or CVT automatic. 
Getting up to 60mph will take almost 15 seconds, though the Aygo X's efficiency will likely be of more interest, with Toyota claiming up to 58.9mpg, and CO2 emissions of 109g/km – not bad for a car without any hybrid element whatsoever.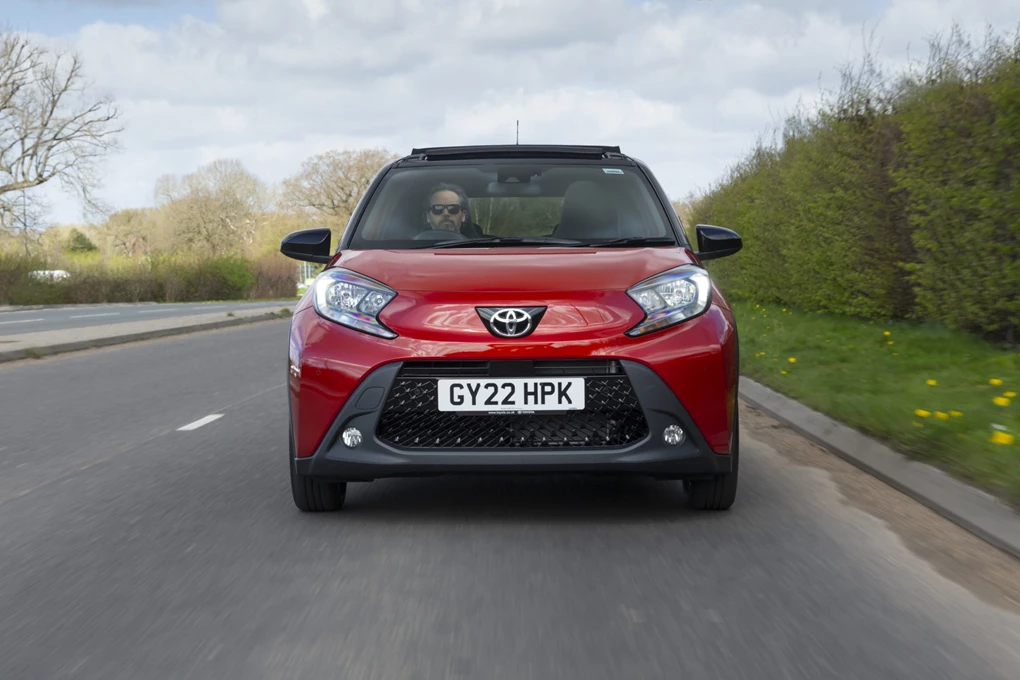 Ride and handling
Toyota valued simplicity in particular with the Aygo X, and it really is a refreshingly simple car to drive. The controls are all light and brilliantly well-suited to driving around town, with featherweight steering ideal for quick parking and manoeuvres. The increased ride height also helps to give you a better view of the road too. 
Away from town, though, the Aygo X quickly falls out of its comfort zone. Getting it up to motorway speeds feels like a proper chore while maintaining that momentum means the car sits at particularly high revs – quite unpleasant on longer trips.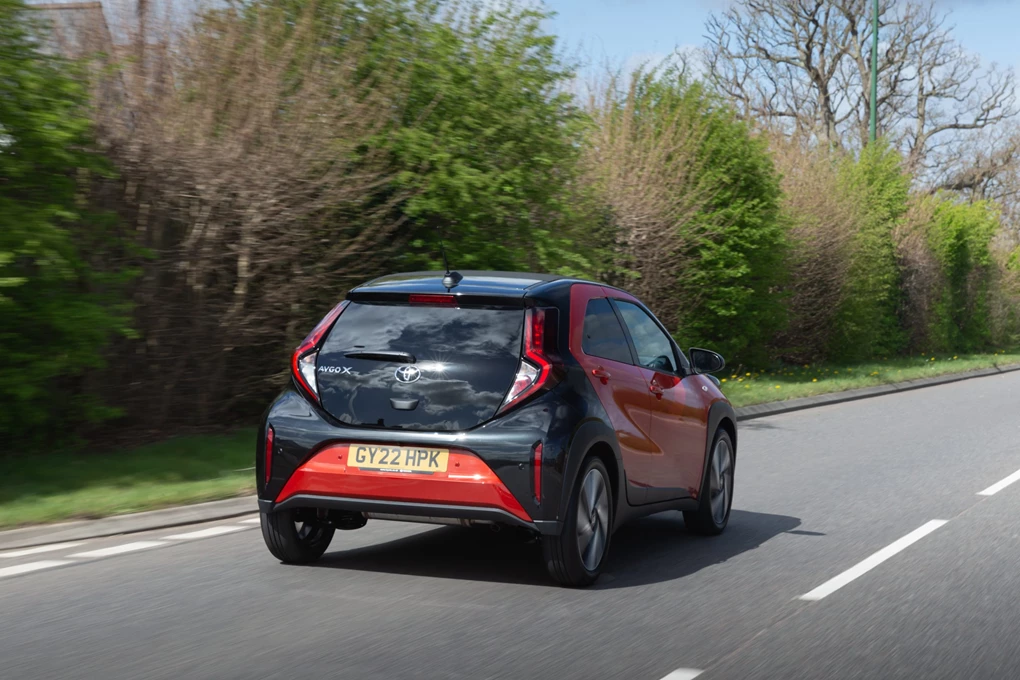 Interior 
The Aygo X's interior feels like a welcome step up compared to the old Aygo, with the interior getting much of Toyota's latest switchgear to give it a more modern feel. The oval-effect dashboard housing a new touchscreen is particularly smart, while the overall cabin feels sturdy and not as cheap as the city car billing would suggest. 
In terms of space, there's only so much room you can squeeze out of something dinky like the Aygo X, and the rear seats are very tight, and really not suitable for adults. A Hyundai i10 or Kia Picanto are better if adults will be sitting in the rear regularly.
Equipment
Four trim levels are offered on the Aygo X – Pure, Edge, Exclusive and a Limited Edition.
Standard equipment is very impressive across the board, particularly when it comes to safety kit, with autonomous emergency braking, lane keep assist and adaptive cruise control all included. Automatic lights are also fitted, along with 17-inch alloy wheels, a reversing camera and seven-inch touchscreen with Apple CarPlay and Android Auto. 
Edge versions bring automatic wipers, 18-inch alloy wheels, two-tone paint and a larger eight-inch media system. Upgrade to the Exclusive to get keyless entry, a large nine-inch HD touchscreen with satellite navigation and wireless smartphone mirroring and LED projector headlights.
At the top of the range, the Limited Edition gets heated seats, a canvas opening roof and bespoke 18-inch alloy wheels with orange accents.
Cost
Toyota has put up prices for the Aygo X, and it's now quite expensive by city car standards, with the model costing from £15,405 for the Pure – and £1,100 more for the automatic. 
Prices also rise considerably as you go up the trim levels, with the top-spec Limited Edition costing £20,250 in manual form or £21,350 for the automatic – a lot of money for a 71bhp city car.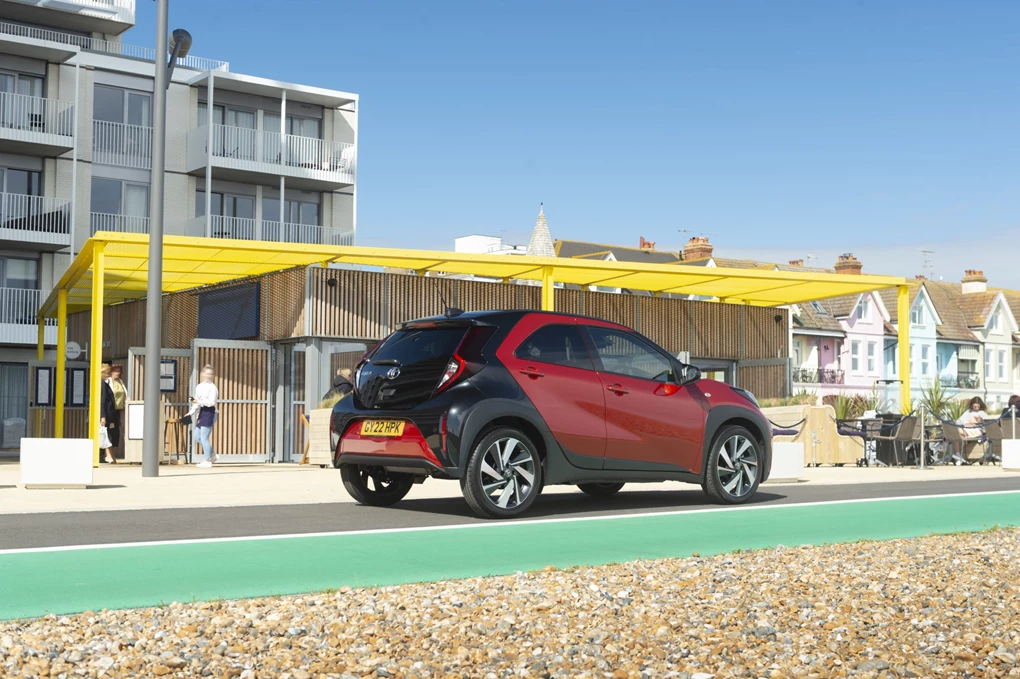 Verdict
The Toyota Aygo X is certainly a very welcome entry into the city car segment – offering customers a stylish, safe and fuel-efficient choice. In entry-level trims, it's decent value too considering the level of standard equipment on offer. 
It doesn't lead the way in this class, though, not being as roomy as sophisticated as the best, particularly the Hyundai i10 and Kia Picanto, which continue to lead the way.
Enquire on a new Toyota Aygo X